Finca Chocan Peru Espresso
Pflaume, Weiße Schokolade, Macadamia
Regular price

Sale price

12,52 €
A flavorful, round, very balanced, fruity-chocolaty and delicate espresso.
About the coffee
The beans of Finca Chocan coffee come from the Cajamarca region, located in the north of the Andean country, and bordering Ecuador. Our beans grow at 1750m (mNHN), which consist of the variety Bourbon and come from the Finca El Chocan.
Within 12 hours after harvesting, the beans are freed from the pulp with the help of a pulper, then washed and fermented with fresh spring water. In the next step, the beans are spread out in the sun, where they are, once again, checked and sorted out, and then dried for about 2 weeks.
About the farm
The finca and its owner Miguel Chocan are members of Programa Familia.
Choose your grind

If you don't have a grinder at home, we'll happily grind your coffee to your specifications. Just select your brewing method above or order whole beans.
Cultivation

Cultivated with love by great farmers. 100% Arabica coffee, harvested when ripe and carefully processed. Sustainable and fairly traded.
Shipping

Freshly roasted, packed and shipped safely to you by DHL.
Packaging

Our standard bags contain 250g and are 100% recyclable. No mixed materials.
Brewing

Take your tried-and-tested recipe as a starting point for this roast, or get help from our brew guides.
Scoring Card

The coffee cherry can develop up to 1,200 different natural flavours. Depending on location and variety. Learn to understand the flavours in coffee with the Scoring Card. Grade your coffee by filling out your Scoring Card.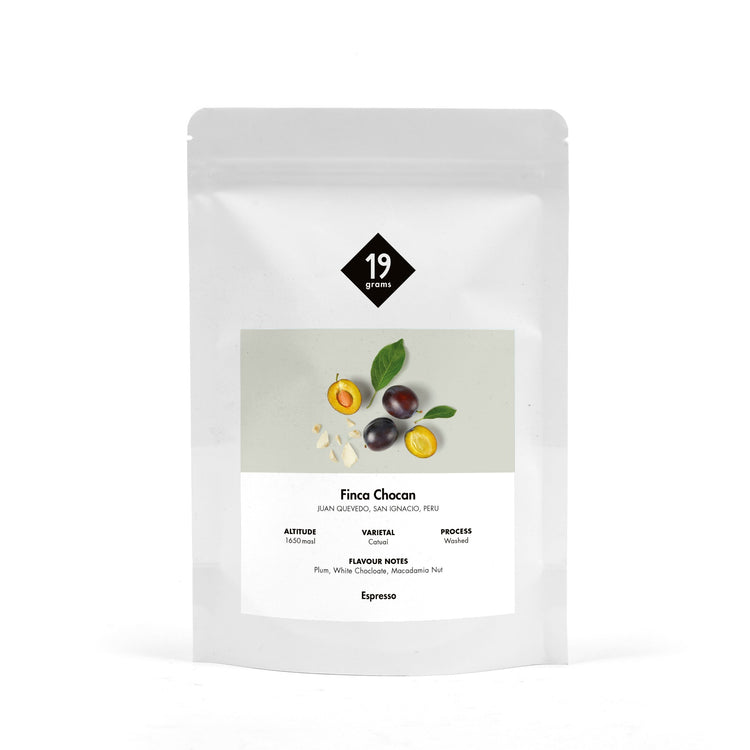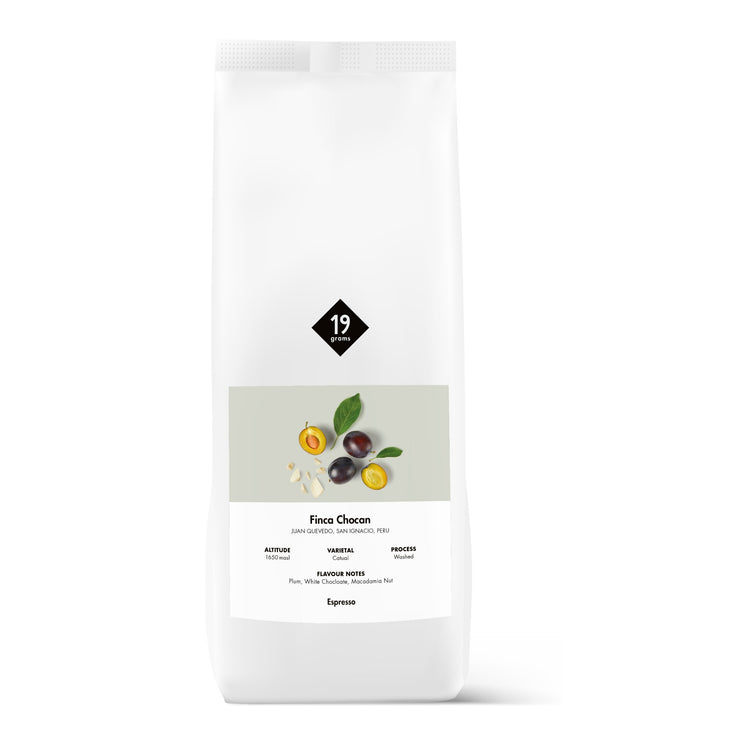 Suitable for espresso preparation:
About the coffee
Plum, White chocolate, Macadamia
Score: 87
Sweetness:
Acidity:
Mouthfeel:
Body:

Variety: Catuaí
Processing: Washed
Harvesting Year: 2020
Drying Time: 14 Tage

Suggested brew recipe:
1:2,5 (z.B. 19gr Kaffee auf 47,5gr Wasser) in 30-35 Sekunden
About the coffee
An espresso roast with predominantly sweet notes of white chocolate, plum and macadamia.
The farm | Finca Chocan
Die Finca Chocan ist Mitglied des Programa Familia - eines Projekts zur Stärkung der Farmer.

Relationship: seit mehreren Jahren
Producer: Juan Quevedo
Type of Farm: Family owned farm
Region, Country: San Ignacio, PE
Altitude: 1650 m üNN
Soil type: fruchtbare Böden
Fertilisation method: organic
Shadow Type:
Processing location: at the farm
Number of varieties:
Harvest season: Mär - Sept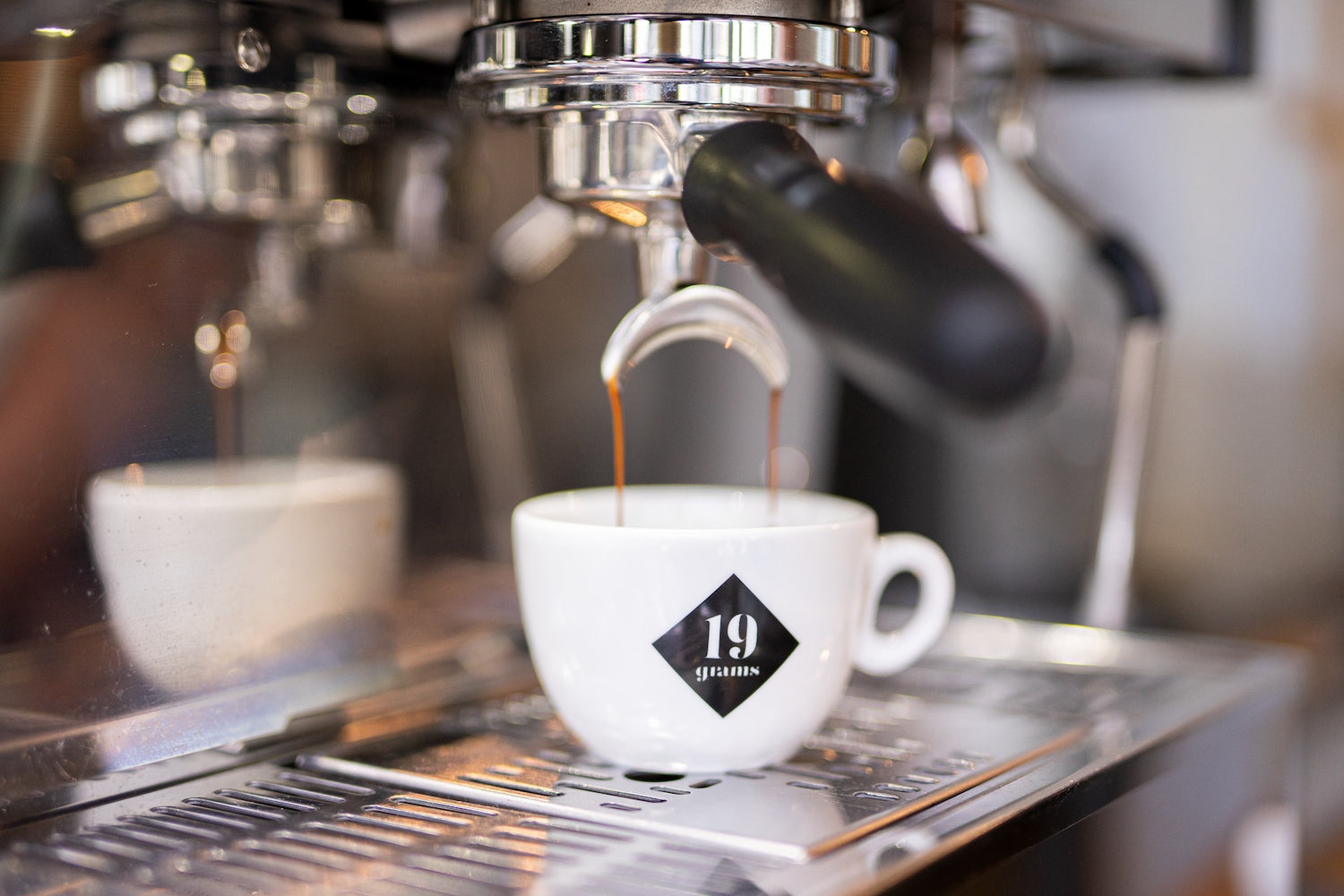 Bloody Good Espresso
Coffee is a fruit which is naturally acidic and contains many sugars. We roast our espresso to develop a fine acidity and to bring out its natural sweetness.
Our espresso roasts aim to present the strong flavour profiles of different origins. Discover our single origin espressos – all 100% arabica coffees, carefully selected and gently roasted by our team in Berlin.
Simply order your favourite coffee online.
Sustainably grown
Carefully grown and processed by our partners.
Worldwide shipping
Safe and reliable with DHL. Direct to your door.
Recyclable packaging
There are no mixed materials in our coffee bags, making them easy to recycle.
Pay securely
Choose from several secure payment methods.
Free shipping from €30

Easy, safe and fast delivery with DHL. Free of charge from €30 order value.

Directly & Fairly Traded

We attach great importance to our long-term relationships, keeping farmers on equal terms.