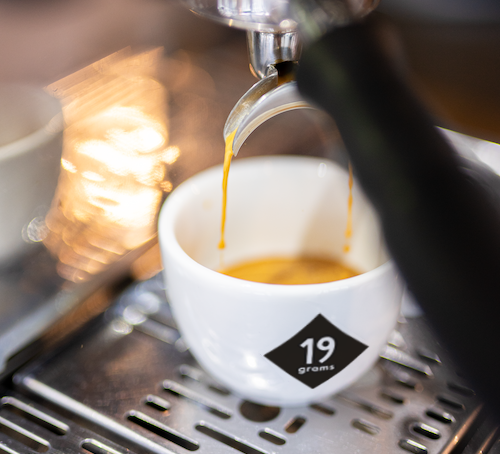 Quick view

Third Wave Water

Regular price

Sale price

$19.00
Quick view

Simbi Washed - Rwanda Espresso

Regular price

$17.00 $153.00

Regular price

Sale price

$17.00 $153.00
Quick view

Hario Metall Waage

Regular price

Sale price

$92.00
Always brew the best Espresso:
Others also bought:



A little espresso story:
Before espresso was invented, coffee was traditionally brewed in a large amount of water. Very old preparation methods are, for example, the Turkish Moka - which we have since rediscovered and celebrate with OTTO the Turkish Ibrik from Goat Story. The Turkish Ibrik or the Italian Moka make use of gravity. The portafilter or lever machine relies on artificially produced pressure: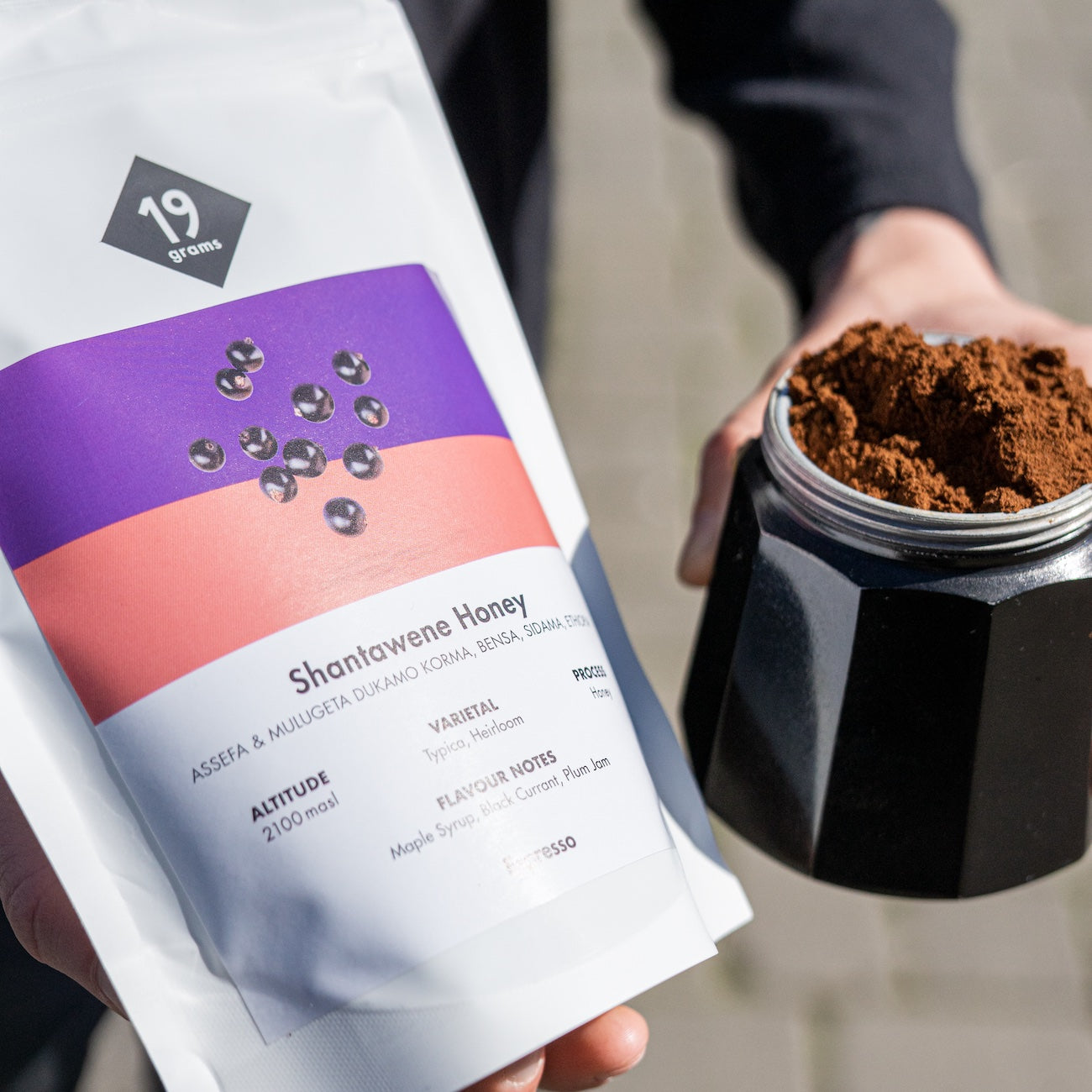 The invention of the first espresso machine and the history of the first espresso.
In late 19th century Italy, coffee had long been a beloved drink. But Angelo Moriondo from Turin wondered if there wasn't a way to brew coffee faster and more intensely. In 1884, he filed a patent for the very first espresso machine. While Moriondo's invention was groundbreaking, it remained fairly unknown and was never produced commercially. A few years later, Luigi Bezzera from Milan thought similarly. In 1901, he improved on Moriondo's design and developed a machine that could make single servings of espresso. This was the beginning of what we know today as the classic espresso. But the real revolution came from London in the 1920s. Desmodromico Valente brought an innovation to the market: the lever mechanism. This lever made it possible to manually generate the pressure needed for espresso and led to the development of the portafilter machine.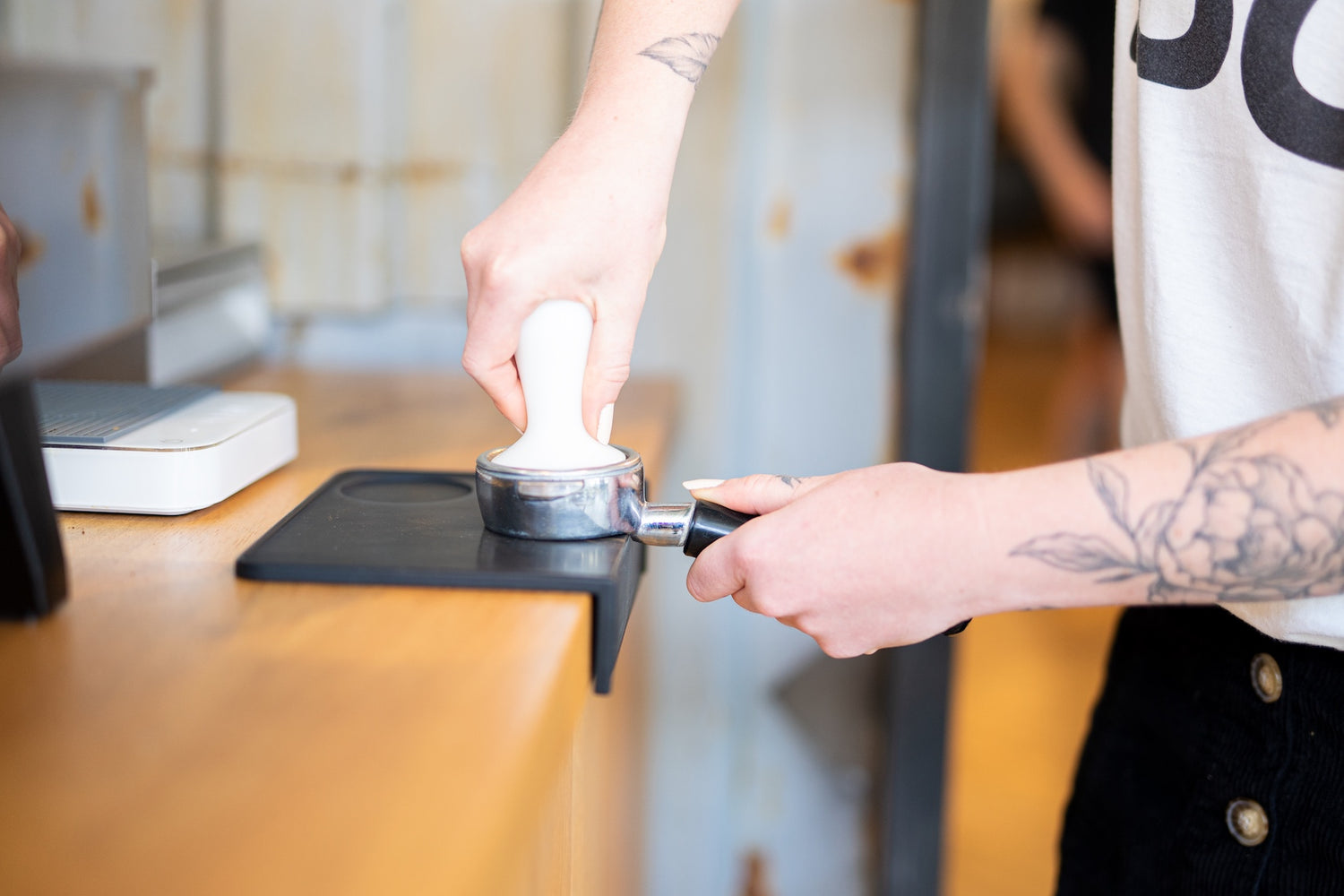 Prepare an espresso
Espresso is coffee that is pressed through coffee grounds in a very short time. Grind your carefully selected and weighed beans to a fine grind just before brewing. This guarantees the most intense flavours in your cup. Distribute the coffee powder evenly, using a distribution tool or simply tapping it lightly with your hand. Then tamp the coffee powder down. Make sure that there is no residue of ground coffee on the rim, wipe over it briefly if necessary, as this will protect the group of your portafilter. Insert the portafilter, place a preheated cup under the group and start the brewing process. The espresso should brew evenly in about 30-40 seconds. We recommend simply storing the single portafilter in the drawer and only using the double one. You can find out why in our blog article.
TO THE BLOG ARTICLE
The different espresso roasts:
Classic Espresso

We call the traditional espresso roasts classic roasts: they are roasted a little darker than the modern roasts and emphasise particularly chocolaty notes in the taste. Classic roasts are ideal for fully automatic machines and specialty coffee newbies.

Classic roasts

Modern espresso roasts

Modern espresso roasts at 19grams are roasts that are medium to light roasted. We place great emphasis on fully developing the beans to bring out the qualities in the best possible way. Modern espresso roasts highlight fruity flavours and are more complex in the cup.

Modern Espresso

Light espresso roasts

Especially in the Nordic countries, there are light roasts - it is important here that they are still fully developed, because an under-roasted espresso quickly tastes grassy and not very pleasant. At 19grams, we tend not to roast our espresso light. Here you can also opt for a filter roast in the portafilter machine.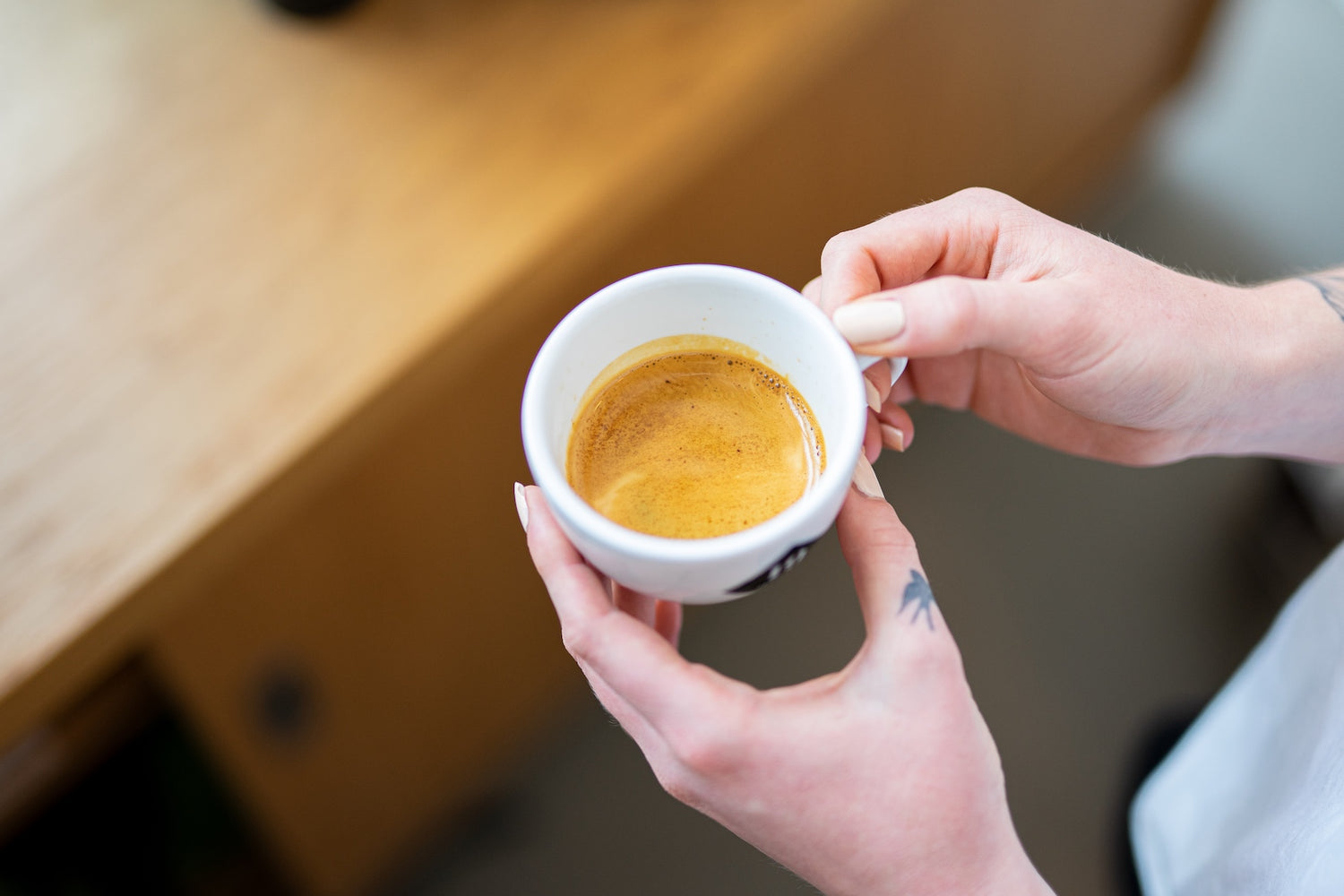 Is the crema a sign of quality for really good espresso?
To answer this question, you need to know the following: The source of the crema is in the roasting process, because here the bean absorbs a lot of CO2 in the coffee. Wenn man dann den Kaffee unter hohem Druck brüht, wird das CO2 freigesetzt und im Wasser aufgelöst. When the espresso finally flows out of the portafilter and the pressure is reduced, the CO2 pushes out of the water and the foam on the surface is created. It is exactly the same process as when you open a bottle of cola and it foams up. It is commonly said that only a strong espresso develops a thick thick crema, but this is only partly true: the amount of crema depends on how the coffee
roasted
and how it was prepared. Lighter roasted coffees contain less CO2, so produce less crema. And such coffees also need a longer extraction to bring out the full flavour profile, which also leads to less crema.
MORE
Do you know what the difference is between espresso and coffee?
Many people believe that espresso is a type of coffee. Actually, it is simply a special way of preparing coffee: Espresso is a very concentrated, thick coffee with a creamy texture. It is usually served in a small cup. And because it is so intense in flavour, it makes a wonderful base for other coffee drinks such as cappuccino, latte or Americanos.
3 steps to a damn good espresso:
1. buy high quality espresso beans

Nothing could be easier: you can get damn good roasted coffees for espresso preparation from us! We roast twice a week, so you're always guaranteed fresh beans.

2. fresh beans + proper resting time

Not only does the quality of the beans immediately come through in your espresso, but also the freshness. But beans that are too fresh make the preparation unstable, because the high Co2 content makes the extraction uneven. So it is better to let the beans rest for 2 weeks or more after the roasting date.

3. the right recipe

To know how you like your espresso, you should write down your recipe and then adjust it minimally depending on the roast. A lighter roast may need to be ground a little coarser than a very dark one.
FAQs about your bloody good espresso
How do I find an espresso that suits me?

Nutze zum Beispiel unser Kaffee Quiz, oder bestelle dir die Espresso Test Box, um unsere Klassiker auszuprobieren. Wenn du herausgefunden hast, welcher unserer Espressos dir am besten schmeckt, kannst du ihn wieder bestellen.
How important is the crema in espresso preparation?

Many people believe that crema is an important factor in your espresso, it looks pretty too. If you understand what crema is, then you know how to assess it and what it says about your coffee, so

read this article

.
How do I find a decaffeinated espresso?

We have a damn good decaffeinated coffee as an espresso roast in our range. When preparing Decaf, you should always bear in mind that it is slightly different from a normal espresso. Dies geht darauf zurück, dass die Bohne bei der Entkoffeinierung zusätzlich porös wird. That's why you have to grind it a little differently, because it can become very, very fine.

Decaf doesn't taste good? We don't think so! We have compiled all the facts about decaf for you here.
Why should I clean my espresso machine daily if I use it every day?

Because residues of old coffee and oils negatively affect the taste of your espresso. We recommend a thorough cleaning so that your espresso tastes damn good for a long time.
How can I learn tips and tricks and improve my skills with the espresso machine?

Are you still unsure? Then check out our

coffee courses

. Here you can learn to become really good quickly with our professional trainers.
How do I store espresso correctly?

To keep your espresso beans for a long time, it is best to store them in an airtight container. The storage location should also be protected from light and cool. You can then use the beans for many months after they have been roasted.
How do I grind espresso correctly?

To find the right grind for your espresso, you should start with a fine grind and then experiment a little until you find the right setting for your taste. Unfortunately, it's difficult to prescribe a grind because there are so many different grinders on the market, all of which work slightly differently. - Grind finer if the espresso tastes flat. - Grind coarser if the espresso becomes too acidic (bitter).
How do I find strong espresso?

In common parlance, "strong" coffee often means an over-extracted cup of coffee or espresso. This happens when you use too little water on your coffee grounds. Often, this also flushes too many bitter compounds out of the coffee grains. This type of coffee is perceived as strong, actually it's just prepared incorrectly, because that's all the caffeine such a cup of coffee contains. To learn more

you can read our blog article

. Fun Fact: Did you know that filter coffee contains more caffeine than an espresso?
How can I buy espresso online?

You can buy your espresso online in the 19grams online store. Once you have found your favorite espresso, you can also order it online by subscription.
How can I order ground espresso?

We will be happy to grind your favorite bean for you. Just choose the preparation method for which you need the coffee ground, and we'll take care of the rest.