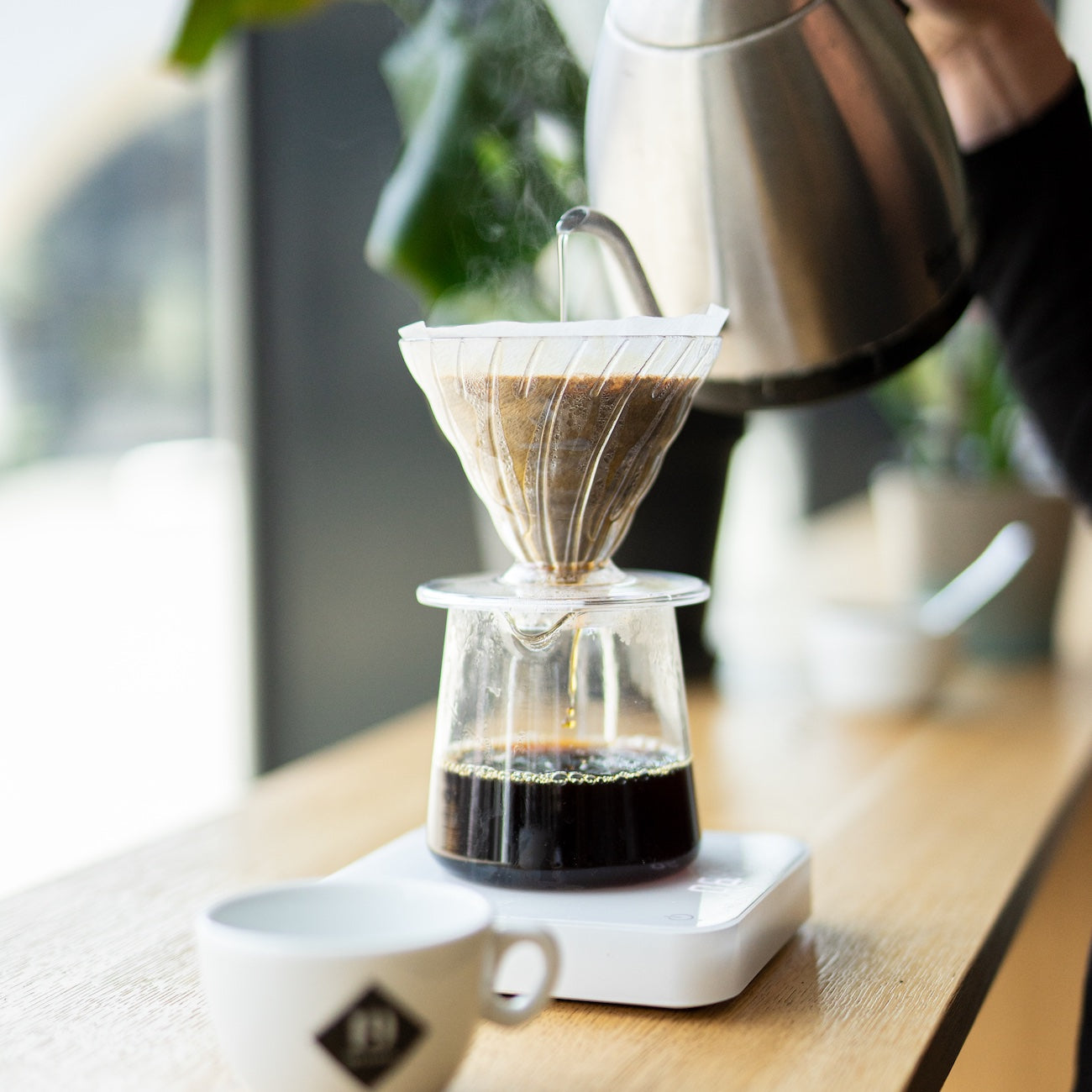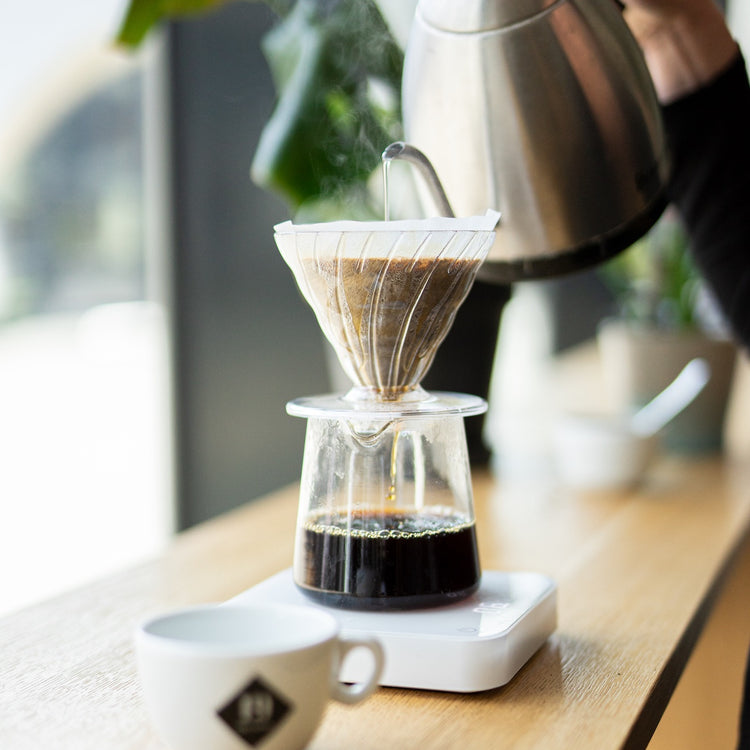 Quick view

Hario V60 Paper Filter

Regular price

Sale price

6,64 €
Quick view

Hario V60 Plastic Filter

Regular price

Sale price

6,64 €
Quick view

Hario Metall Waage

Regular price

Sale price

67,14 €
Quick view

19grams Cups

Regular price

7,48 € 51,18 €

Regular price

Sale price

7,48 € 51,18 €
A perfect fit!
Often purchased together:



Filter coffee a little story
The oldest forms of coffee are, for example, the Turkish mocha, prepared in the ibrik: the ground coffee is simply boiled in a vessel with water. Immersion - full blast! The downside is that the coffee is over-extracted, meaning that far too many coffee particles are flushed out and the coffee becomes bitter and difficult to enjoy. But the sugar provides a remedy - refined! And so it happens that filter coffee enjoys a rather bad reputation, quite unjustifiably. Basically made edible only with milk and oodles of sugar.
What is the difference between filter coffee and an espresso roast?
There is a popular misconception that filter coffee is ground. But espresso coffee also exists ground. The difference between filter coffee and espresso is the roast. The roast you should buy depends on the brewing method you like to use. The filter and espresso preparation methods differ mainly in the time that the water has contact with the coffee powder: in espresso this is very short, while in filter coffee it is several minutes. Therefore, a filter roast is slightly lighter roasted. We like to get all the subtle fruit notes and the full sweetness of the fruit out of our filter roasts.
What are the filter coffee preparation methods?
3 steps to bloody good filter coffee.
1. Best Beans

They are only a few clicks away. You can buy your coffee beans online and enjoy them especially fresh. You benefit not only from the careful selection of green beans, but also from fast shipping. Our DHL messenger picks up the packages practically directly from the roastery.

2. Buy Fresh

The freshness of the beans is often underestimated when buying coffee. Again, the more middlemen you cut out of your supply chain, the better. Buy your coffee beans directly online, or from your favorite roaster around the corner. Avoid other online platforms as middlemen.

3. Brew Correctly

Measure your coffee as you would a baking recipe: the more accurately you prepare your coffee, the better your cup of coffee will taste to you!

TO THE INSTRUCTIONS
FAQs about damn good filter coffee
Which coffees are best for filter coffee?

For preparation in a hand filter, or the automatic filter machine are best suited medium to light filter roasts. Everything you can find in our "Filter" section. If you are more into a strong body, then you can also use an espresso roast.
What do I do if my coffee tastes bitter?

If your coffee tastes bitter, you can try the following: 1. adjust your brew ratio. This is the ratio of coffee powder to water that you use. We recommend that you do not measure the coffee by the spoonful, as this is extremely inaccurate, but that you weigh it out. If you use an exact recipe, but your coffee still tastes bitter, you can: 2. grind your coffee a little coarser. Still tastes so-so? Then, 3. Adjust your water. Your filter coffee is 98% water. That's why you should only use tap water, for example, if it's really good. Very hard water can distort the extraction of your coffee and bring unwanted flavours into the coffee.
Do you have any more tips to improve my filter coffee?

Sure, if your recipe is right but you're still feeling unsure, our

"Filter Coffee"

coffee course is sure to do the trick. You'll learn from the professionals in the specialty coffee industry.
Is there a Decaf filter roast?

Yes, you can buy our

Decaf

as filter roast too.
What is the best way to store (ground) coffee to preserve its aroma?

Coffee is best stored in an airtight container. There are special tins that create a vacuum and are thus particularly aroma-safe, but you can also leave your beans in the packaging and always seal it carefully. By the way: the darker your roast is, the faster it loses its aromas. So you should use it up more quickly. The same applies to ground filter coffee!
Should I keep my coffee in the fridge?

No - coffee does not belong in the fridge. This is because it quickly absorbs odours and loses its own coffee aromas. Therefore, simply store your coffee in a cool, dark place, preferably in airtight packaging.
Can I buy a strong filter coffee?

What exactly do you mean by strong - we ask back. Because you can't have more caffeine than is in the bean. No matter how long you boil the coffee, the caffeine is the first to dissolve and even if you boil the coffee longer and try to extract everything you can - the caffeine content remains the same. Learn more about the

"strong coffee"

misconception on the blog.
How do I clean and care for my filter coffee maker properly?

One of the most common questions is that of cleanliness. There are fanatics who only rinse their coffee machine with water and dry it off. But coffee contains oils that settle on the walls of your filter and stay there. This effect is less pronounced with filter coffee than with espresso, because oils leak out more the longer a coffee is roasted. It's best to rinse your coffee filter by hand, or put it in the dishwasher once a week (please check the instructions before doing this). This way you'll have clean equipment and as little soapy taste in your cup as possible.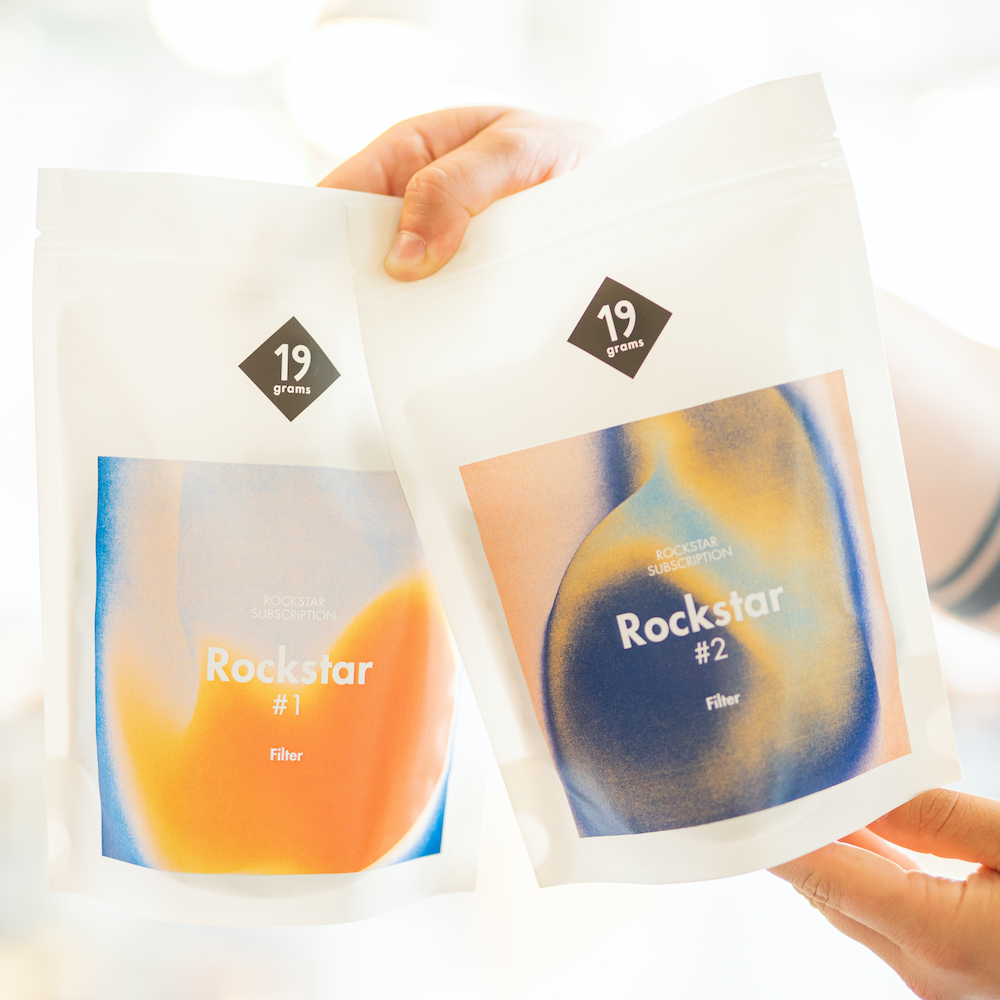 Rockstar coffees
Coffee in a class of its own! If you're looking for the rock stars among coffees, check out the Rockstar Subscription - because here we put together 2 of the very best coffees under one theme every month. For a selection of rare coffees, check out the
Rare Coffee Collection
.
SHOP RARE COFFEES