Rockstar
The Rockstar Coffee Club brings you the rarest and most unusual coffees in your cup every month. For the Rockstar subscription, our roasting team chooses two different, rare beans with exciting processing methods every month - the rock stars among coffees! The set always comes with a special theme that lets us discover the different facets of Sepcialty Coffee.
Your Rockstars in February
This month's rockstar subscription is a mash-up between two of the world's biggest coffee producing countries: Brazil and Ethiopia. This collab comes thanks to the boundary-pushers at the Fazenda Santuario Sul in Brazil, who are defying expectations of what Brazilian coffees can taste like. Luiz Paulo Pereira of Carmo Coffees in Brazil and Camiro Merzizalde from the Colombian Santuario Project come together to bring newer, brighter styles to the Brazilian terroir, which is traditionally associated with richer, chocolatey tasting coffees. Their work has produced some truly amazing coffees that have fooled even seasoned tasters. This month's coffees bring two ancient Ethiopian heirloom varieties to Brazil, where they've been grown, processed and fermented with world-class aplomb.
Excellent, award-winning coffees from the best growing regions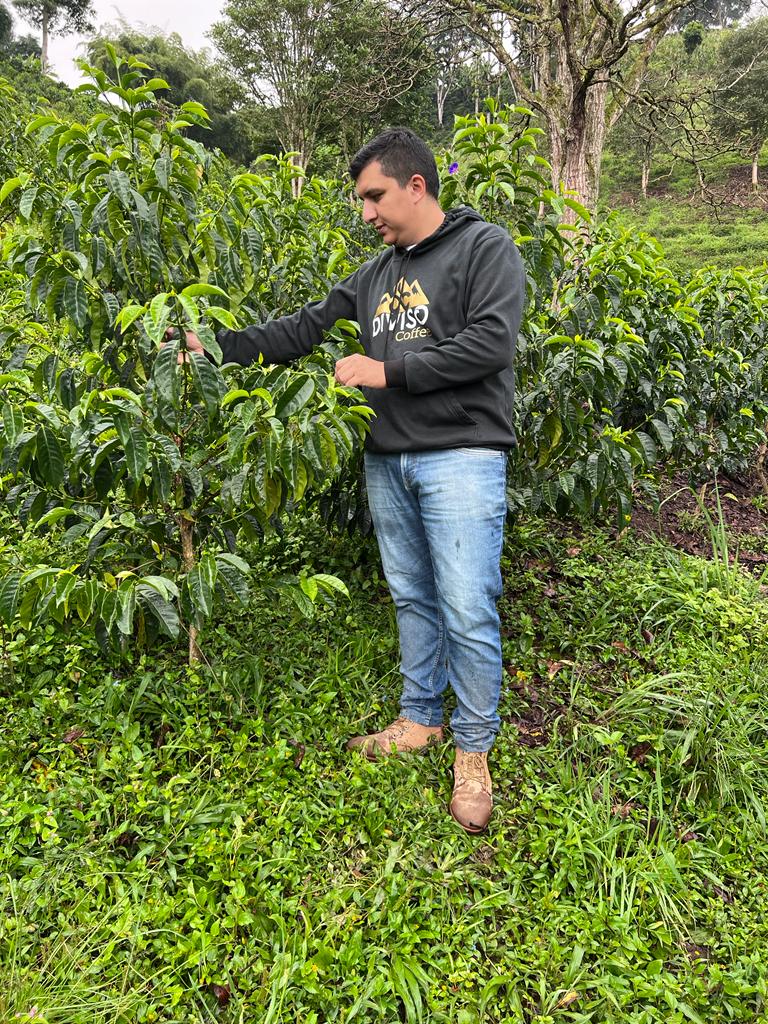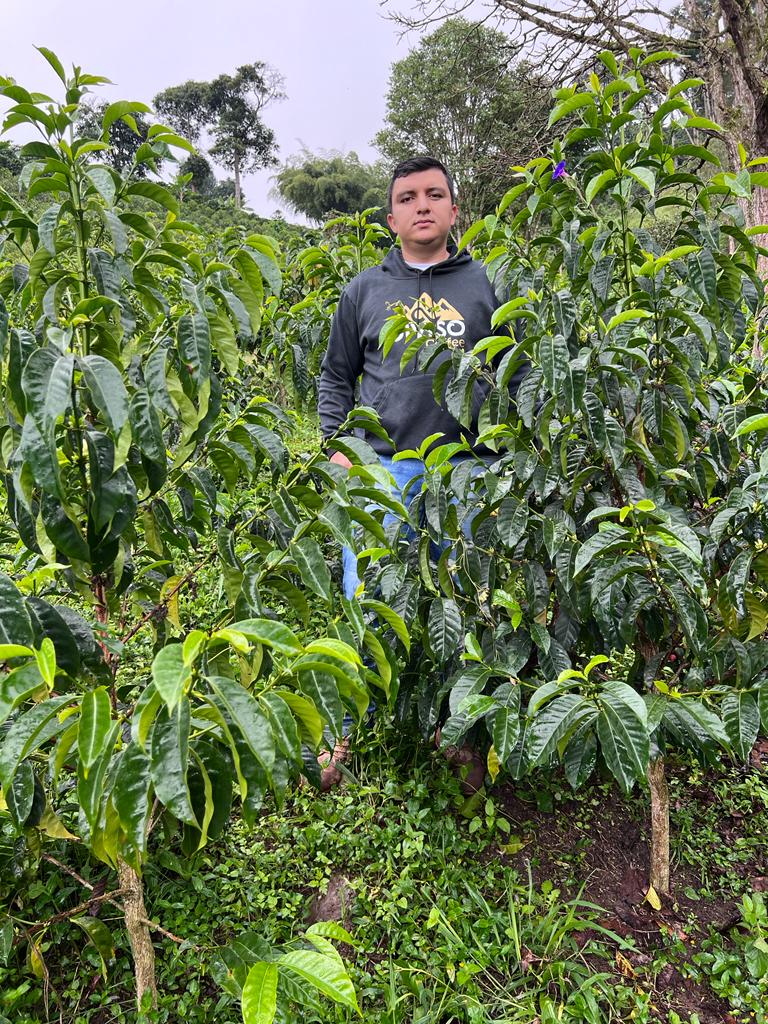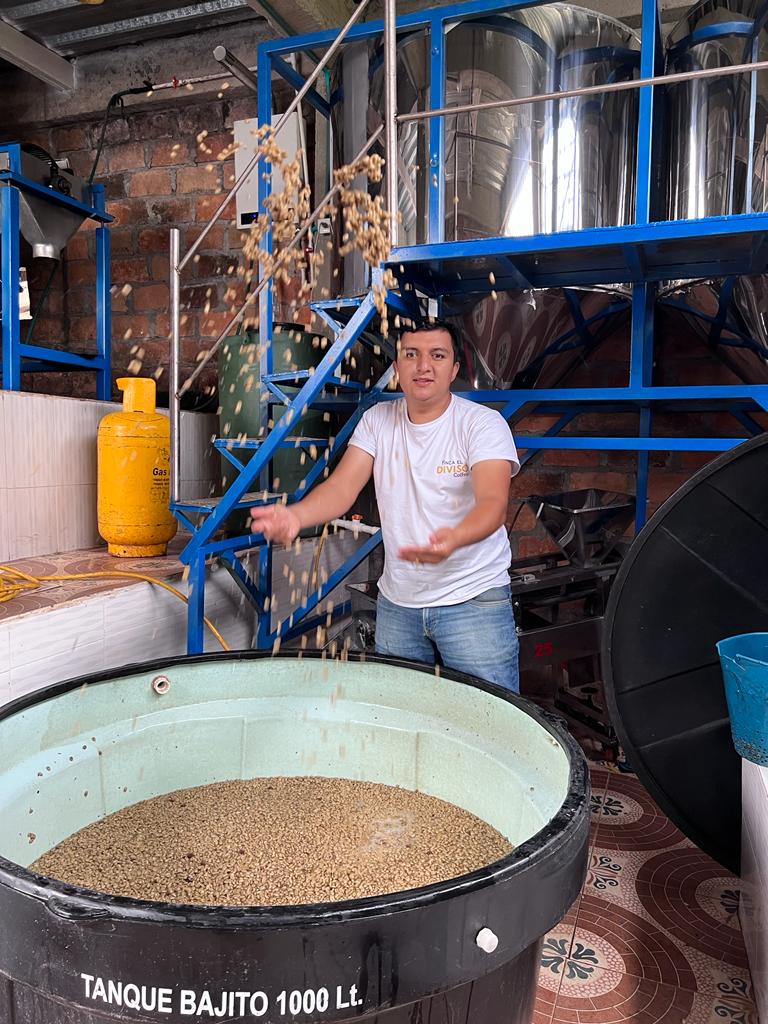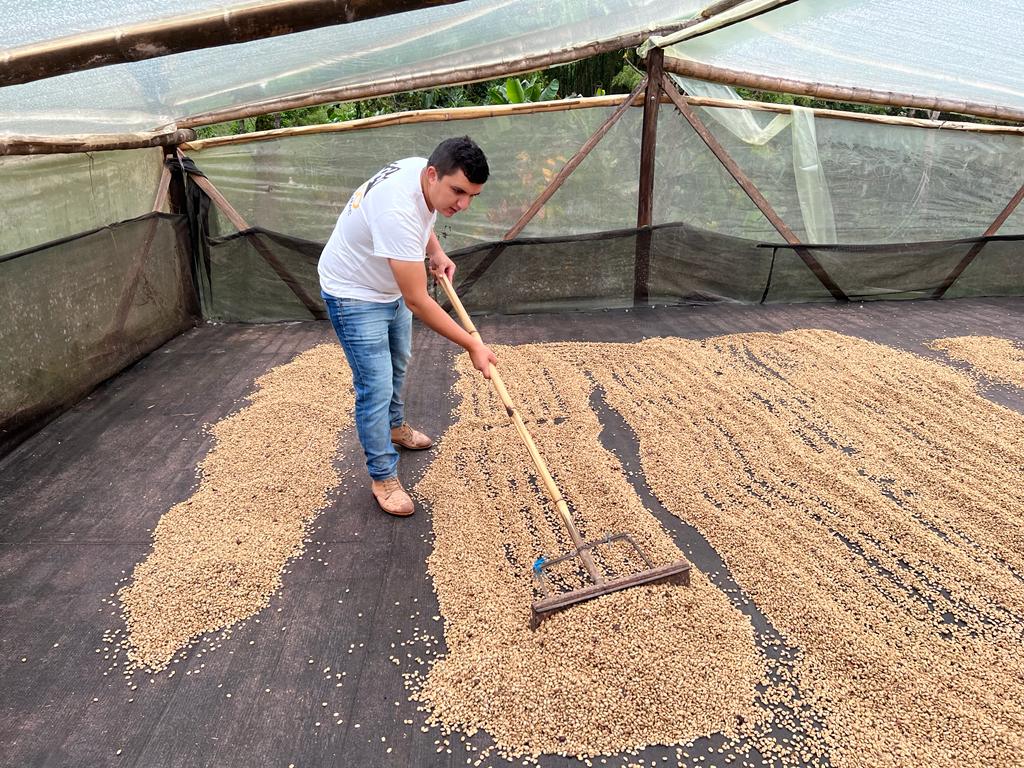 Coffee from Tanzania
It's time for a new round of rock star coffees: in May, we're not that far from Brazil. We land in Bolivia, right next door. The two lots we have chosen for reuch this month come from neighbouring farms that are about a 6-hour drive from La Paz, the Bolivian capital. Lot #1 comes from the farm 4Llamas, which may be an old acquaintance for some. Lot #2 comes from Finca Senda Salvaje, which is in the neighbourhood. Both farmers know each other well and are part of the local coffee community. We are curious to see how and if you like these two coffees next to each other.
# 1 El Diviso Sidra — Colombia Rare Filter
Apple Cider — Blackcurrant — Jasmine This Geisha variety from Jairo Lopez is grown in the Pijao region of Colombia. The anaerobic process differs from the aerobic method in that the cherries are fermented in an airtight tank, resulting in a slower and more controlled fermentation. The subsequent drying of the coffee cherries with pulp allows the sweetness to infuse into the coffee bean, which beautifully supports the fruity notes of the geisha variety.This filter coffee expresses the delicate, floral notes that geishas are known for. Fruity, vinous notes reminiscent of cider and blackcurrant.
#2 Bella Vista Geisha — Kolumbien Rare Filter
Brombeere — Pfirsich — Rhabarber
Don Martin baut diesen seltenen Kaffee - eine H17-Varietät - auf seiner Farm Finca La Chumeca an und verarbeitet ihn nach der 777-Methode.
Die Sorte H-17 ist ein super neuer und super spannender Kaffee, den du sofort probieren solltest, aber zuerst wollen wir uns ansehen, was hinter dieser besonderen Sorte steckt: Der H-17 ist eine Hybridsorte, die aus der Caturra-Sorte hervorgegangen ist, die erst 2014 gepflanzt wurde. Die ersten Ernten wurden drei Jahre später geerntet - aber die Ergebnisse in der Tasse waren nicht das, was man sich erhofft hatte: keine Komplexität. Was auf der CGLE-Farm folgte, war eine Menge Experimentieren: Im Jahr 2017 wurde schließlich ein neuer Caturra/Geisha-Hybrid gepflanzt. Die verwendete Gesha-Pflanze stammte aus Cerro Azul, wo ausschließlich Geisha-Pflanzen angebaut werden. Die Bäume wurden auf 1.890 m ü.d.M. angebaut - dem höchsten Punkt der Potosi Farm. Es gab nur 642 Bäume auf 2500 m2. Auf den ersten Blick sah diese Sorte anders aus: Die ersten Zweige begannen erst auf 50 cm Höhe, viel höher als bei anderen Sorten. Die Kirschen waren groß und dünn und der Ertrag jedes Baumes war hoch. Das ist ungewöhnlich für Geisha-Sorten.
Sein komplexes Geschmacksprofil wird durch das spezielle Aufbereitungsverfahren, das der Farmer Don Martin selbst entwickelt hat, unterstützt: Die "777 Double Fermentation" (wir nennen ihn den 'Jackpot-Kaffee') ist eine Kombination aus der aeroben und anaeroben Fermentierung. Diese Methode berücksichtigt die Brix-Grade im Kaffeehonig und den ph-Wert des Safts und Sickerwassers, die bei der anaeroben Fermentation entstehen.
Der H17 ist ein wirklich bemerkenswertes Kaffee-Lot. Der Kaffee besticht in der Tasse mit sehr süßen Noten von Brombeere und Pfirsich, und entwickelt sich noch mehr, wenn er abkühlt. Das komplexe Profil wird durch die Säure von Rhabarber ergänzt.
Impressions of the farm La Chumeca
Rockstar Coffee Club
Regular price

Sale price

33,61 €

Unit price

67,22 €

per

kg
August 2023
Direkter Handel mit Costa Rica
In diesem Monat begeben wir uns zurück zu den eigenen Wurzeln: nach Costa Rica! Denn hier wurden wir gegründet und von hier haben wir unseren allerersten Kaffee nach Berlin gebracht.
Die Hacienda Sonora ist einer unserer ersten Partner überhaupt. Damals haben wir viel Kontakt mit Alberto Guardìa gehabt, doch er hat die Geschäfte mittlerweile an seinen Sohn Diego abgegeben. Nach 15 Jahren haben wir bestimmt jede einzelne Varietät, die auf der Hacienda Sonora produziert wird, probiert!
Direkt nebenan (ein Tal weiter) liegt die kleine Farm La Chumaca von Don Martin Urena. Auch mit ihm haben wir schon seit sehr vielen Jahren zu tun: denn wir haben den ersten Sack kaffee gekauft, den er auf seiner Farm produziert hat. Don Martin liebt Kaffee und er liebt es, neu zu experimentieren. Durch sehr genaues Monitoring schafft er es, herausragende, funky Kaffees zu produzieren - die in Erinnerung bleiben.
#1 Hacienda Sonora Geisha Natural — Costa Rica Filter

Passionsfrucht — Mango — Honig

Dieses Lot ist eine Geisha-Varietät, die das Beste aus Costa Rica und Afrika zusammenbringt: auf Costarikanischem Terroir, bildet die afrikanische Sorte ein spannendes Geschmacksprofil aus. Ein weiterer, einzigartiger Geisha Kaffee von der Hacienda Sonora. Dieses Mal als 'natural' aufbereitet, was dem Kaffee besonders aufregend macht. "Intensiv" ist der beste Weg, um diesen Kaffee zu beschreiben.

Intensive tropische Aromen, fruchtige Mango auf der Zunge und intensiver sirupartiger Körper. Dieser Geisha-Kaffee ist eine volle Geschmacksexplosion - er springt praktisch aus der Tasse. Bei Noten von Passionsfrucht und Honig wird er durch eine anhaltende Süße ausgeglichen.

Dieses Lot erzielt 89 Punkte auf der SCA-Punkte-Skala: lebendige Säuren, ein saftiges Mundgefühl, die Süße von tropischen Früchten und ein intensiver Nachgeschmack.
#2 Don Martin Geisha Enano — Costa Rica Filter

Unser Don Martin Geisha Enano (Dwarf Geisha - Zwerg Geisha) bekam seinen Namen aufgrund seiner Größe. Die Enano Geisha Varietät bringt deutlich kleinere Kaffeesträucher im Vergleich zu anderen Geisha Varietäten zum Vorschein. Es sich vermutlich eine Laune der Natur und eine spontane Mutation der Pflanzensorte.

Doch die geringe Größe des Enano wirkt sich keinesfalls negativ auf den Geschmack des Kaffees aus. Ganz im Gegenteil. Die Geschmacksnoten des Kaffees überraschen mit weichen floralen Noten, die sich sehr klar und ausgewogen in der Tasse wiederfinden lassen.

Sein komplexes Geschmacksprofil wird durch das spezielle Aufbereitungsverfahren, das der Farmer Don Martin selbst entwickelt hat, unterstützt: Die "777 Double Fermentation" (wir nennen ihn den 'Jackpot-Kaffee') ist eine Kombination aus der aeroben und anaeroben Fermentierung. Diese Methode berücksichtigt die Brix-Grade im Kaffeehonig und den ph-Wert des Safts und Sickerwassers, die bei der anaeroben Fermentation entstehen.

Der Kaffee besticht in der Tasse mit sehr süßen Noten von Erdbeeren die perfekt von Aromen reifer Zitrusfrüchte ausbalanciert werden, sowie langanhaltende florale Noten im Abgang. Die Fruchtnoten entwickeln sich weiter und werden präsenter, während der Kaffee abkühlt. Unsere Röster haben den Geisha Enano mit über 90 Punkten auf dem SCA-Score bewertet.
July 2023
Floral flavour profiles
We had two really unusual coffees in July under the theme "Floral Flavour Profiles". It's hard to get around the Geisha variety here, so we chose two lots, one a Geisha variety and the other a 70% Geisha variety. Lot #1 is a Cup of Excellence winning Bernardina variety from Finca St. Juana. The Bernardina is so far unique in El Salvador, no other farm grows this variety so far, as it is a recently discovered mutation of Maria Pacas - the owner of St. Juana. Lot #2 is a Geisha variety from Malawi: In Mzuzu, Malawi, excellent Geisha coffee has been grown for decades. The technical progress that has been made in the meantime enables the cooperative to grow an outstanding cup quality. The Geisha coffees produced here are - exactly as one imagines Geisha coffees to be - floral, light and fruity.
#1 St. Juana COE — El Salvador Rare Filter

Cherries - Ripe stone fruits - Citrus fruits Maria Pacas joined the family business, Pacas Café, in 1991 and has since developed and expanded the sale of Specialty Coffee on the farm. Her outstanding work has been rewarded several times with the Cup of Excellence. For Maria, direct relationships with farmers and exporters are particularly important, as they enable a long-term and profitable exchange and growth for the company.Pacas Café is a family business that has been growing coffee since the late 19th century. Maria's grandfather discovered the now globally recognised Pacas variety, which was named after the family. The Bernardina variety was first discovered in 2013: at that time, there were five coffee trees in one corner of the farm that looked different from the regular bourbon trees on the rest of the farm. furthermore, the workers - including farm manager Roberto Bernardine Merche - noticed that the cherries gave off an incredibly fruity aroma of mango and tropical when processed in the wet mill. Eventually, farm manager Merche managed to get the beans processed separately and not mixed with the other beans as was customary. The Bernardina has since been grown on large areas of the farm and is still considered the best variety of Pacas Café. This lot scored 88.57 points on the SCA scale in COE 2022, putting it in 11th place. We taste in the cup an overall silky, bright coffee with notes of citrus fruits like orange and lime, on also ripe stone fruits like plums and ripe cherries. The aftertaste is long-lasting with a chocolaty sweetness.
#2 Mzuzu — Malawi Rare Filter

Jasmine - Pear - Honeydew Melon This Geisha coffee, comes from the Malawian hills where it is grown by members of the Mzuzu Cooperative. The cooperative was established in 2006 and consists of nearly 3,500 farming families (25% women) from six local villages. Since then, it has brought a new perspective to Malawi's coffee industry by focusing on gender equity. Women in particular are encouraged to own land and become involved in the board. Mzuzu is also committed to rural and social development, focusing on improving food and housing security and education. When the cooperative is not busy improving the lives of farmers, it helps them produce exceptional coffees like these. As in Panama, Malawi Mzuzu has been growing geisha coffee for decades. This Geisha coffee is grown on the shores of Lake Malawi and impresses with complex notes of jasmine, honeydew melon and delicate sweetness of ripe pear.
June 2023
We introduce: Acacia Hills Tanzania
Leon Christianakis has owned Acacia Hills Coffee Estate with his partner Mark Stell since 2007. His family has been growing coffee in Tanzania since the early 1900s, having emigrated there from Greece. Acacia Hills Coffee Estate not only aims to provide Africa's best specialty coffee, but is also a leader in coffee farming research. They test, analyze and improve growing techniques and use of nutrients to maximize yield and improve flavor. They participate in the annual Cupping at the Crater event to identify the best coffee areas on their farm. Sustainable practices are also a priority. These include reducing water use and installing wind and solar generators to reduce reliance on conventional electricity. These practices are important to maintain their status as a top African coffee commodity.
#1 Acacia Hills SL28 — Tanzania Rare Filter

Forest berries - apple cider - sweets SL28 is one of the best known varieties in Specialty Coffee - not least because it develops an excellent flavor profile. However, this is the reason why it is now grown all over the world. The SL28 coffee variety was developed in the 1960s at Scott Laboratories in Kenya. This particular lot of SL28 was honey-processed, which means that the ripe cherries are harvested by hand. The coffee cherries are washed and then hulled so that some of the mucilage and pulp remains on the bean. This is how the beans are spread out to dry. The beans become extremely sticky from the remaining pulp and, to prevent them from starting to mold, must be turned very regularly. After a few days, the sticky mass looks a lot like honey, which is where the name comes from. In the cup, we taste a particularly sweet flavor profile.
#2 Acacia Hills Kent — Tanzania Rare Filter

Tropical fruits - Pineapple - Jasmine It is believed to be a mutation of Typica, named after an Indian planter who worked on a selection program in the 1920s. It was developed with the goal of having resistance to the notorious leaf rust. Leaf rust attacks the leaves of the coffee plant, preventing it from photosynthesizing.is a mutation of Typica, with the particularity of being immune to leaf rust. This lot of Kent variety was naturally processed. This means that the coffee cherries are washed after harvesting and then spread out to dry on raised, African beds, together with the skin. This type of processing - also called dry - results in the coffee's flavor profile later becoming particularly fruity and intense, as the sugars from the cherry are able to soak into the bean.
May 2023
Excellent, award-winning coffees from Bolivia
In May, we bring two outstanding coffees from Bolivia into the cups: one lot comes from the Finca 4Llamas, with whom we also worked last year. This year, we have also received a lot that far exceeds expectations. In addition, there is a lot from a new farm Senda Salvaje, which we were able to source through our friends from Typica. It is the first lot the farm has sold overseas in over 6 years, and we are especially grateful to have been chosen as one of the roasters.
#1 4Llamas — Bolivia Rare Filter

Tangerine - Green Apple- Jasmine Andrés & Mariá are obsessed with optimising the processing methods, they put great emphasis on the highest quality of the beans. What is also special about this lot is the unique processing method. After harvesting, the coffee cherries are put into special fermentation tanks. The tanks are then deprived of oxygen and filled with nitrogen. Only the lactic acid bacteria survive, which ensure a harmonious, balanced taste. The beans are then de-pulped and dried with the mucilage. The remaining mucilage increases the sugar content in the bean and intensifies the flavours and sweetness in the cup. A fruity cup of the African variety: With its 90 points, this Geisha coffee is particularly complex. Geisha-typical floral notes of jasmine predominate in the cup, along with the acidity of crisp green apple. We taste sweet notes of tangerine and red fruits as well as a silky body. With a light aftertaste.
#2 Finca Senda Salvaje - Bolivia Rare Filter

Stone fruit - milk chocolate - red fruits The Lot is a red Catuaí that has been double washed. It thus has particularly clear notes and a balanced cup profile. The farm is run by Carmelo Yujra. He is considered the leader in the community in the area. He picked up the passion for coffee at an early age: his parents grew coffee on 5ha, but the business only became really successful when he started to study the different varieties and improve the fermentation methods. Today, Carmelo has the most successful farm in the area.
April 2023
Daterra Masterpieces
What can you expect? Daterra is known for the exceptionally high qualities they produce. The farm is located in the state of Minas Gerais at 1,300 m above sea level, the largest coffee producing state in Brazil. The region is the Cerrado: the weather is characterised by dry spells and very well-defined rainy seasons, which is great for coffee because it allows for more weather stability and predictability. Warm, humid rainy seasons in spring and summer (September to February) are the perfect for flowering and cherry development. The dry season in autumn and winter (March to August) is very stable, which is beneficial for the ripening of the cherries, harvesting and processing. Processing: Both lots were fermented anaerobically: In natural anaerobic fermentation, the coffee cherries are left to ferment in a tank without oxygen. First, the ripe cherries are placed in a tank equipped with an airlock valve. As fermentation progresses, CO2 is released and displaces the oxygen, making the tank anaerobic. This environment allows specific microorganisms to carry out enzymatic reactions that increase the acidity and flavour of the coffee.
# 1 Daterra Alfredo Aramosa — Brazil Rare Filter

Peppermint — Watermelon — Red Berries Aramosa is a cross between Coffea Arabica and Coffea Racemosa. The crossing of this variety resulted in a plant with higher resistance to draught and the leaf miner. Aramosa has inherited some resistance from Racemosa while retaining the excellent drinking quality of Arabica. The seed came to Daterra through our partnership with the Agronomic Institute of Campinas, a reference in coffee research. Aramosa also has less caffeine than regular Arabica beans, about half (comparable to a cup of green tea), and is therefore good to drink in the afternoon.
#2 Daterra Candido — Brazil Rare Filter

Pineapple-Kombucha — Orange— Tropic Fruits The Geisha variety needs no introduction. We obtained the seed from the Agronomic Institute of Campinas through their studies on foreign genetics. In collaboration with the IAC, our partners at Daterra have been researching how to adapt and grow geisha in the Cerrado. A fruity cup of the African variety: we brew this coffee and smell the scent of orange blossom. We taste sweet notes of ripe peach, yoghurt and tropical fruits, and a light yet juicy body.
March 2023
Cata Export: closer to the farmers than ever before
Jonathan Gasca comes from a family of coffee farmers and was born in Pitalito, Colombia. Although his family has always grown and sold coffee, quality was not particularly important to them, only quantity to provide a stable income. Jonathan originally wanted to be a football player, but eventually returned to the farm. He became interested in specialised coffee and experimented with different farming methods to achieve better quality. Although he initially had difficulty selling his coffee beans, he remained committed and now dreams of gaining worldwide recognition for the quality of his coffee.
# 1 El Diviso Sidra — Colombia Rare Filter

Apple Cider - Blackcurrant - Jasmine This Geisha variety from Jairo Lopez is grown in the Pijao region of Colombia. The anaerobic process differs from the aerobic method in that the cherries are fermented in an airtight tank, resulting in a slower and more controlled fermentation. The subsequent drying of the coffee cherries with pulp allows the sweetness to enter the coffee bean, which wonderfully supports the fruity notes of the Geisha variety. This filter coffee expresses the delicate, floral notes that geishas are known for. Fruity, vinous notes reminiscent of cider and blackcurrant.
#2 Bella Vista Geisha — Colombia Rare Filter

Jonathan Gasca comes from a family of coffee farmers and was born in Pitalito, Colombia. Only in the last few years have they placed a greater focus on quality in cultivation and processing. The work is rewarded, this Geisha lot was processed anaerobically: Coffee bean processing begins with ripe coffee cherries being harvested by hand. In a second step, the cherries are sealed in plastic bags and fermented anaerobically (i.e. without oxygen). This takes place in the shade and lasts 4 days. Afterwards, the cherries are washed with a little water to remove impurities. In the next step, the cherries are dried in the sun for 5-8 days. Depending on the climate, they have to be turned 4 times a day. Once they are completely dry, the beans are removed from the cherries and can then be roasted and processed into coffee. We love this lot either way and look forward to tasting more from Jonathan. In the cup you taste a high floral sweetness, with notes of ripe citrus. The mouthfeel is silky and in the aftertaste.
February 2023
Ethiopian varieties grown in Brazil
In February, two of the most important coffee countries come together: Wir probieren die frische Ernte von zwei äthiopischen Varietäten, die in Brasilien kultiviert wurden. The lot comes from the Fazenda Santuario Sul in Brazil, where the classic models of Brazilian coffee are being challenged.Luiz Paulo Pereira of Carmo Coffees in Brazil and Camiro Merzizalde of the Santuario Project In Colombia are working together here to bring lighter styles to Brazil, where people are more familiar with nutty and chocolatey flavours. Together they have produced many unique coffees, which have tricked even experienced tasters. In June, we will get two Ethiopian Heirloom original varieties from Santuario Sul, which have been grown, processed and fermented with skill.
#1 Santuario Sul Sudan Rume - Brazil Filter

Rum sultanas - ginger - wild berry compote The Sudan Rume is a rare branch of the Bourbon coffee family. It was originally grown in the border area between Ethiopia and Sudan, in the Boma Nature Reserve. The Sudan Rume was first catalogued in the 1940s and is a delicate variety with a very small crop. Our lot, grown at the Fazenda Santuario Sul in Brazil, was processed "naturally" and is already a special coffee per se: Processing is a main theme at the Santuario Sul, and the detail-oriented fermentation creates first-class natural coffees. This Sudan Rume is no exception: we can clearly taste the fermentation, notes of rum sultanas and a certain spiciness reminiscent of ginger accompany the typical flavour profile of the African variety, which is rather floral and fruity.
#2 Santuario Sul Yirgacheffee - Brazil Filter

Green Grape Honeysuckle Panela Yirgacheffe is a globally known - and appreciated - coffee region in Ethiopia, from where this heirloom variety also gets its name. The variety comes from the huge genetic diversity in the region and is one of the best among the Ethiopian original varieties. This lot was processed after harvesting in Santuario Sul with a 92-hour Anaerobic Natural Processing. For this, the coffee cherries are fermented in a dense bin without oxygen for almost four days before being dried in the sun. This gives more control over the fermentation process and follows to a clean cup. A fruity cup meets Brazilian consistency: we brew this coffee and smell the scent of honeysuckle. On first finish, we taste sweet notes of blueberries, panela and bergamot, and a nutty body reminiscent of hazelnut.
January 2023
El Salvador: We meet producer Carlos Mendez
In January we have two coffees from the same producer in El Salvador. Carlos Mendez has been growing coffee for many years and now manages several coffee farms. In this Rockstar Edition, we taste two of his coffees, each from two different farms. Let's meet Carlos: Carlos runs the family business Geca Coffee, which owns several farms between Apaneca and Ataco in the Ahuachapan region of El Salvador at altitudes between 1,200 and 1,500 metres above sea level. The Mendez family grows Pacamara, Pacas, Geisha, Bourbon, Cuscatleco and Centroamericano, with all their coffee grown exclusively in the shade of native trees and forestry. They are also concerned about sustainability and have recently introduced a water management programme to collect and distribute rainwater. Carlos is heavily involved in production and has a particular interest in processing and fermentation. He produces natural, honey processed and washed coffees that have won multiple Cup of Excellence awards. We have direct contact with Carlos and look forward to his harvest every year.
#1 Los Azacuanes Geisha - El Salvador Filter

Pear - Raisin - Chocolate Finca Los Azacuanes is located at about 1,350 m above sea level and has already been awarded the Cup of Excellence for various coffees. Producer Carlos chose a hybrid method for processing this lot.Two fermentation phases were carried out during processing: an initial 24-hour aerobic fermentation, followed by a 24-hour anaerobic fermentation. The coffee was then slowly dried for about 40 days. We taste decadent notes of chocolate, the sweetness of boozy sultanas and a hint of crisp pear in the finish.
#2 El Tarro - El Salvador Filter

Steinfrüchte — Karamell — Apfel Finca El Tarro is very close by, also at about 1,350m above sea level, and here too Carlos practices various combined fermentation methods. The process for this Pacamara lot is the same as for the Geisha lot from Finca Los Azacuanes, but the effects are different because the beans are significantly larger. When cupping, we taste a high sweetness of stone fruits, a flavour of apple cider - resulting from the fermentation - a juicy mouthfeel and a fruity aftertaste.
What else awaits you in 2023:
OKTOBER | Geisha Kaffees aus Costa Rica 2023
#1 ???
#2 ???
Wir sind noch in Gesprächen mit unseren Partnern und veröffentlichen die Infos so bald wie möglich.
NOVEMBER | Geisha Kaffee aus El Salvador
#1 El Salvador Geisha #1
#2 El Salvador Geisha #2
DEZEMBER| Stay tuned!