Easter Coffee
Kiwi fruit, Honeydew Melon, Cane Sugar
Regular price

Sale price

$18.00
Grind

If you don't have a grinder at home, we'll be happy to grind the coffee to your specifications. Simply click on your preparation option above or order whole beans.

If you don't have a grinder at home yet, we'll be happy to grind the coffee to your specifications. Just click on your brewing option above or order whole beans.
Cultivation

Cultivated with love by great farmers. 100% Arabica coffee, harvested when ripe and carefully processed. Sustainable and fairly traded.
Shipping

Freshly roasted, packed and shipped safely to you by DHL.
Packaging

Our standard bags contain 250g and are 100% recyclable. No mixed materials.
Preparation

Take your tried-and-tested recipe as a starting point for this roast, or get help from our Brew Guides.
Scoring Card

The coffee cherry can develop up to 1,200 different natural flavours. Depending on location and variety. Learn to understand the taste in coffee with the Scoring Card. Score your coffee by filling out your

Scoring Card

.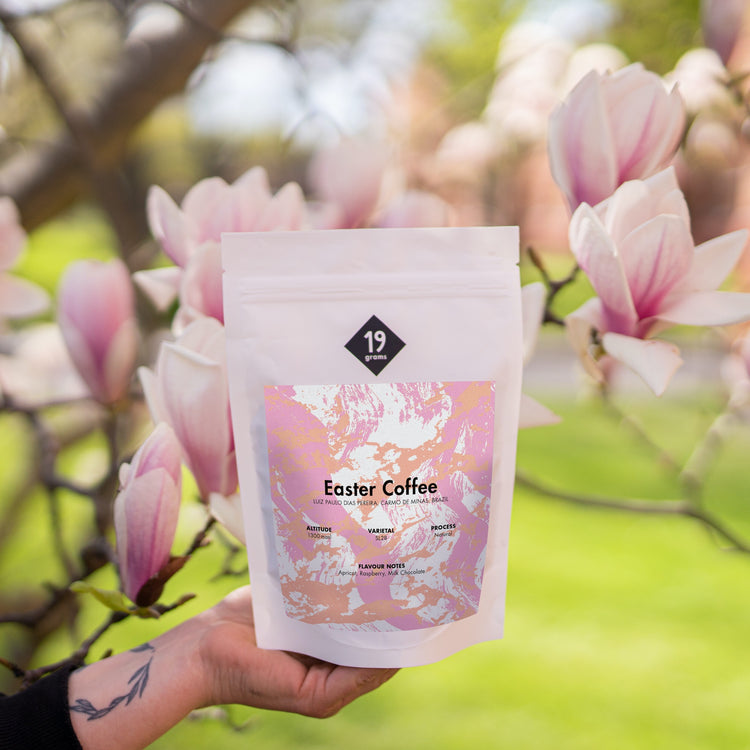 All about the set
The Spring is Springing!
This year, we're going for a funky Brazilian for Easter. This lot is the SL28 - an originally African variety grown at the Fazenda Santuario Sul in Brazil.
In keeping with spring, we decided on a team-up for Easter '23 with a wine from Dieter Meier's Puro range. He pursues the same goal with his wines, which he grows under the best ecological conditions in Argentina, as we have set for our coffees.
Available from: 29.03.2023
Set:

OPTIONAL our Easter coffee comes in a set with PURO wine by Dieter Meier. We have chosen a light rosé that perfectly suits the light spring weather. The grapes were vinified dry. Dieter Meier is a dazzling figure: he is one half of the electro-avant-garde band Yello, was part of the Swiss national team as a golfer, has played poker very successfully and created paintings that are collected by MoMa. On his estate in Argentina, he now produces - also successfully - organic wines. His rosé made from Syrah, Merlot and Cabernet Franc has a full-bodied and round attack, smells of red fruits and vanilla and tastes nice and fresh.
Dieter Meier - Puro Wine

Dieter Meier is a jack-of-all-trades - musician, artist and businessman, best known as a member of the electropop band Yellow. Meier was born in Zurich in 1945 and began his musical career in the 1970s as part of the avant-garde band Yello. Together with his partner Boris Blank, he produced numerous albums that achieved both commercial and critical success.

In addition to his music career, Meier is also active as an artist and has organised a number of exhibitions in Europe and the USA. He is also a successful businessman and has invested in various industries, including agriculture and viticulture.

In Argentina, Meier has owned a winery called Ojo de Agua in the province of Mendoza since the 1990s. There he produces high-quality wines that have gained international recognition. Meier has intensively studied viticulture and relies on sustainable cultivation methods.

In summary, Dieter Meier is a versatile artist and successful businessman who is not only successful in the music industry but also in viticulture.

Translated with www.DeepL.com/Translator (free version)
Ingredients

DIETER MEIER 05l, screw cap 12.5% Vol, Organic Certified, Vegan Argentina, Región del Nuevo Cuyo Cabernet Franc, Malbec, Syrah Organic Malbec and Syrah grapes are carefully selected in Agrelo, Luján de Cuyo, an area known as the Mecca of grape production. "We use high quality red grapes and harvest them at the ideal time of ripeness to preserve freshness and acidity. Fermentation takes place in stainless steel tanks at low temperatures. Here we achieve a slow and controlled fermentation to develop the rosé's aromatic profile."
Tastes like Berlin summer in your cup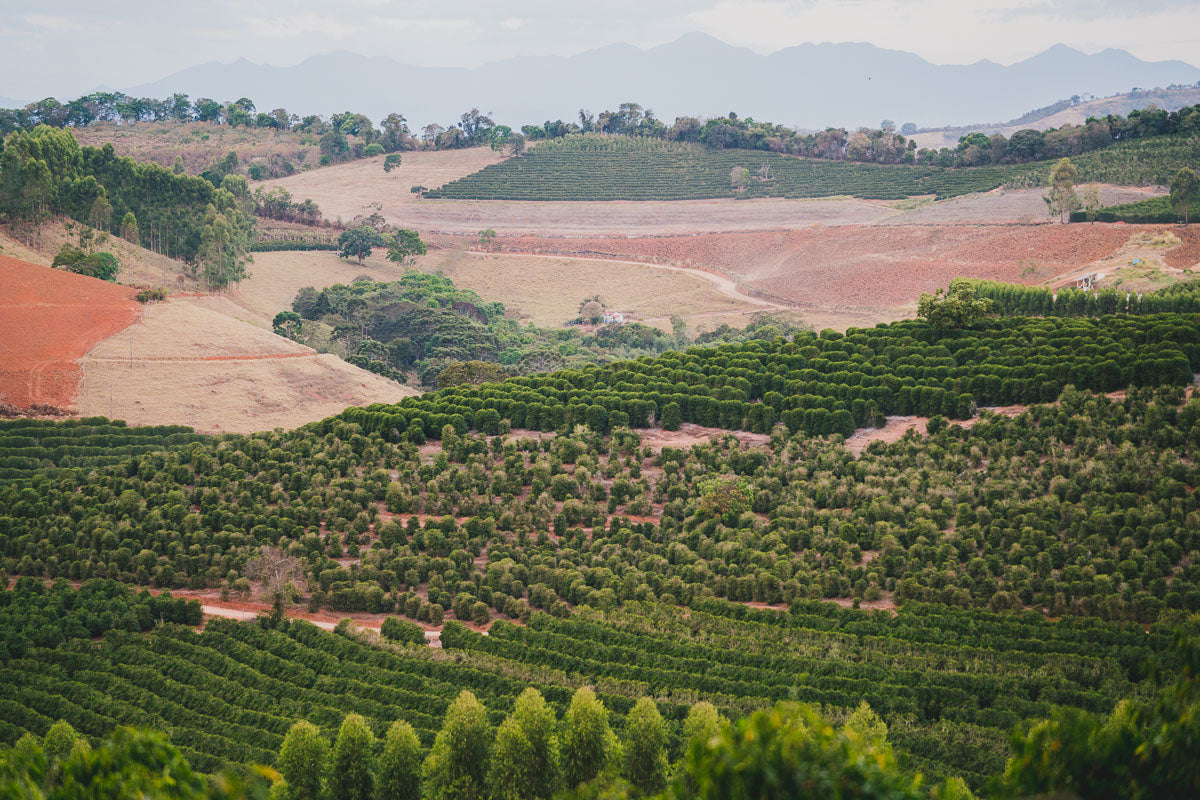 To the Coffee
Kiwi fruit, Honeydew Melon, Cane Sugar
Score: 89
Sweetness: 3/5 Dark Chocolate
Acidity: 2/5 raspberry
Mouthfeel: 3/5 nutty
Body: 3/5 creamy and nutty

Varietal: SL28
Processing: Natural
Harvest Time: 2022/23
Drying Time: 15 days

Brewing Example:
1:2 - 19gr coffee grounds for 40gr espresso in about 35 seconds
About the Coffee
The fact that the African variety SL28 is grown in Brazil is remarkable in itself. If the lot has also been processed really well, then this coffee should not be missed: grown in Carmo de Minas on the Fazenda Santuario Sul, a 120-hectare farm of which 80 hectares are planted with coffee, the Santuario Sul SL28 fits perfectly into our filter range. We are roasting this lot of Luiz for the 2nd year in a row.

The exceptional quality of this SL28 is significantly influenced by the - for Brazil high - location at 1,300 m above sea level: You taste melon, kiwi and sugar cane in the cup. In recent years, Luiz's coffees have achieved brilliant results in the Cup of Excellence.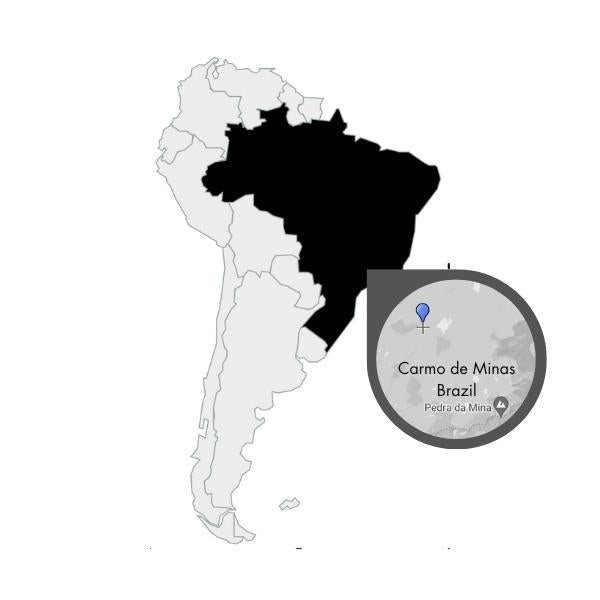 About the Coffee
The Fazenda Santuário Sul (the Sanctuary) is a project founded with the aim of being a pioneer of new trends.

Collaboration: for several years
Farmer/ Producer: Luiz Paulo Dias Pereira
Business Type: family-run farm
Country, Region: Brazil, Carmo de Minas
Altitude: 1.350 m.a.s.l
Type of Soil: fertile soils
Fertilization Method: Organic
Type of Shadow: grown in the shade
Ort der Verarbeitung: on the farm
Number of Varietals: over 30 different varietals
Harvest time: May - Sept
More about the farm
The Fazenda Santuário Sul (the Sanctuary) is a project founded with the aim of being a pioneer of new trends. The coffees grown here reflect the tenacity of farmer Luiz Paulo and his partners.
Today, in addition to traditional Brazilian varieties such as Yellow Bourbon, the farm has more than 30 exotic coffees, differentiated cultivation practices such as shaded fields and innovative practices that achieve new flavours.

Fazenda Santuário Sul is located next to one of the most traditional plantations in Carmo de Minas, Irmãs Pereira, where the coffee is processed. Great care is taken to closely monitor the varieties planted in order to obtain the best results from the climatic conditions of the region. Moreover, Luiz Paulo himself insists on harvesting the first tests of each of these coffees. For the next few years, Luiz Paulo has no doubt, "the goal is to lead the avant-garde of the market and offer better and better qualities!"

In recent years, the farm has had a brilliant track record at the Cup of Excellence with different coffees.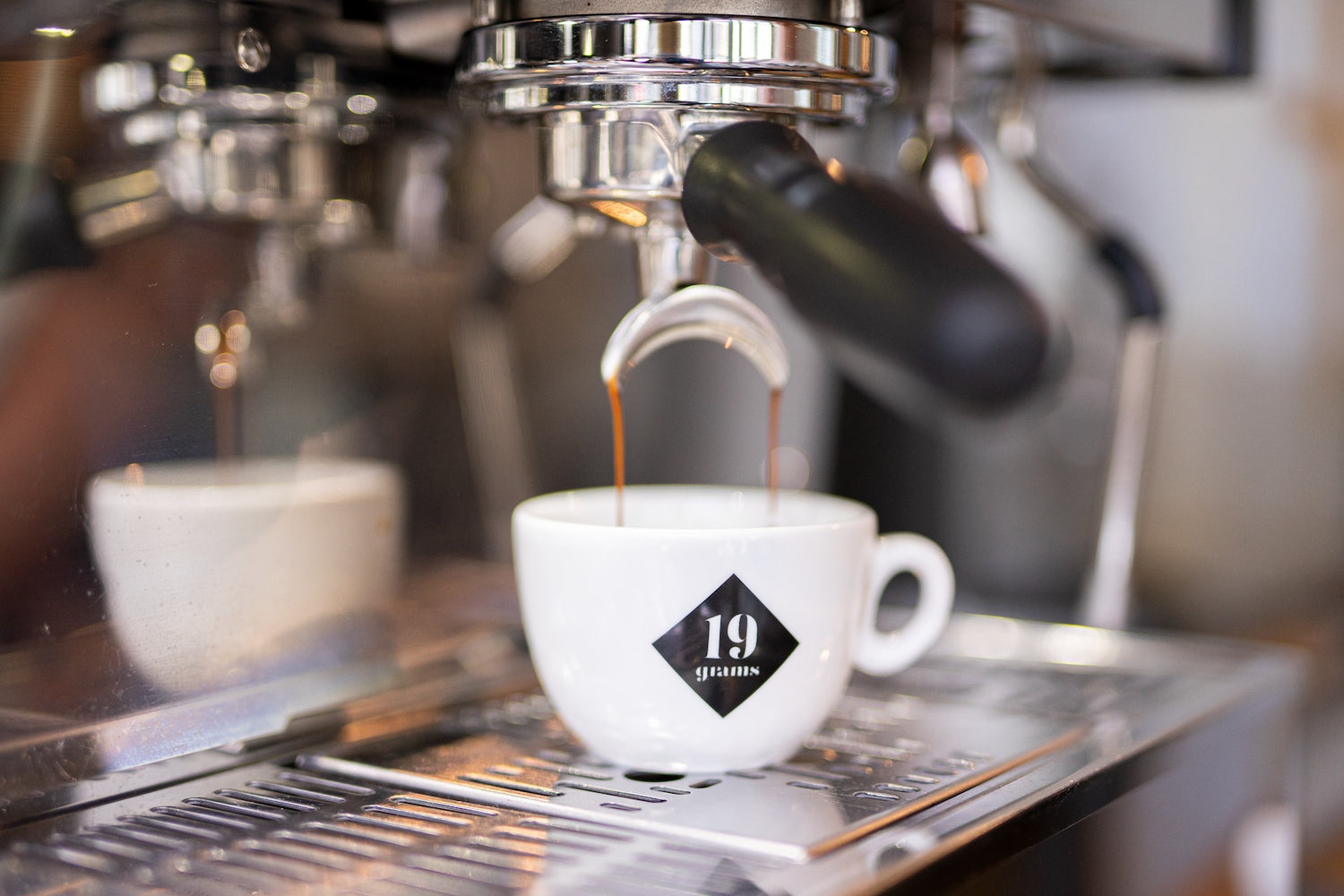 Bloody Good Espresso
Coffee is a fruit with many natural fruit acids. We roast our espressos to develop fine acid lines, but also to bring out the sweetness. With our espresso roasts, we present the intense flavour profiles of different coffee origins. Discover our Single Origin Espressos - all 100% Arabica coffees, carefully selected and gently roasted by our roasting team.
Order your favourite coffee simply online.
Sustainably grown
Carefully grown and processed by our partners.
Worldwide Shipping
Safe and secure with DHL. To your home.
Recyclable packaging
No mixed materials in our coffee bags, therefore easy to recycle.
Pay safely
Choose from a variety of secure payment methods
.
Free shipping from 30€

Easy, safe and fast delivery with DHL. Free of charge from 30€ order value.

Directly & Fairly Traded

We attach great importance to long-term relationships. With farmers at eye level.