Espresso Test Box
Regular price

16,72 €

Sale price

10,84 €

Unit price

43,36 €

per

kg
Dive into the world of Specialty Coffee and try our espresso classics: Italo Disco, Endless Summer, Little Flower, Orang Utan Project Coffee and Wild At Heart. The perfect introduction to Specialty Coffee. Ideal for giving as a gift!
The perfect coffee gift for espresso lovers and beginners!
Because the demand after the first launch was so high, we have to pack new boxes quickly. The next shipping date is: 11.05.2023
Happy Brewing!
Grind

If you don't have a grinder at home, we'll be happy to grind the coffee to your specifications. Just click on your brewing option above or order whole beans.

Find the right grind. You can get the most out of your coffee by grinding your beans just before brewing. Take a look at the equipment selection if you are interested in a grinder.

You can also select a grind level in each product if you want us to grind the beans for you. We use a Mahlkönig EK43 for this.

Frenchpress and Aeropress are ground on the same setting.
Cultivation

Cultivated with love by great farmers. 100% Arabica coffee, harvested when ripe and carefully processed. Sustainable and fairly traded.
Shipping

Freshly roasted, packed and shipped safely to you by DHL.
Packaging

Our standard bags contain 250g and are 100% recyclable. No mixed materials.
Preparation

Take your tried-and-tested recipe as a starting point for this roast, or get help from our Brew Guides.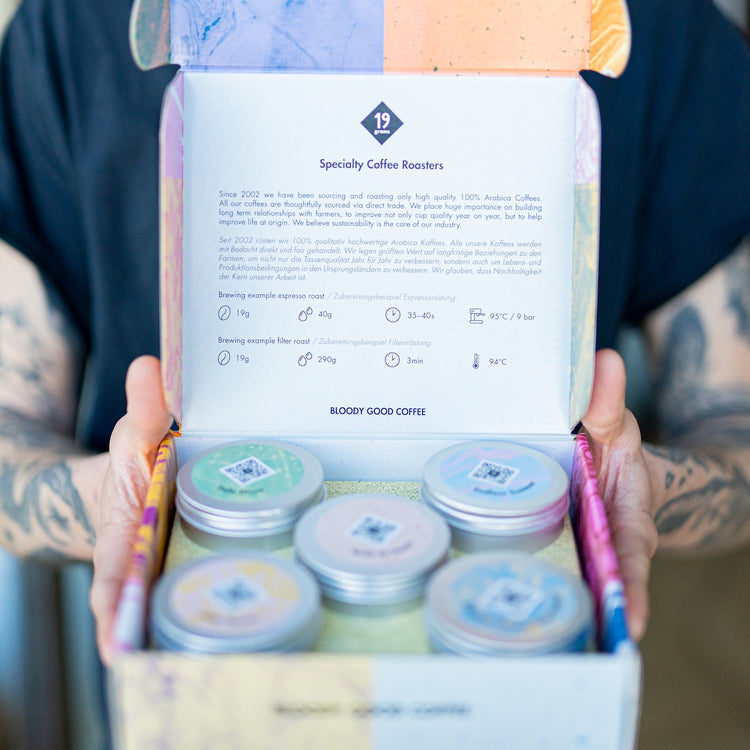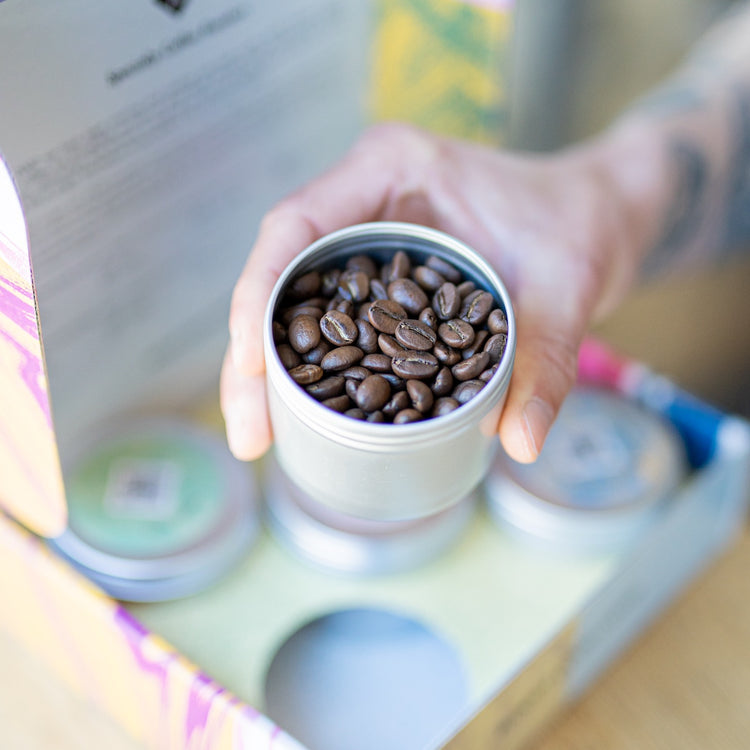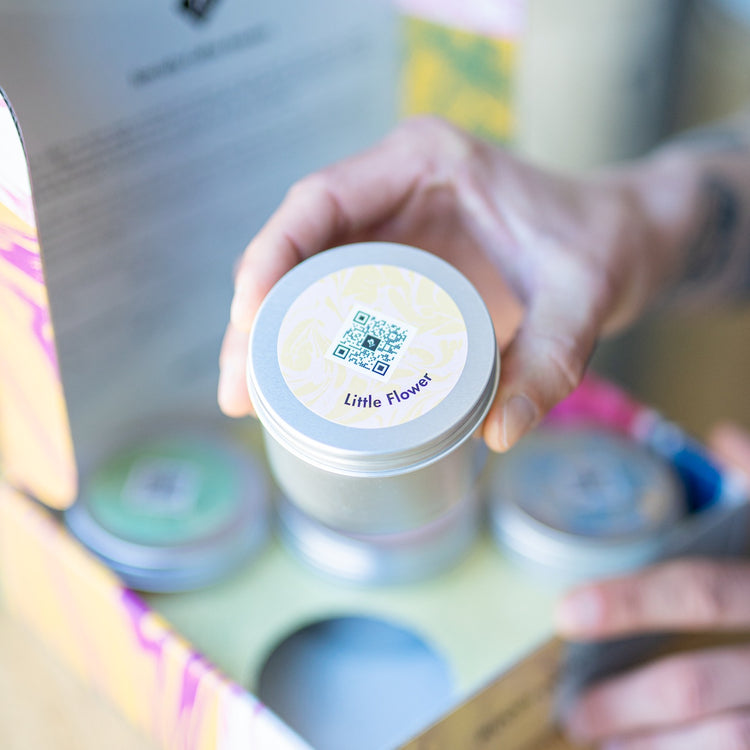 Questions about the Espresso Test Box
Which coffees are included in the set?

Italo Disco - dark espresso roast Bring the taste of your last Italian holiday home with this espresso. This Arabica bean from the Fazenda Sertão in Brazil comes across clear and fine, with a powerful punch of dark chocolate, paired with subtle fruity flavours of cherry jam and caramel. Endless Summer - Costa Rica The Endless Summer espresso comes from Tarrazù, Costa Rica. It is roasted a little darker and is therefore ideally suited for preparation in a fully automatic machine. In the cup, it develops warm and strong cocoa nuances with flavours of melon and sweet cane sugar for your perfect coffee experience. Perfect for the fully automatic machine too! Little Flower - Espresso from India This coffee from India is gently roasted and therefore very low in acidity. Nevertheless, it has a strong, full body. You taste notes of almond marzipan, sweet fruits, hazelnut and cocoa. Orang Utan Project - Sumatra Our Orang Utan coffee with flavours of hazelnut and chocolate comes from an environmental project to preserve the rainforest. The excellent Orang Utan Espresso coffee from Sumatra, with nutty flavours and a strong body, stands out due to its mild acidity. Wild at Heart - the 19grams house espresso The name says it all! We use this espresso roast in our cafés, because it is super flexible and really delicious straight or as a milk espresso.
How much coffee is in each can?

Each can contains 50g of espresso. This is enough for 2 double shots of espresso. Since the roasting profiles of the five coffees are similar, we recommend keeping the grind the same for all coffees and readjusting minimally if necessary. The coffees do not need to be adjusted individually.
Is there more info on the individual coffees?

You can find more information about the individual coffees under "Which coffees are included in the set", for example, or by scanning the QR codes on the respective cans with the camera app on your smartphone.
How long can I use the coffees?

The coffees should be used up to a maximum of 9 months after the roasting date.

The roasting date is on the bottom of the box.
How can I buy more coffee?

Scan the QR code on the can of your new favourite coffee and place your order. The QR code will take you directly to the coffee on our website.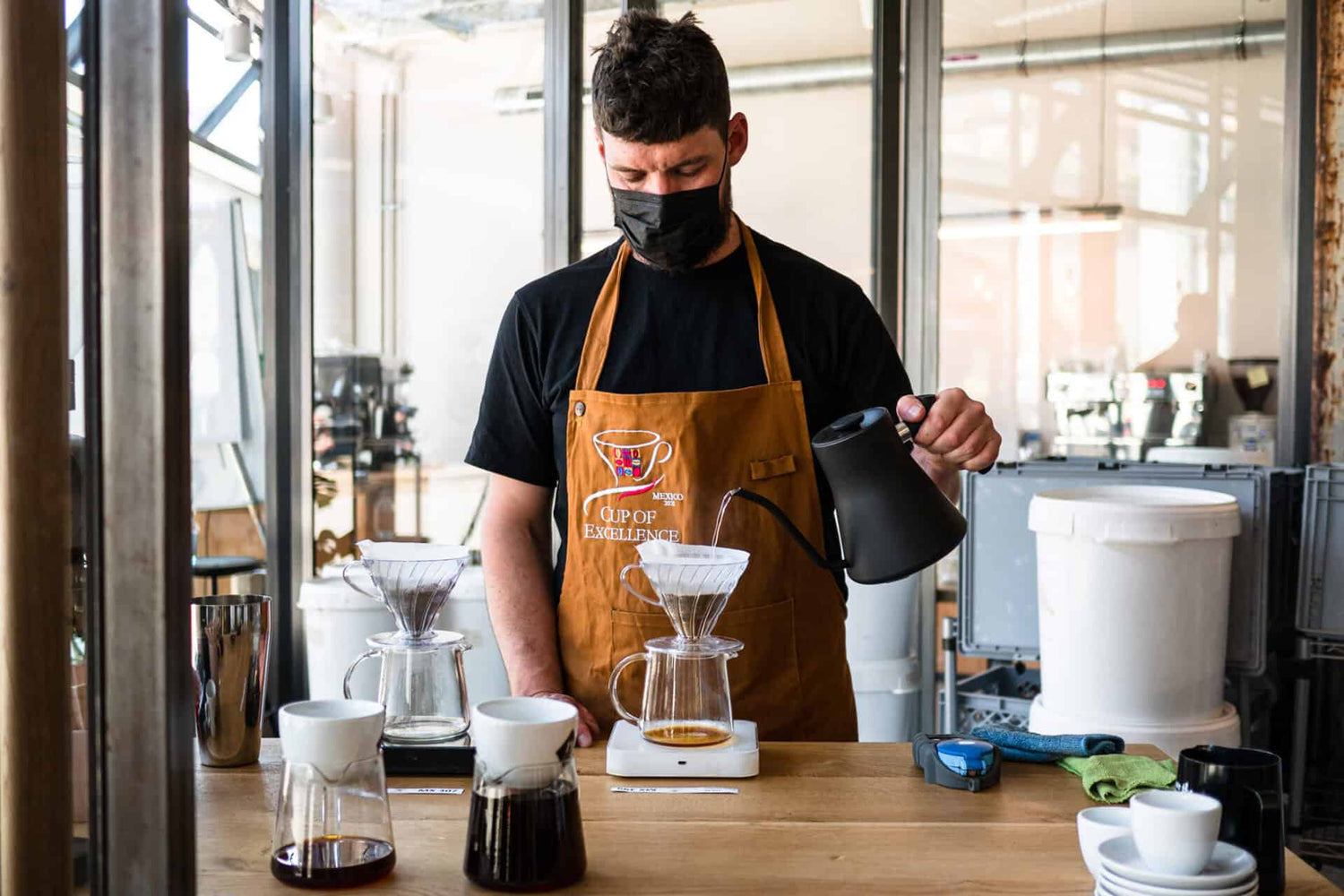 Bloody Good Coffee
Coffee is a fruit with many natural fruit acids. We roast our coffees to bring out these acids, but also to bring out the sweetness. When our roasters develop a flavour profile for a filter coffee, they make sure to use a slightly lower temperature. In our coffees, we bring out the natural flavour profile of each variety, but also of the terroir of Origin.
Simply order your favourite coffee online.
Sustainably grown
Carefully grown and processed by our partners.
Worldwide shipping
Safe and secure with DHL. To your home.
Recyclable packaging
No mixed materials in our coffee bags, therefore easy to recycle.
Pay securely
Choose from several safe payment methods.
Free shipping from 30€

Easy, safe and fast delivery with DHL. Free of charge from 30€ order value.

Directly & Fairly Traded

We attach great importance to long-term relationships. With farmers at eye level.