La Escondida Laurina - Low Caf - Nicaragua Filter
White Chocolate, Peach, Clementine
Regular price

Sale price

17,56 €
This is one of the finest examples of Laurina – a unique variety with around half the caffeine of regular Arabica coffees – that we've tasted. It's a godsend for those of us who need to reduce their caffeine intake, with a wonderfully smooth white chocolate sweetness, and a juicy, peach-like acidity.
Choose your grind size

If you don't have a grinder at home, we'll happily grind your coffee to your specifications. Just select your brewing method above or order whole beans.

Find the right grind. You can get the most out of your coffee by grinding your beans just before brewing. Take a look at the equipment selection if you are interested in a grinder.

You can also select a grind level in each product if you want us to grind the beans for you. We use a Mahlkönig EK43 for this.

Frenchpress and Aeropress are ground on the same setting.
Cultivation

Cultivated with love by great farmers. 100% Arabica coffee, harvested when ripe and carefully processed. Sustainable and fairly traded.
Shipping

Freshly roasted, packed and shipped safely to you by DHL.
Packaging

Our standard bags contain 250g and are 100% recyclable. No mixed materials.
Brewing

Take your tried-and-tested recipe as a starting point for this roast, or get help from our brew guides.
Scoring Card

The coffee cherry can develop up to 1,200 different natural flavours. Depending on location and variety. Learn to understand the flavours in coffee with the Scoring Card. Grade your coffee by filling out your Scoring Card.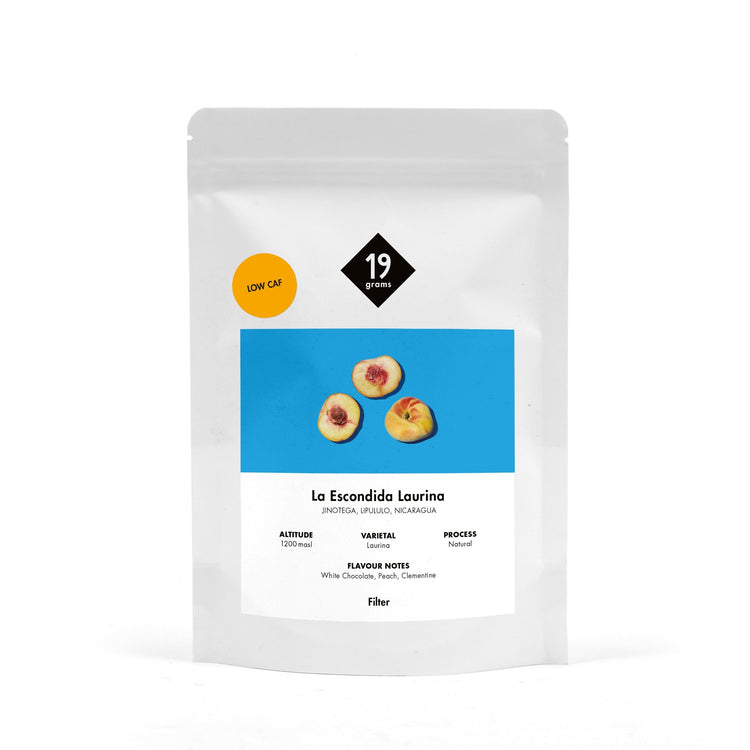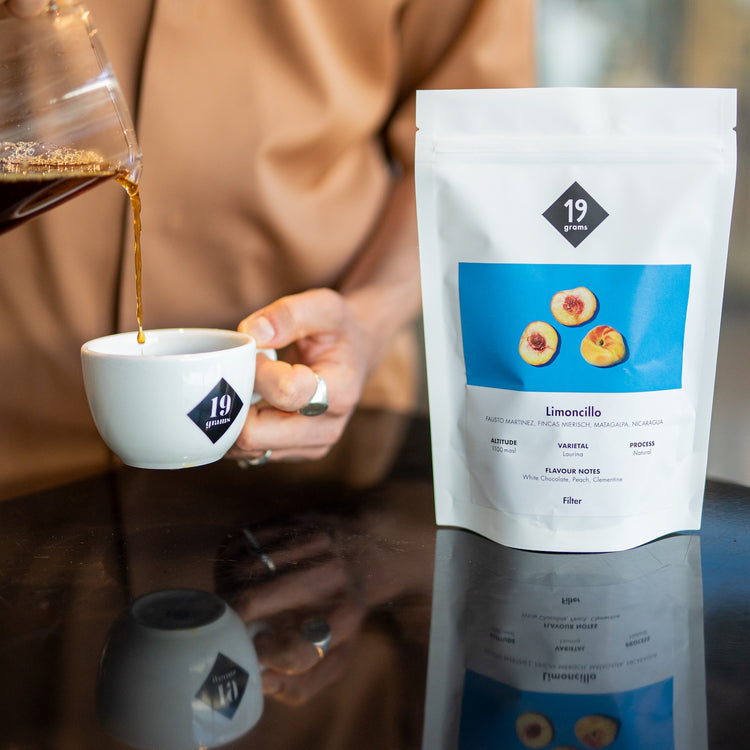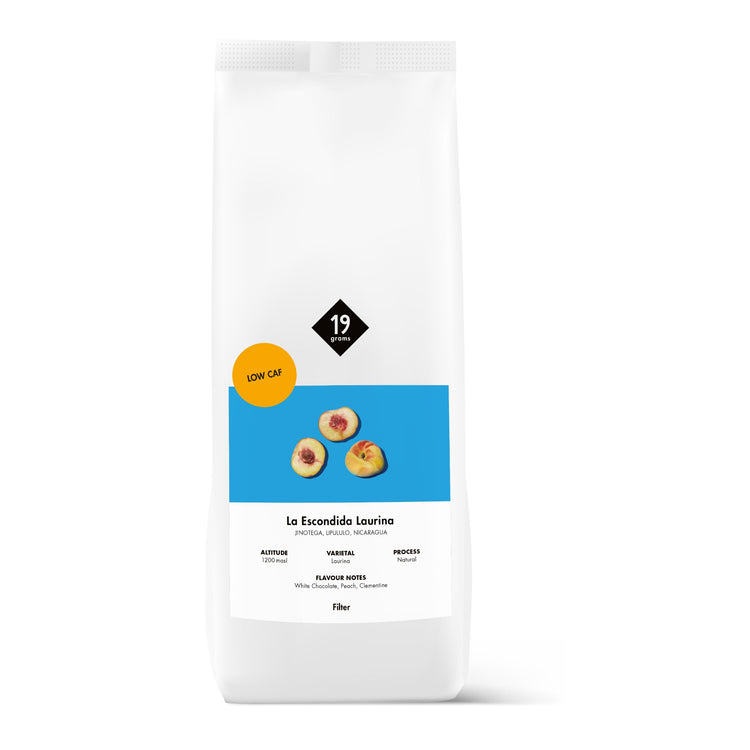 Suitable for filter preparation: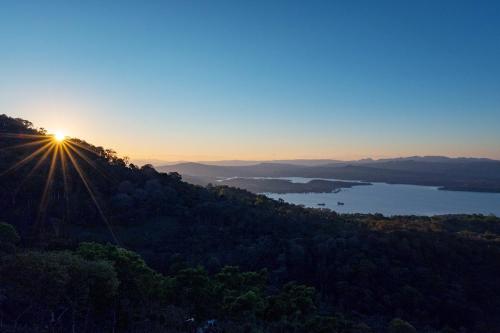 About the coffee
White Chocolate, Peach, Clementine
Score: 86.5
Sweetness: Chocolate
Acidity: Peach
Mouthfeel: Smooth
Body: Clean

Variety: Laurina
Processing: Natural
Harvesting Year: 2022
Drying Time: etwa 14 Tage

Suggested brew recipe:
1:16.5 (eg 16g coffee to 250g water) in about 2:30 to 3:30 minutes.
About the coffee
These beans from Nicaragua are of the rare and delicate variety Laurina. Tricky to find and even trickier to grow, Laurina has seen a huge spike in demand as a fantastic tasting low caffeine option. Unlike decaffeinated coffee which has its flavour profile altered by the commercial process that removes caffeine, Laurina naturally contains only half the caffeine of typical Arabica coffees.

This natural deficiency is at once what makes Laurina exciting and challenging. We love low-caf coffee because it means that we can drink more of it, but the lower caffeine content poses challenges too. For one, caffeine acts as a natural pesticide in coffee, as its bitter taste and powerful stimulant effects ward off many insects and animals who might eat coffee cherries. Less caffeine means Laurina is a more delicate crop to grow, producing around 20% less coffee per hectare than other Arabica varieties. This in turn makes it a riskier crop for farmers to plant, as this lower yield and higher risk isn't necessarily recouped in the higher price Laurina fetches.

The team at the Finca La Escondida, part of the Mierisch family of farms and run by Jose Elias Contreras have been growing Laurina for several years now, and we're again impressed with the results. The low caffeine content lowers the bitterness in the cup, with a smooth-as-silk white chocolate sweetness and refined, rich, and juicy acidity that tastes like peaches and clementines.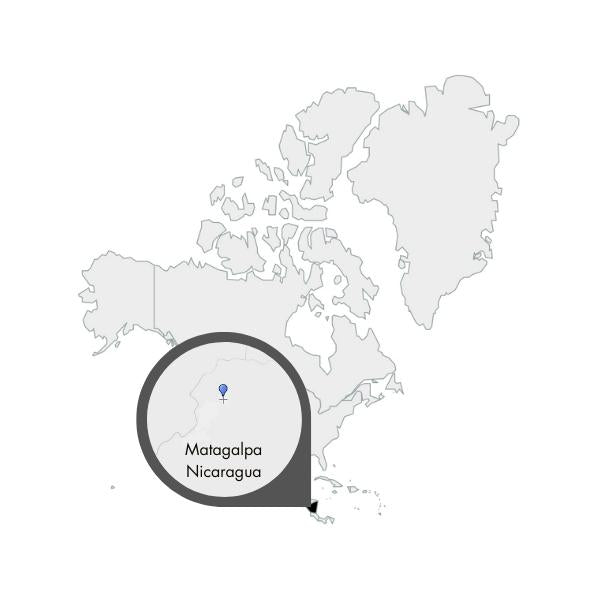 The Farm | La Escondida
The Finca La Escondida is run by the Mierisch family, a coffee dynasty who run 12 farms in Nicaragua and Honduras.

Relationship: Direct Trade
Producer: Jose Elias Contreras
Type of Farm: Family-run farm
Region, Country: Lipululo, Jinotega, Nicaragua
Altitude: 1200 masl
Soil type: Fertile soils
Fertilisation method: Organic
Shadow Type: Shade grown
Processing location: on the farm
Number of varieties: 4
Harvest season: Dec-March
About the farm
The Fincas Mierisch are a group of farms in Nicaragua and Honduras that was founded by Bruno Mierisch Boettiger over 100 years ago. A biologist by trade, Bruno emigrated from his native Germany to Nicaragua to build railways, and ended up being paid in land in the Matagalpa mountains. Deciding to stay in Nicaragua, Bruno started farming lemons on his land, calling it Finca Las Lajas. At the turn of the 20th century, the government started incentivising coffee growing, and Bruno planted the first coffee trees in 1908, and in doing so started a coffee dynasty.

Today, through the work of Bruno's descendants, the Fincas Mierisch have expanded to nine farms in Matagalpa and nearby Jinotega, in Nicaragua, as well as three farms in neighbouring Honduras, near the Rio Blanco. La Escondida is a medium-sized farm by the Lago Apanás in the west of Nicaragua, in the department of Jinotega. Jose Elias Contreras runs the farm where besides Laurina he also grows Red Catuai, Javanica, and Yellow Pacamara.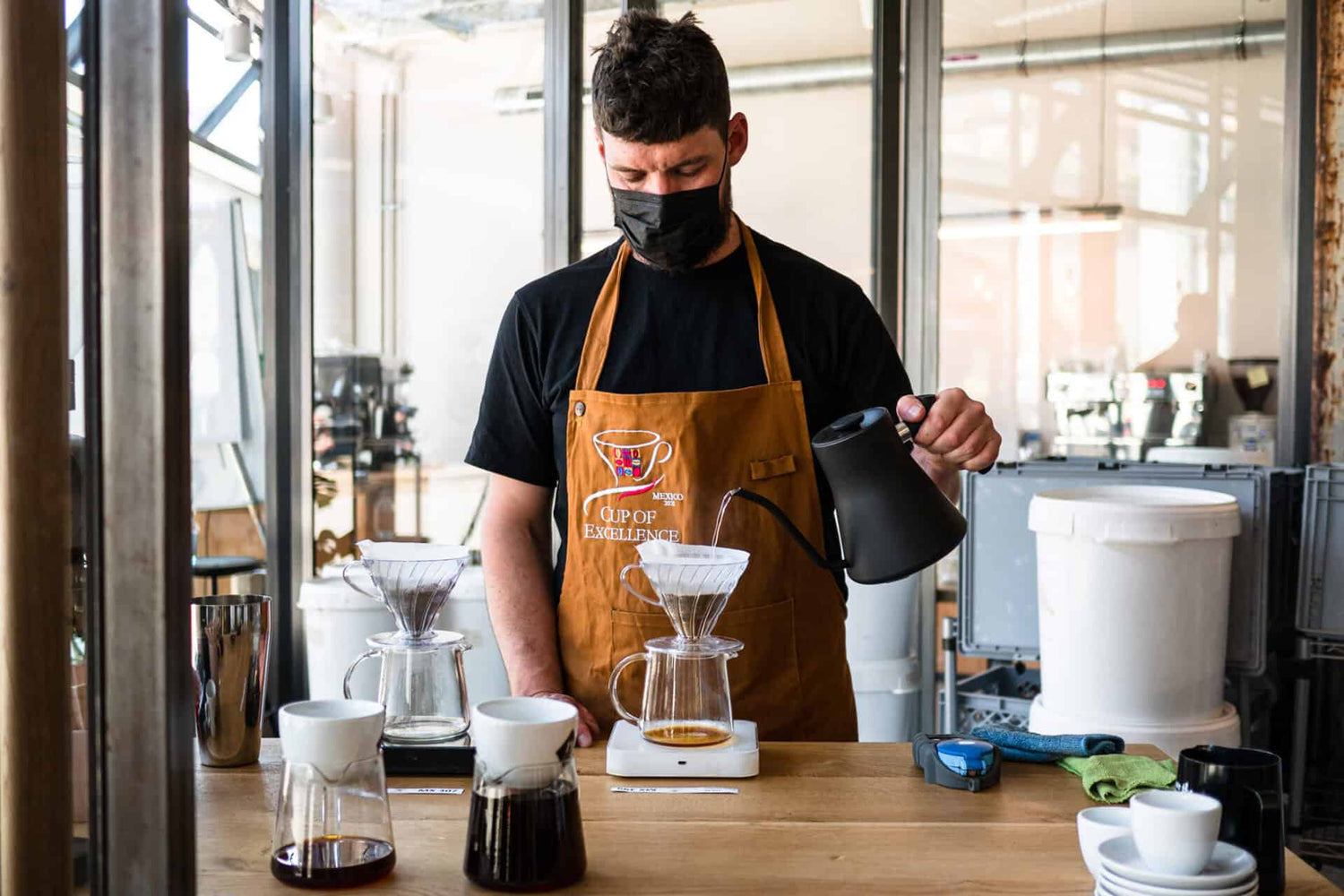 Bloody Good Filter
Coffee is a fruit which is naturally acidic and contains many sugars. We roast our filter coffees to bring out this acidity and develop the natural sweetness.
In developing a profile for a filter roast, our roasting team takes a light-handed approach, roasting much more gently than in an espresso roast. Here, the aim is to respect and highlight the natural flavours of the coffee itself, and to let its terroir shine through.
Simply order your favourite coffee online.
Sustainably grown
Carefully grown and processed by our partners.
Worldwide shipping
Safe and reliable with DHL. Direct to your door.
Recyclable packaging
There are no mixed materials in our coffee bags, making them easy to recycle.
Pay securely
Choose from several secure payment methods.
Free shipping from €30

Easy, safe and fast delivery with DHL. Free of charge from a €30 order value.

Directly & Fairly Traded

We attach great importance to our long-term relationships, keeping farmers on equal terms.