Las Delicias Geisha - Nicaragua Filter
Rose, Apricot, White Chocolate
Regular price

Sale price

26,81 €
This year's batch from Las Delicias in Nicaragua is this textbook washed geisha. Fruity notes of rose, apricot and white chocolate, with a silky-smooth body.

Select your grind size

If you don't have a grinder at home, we'll happily grind your coffee to your specifications. Just select your brewing method above or order whole beans.

Find the right grind. You can get the most out of your coffee by grinding your beans just before brewing. Take a look at the equipment selection if you are interested in a grinder.

You can also select a grind level in each product if you want us to grind the beans for you. We use a Mahlkönig EK43 for this.

Frenchpress and Aeropress are ground on the same setting.
Cultivation

Cultivated with love by great farmers. 100% Arabica coffee, harvested when ripe and carefully processed. Sustainable and fairly traded.
Shipping

Freshly roasted, packed and shipped safely to you by DHL.
Packaging

Our standard bags contain 250g and are 100% recyclable. No mixed materials.
Brewing

Take your tried-and-tested recipe as a starting point for this roast, or get help from our brew guides.
Scoring Card

The coffee cherry can develop up to 1,200 different natural flavours. Depending on location and variety. Learn to understand the flavours in coffee with the Scoring Card. Grade your coffee by filling out your Scoring Card.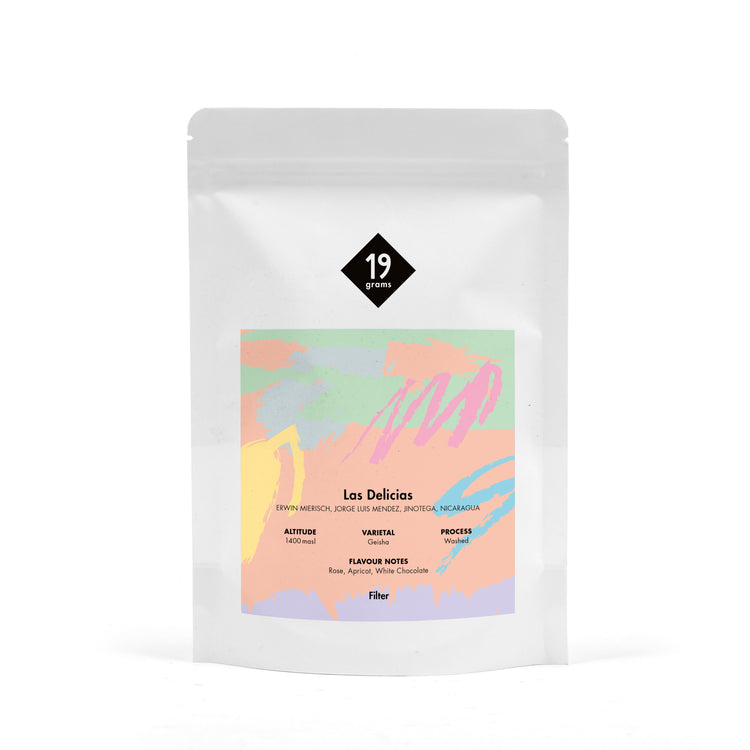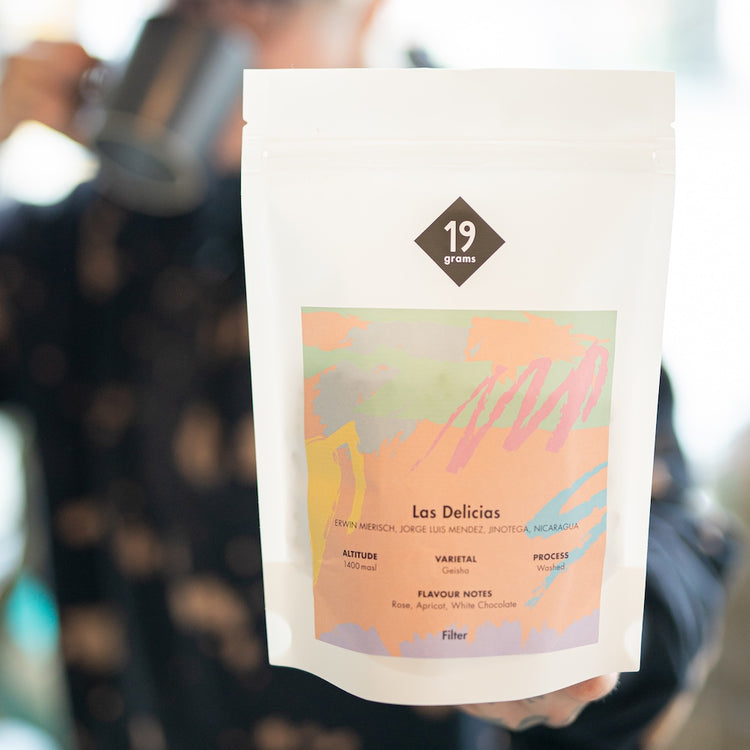 Suitable for filter preparation: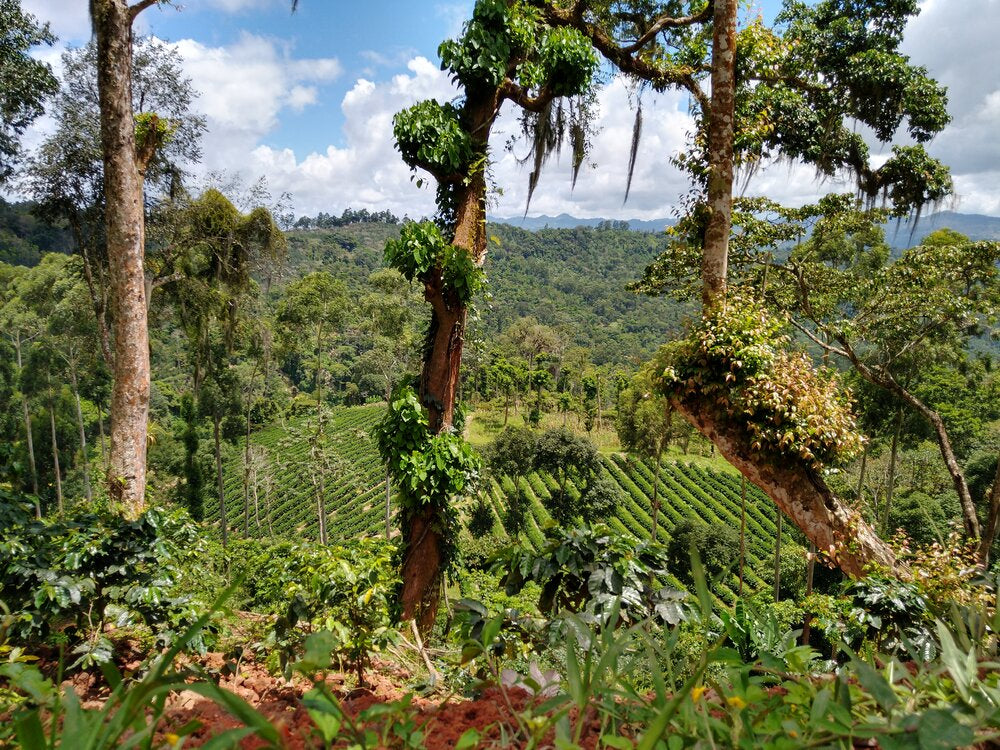 About the coffee
Rose, Apricot, White Chocolate
Score: 88
Sweetness: 5/5 White Chocolate
Acidity: 4/5 Delicate and complex
Mouthfeel: 3/5 Silk
Body: 4/5 Long and sweet

Variety: Geisha
Processing: Washed
Harvesting Year: February 2021
Drying Time:

Suggested brew recipe:
16g coffee, 250g water, medium grind, in about 2:30 mins
About the coffee
This stunning coffee exhibits everything we love about Nicaraguan Geishas. It's a super floral coffee with a potent note of roses, a silky body and fantastic sweetness. It's a washed coffee, meaning the cup is super clean, letting the natural character of the coffee shine through.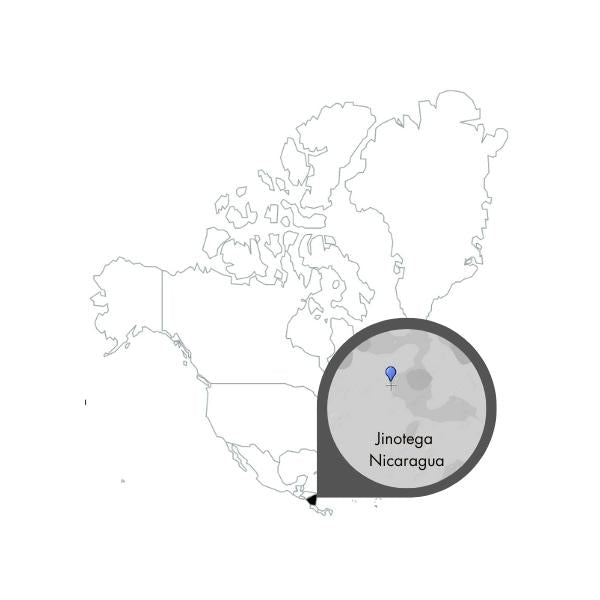 The farm | Las Delicias
Erwin and Eleane Mierisch manage the Fincas Mierisch, a group of farms in Nicaragua and Honduras.

Relationship: for many years
Producer: Fincas Mierisch
Type of Farm: Producer: Eleane Mierisch
Region, Country: Lipululo, Jinotega, Nicaragua
Altitude: 1400 masl
Soil type: fruchtbare Böden
Fertilisation method: organic
Shadow Type: im Schatten gewachsen
Processing location: on the farm
Number of varieties: 5
Harvest season: Dec - Mar

Cup Of Excellence 2017 (4th place)

About the farm
Las Delicias is one of the Fincas Mierisch, a group of a farms in Nicaragua and Honduras run by the Mierisch family, a kind of coffee dynasty famous in Nicaragua and beyond for their excellent coffees.

Eleane, Steve and Erwin Mierisch are the fourth generation of coffee producers in this family descendant from Bruno Mierisch Boettiger, a German biologist who was employed by the Nicaraguan government in the 19th century to build the national railroad, and ended up being payed in land in the Matagalpa mountains. His farm would become the first of the Fincas Mierisch, Las Lajas.

But it is the work of Eleane, Steve and Erwin that have propelled the Fincas Mierisch into the specialty coffee spotlight. They've been active in the Cup of Excellence programme since the early 2000s, and they've built a strong reputation for their group of farms.

Jorge Luis Mendez runs the Finca Las Delicias, a small 12 hectare farm in Lipululo, a community in the Jinotega department, which lies north west of Bruno's original farm in Matagalapa. Besides this stunning Geisha, Javanica, Yellow Pacamara,, Yellow Pacas and Red Bourbon are also grown at Las Delicias.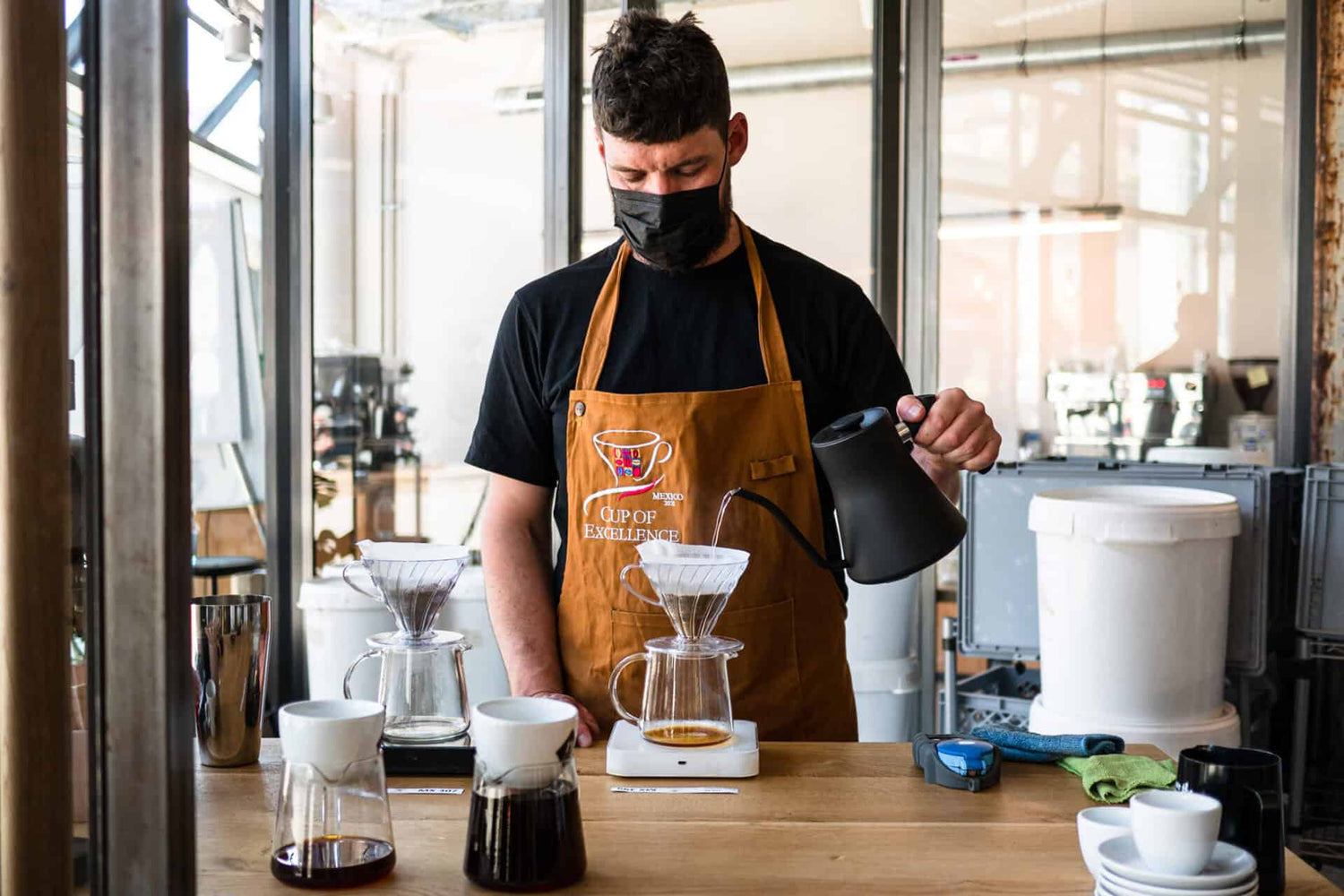 Bloody Good Rockstar
Coffee is a fruit. This means it is naturally acidic, and contains many sugars. We roast our coffees to bring out this acidity and develop their natural sweetness.
For us, all rare and special coffees are rockstars. We're super proud of our diverse and extensive range of rare coffees. Geishas and other special varieties taste their best when we're roasting them regularly and gaining experience. We are the only roasters in Germany that roast rockstars every single week, with Geisha and other rare varieties in our regular lineup.
Simply order your favourite coffee online.
Sustainably grown
Carefully grown and processed by our partners.
Worldwide shipping
Safe and reliable with DHL. Direct to your door.
Recyclable packaging
There are no mixed materials in our coffee bags, making them easy to recycle.
Pay securely
Choose from several secure payment methods.
Free shipping from €30

Easy, safe and fast delivery with DHL. Free of charge from a €30 order value.

Directly & Fairly Traded

We attach great importance to our long-term relationships, keeping farmers on equal terms.