Xingang - China Filter
Black Cherry, Mango, Hazelnut
Regular price

Sale price

15,88 €
China is the unknown coffee giant - also because of its tea culture. But there are outstanding Chinese coffees - this lot from Xingang is an excellent example: sweet black cherry and fruity mango, as well as a hint of hazelnut are found in the cup.
About the coffee
The Xingang farm is run by Yenai and her eldest daughter Zhaomei and covers an area of 28 hectares. The processing method used is based on a natural double fermentation. The coffee cherries are fermented in bags for three days before drying and then spread out on drying tables for two days. This is followed by another fermentation phase, which lasts until the aromas of the beans have matured. Finally, the last drying phase follows, which lasts about one month. This precession can also be tasted.
What is also special about this coffee is that it is produced exclusively by women, from planting to processing to roasting. It shows the power of women in the coffee industry from China to Europe. The flavour profile has also been designed to better reflect the characteristics of modern women. The fruity aroma is charming and feminine, sweet like mango and dried fruits, reminiscent of tropical warm wind. This reflects the softness of women. On the other hand, the stronger body of this coffee also highlights the strength of modern women.
About the farm
The owners of the Xingang farm place great emphasis on organic coffee farming and strictly adhere to the rules for harvesting the red cherries.
Choose your grind size

If you don't have a grinder at home, we'll happily grind your coffee to your specifications. Just select your brewing method above or order whole beans.

Find the right grind. You can get the most out of your coffee by grinding your beans just before brewing. Take a look at the equipment selection if you are interested in a grinder.

You can also select a grind level in each product if you want us to grind the beans for you. We use a Mahlkönig EK43 for this.

Frenchpress and Aeropress are ground on the same setting.
Cultivation

Cultivated with love by great farmers. 100% Arabica coffee, harvested when ripe and carefully processed. Sustainable and fairly traded.
Shipping

Freshly roasted, packed and shipped safely to you by DHL.
Packaging

Our standard bags contain 250g and are 100% recyclable. No mixed materials.
Brewing

Take your tried-and-tested recipe as a starting point for this roast, or get help from our brew guides.
Scoring Card

The coffee cherry can develop up to 1,200 different natural flavours. Depending on location and variety. Learn to understand the flavours in coffee with the Scoring Card. Grade your coffee by filling out your Scoring Card.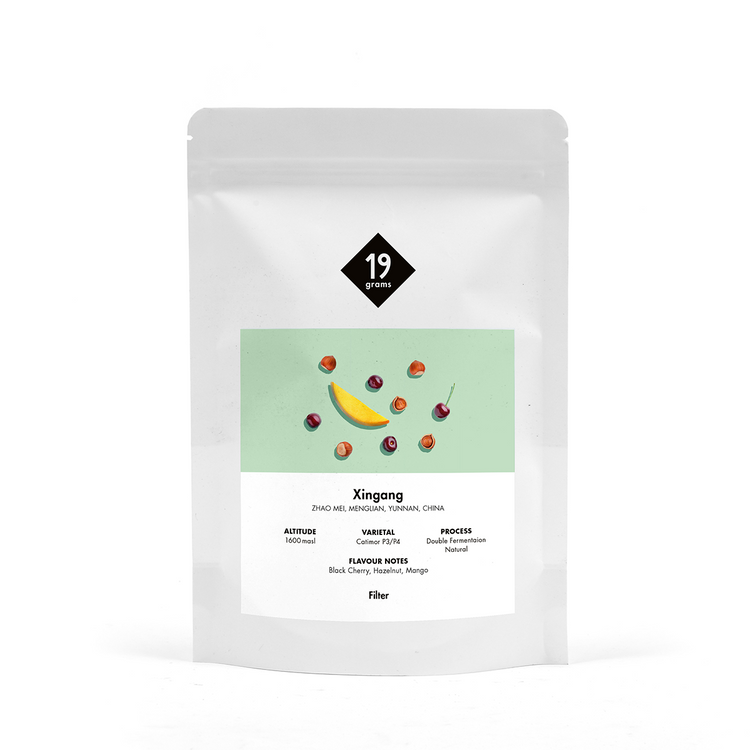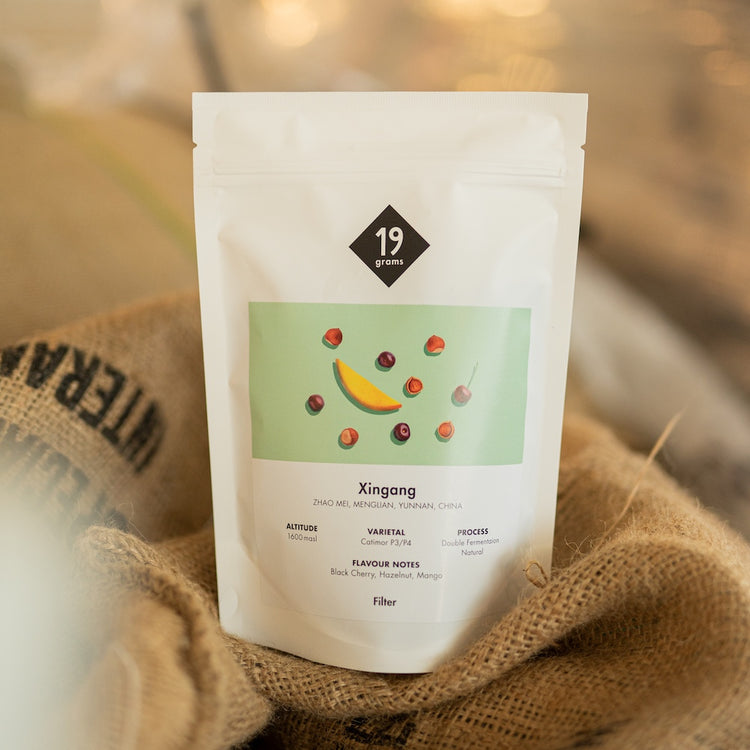 Suitable for filter preparation: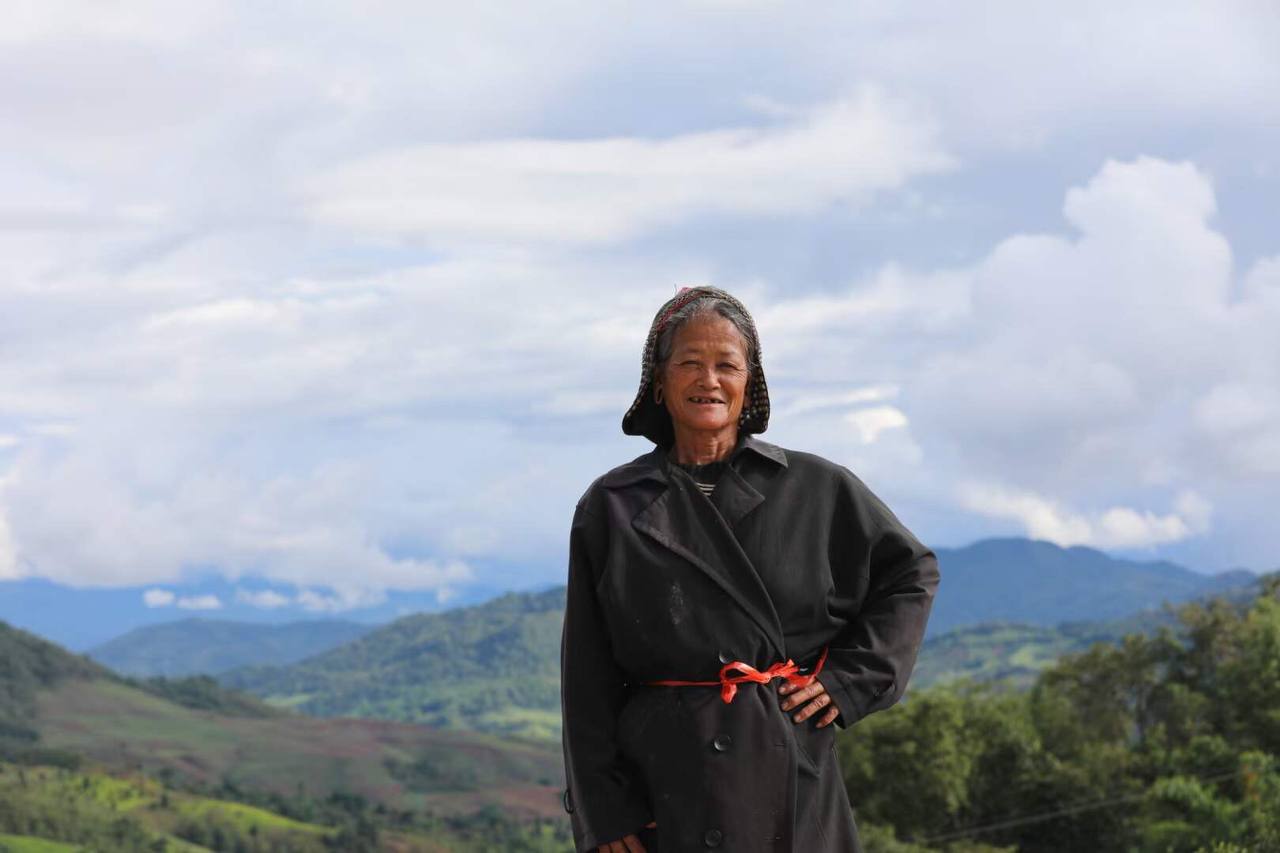 About the coffee
Black Cherry, Mango, Hazelnut
Score: 87
Sweetness: 5/5 Schwarzwälderkirschtorte
Acidity: 3 - Schwarze Kirsche
Mouthfeel: 4 - Cremig, dick
Body:

Variety: Catimor P3/P4
Processing: Double Fermentation Natural
Harvesting Year: 2021
Drying Time: einen Monat

Suggested brew recipe:
16g coffee, 250g water, medium grind setting, ca. 2,5 min brewing time
About the coffee
Die Farm Xingang wird von Yenai und ihre älteste Tochter Zhaomei geleitet und umfasst eine Fläche von 28 Hektar. Das verwendete Verarbeitungsverfahren basiert auf einer natürlichen doppelten Gärung. Die Kaffeekirschen werden vor dem Trocknen drei Tage lang in Säcken fermentiert und danach zwei Tage auf Trockentischen ausgebreitet. Im Anschluss folgt eine weitere Fermentationsphase, die so lange andauert, bis die Aromen der Bohnen ausgereift sind. Zum Schluss folgt die letzte Trocknungsphase, die ca. einen Monat dauert. Diese Präzession lässt sich auch erschmecken. 

Besonders an diesem Kaffee ist außerdem, dass er von der Anpflanzung über die Verarbeitung bis hin zur Röstung ausschließlich von Frauen hergestellt wird. Er zeigt die Macht der Frauen in der Kaffeeindustrie von China bis Europa. Auch das Geschmacksprofil wurde so gestaltet, dass es die Eigenschaften moderner Frauen widerspiegelt. Das fruchtige Aroma ist charmant und feminin, süß wie Mango und getrocknete Früchte, die an tropischen, warmen Wind erinnern. Auf der anderen Seite hebt der starke Körper die Stärke der modernen Frauen in den Vordergrund.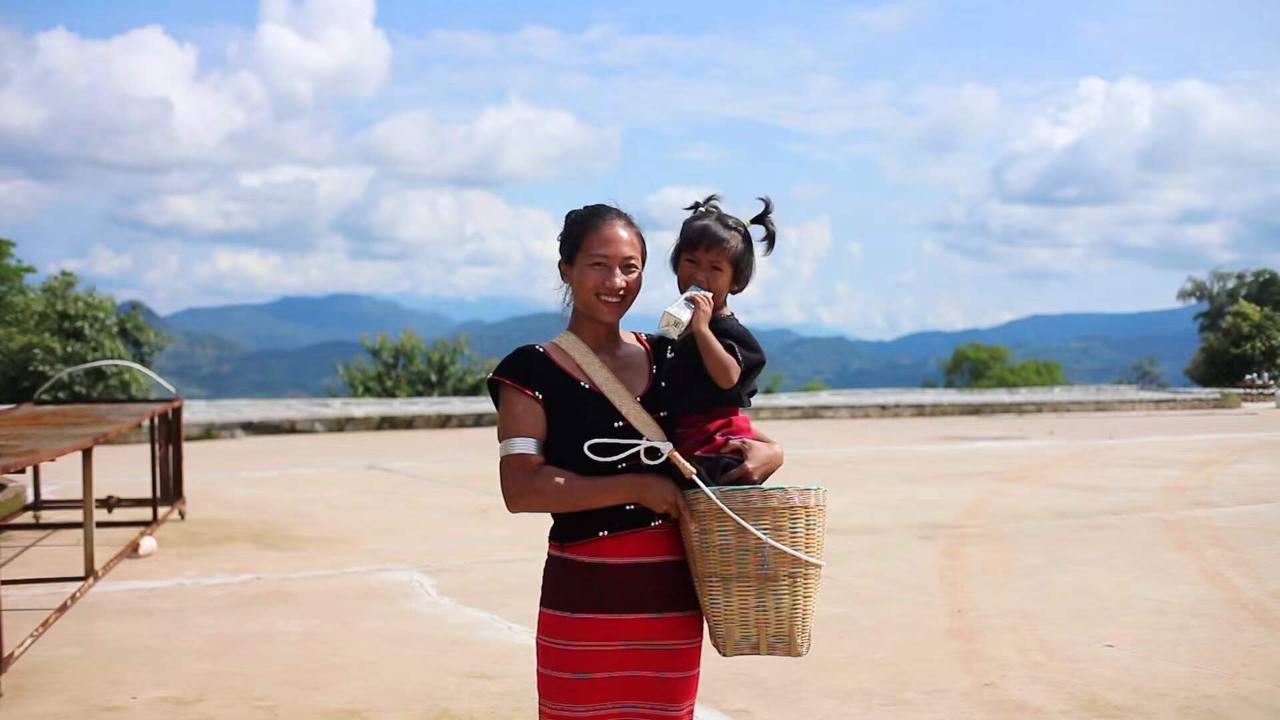 The Farm | Xingang
19grams ist der einzige Kaffeeröster außerhalb von China, der die Bohnen von Xingang röstet. Ein durchaus bemerkenswertes Lot!

Relationship: new Partner
Producer: Yenai and her oldest daughter Zhaomei
Type of Farm: family owned business
Region, Country: Menglian, Yunnan, CN
Altitude: 1600 masl
Soil type: fruchtbare Waldböden
Fertilisation method: organic
Shadow Type: im Schatten gewachsen
Processing location: at the farm
Number of varieties: verschiedene
Harvest season: Dec - Apr
About the farm
Jiawen Qin ist ein großartiges Beispiel für diesen fortschrittlichen Ansatz in Sachen Kaffee. Ihre Farm Xingang liegt an den Hängen des Dahei-Berges in der Nähe der Stadt Pu'er. Sie liegt zwischen den tropischen und subtropischen Regionen, was ein abwechslungsreiches Klima schafft, das ideal für den Anbau von Spezialitätenkaffee ist. Die durchschnittliche Jahrestemperatur liegt bei 20,1 Grad Celsius, aber das verbirgt die großen Temperaturschwankungen zwischen Sommer und Winter und zwischen Tag und Nacht, die die Entwicklung der Kaffeekirschen verlangsamen und die Komplexität der fertigen Tasse erhöhen.

Auf der 28 Hektar großen Farm werden jährlich über 300 Tonnen Kaffee produziert. Durch sorgfältiges Pflücken des Kaffees gelangen nur die reifsten Kirschen in die 6 Quadratkilometer großen Trockenbeete, wo die eigentliche Magie stattfindet. Jiawen hat mit allen möglichen natürlichen Fermentierungs- und Trocknungsmethoden experimentiert, darunter die doppelte Fermentierung oder ihre eigene Schwarztee-Fermentierung, bei der einige der 100 Tonnen Tee, die jedes Jahr auf der Farm verarbeitet werden, in die Fermentierungsphase einbezogen werden.

Xingang ist auch ein sozial fortschrittlicher Betrieb, auf dem zu 100 % Frauen arbeiten. Vom Pflanzen, Pflegen, Ernten, Trocknen und Verarbeiten wird alles von Frauen erledigt. Jiawen selbst ist eine inspirierende Persönlichkeit, die ihren Kaffee in Übersee vertreibt und uns hilft, diesen bemerkenswerten Kaffee hier in Europa zu rösten und zu probieren. 19grams ist der einzige Ort in Europa, an dem du diese besonderen Bohnen von Jiawen und ihrem Team bekommen kannst.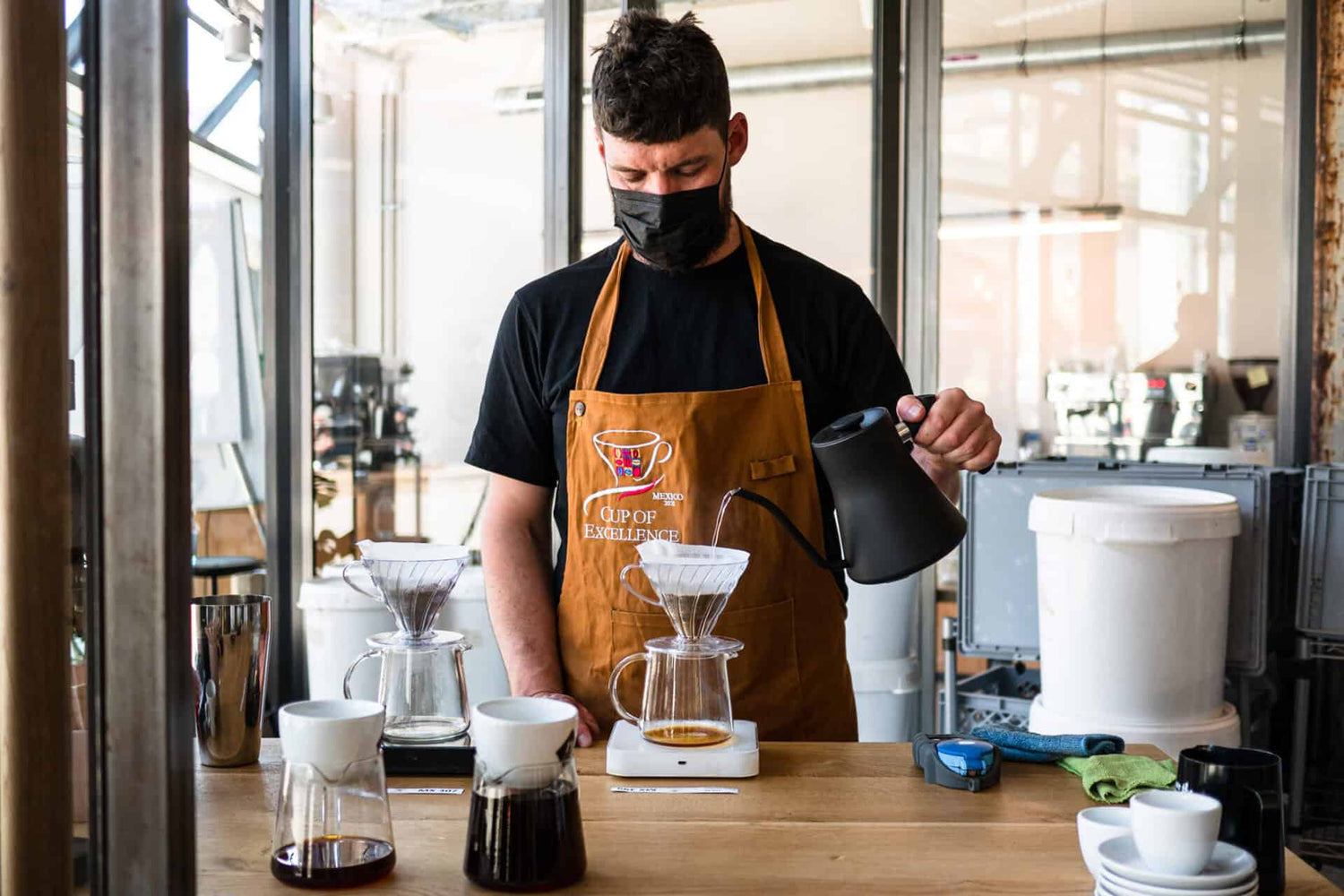 Bloody Good Filter
Coffee is a fruit which is naturally acidic and contains many sugars. We roast our filter coffees to bring out this acidity and develop the natural sweetness.
In developing a profile for a filter roast, our roasting team takes a light-handed approach, roasting much more gently than in an espresso roast. Here, the aim is to respect and highlight the natural flavours of the coffee itself, and to let its terroir shine through.
Simply order your favourite coffee online.
Sustainably grown
Carefully grown and processed by our partners.
Worldwide shipping
Safe and reliable with DHL. Direct to your door.
Recyclable packaging
There are no mixed materials in our coffee bags, making them easy to recycle.
Pay securely
Choose from several secure payment methods.
Free shipping from €30

Easy, safe and fast delivery with DHL. Free of charge from a €30 order value.

Directly & Fairly Traded

We attach great importance to our long-term relationships, keeping farmers on equal terms.