La Escondida Laurina - Low Caf
Weiße Schokolade, Pfirsich, Klementine
Regular price

Sale price

16,72 €
A special coffee with little caffeine by nature: The Laurina variety was only recently discovered and contains only half as much caffeine, 0.3 - 0.7%, as our normal roasts. A full, velvety body and sweet notes of peach and clementines.
The beans of our Laurina were processed with Pulp Natural method (also known as 'Honey Process'). In this method, part of the mucilage remains attached to the beans. The beans take on all the sweetness of the honey-like layer. To avoid unwanted fermentation here, the beans are constantly turned while they dry.

When cupped, we taste fruity-sweet notes of white chocolate, peach and clemetine. Its body is full and velvety. A natural and incredibly great low-caf coffee that you should not miss!

What is a low-caf coffee?

Laurina is a special variety of coffee due to its extremely low caffeine content. It was discovered in the 18th century and originally comes from the island of Reunion, in the Indian Ocean. The variety is also called Bourbon Pointu, after the island's former name "Bourbon" and the plant's elongated, pointed coffee beans.

The caffeine content of the Laurina bean is naturally very low - it is only 0.4%-0.7%. By comparison, the average caffeine content of an Arabica bean is about 1.6%. So, unlike decaffeinated coffees, these beans do not need to be decaffeinated by a special process (Decaf vs. Low-Caf). Decaffeination also removes other substances from the bean that we would rather keep: for example, great flavors, because caffeine is a flavor carrier (roughly comparable to fat). That's why it's hard to find a good decaf coffee - most of the time, decaffeinated coffees taste bland.

The plant's low caffeine content also has drawbacks: Caffeine is a natural insecticide. The more of it a plant has, the less susceptible it is to pests. Its bitter compounds act as a deterrent. Because the Laurina variety is so low in caffeine, pests give the sensitive plant a hard time. Also, the general yield is very low. Both of these circumstances mean that only a few farms grow the variety. So it is quite difficult to get these extremely rare and precious beans.

About the farm

The farm La Esondida of the Mierisch family is located in Nicaragua.
Choose your grind

If you don't have a grinder at home, we'll happily grind your coffee to your specifications. Just select your brewing method above or order whole beans.

Find the right grind. You can get the most out of your coffee by grinding your beans just before brewing. Take a look at the equipment selection if you are interested in a grinder.

You can also select a grind level in each product if you want us to grind the beans for you. We use a Mahlkönig EK43 for this.

Frenchpress and Aeropress are ground on the same setting.
Cultivation

Cultivated with love by great farmers. 100% Arabica coffee, harvested when ripe and carefully processed. Sustainable and fairly traded.
Shipping

Freshly roasted, packed and shipped safely to you by DHL.
Packaging

Our standard bags contain 250g and are 100% recyclable. No mixed materials.
Brewing

Take your tried-and-tested recipe as a starting point for this roast, or get help from our brew guides.
Scoring Card

The coffee cherry can develop up to 1,200 different natural flavours. Depending on location and variety. Learn to understand the flavours in coffee with the Scoring Card. Grade your coffee by filling out your Scoring Card.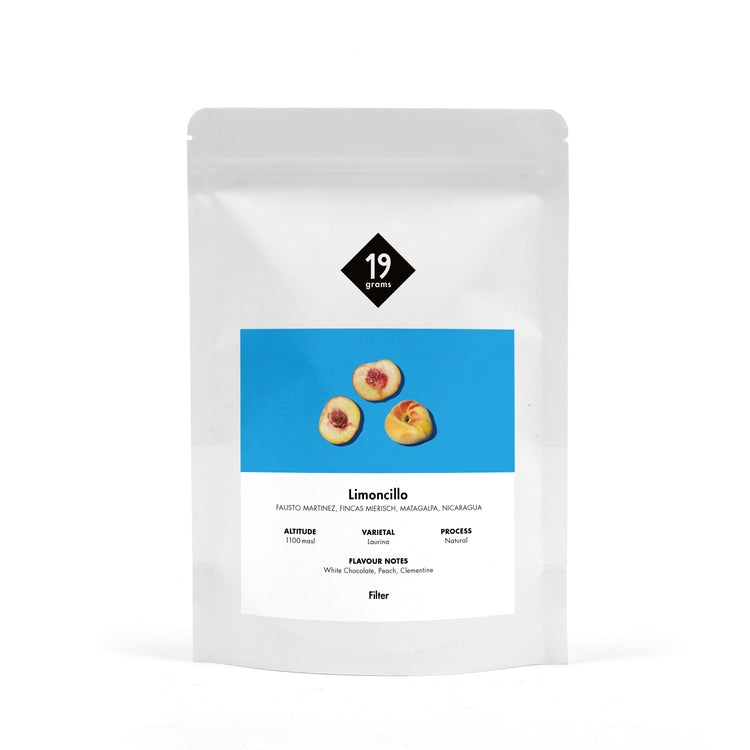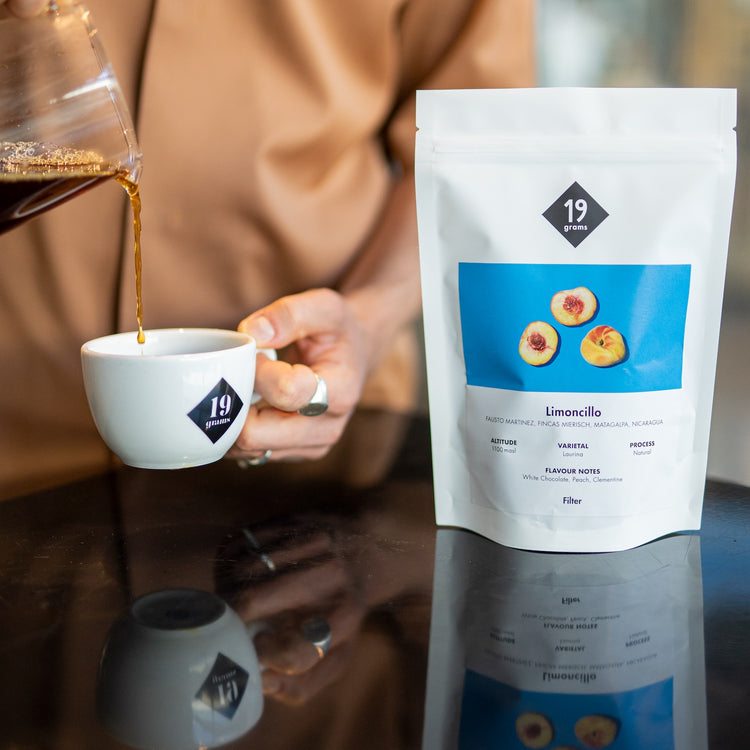 Suitable for filter preparation:
About the coffee
White chocolate, Peach, Klementine
Score:
Sweetness:
Acidity:
Mouthfeel:
Body:

Variety: Laurina
Processing: Natural
Harvesting Year: 2022
Drying Time: 14 Tage

Suggested brew recipe:
1:16,5 (z.B. 15gr Kaffee auf 250gr Wasser) in 2,5 bis 3,5 Minuten
About the coffee
Ein sanftes, doch fruchtiges Profil mit wenig Koffein.
The Farm | Limoncillo


Relationship: seit mehreren Jahren
Producer: Familie Mierisch
Type of Farm: Eigentümer geführte Farm
Region, Country: Matagalpa, NI
Altitude: 1.100 m üNN
Soil type: fruchtbare Böden
Fertilisation method: organic
Shadow Type: im Schatten gewachsen
Processing location: at the farm
Number of varieties:
Harvest season:

Cup of Excellence

About the farm
Laurina ist aufgrund ihres extrem geringen Koffeingehaltes eine besondere Kaffee-Varietät. Sie wurde im 18. Jahrhundert entdeckt und stammt ursprünglich von der Insel La Réunion, im Indischen Ozean. Die Varietät wird auch Bourbon Pointu genannt, nach dem früheren Namen der Insel "Bourbon" und den länglichen, spitzzulaufenden Kaffeebohnen der Pflanze.<strong><br></strong><br>Der Koffeingehalt der Laurina-Bohne ist von Natur aus sehr niedrig - er liegt bei lediglich 0.3%-0.7%. Zum Vergleich: Der durchschnittliche Koffeingehalt einer Arabicabohne liegt bei ca. 1,6%. Im Gegensatz zu entkoffeinierten Kaffees, müssen diese Bohnen also nicht durch ein spezielles Verfahren entkoffeiniert werden (Decaf vs. Low-Caf). Bei der Entkoffeinierung werden der Bohne auch noch andere Stoffe entzogen, die wir lieber behalten würden: zum Beispiel tolle Geschmacksnoten, denn Koffein ist ein Geschmacksträger (etwa vergleichbar mit Fett). Deshalb ist es schwierig einen guten Decaf-Kaffee zu finden - meistens schmecken entkoffeinierte Kaffees fade.<br><br>Der geringe Koffeingehalt der Pflanze hat auch Nachteile: Koffein ist ein natürliches Insektizid. Je mehr eine Pflanze davon hat, desto weniger anfällig ist sie für Schädlinge. Ihre Bitterstoffe wirken abschreckend. Da die Laurina Varietät so koffeinarm ist, machen Schädlinge machen der empfindlichen Pflanze stark zu schaffen. Auch ist der generelle Ertrag sehr gering. Beide Umstände führen dazu, dass nur wenige Farmen die Varietät anbauen. Es ist also recht schwierig, diese äußerst rare und kostbaren Bohnen zu bekommen.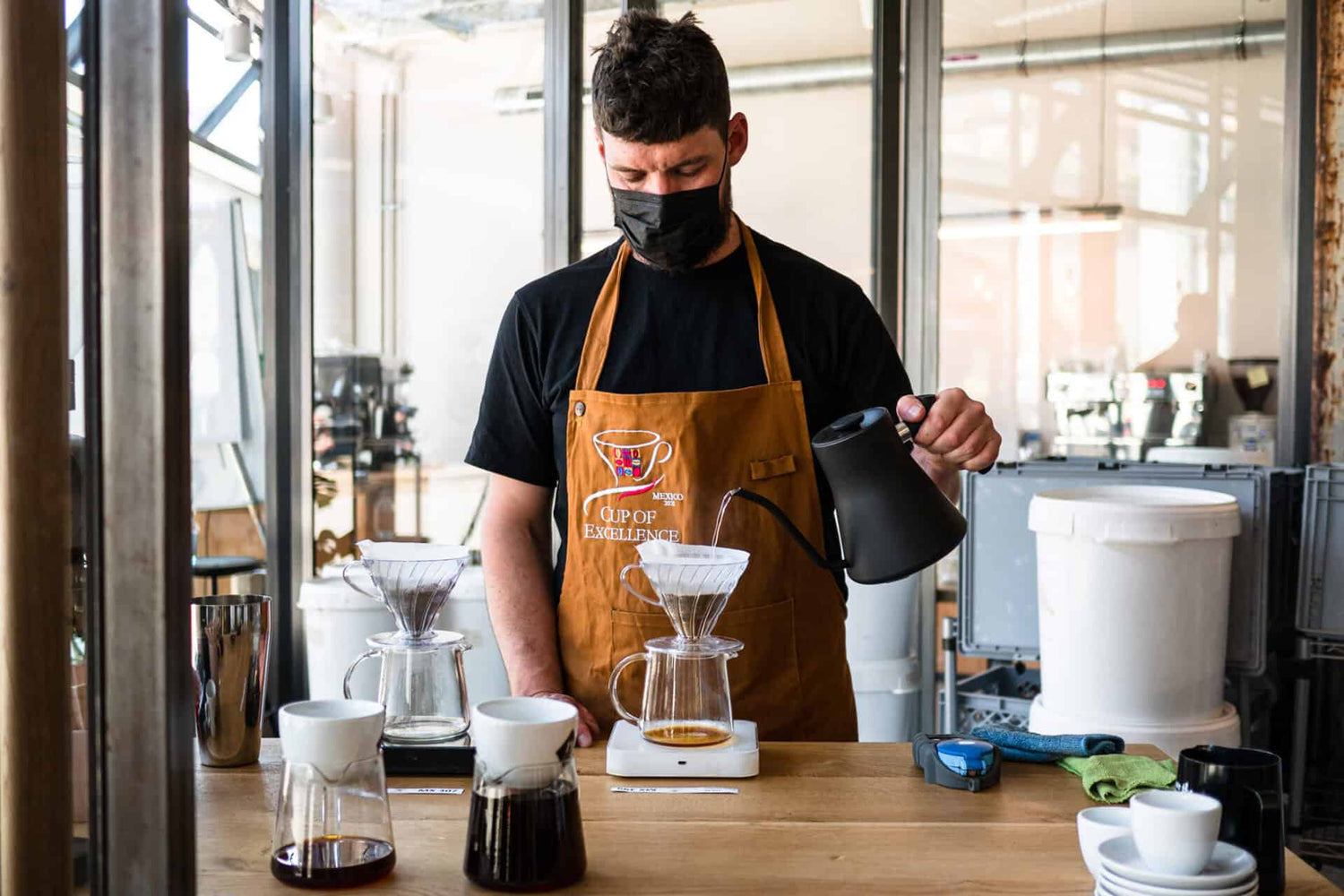 Bloody Good Filter
Coffee is a fruit which is naturally acidic and contains many sugars. We roast our filter coffees to bring out this acidity and develop the natural sweetness.
In developing a profile for a filter roast, our roasting team takes a light-handed approach, roasting much more gently than in an espresso roast. Here, the aim is to respect and highlight the natural flavours of the coffee itself, and to let its terroir shine through.
Simply order your favourite coffee online.
Sustainably grown
Carefully grown and processed by our partners.
Worldwide shipping
Safe and reliable with DHL. Direct to your door.
Recyclable packaging
There are no mixed materials in our coffee bags, making them easy to recycle.
Pay securely
Choose from several secure payment methods.
Free shipping from €30

Easy, safe and fast delivery with DHL. Free of charge from a €30 order value.

Directly & Fairly Traded

We attach great importance to our long-term relationships, keeping farmers on equal terms.