Ultimative Collectorsbox by 8000watt & Rick Zabel
Milk chocolate, honey melon, cane sugar
Regular price

Sale price

67,14 €
Rick Zabel & Julien Riganti from 8000watt were in the 19grams Lab and here comes the next coup: Fullforce ahead!
In the Ultimate Collectors Box come all five roasts Rick and Julien have made so far. Ultra limited, but ultimately delicious: all five coffees have been freshly brewed and roasted:
Tour Röstung (Colombia)
Bella Italia Röstung (Brazil)
El Angel - Espresso (El Salvador)
Fullforcevoraus Espresso (Costa Rica)

Cafe des Mamas (Rwanda)
Roast: 12.04.2023
Dispatch: from 14.04.2023
Grindsize

If you don't have a grinder at home, we'll be happy to grind the coffee to your specifications. Just click on your brewing option above or order whole beans.
Cultivation

Cultivated with love by great farmers. 100% Arabica coffee, harvested when ripe and carefully processed. Sustainable and fairly traded.
Shipping

Freshly roasted, packed and shipped safely to you by DHL.
Packaging

Our standard bags contain 250g and are 100% recyclable. No mixed materials.
Brewing

Take your tried-and-tested recipe as a starting point for this roast, or get help from our Brew Guides.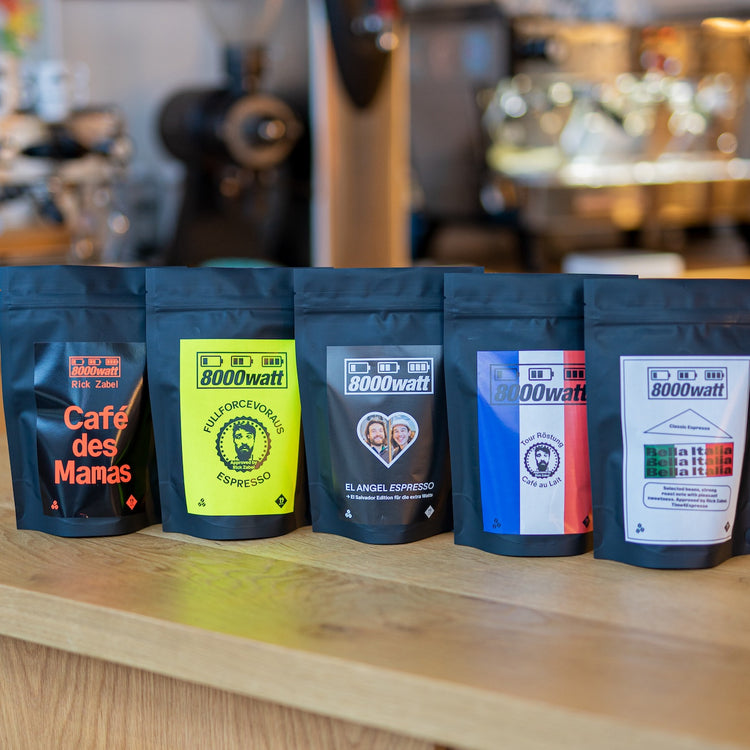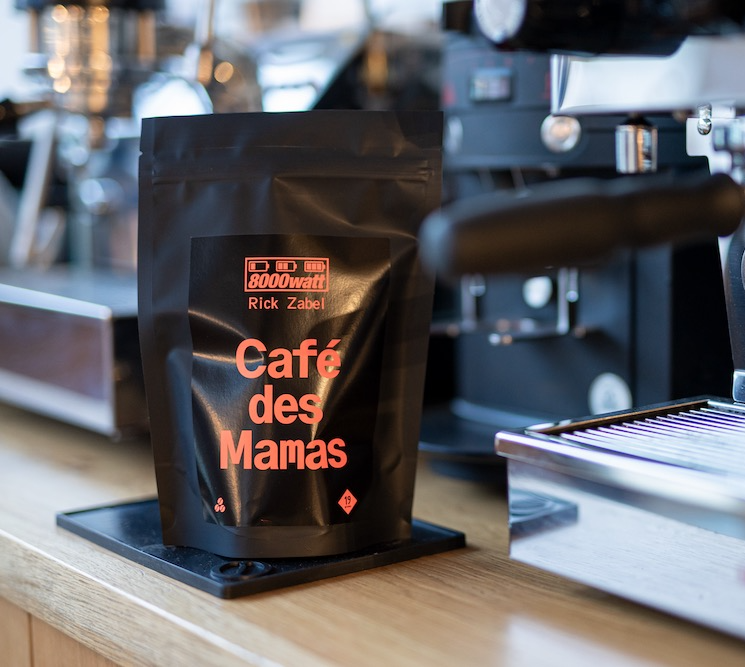 Rick Zabel & 8000watt
Whether Paris-Roubaix or a round of wading with the team. Hectic in the office in the afternoon or sleepy in bed in the morning. What you need is a stable coffee so you don't forget to switch over and get going straight away. Rick Zabel & 8000 watt have made it their mission to create coffee in collaboration with 19grams that is not only sustainably grown, but also tastes good. Whether in the bialetti or in the portafilter machine, you will find 19grams quality in the Fullforcevoraus espresso. We have roasted this delicious bean from Costa Rica especially to Rick's taste. Every Wattner needs it to get started. Available as whole beans or ground for the espresso machine/Bialetti. Now is the time to start wadding! Whether on the bike, before the race, in the office or half awake in the morning. We say: Fullforce ahead! Follow the guys on Instagram: Always Fullforce ahead! Follow the guys on Instagram: Whether insights from the racing bike world elite or exciting racing bike/gravel reports. Always Fullforce ahead!
8000watt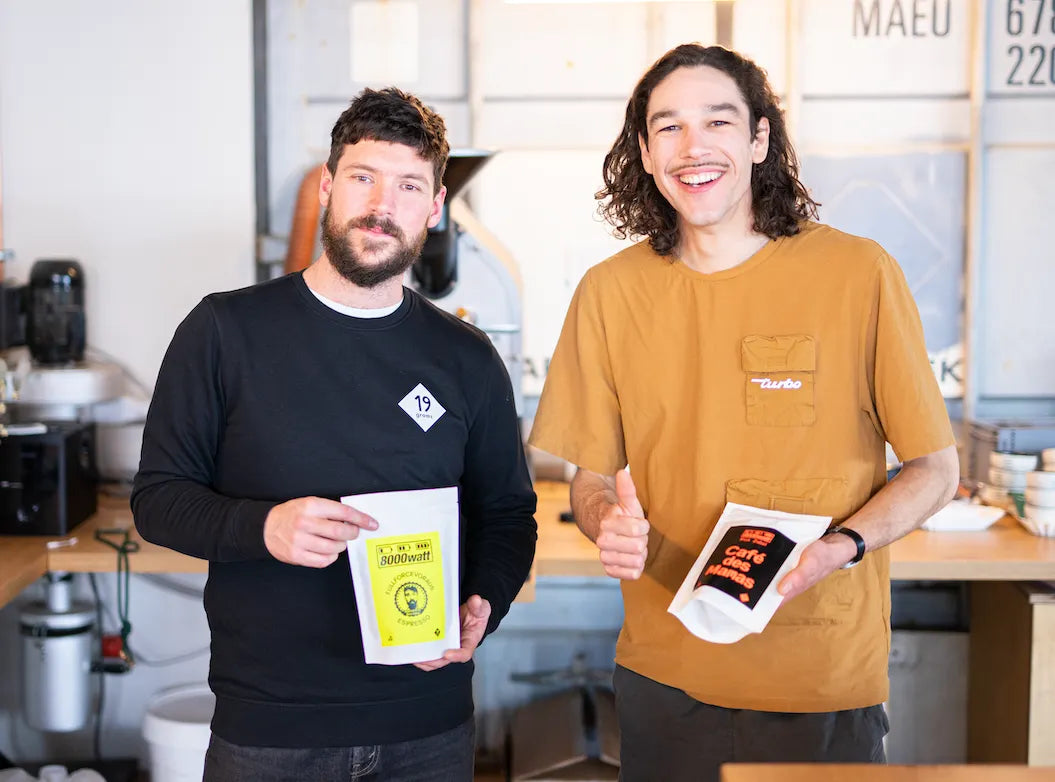 Coffee
Milk chocolate, , honey melon, cane sugar
Score: 85
Sweetness: 2/5 Karamell
Acidity: 2/5 gut strukturiert
Mouthfeel: 3/5 rund
Body: 3/5 süß und sauber

Variety: Sonora Estate
Processing: Natural
Harvesting Year: 2022
Drying Time: 15 days

Suggested brew recipe:
1:2, 19gr coffee grounds for 40gr espresso, brewing time: 30-35 seconds.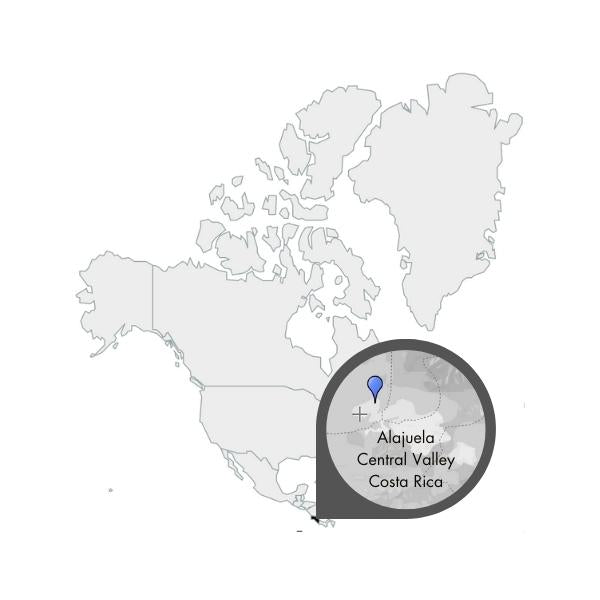 About the farm
Hacienda Sonora is 100% green energy supplied.

Relationship: for several years
Producer: Diego Guardia
Type of Farm: family-run farm
Region, Country: Gran Valley, CR
Altitude: 1300 m.a.s.l
Soil type: volcanic soils
Fertilisation method: organic
Shadow Type: grown in the shade
Processing location: on the farm
Number of varieties: verschiedene
Harvest season: Oct - Feb
More about the farm
Alberto Guardía baut bereits seit über 50 Jahren Kaffee an. Seine Familienfarm - mit dem klangvollen Namen Hacienda Sonora, liegt an den fruchtbaren Ausläufern des berühmten Vulkans Poas im West Valley, Costa Ricas. Sie ist größtenteils von unberührtem Urwald umgeben. Die Erhaltung des Regenwaldes ist der Familie Guardía sehr wichtig. Deshalb lassen sie ihn einfach wachsen und in ihm ihre Kaffeepflanzen. Die Kaffeebäume reifen hervorragend unter dem schützenden Dach der schattenspendenden Bäume: Sie erhalten genügend Feuchtigkeit, um sich optimal entwickeln zu können. Als Energiequelle für die gesamte Finca wird eine Peltonturbine genutzt, die durch die Wasserkraft eines Baches angetrieben wird. Der Fluss versorgt die gesamte Finca mit '100 % Green Energy'. Wir kennen die Guardías nun schon einige Jahre und freuen uns, so eine außergewöhnliche Familie getroffen zu haben, die mit Verstand und Liebe zur Natur jedes Jahr einzigartige Kaffees heranwachsen lässt.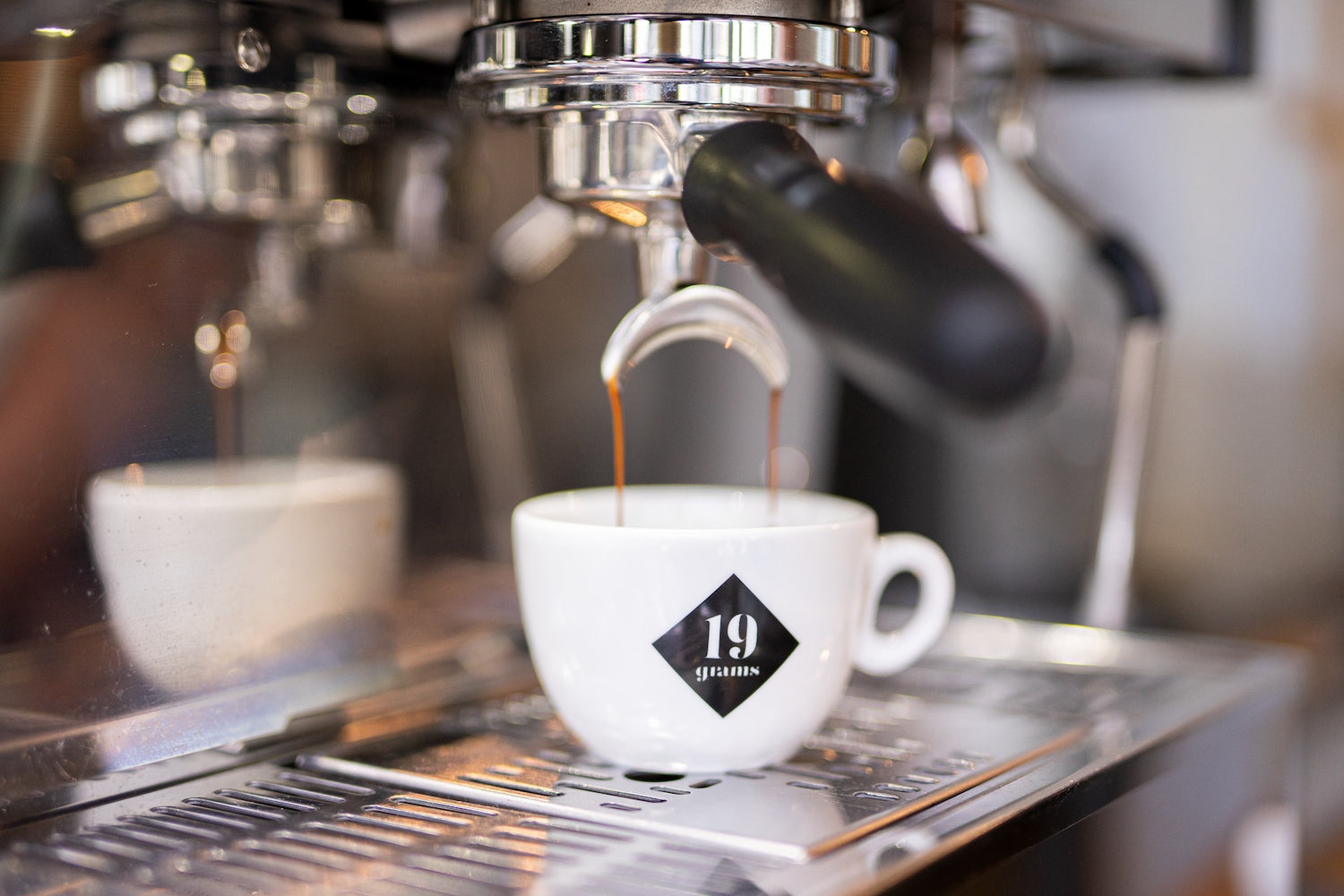 Bloody Good Espresso
Coffee is a fruit with many natural fruit acids. Wir rösten unsere Espressos so, dass sie feine Säurelinien entwickeln, aber auch die Süße hervorheben. With our espresso roasts, we present the intense flavour profiles of different coffee origins. Discover our Single Origin Espressos - all 100% Aracabica coffees, carefully selected and gently roasted by our roasting team.
Simply order your favourite coffee online.
Sustainably grown
Carefully grown and processed by our partners.
Shipping worldwide
Safe and secure with DHL. To your home.
Recyclable packaging
No mixed materials in our coffee bags, therefore easy to recycle.
Safe Payment
Choose from several secure payment methods
.
Free shipping from 30€

Easy, safe and fast delivery with DHL. Free of charge from 30€ order value.

Directly & Fairly Traded

We attach great importance to long-term relationships. With farmers at eye level.