Migu Anaerobic Washed - China Filter
Regular price

Sale price

13,36 €
Li Yiling, coffee farmer from China, has made a wonderful combination of the Catimor and Typica varieties, which she produces in small, high quality batches. This is a light filter coffee with a lemony freshness, pleasant sweetness and a gentle astringent note.

About the coffee
The average altitude of the Migu Estate is between 1450 and 1600 meters above sea level. Most of the crops are of the Catimor variety, as well as a small amount of Typica, and the focus is on producing high quality specialty coffee. The mix of Typica and Catimor was originally a mistake – Yiling had wanted to pick the cherries from the two types of trees separately. Unfortunately, she can't speak the local minority language, so there was a misunderstanding with the pickers, and all the cherries ended up in the same pile. Luckily, after the cherries were processed, the result was a uniquely delicious coffee.
The uniqueness of this coffee form Migu Manor also stems from the anaerobic fermentation. Just the skins and a small amount of the fruit flesh are removed by a machine, so that the beans lose as little moisture as possible before being filled into fermentation tanks. The oxygen is then removed for a 32-48 hour anaerobic fermentation. Li is very open to using new processing methods, and she is one of very few producers in Yunnan using anaerobic fermentation.
About the farm
The growing region of Menglian is new to coffee, and lies on the border between China and Myanmar. The borderlands are higher than the rest of Yunnan. This means there is a wider temperature fluctuation between day and night, which slows the ripening time of the coffee cherries and lets them develop more flavours. The quality of the Catimor coffees in this region is markedly better than in other, lower-lying parts of Yunnan. The seasons are also milder, without freezing winters or scorching summers, making Menglian a perfect micro-climate for planting, growing and processing coffee.
Li Yiling founded Migu Estate in 2016. She is a young producer who grew up on a coffee farm – her family draws on more than 20 years of experience growing and processing coffee. Li Yiling is know local by her nickname "Banli", which means "chestnut". Her anaerobic natural coffee was used in the winning routine at the 2020 China Yunnan Brewer's Cup Competition.
Choose your grind size

If you don't have a grinder at home, we'll happily grind your coffee to your specifications. Just select your brewing method above or order whole beans.

Find the right grind. You can get the most out of your coffee by grinding your beans just before brewing. Take a look at the equipment selection if you are interested in a grinder.

You can also select a grind level in each product if you want us to grind the beans for you. We use a Mahlkönig EK43 for this.

Frenchpress and Aeropress are ground on the same setting.
Cultivation

Cultivated with love by great farmers. 100% Arabica coffee, harvested when ripe and carefully processed. Sustainable and fairly traded.
Shipping

Freshly roasted, packed and shipped safely to you by DHL.
Packaging

Our standard bags contain 250g and are 100% recyclable. No mixed materials.
Brewing

Take your tried-and-tested recipe as a starting point for this roast, or get help from our brew guides.
Scoring Card

The coffee cherry can develop up to 1,200 different natural flavours. Depending on location and variety. Learn to understand the flavours in coffee with the Scoring Card. Grade your coffee by filling out your Scoring Card.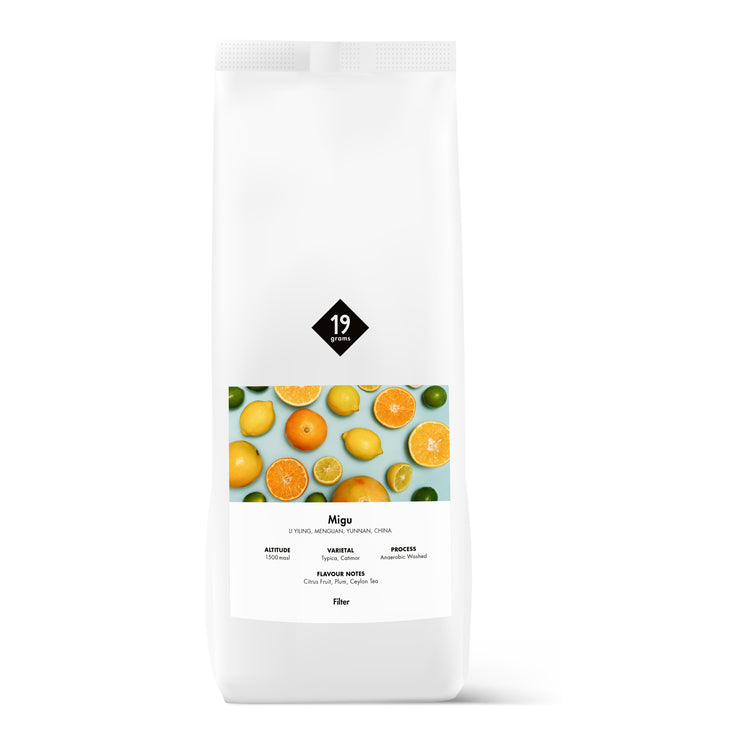 Suitable for filter preparation:
About the coffee
Citrus, Plum, Ceylon tee
Score: 86
Sweetness:
Acidity:
Mouthfeel:
Body:

Variety: Typica x Catimor
Processing: Anaerobic Washed
Harvesting Year: 2021
Drying Time:

Suggested brew recipe:
16g coffee, 250g water, medium grind, brew time: 2.5 mins
About the coffee
A fantastic filter coffee from China
The Farm | Migu Estate
Yiling is very open to trying new processing methods.

Relationship: Direct Trade
Producer: Li Yiling
Type of Farm: Family run
Region, Country: Menglian, Pu'er, Yunnan, CN
Altitude: 1600 masl
Soil type:
Fertilisation method:
Shadow Type:
Processing location: Menglian, Pu'er, Yunnan
Number of varieties:
Harvest season: Dec - April

China Yunnan Brewer's Cup Competition 2020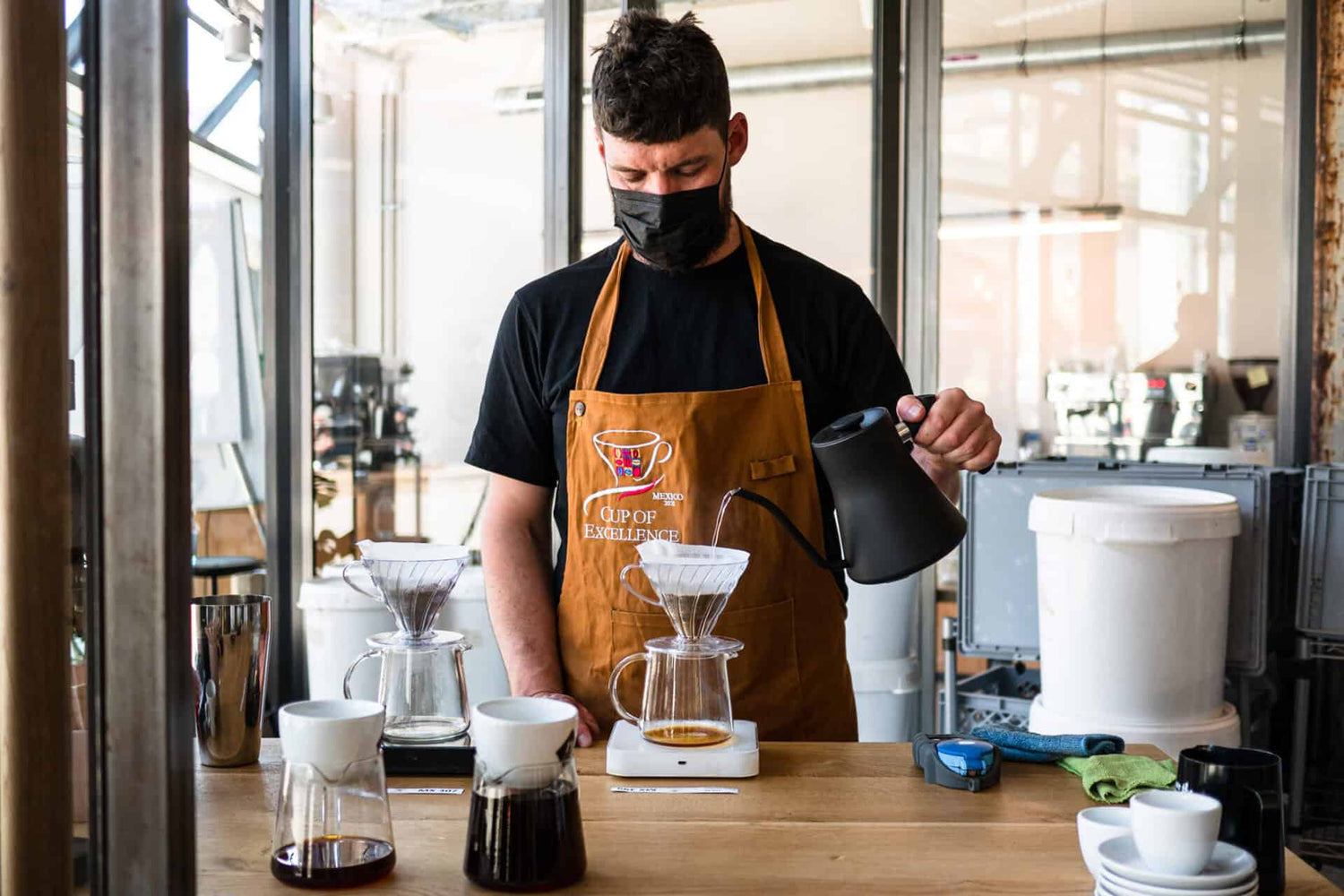 Bloody Good Filter
Coffee is a fruit which is naturally acidic and contains many sugars. We roast our filter coffees to bring out this acidity and develop the natural sweetness.
In developing a profile for a filter roast, our roasting team takes a light-handed approach, roasting much more gently than in an espresso roast. Here, the aim is to respect and highlight the natural flavours of the coffee itself, and to let its terroir shine through.
Simply order your favourite coffee online.
Sustainably grown
Carefully grown and processed by our partners.
Worldwide shipping
Safe and reliable with DHL. Direct to your door.
Recyclable packaging
There are no mixed materials in our coffee bags, making them easy to recycle.
Pay securely
Choose from several secure payment methods.
Free shipping from €30

Easy, safe and fast delivery with DHL. Free of charge from a €30 order value.

Directly & Fairly Traded

We attach great importance to our long-term relationships, keeping farmers on equal terms.