Los Azacuanes - El Salvador Filter
Raspberry, Milk Chocolate, Macadamia
Regular price

Sale price

12,52 €
Red Bourbon is known for its balanced and fruity flavour profile, and this lot from Los Azacuanes is a great example: We have the sparkling acidity of raspberries, with the sweetness of milk chocolate and a smooth macadamia nuts finish. You will love it!

About the coffee

Carlos Mendez has been growing coffee on the Los Azacuanes estate in El Salvador for years. This lot is a red bourbon, a naturally occurring Typica mutation. The coffee was processed naturally, which is also known as the dry process. The entire coffee cherry is placed in the sun and turned regularly so that it dries evenly. The drying process takes between 25 to 30 days and takes place on African beds. African beds are elevated wooden structures that give the cherries good airflow and prevent mould. By drying the beans in the fruit like this, the process enables highly aromatic coffees with particularly sweet and fruity flavours.

About the farm

Los Azacuanes farm is located near the town of Ataco at about 1,350 meters above sea level.

Choose your grind

If you don't have a grinder at home, we'll happily grind your coffee to your specifications. Just select your brewing method above or order whole beans.

Find the right grind. You can get the most out of your coffee by grinding your beans just before brewing. Take a look at the equipment selection if you are interested in a grinder.

You can also select a grind level in each product if you want us to grind the beans for you. We use a Mahlkönig EK43 for this.

Frenchpress and Aeropress are ground on the same setting.
Cultivation

Cultivated with love by great farmers. 100% Arabica coffee, harvested when ripe and carefully processed. Sustainable and fairly traded.
Shipping

Freshly roasted, packed and shipped safely to you by DHL.
Packaging

Our standard bags contain 250g and are 100% recyclable. No mixed materials.
Brewing

Take your tried-and-tested recipe as a starting point for this roast, or get help from our brew guides.
Scoring Card

The coffee cherry can develop up to 1,200 different natural flavours. Depending on location and variety. Learn to understand the flavours in coffee with the Scoring Card. Grade your coffee by filling out your Scoring Card.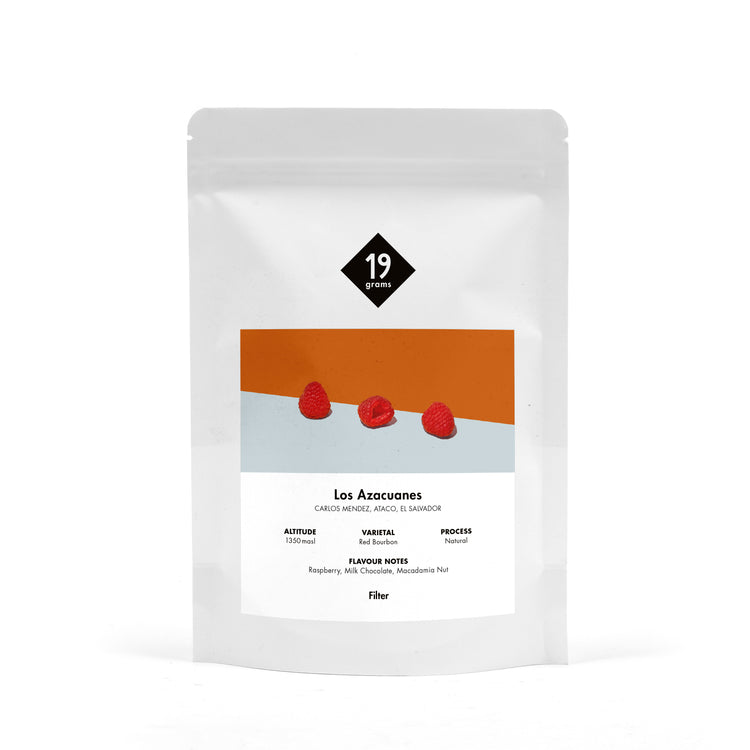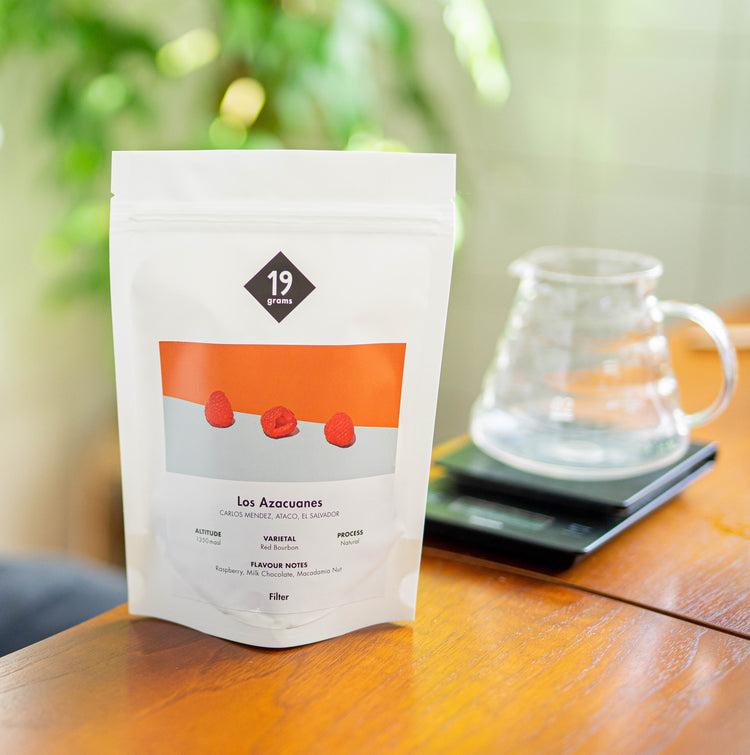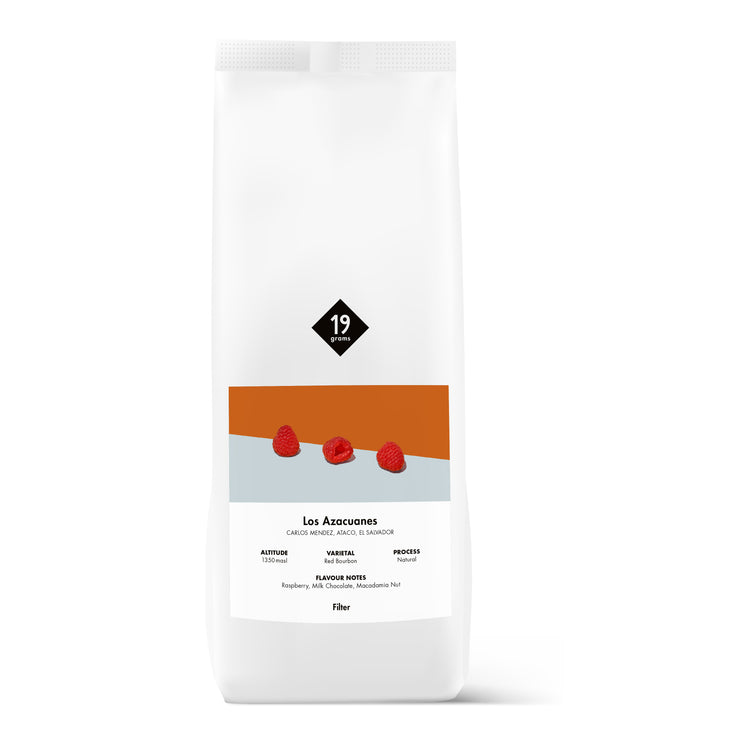 Suitable for filter preparation: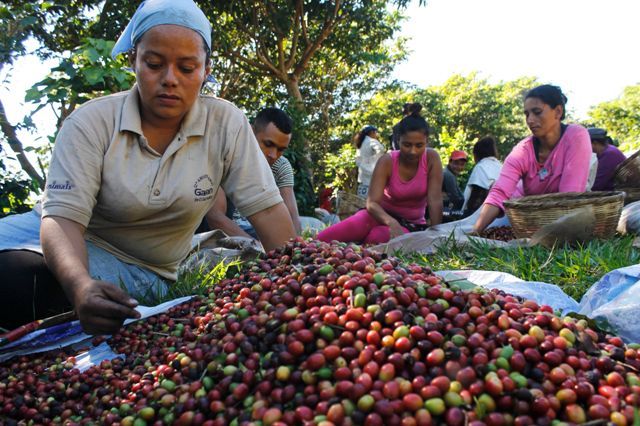 About the coffee
Raspberry, Milk Chocolate, Macadamia
Score: 87.25
Sweetness:
Acidity: 2/5Himbeere
Mouthfeel: 4/5 seidig
Body: 3/5 nussig

Variety: Red Bourbon
Processing: Natural
Harvesting Year: 2021
Drying Time: 25-30 days

Suggested brew recipe:
16g coffee, 250g water, medium grind, in about 2,5 min brewing time
About the coffee
A fantastically balanced coffee from El Salvador.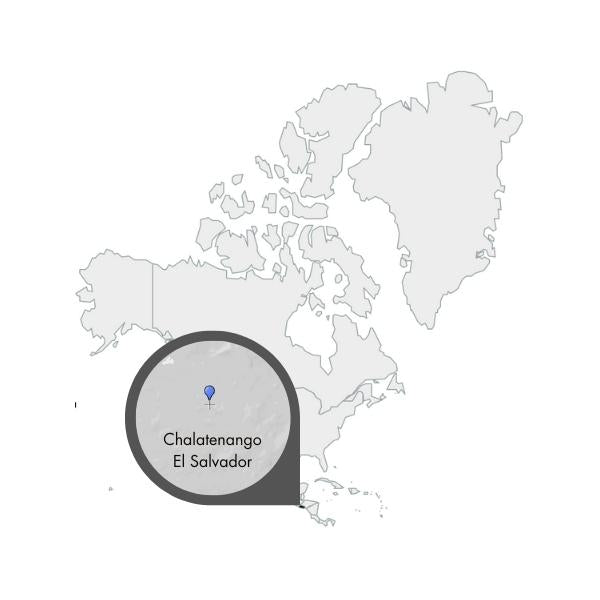 The Farm | Los Azacuanes
Carlos leitet das Familienunternehmen Geca Coffee, das mehrere Farmen zwischen Apaneca und Ataco in der Region Ahuachapan in El Salvador in Höhenlagen zwischen 1.200 und 1.500 m üNN besitzt. Die Farm wurde mehrfach ausgezeichnet, unter anderem mit dem Cup of Excellence im Jahr 2008 und erneut im Jahr 2010.

Relationship: new partner
Producer: Carlos Mendez Florez
Type of Farm: Small holder
Region, Country: Ataco, SV
Altitude: 1.350 masl
Soil type: fruchtbare Böden
Fertilisation method: organic
Shadow Type: im Schatten gewachsen
Processing location: on the farm
Number of varieties:
Harvest season: Okt-Mar

Cup of Excellence

About the farm
Auf der Finca Los Azacuanes in El Salvador baut Carlos Mendez seit Jahren Kaffee an. Das Lot, das wir für euch rösten, ist eine rote Bourbon, eine natürlich vorkommende Typica-Mutation. Der Kaffee wurde natural prozessiert, das auch als Trockenverfahren bekannt ist. Dabei wird die gesamte Kaffeekirsche in die Sonne gelegt und regelmäßig gewendet, damit sie gleichmäßig trocknet. Der Trocknungsprozess beträgt zwischen 25 bis 30 Tage und findet auf afrikanischen Betten statt. Afrikanische Betten sind erhöhte Holzbauten, die es erlauben, dass die Kirsche gute Luftzufuhr hat und nicht schimmelt. Dieses Verfahren hat das Potenzial durch das Trocknen der Bohne in der Frucht sehr aromatische Kaffees zu erzeugen mit besonders süßen und fruchtigen Geschmacksnoten.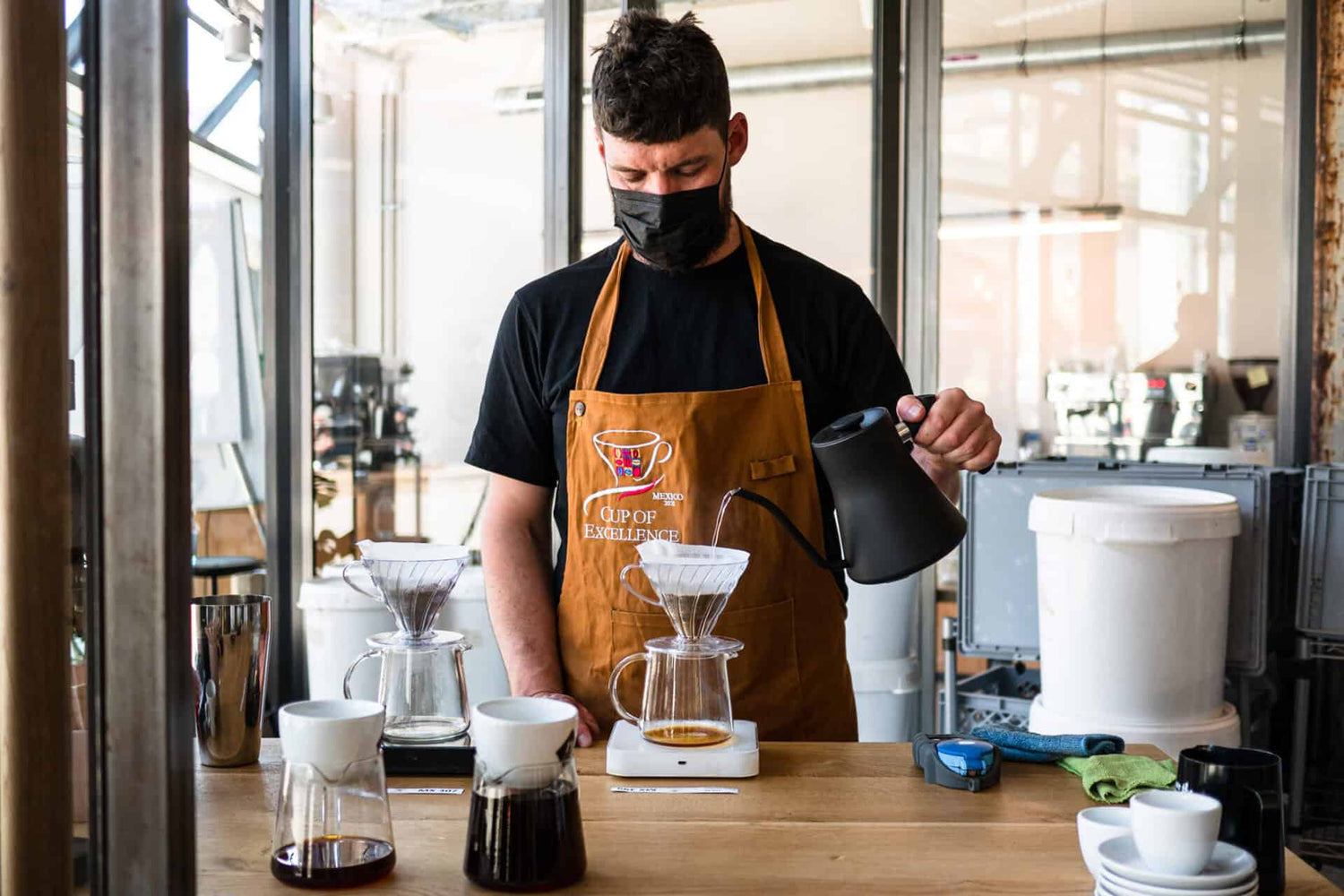 Bloody Good Filter
Coffee is a fruit which is naturally acidic and contains many sugars. We roast our filter coffees to bring out this acidity and develop the natural sweetness.
In developing a profile for a filter roast, our roasting team takes a light-handed approach, roasting much more gently than in an espresso roast. Here, the aim is to respect and highlight the natural flavours of the coffee itself, and to let its terroir shine through.
Simply order your favourite coffee online.
Sustainably grown
Carefully grown and processed by our partners.
Worldwide shipping
Safe and reliable with DHL. Direct to your door.
Recyclable packaging
There are no mixed materials in our coffee bags, making them easy to recycle.
Pay securely
Choose from several secure payment methods.
Free shipping from €30

Easy, safe and fast delivery with DHL. Free of charge from a €30 order value.

Directly & Fairly Traded

We attach great importance to our long-term relationships, keeping farmers on equal terms.