Coffee Advent Calendar Filter
Regular price

Sale price

79,75 €

Unit price

66,46 €

per

kg
PRE-ORDERS: FROM 1st NOVEMBER
The limited 19grams Filter Coffee Advent Calendar 2022!
Start the most delicious Advent ever and look forward to 24 x 50g of excellent single origin coffees. Also this year, we have taken special care to put together an exciting overview of the world's best coffees: 24 days - 24 Origins - 24 different farms - 24 unique Arabica coffees! The coffee advent calendar is available as a whole bean or with a hand grinder.
The filter version is ideal for making coffee in a hand filter (Hario V60, Kalita, Melitta or Origami), French press, Chemex or your filter machine). In addition to each coffee, there is interesting background information about their origin and processing on our advent calendar website. You will also find a small taste and flavour description for the roasted coffees directly in the calendar.
Optional: the advent calendar is available with a small Hario Mini Slim Plus grinder.
- compact size, perfect for travelling
- easy adjustment of the grind
- Ceramic burrs, rust and odour free
- grinder can be easily disassembled for cleaning
- easy to read filling for up to two cups
Designed to be delicious.
This year's coffees come in airtight, sealable tins that you can reuse for years to come. Lasts longer full of flavour. In the high-quality gift box.
We can only produce a certain amount of the advent calendars, so be quick to secure yours!
You prefer espresso? Then check out our espresso advent calendar!
Pre-Ground

The standard version of the Advent calendar with 24 tins comes as a whole bean with the full variety of flavours. There is a limited number of ground calendars. Grinds are used for the range of espresso or filter preparation methods. The grind may therefore vary from the one you prefer. We always recommend that you grind the coffee yourself: for the best taste experience, because changing the grind has the greatest influence on your taste result.
Cultivation

Grown with love by great farmers. 100% Arabica coffee, harvested when ripe and carefully processed. Sustainable and fairly traded.
Shipping

Freshly roasted, packed and shipped safely to you with DHL.
Packaging

The calendar is made of paper and can be easily recycled. You can easily reuse the aluminium cans for storage, herbs or other things.
Brewing

Use your tried and tested recipe as a starting point for this roast, or get help from our Brew Guides. An example brew is included with the calendar's info.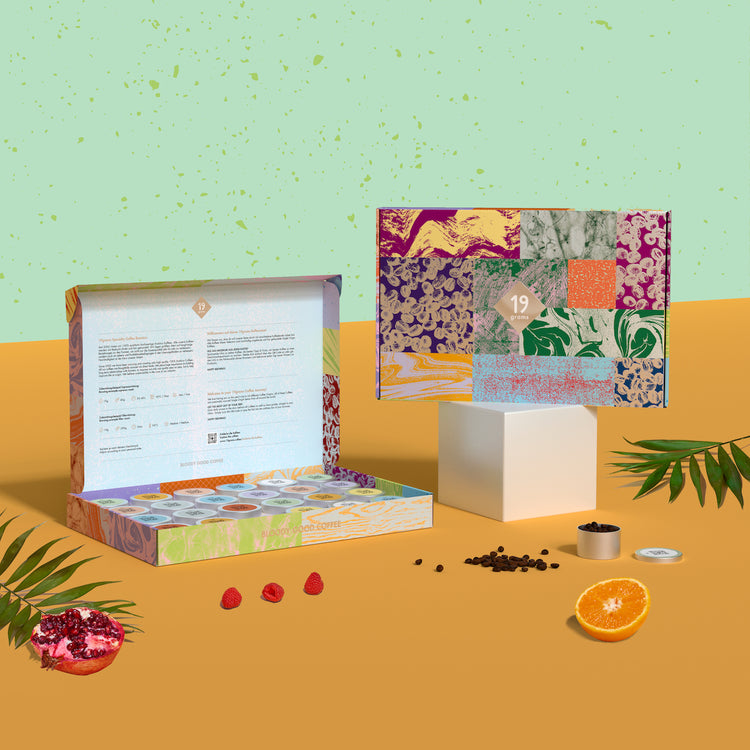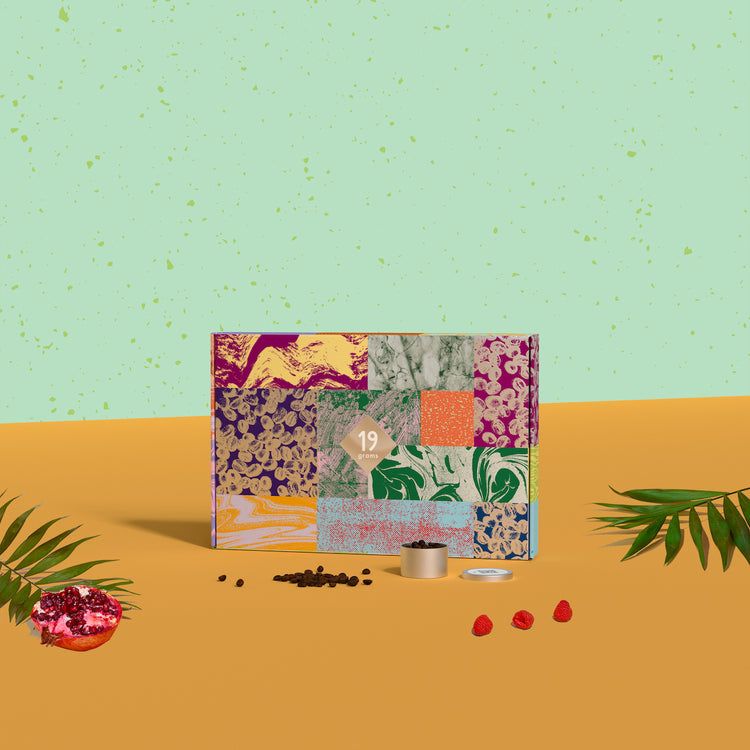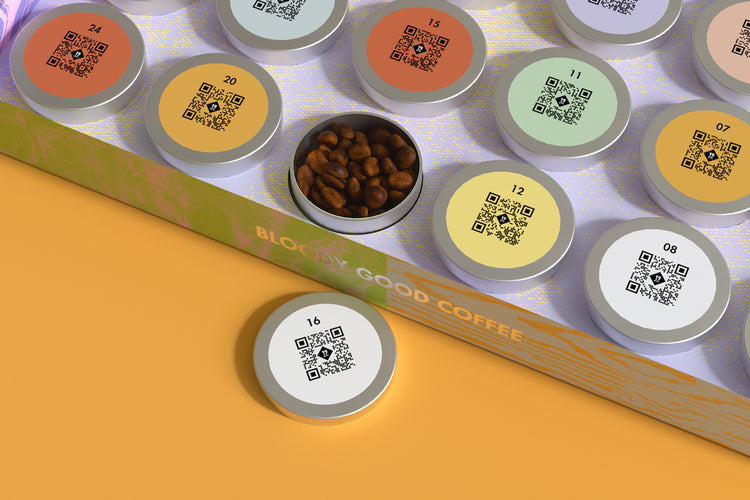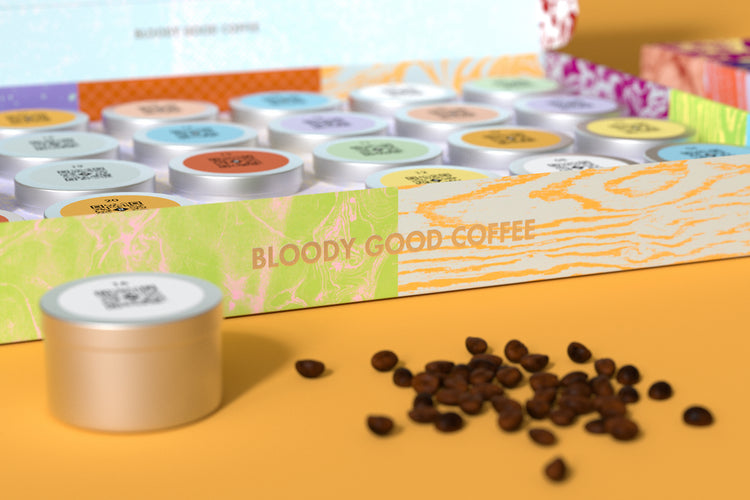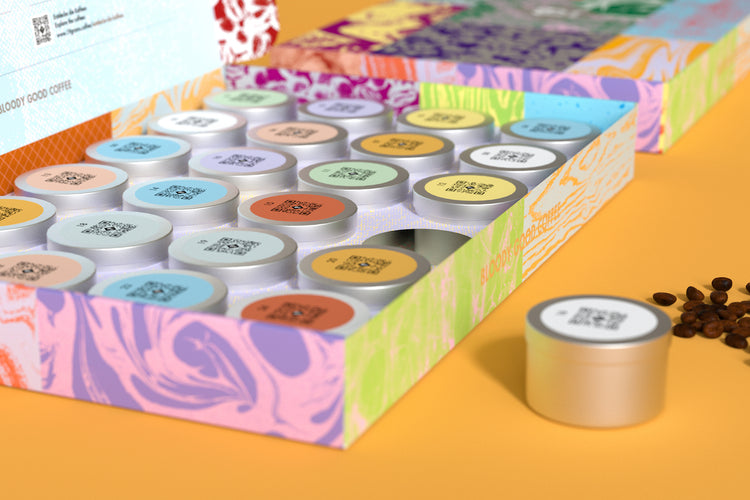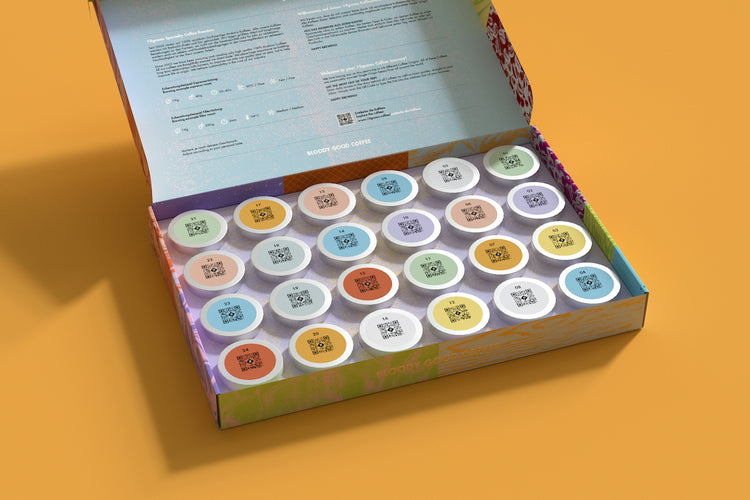 Vorbestellungsphase
Ab dem 1. September kannst du den 19grams Kaffee Adventskalender vorbestellen. Alle Kalender werden ab dem 1. November verschickt, sodass deiner frisch geröstet und pünktlich zum 1. Dezember bei dir ist.
Product Details
HOW MUCH COFFEE IS IN THE ADVENT CALENDAR?

The Advent Calendar Espresso and Filter consists of 24 x 50g of coffee. In addition, there is the Sunday Coffee variant with 4x250g. Available for pre-order as of 01 September.
WHAT IS THE DIFFERENCE BETWEEN ESPRESSO AND FILTER ROASTING?

We offer two versions of the Advent calendar (as a bean) every year: Espresso and Filter. Both versions differ in the roasting. While the filter roast is primarily intended for filter preparation, the espresso version is particularly well suited for preparation in a portafilter machine or other espresso preparation methods. However, these are only recommendations; you can also prepare an espresso roast in a filter coffee machine. Here you will taste stronger roasted notes in the cup.
WHEN IS THE COFFEE IN THE CALENDAR ROASTED?

We roast the coffees from the Advent calendar from mid-October. We usually start with the espresso roasts and roast the filter calendars at the end. Because we don't roast the coffees on a single day, but over a period of time, we can't give a specific date.The Advent calendar tins have a seal on the inside and keep all the coffees extra fresh.
WHAT MATERIAL ARE THE CANS MADE OF?

The tins are made of 100% aluminium and can be easily reused for everything at home.
I HAVE A FULLY AUTOMATIC MACHINE, WHICH ADVENT CALENDAR IS BEST FOR ME?

The espresso roast is more suitable for a fully automatic machine. A lighter filter coffee roast would develop many acids in the cup due to the extremely short brewing time of about 30 seconds and would not taste as good.
HOW DO I KNOW WHAT COFFEE IS IN THE CAN?

Below each can are some brief explanations about the coffee in question. Scan the QR code on the can for detailed information. Sign up for our daily advent coffee update and you'll get detailed background knowledge, brew guides and lots of tips & tricks straight to your inbox.
CAN I ALSO HAVE THE ADVENT CALENDAR GROUND?

At the Moment not available.
CAN I ORDER THE ADVENT CALENDAR ONLINE AND PICK IT UP IN ONE OF YOUR BRANCHES?

Yes, you can also choose the roastery pickup and come by our shop. This costs nothing. Please note the information we will send you by email when you pick up.
WELCHE KAFFEEMÜHLE GIBT ES IM SET DAZU?

Optional mit kleiner Kaffeemühle
Es gibt es den Adventskalender mit einer kleinen Hario Mini Slim Plus Mühle.

- kompakte Größe, perfekt zum Verreisen
- einfaches Anpassen des Mahlgrads
- Keramik-Mahlwerk, rost- und geruchsfrei
- Das Mahlwerk kann zur Reinigung leicht auseinandergebaut werden
- einfach lesbare Befüllung für bis zu zwei Tassen
Designed to be delicious.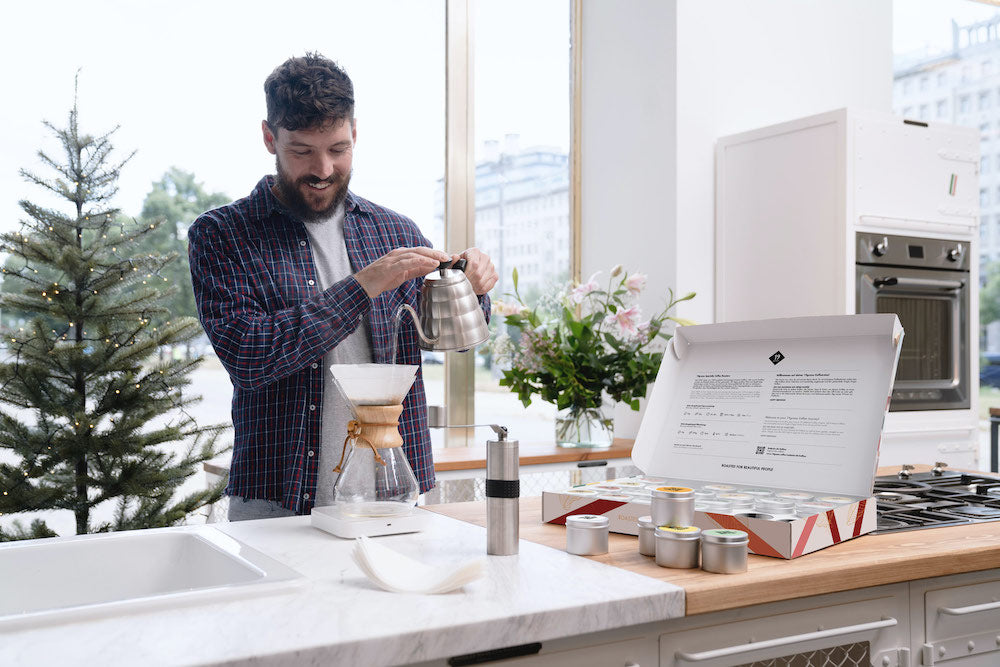 Bloody Good Advent
Coffee is a fruit with many natural fruit acids. We roast our coffees to bring out these acids, but also to highlight the sweetness. The 19grams Coffee Advent Calendar is unique with 24 different coffees from 24 different countries. An exciting journey through the world of Specialty Coffee. We accompany you every day, online and with background information in your inbox.
Simply order your favourite coffee online.
Sustainably grown
Carefully grown and processed by our partners.
Global Shipping
Safe and reliable with DHL, direct to your door.
Recyclable packaging
There are no mixed materials in our coffee bags, making them easy to recycle.
Pay securely
Choose from several secure payment methods.
Free shipping from €30

Easy, safe and fast delivery with DHL. Free of charge from €30 order value.

Directly & Fairly Traded

We attach great importance to our long-term relationships, keeping farmers on equal terms.