Fazenda Santuàrio Sul Sudan Rume - Brazil Filter
Maple Syrup, Almond, Stewed Blackberries
Regular price

Sale price

$23.00
You can really taste the Bourbon roots of this super-rare Sudan Rume variety, with strong flavours of maple syrup and stewed blackberries coming through.

*This product is excluded from discount promotions.
Select your grind size

If you don't have a grinder at home, we'll happily grind your coffee to your specifications. Just select your brewing method above or order whole beans.

Find the right grind. You can get the most out of your coffee by grinding your beans just before brewing. Take a look at the equipment selection if you are interested in a grinder.

You can also select a grind level in each product if you want us to grind the beans for you. We use a Mahlkönig EK43 for this.

Frenchpress and Aeropress are ground on the same setting.
Cultivation

Cultivated with love by great farmers. 100% Arabica coffee, harvested when ripe and carefully processed. Sustainable and fairly traded.
Shipping

Freshly roasted, packed and shipped safely to you by DHL.
Packaging

Our standard bags contain 250g and are 100% recyclable. No mixed materials.
Brewing

Take your tried-and-tested recipe as a starting point for this roast, or get help from our brew guides.
Scoring Card

The coffee cherry can develop up to 1,200 different natural flavours. Depending on location and variety.

Learn to understand the flavours in coffee with the Scoring Card. Grade your coffee by filling out your Scoring Card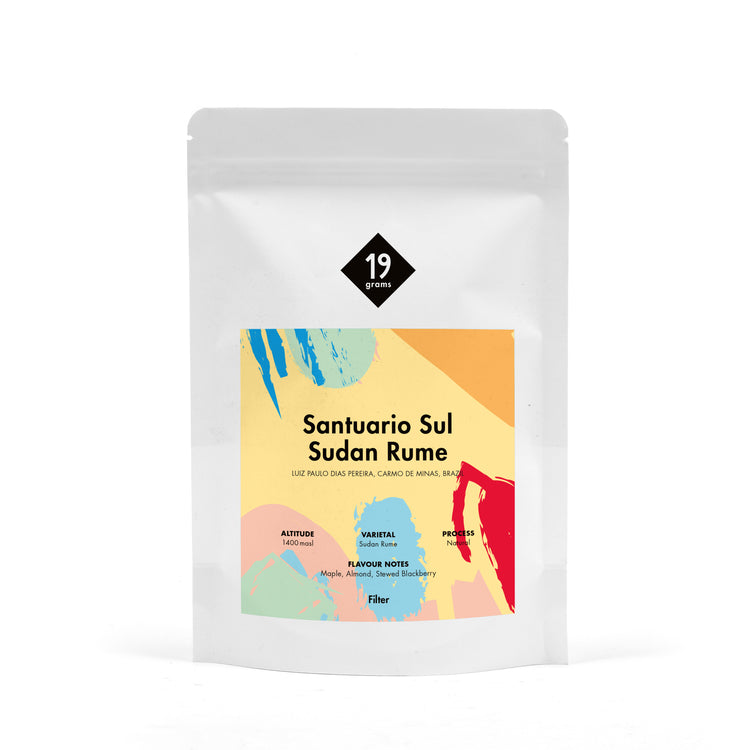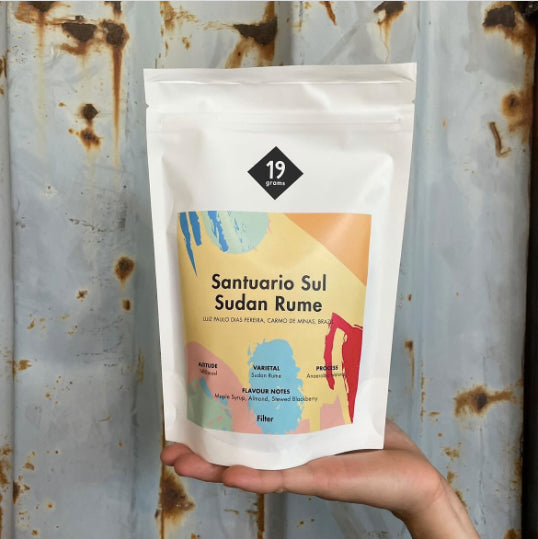 Suitable for filter preparation: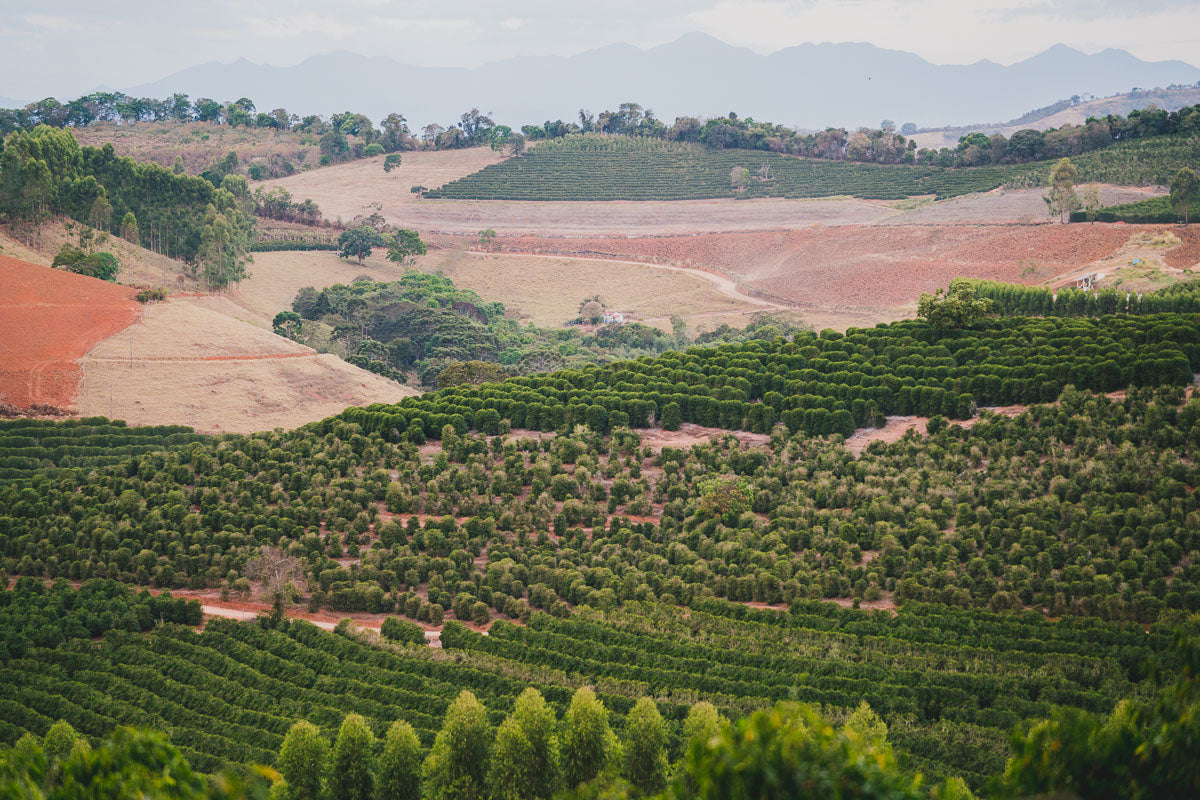 About the coffee
Maple Syrup, Almond, Stewed Blackberries
Score: 87.75
Sweetness: 4/5 Orange Fudge
Acidity: 2/5 Sweet blueberries
Mouthfeel: 5/5 Rich
Body: 4/5 Nutty

Variety: Sudan Rume
Processing: Anaerobic Natural
Harvesting Year: 2021/22
Drying Time: About 10 days

Suggested brew recipe:
16g coffee, 250g water, medium grind size, with a brew time of about 2:30.
About the coffee
Sudan Rume is a rare branch of the Bourbon family of coffees that originates from the Boma National Park in the borderlands between Ethiopia and Sudan. It was catalogued for the first time in the 40s, and is a delicate variety with a very small yield. The hard work pays off, as Sudan Rumes consistently deliver floral coffees that taste of juicy red fruits.

The anaerobic natural process brings out unique flavours in the cup. Processing is a specialty of the team at Santuàrio Sul, and the detail-oriented fermentation of their coffees consistently yields top-notch coffees. This Sudan Rume is no exception.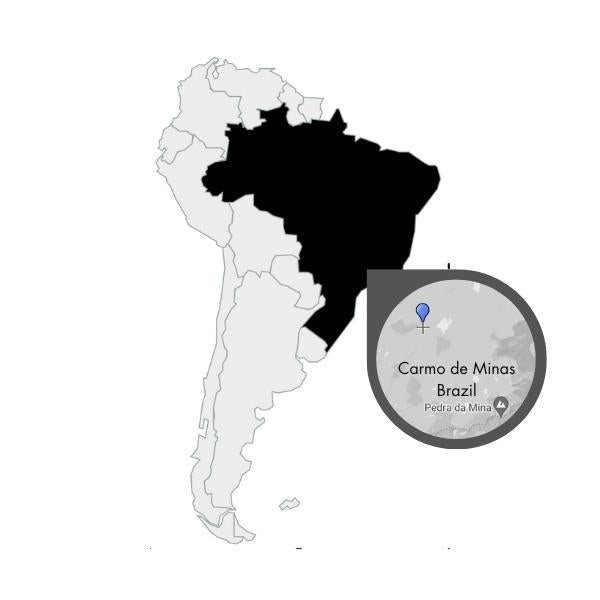 The farm | Fazenda Santuàrio Sul
Luiz runs an experimental farm in Brazil right at the avant-garde of coffee production.

Relationship: Direct Trade
Producer: Luiz Paulo Dias Pereira
Type of Farm: Family-run farm
Region, Country: Carmo de Minas, Bazil
Altitude: 1400 masl
Soil type: Fertile Soils
Fertilisation method: Organic
Shadow Type: not grown in the shade
Processing location: on the farm
Number of varieties: over 30 varieties
Harvest season: May – Sept

Cup of Excellence

About the farm
The Fazenda Santuàrio Sul is located in Carmo de Minas, where Luiz Paulo grows and processes more the 30 exotic varieties of coffee. The farm has seen great success at the Cup of Excellence competition in recent years with its cutting edge coffees.

Its a pioneering project that shows the skills and passion of Luiz and his team. Besides growing traditional Brazilian varieties like Yellow Bourbon, recently Luiz has been experimenting with more unusual and rare varieties, as well as different growing practices and experimental processing methods.

The farm itself is located beside one of the most oldest plantations in Carmo de Minas, the Irmãs Pereira, where coffee is processed. Luiz and his team process their coffees with a very high attention to detail, watching every variable carefully to get the most interesting coffees possible in this region. They have big goals – Luiz sees their goal as " being at the avant-garde of the market and producing ever high quality coffee!"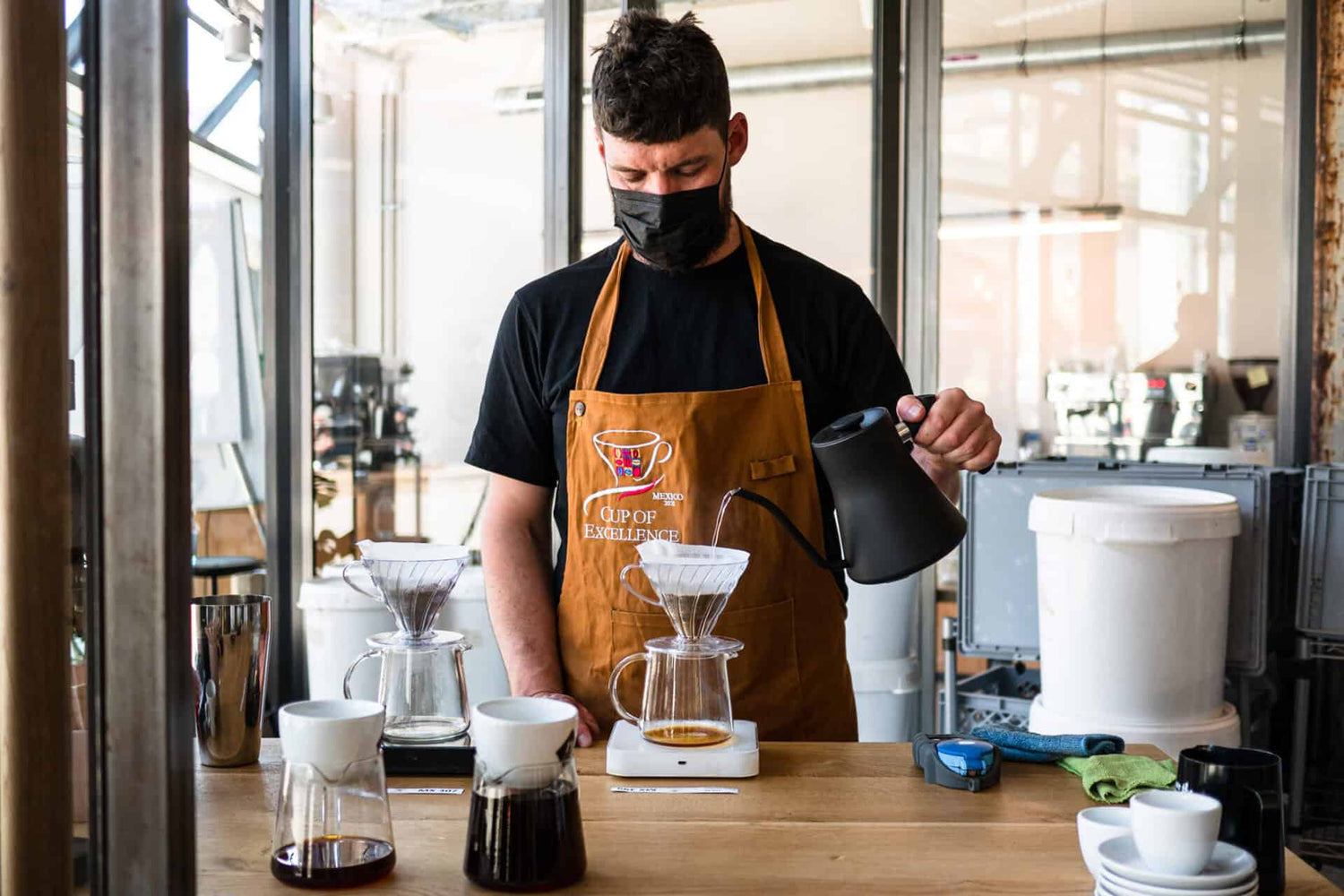 Bloody Good Rockstar
Coffee is a fruit. This means it is naturally acidic, and contains many sugars. We roast our coffees to bring out this acidity and develop their natural sweetness.
For us, all rare and special coffees are rockstars. We're super proud of our diverse and extensive range of rare coffees. Geishas and other special varieties taste their best when we're roasting them regularly and gaining experience. We are the only roasters in Germany that roast rockstars every single week, with Geisha and other rare varieties in our regular lineup.
Simply order your favourite coffee online.
Sustainably grown
Carefully grown and processed by our partners.
Worldwide shipping
Safe and reliable with DHL. Direct to your door.
Recyclable packaging
There are no mixed materials in our coffee bags, making them easy to recycle.
Pay securely
Choose from several secure payment methods.
Free shipping from €30

Easy, safe and fast delivery with DHL. Free of charge from a €30 order value.

Directly & Fairly Traded

We attach great importance to our long-term relationships, keeping farmers on equal terms.