4 Llamas Geisha - Bolivia Filter
Mandarine, Green Apple, Jasmine
Regular price

Sale price

$28.00
This is the first coffee we've roasted from our new partners Andrés and María from 4 Llamas in Bolivia, and it's right off to an exciting start: it's the most expensive lot we've ever bought!
The hefty price tag doesn't come without justification though, with the 4 Llamas team obsessing over every step of the production process. Their farm in the Caranavi province of Bolivia enjoys fantastic coffee growing conditions and a passionate growing and processing team that has produced this exceptional coffee.
*This product is excluded from discount promotions.

Select your grind size

If you don't have a grinder at home, we'll happily grind your coffee to your specifications. Just select your brewing method above or order whole beans.

Find the right grind. You can get the most out of your coffee by grinding your beans just before brewing. Take a look at the equipment selection if you are interested in a grinder.

You can also select a grind level in each product if you want us to grind the beans for you. We use a Mahlkönig EK43 for this.

Frenchpress and Aeropress are ground on the same setting.
Cultivation

Cultivated with love by great farmers. 100% Arabica coffee, harvested when ripe and carefully processed. Sustainable and fairly traded.
Shipping

Freshly roasted, packed and shipped safely to you by DHL.
Packaging

Our standard bags contain 250g and are 100% recyclable. No mixed materials.
Brewing

Take your tried-and-tested recipe as a starting point for this roast, or get help from our brew guides.
Scoring Card

The coffee cherry can develop up to 1,200 different natural flavours. Depending on location and variety.

Learn to understand the flavours in coffee with the Scoring Card. Grade your coffee by filling out your Scoring Card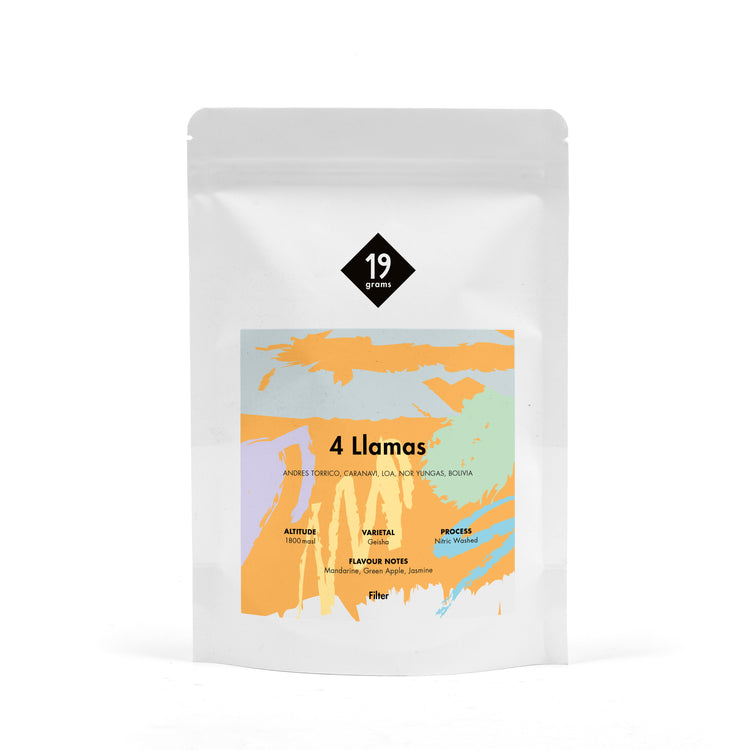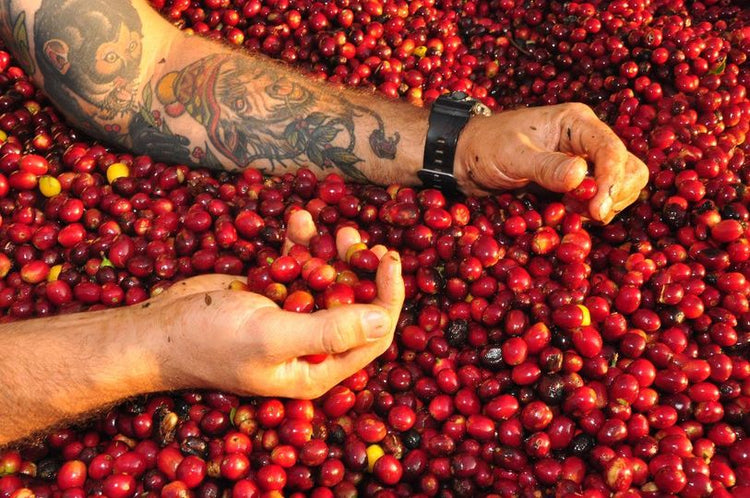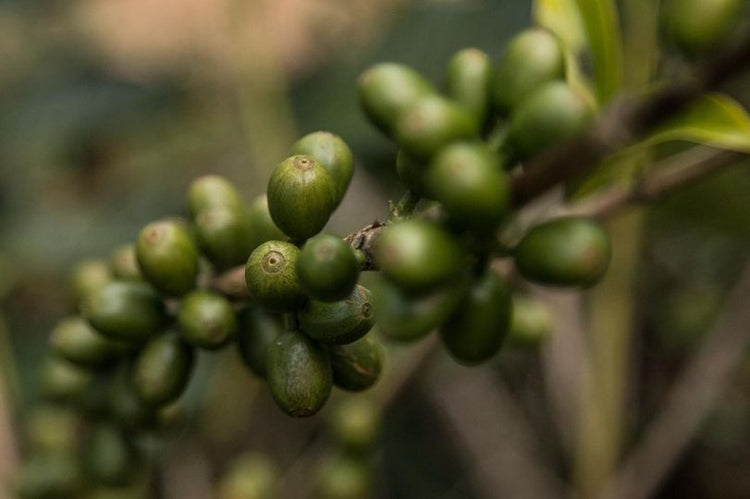 Suitable for filter preparation: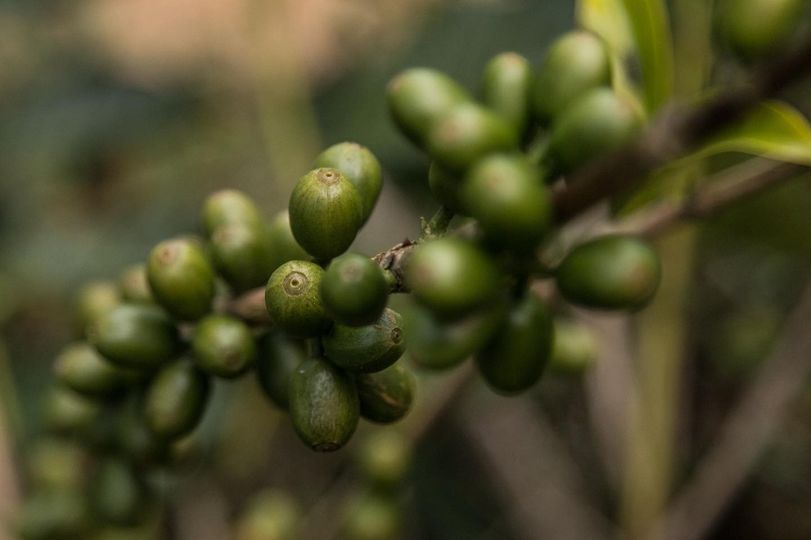 About the coffee
Mandarine, Green Apple, Jasmine
Score: 90
Sweetness: Raspberry Chocolate
Acidity: Red fruits
Mouthfeel: Big
Body: light

Variety: Geisha
Processing: Nitric Washed
Harvesting Year: 2021
Drying Time: a few days

Suggested brew recipe:
16g medium-ground coffee, 250g water, brewed in about 2:30.
About the coffee
Unsurprisingly, this ultra-dear lot is a Geisha, the famous and highly-valued variety that originated in Africa but found its stride in South and Central America with delicate and floral flavour profiles.

After picking the perfectly ripe cherries, the team at 4 Llamas pulped (washed) the coffee, removing the skin and fruit, before fermenting the beans. Here, they've used a nitric fermentation, which requires putting the beans into an anaerobic environment, carefully adjusted to promote the growth of good bacteria that transform the sugars in the coffee, increasing the complexity of the final cup profile. By washing away the fruit flesh before fermentation, this nitric washed process achieves a lighter and cleaner result than a natural fermentation would.

In this lot, we taste fruity flavours like mandarine and green apple, with a floral finish of jasmine. It's a refined and delicate coffee that shows the skills that the team at 4 Llamas have. We're excited to have them as partners and look forward to many exciting coffees to come.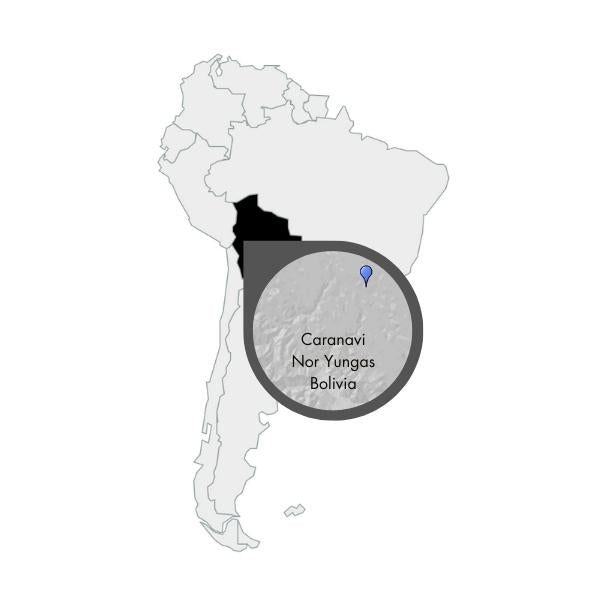 The farm | 4 Llamas
Andrés Torrico and María Sarabia originally wanted to start a sustainability NGO, but got distracted by the wonderful world of coffee and ended up founding 4 Llamas instead. Driven by a fascination for the coffee production process, and especially for the different effects of fermentation and processing, they built a coffee mill in Caranavi, a province just outside of La Paz in the west of Bolivia. They were introduced by a friend to Mr. Carmelo, a coffee farmer who then helped them set up their mill and sold them some of their first beans. Working with harvests from smallholders throughout the region, they experimented with different processing methods. Their first year wasn't without its difficulties: besides never receiving the first mill they ordered, the first season was also the wettest in decades, nearly taking out their first coffee trees.

Their work is guided by three key concepts: nature, people and technology. Despite never starting their NGO, sustainability remains a priority for Andrés and María. They've focused on cultivating a harmonious ecosystem on their farm that allows coffee to be produced in a way that respects its environment. Workers on their farm receive fair wages, and are supported with technical training and professional development programmes. Finally, water saving waste water processing measures further improve the sustainability of the farm.

Relationship: Direct Trade
Producer: María Sarabia and Andrés Torrico
Type of Farm: family owned
Region, Country: Caranavi, Bolivia
Altitude: 1800 masl
Soil type: Volcanic Soil
Fertilisation method: organic
Shadow Type: grown in the shadow
Processing location: on the farm
Number of varieties: different
Harvest season: Nov - Mar
About the farm
María Sarabia and Andrés Torrico from 4 Llamas actually wanted to found an NGO in the field of sustainability. However, the world of coffee excited them so much that they founded the 4 Llamas farm instead. Here, specialty coffee is grown and processed in a sustainable and innovative way. Particularly exciting for María and Andrés are the fermentation, fermentation and different processing methods.

They started with a mill: Andrés and María bought small lots from small farmers in the area and processed them to test different effects of fermentation. When this went well, they planted their first own trees. The start was bumpy, because in the first year there was an unusual amount of rain, which almost overwatered the trees.

For Andrés and María, nature, people and technology are the key components that have to interact optimally. Despite the switch from NGO to coffee, sustainability is an important issue for both of them. They work hard to create and maintain a balanced ecosystem on the farm. A fair salary for the workers and pickers is a must. They also offer training opportunities. María and Andrés also want to ensure that water conservation and wastewater treatment are guaranteed.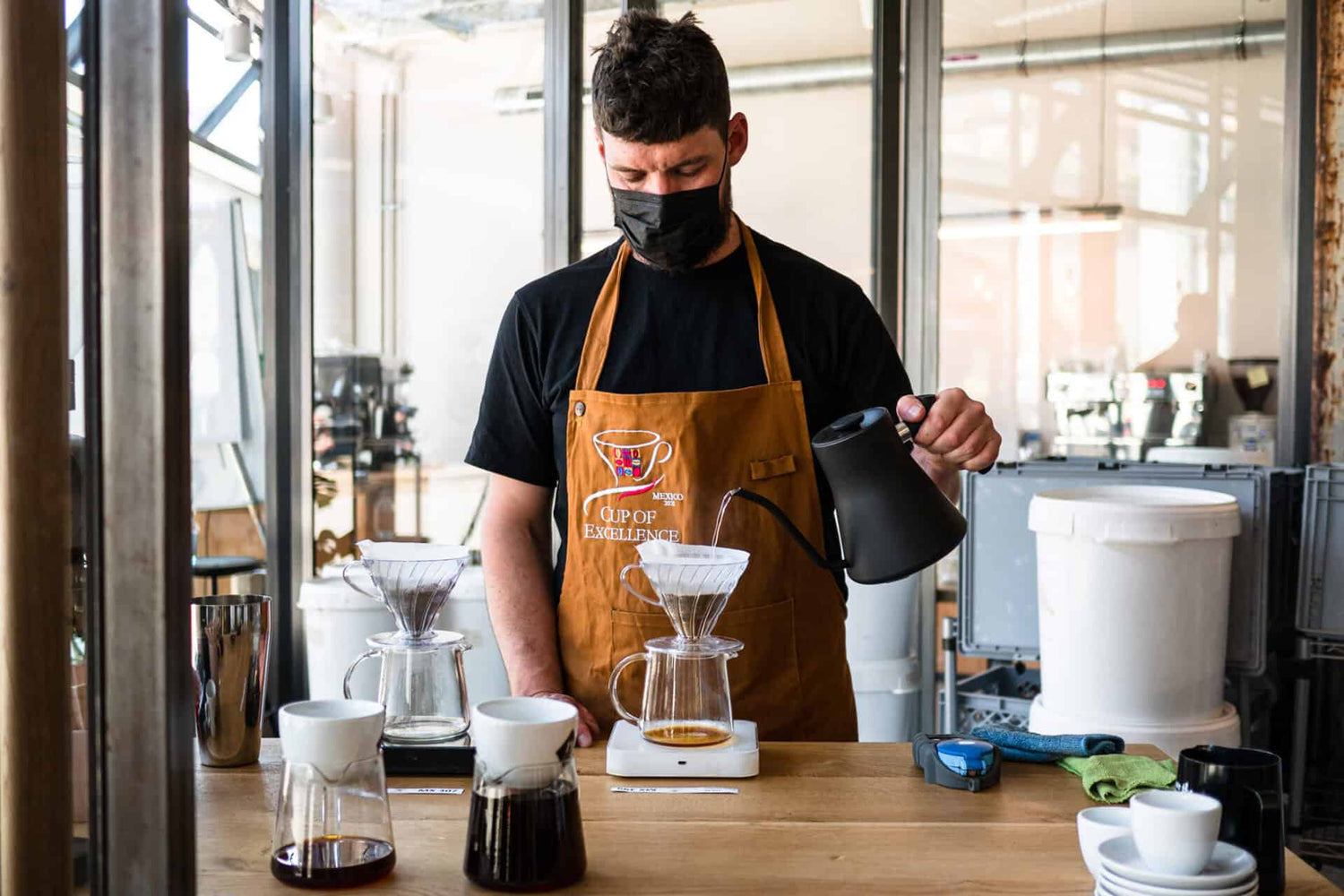 Bloody Good Rockstar
Coffee is a fruit. This means it is naturally acidic, and contains many sugars. We roast our coffees to bring out this acidity and develop their natural sweetness.
For us, all rare and special coffees are rockstars. We're super proud of our diverse and extensive range of rare coffees. Geishas and other special varieties taste their best when we're roasting them regularly and gaining experience. We are the only roasters in Germany that roast rockstars every single week, with Geisha and other rare varieties in our regular lineup.
Simply order your favourite coffee online.
Sustainably grown
Carefully grown and processed by our partners.
Worldwide shipping
Safe and reliable with DHL. Direct to your door.
Recyclable packaging
There are no mixed materials in our coffee bags, making them easy to recycle.
Pay securely
Choose from several secure payment methods.
Free shipping from €30

Easy, safe and fast delivery with DHL. Free of charge from a €30 order value.

Directly & Fairly Traded

We attach great importance to our long-term relationships, keeping farmers on equal terms.