19. El Rincon – Guatemala Filter
Plum, Raisin, Dark Chocolate
This lot brings together the Bourbon, Caturra and Catuaí varieties, grown on the San Victor farm in Guatemala. In the cup, we taste notes of maple syrup and cherries, with a nutty body.
Cultivation

Grown with love by great farmers. 100% arabica coffee, picked when it's ripe, processed with care, and fairly traded.
Packaging

The tins in our advent calendar hold 50g of coffee and are free from mixed materials, making them 100% recyclable.
Brewing

Take your tried-and-tested recipe as a starting point for this roast, or get help from our

brew guides

.
Your Scoring Card

The coffee cherry can develop up to 1,200 different natural flavours. Depending on location and variety. Learn to understand the flavours in coffee with the Scoring Card. Grade your coffee by filling out your Scoring Card.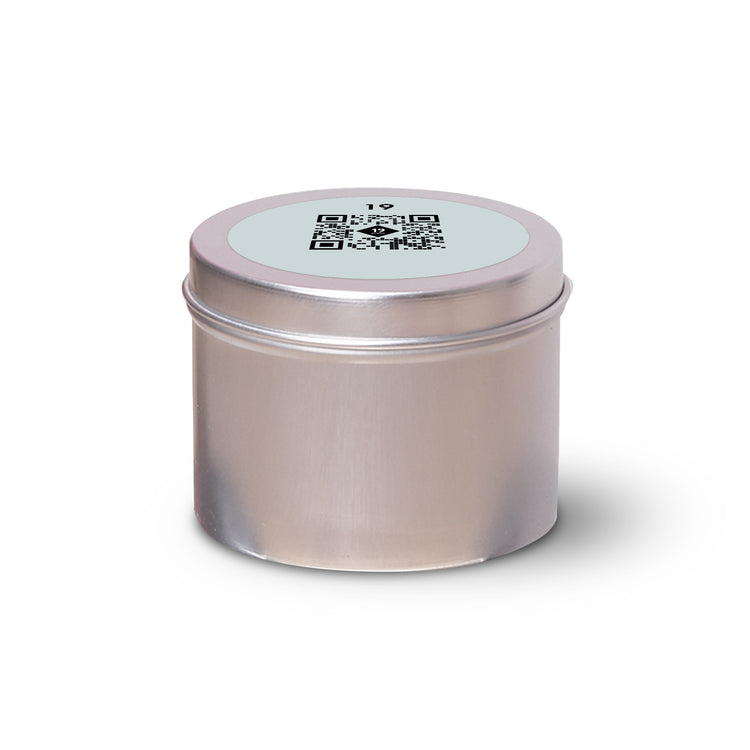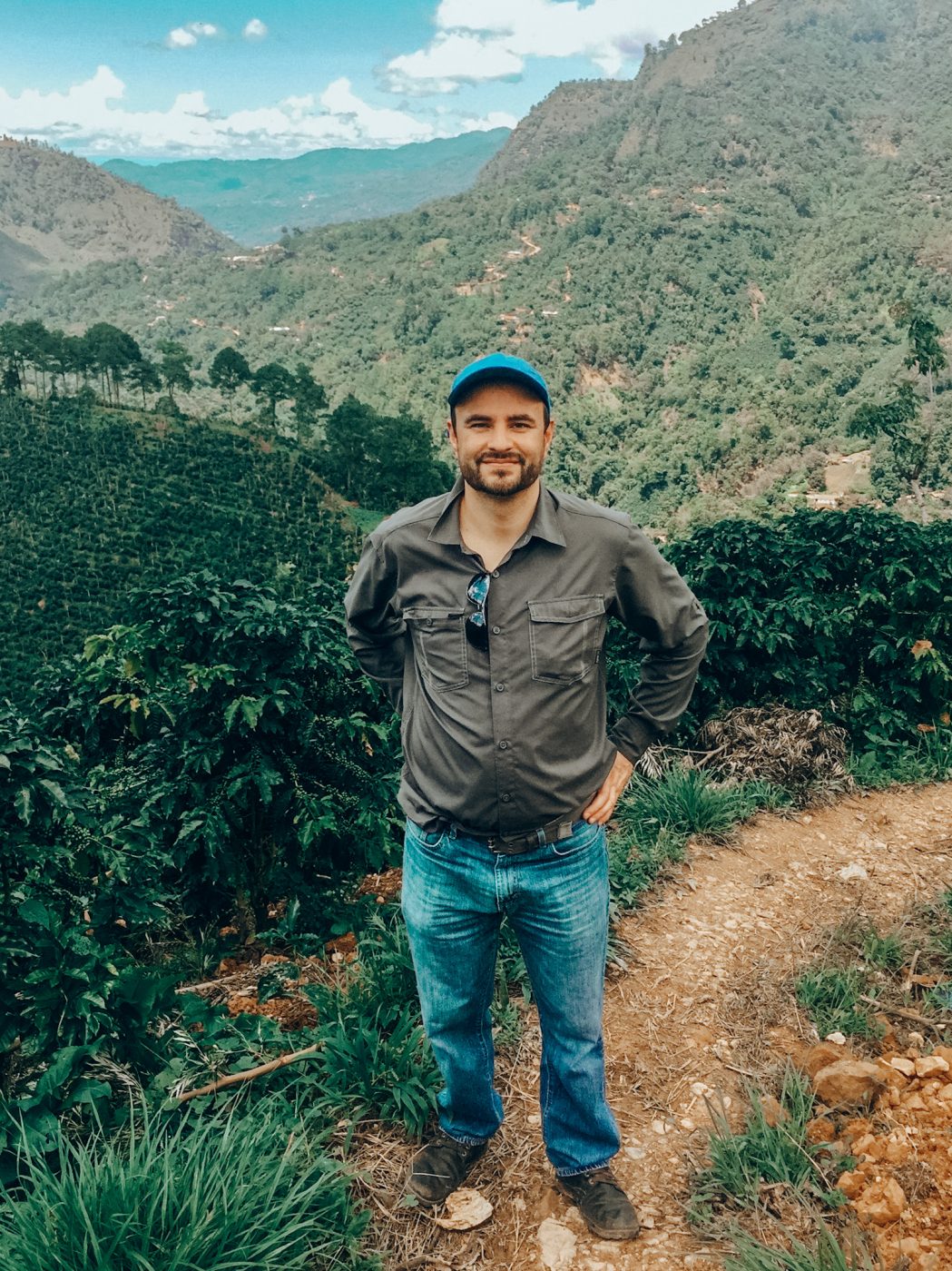 To the coffee
Plum, Raisin, Dark Chocolate
Score:
Sweetness: 3/5 Maple Syrup
Acidity: 3/5 Cherry
Mouthfeel: 4/5 Cashew
Body: 35 Earthy

Variety: Bourbon, Caturra, Catuaí
Processing: Anaerobic Natural
Harvesting Year: 2021/22
Drying Time: Several days

Suggested brew recipe:
1:16.5 (eg 15g coffee to 250g water) in 2:30 to 3:30 minutes
About the coffee
This double anaerobic process coffee from Fraijanes in Guatemala has a balanced, maple syrup sweetness and a rich, cherry-like acidity. It has a confident body with a creamy nuttiness and a complex, earthy finish.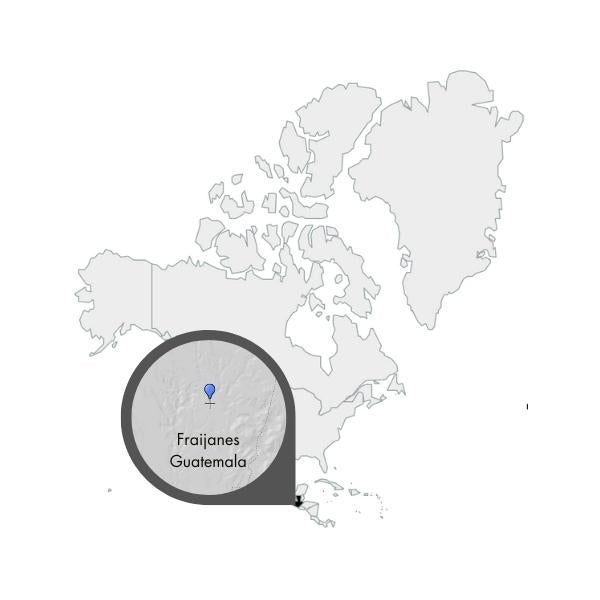 The farm | Beneficio San Victor
Unlike most other coffee growing areas, Fraijanes is located just outside Guatemala's capital, Guatemala City. Despite being so close to the metropole, Faijanes has a long history of coffee growing, with the Juanes brothers after whom the region is named bringing coffee to Fraijanes some 200 years ago. Bourbon, Typica, Catuaí and the Guatemalan native Pache Comun are among the varieties grown in the region, which is known to produce slightly more acidic coffees than the rest of the Central American country. Fraijanes enjoys rich volcanic soil known as sandy loam, which has been fed by ash, sludge and clay from the nearby Pacaya Volcano.

The Beneficio San Victor lies between the Laguna El Pino, the Cerro Redondo volcano and Lake Amatitlan, in the town of Los Verdes. The Mill has been run by the Molina family since the 1990s, bringing together several farmers from the region, including the Cooperativa El Cerrito, the Cooperativa Fraijanes, smallholders and the local coffee plantations. Recently, the mill has been upgraded with more efficient equipment that can produce higher quality coffee while using less water. The team is also famous for producing some special micro lots that showcase unusual processing methods like double fermentation, honey processing, and anaerobic naturals like this El Ricon Lot.

Relationship: New partner
Producer: Cooperative
Type of Farm: Cooperative
Region, Country: Fraijanes, Guatemala
Altitude: 1600 masl
Soil type: Sandy loam
Fertilisation method: organic
Shadow Type: Not shade grown
Processing location: Beneficio San Victor
Number of varieties: Various
Harvest season: Sept-April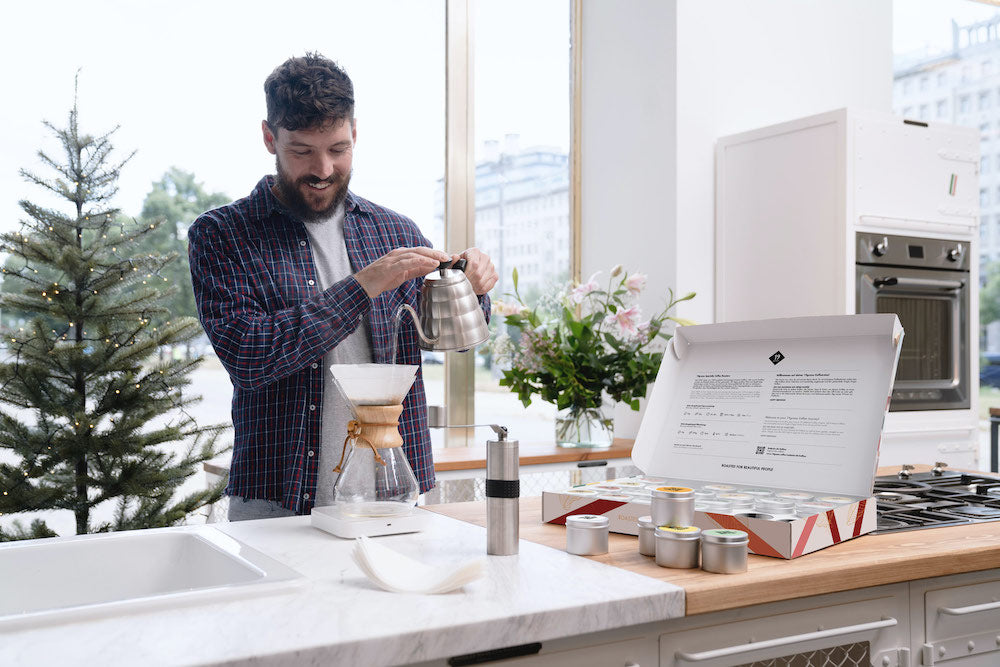 Bloody Good Filter
Coffee is a fruit with many natural fruit acids. We roast our coffees to bring out these acids, but also to bring out the sweetness. When our roasters develop a flavour profile for a filter coffee, they make sure to use a slightly lower temperature. In our coffees, we bring out the natural flavour profile of each variety, but also of the terroir of Origin.
Simply order your favourite coffees online
Sustainably grown
Carefully grown and processed by our partners.
Worldwide shipping
Safe and reliable with DHL. Direct to your door.
Recyclable packaging
There are no mixed materials in our bags, making them easy to recycle.
Pay securely
Choose from several secure payment methods.
Christmas Presents for Coffee Lover
Free shipping from €30

Easy, safe and fast delivery with DHL. Free of charge from €30 order value.

Directly & Fairly Traded

We attach great importance to our long-term relationships, keeping farmers on equal terms.