Shantawene Natural - Ethiopia Espresso
Cola, Mango, Caramel Fudge
Regular price

Sale price

$17.00
The Shantawene Washing Station coffees stand out from the cupping table with an exceptional flavour profile: We taste notes of sweet cola, fruity mango and caramel fudge. This lot achieves a cupping score of 89 points.
About the coffee
Ethiopia is the birthplace of coffee. There are between six and ten thousand types of coffee. In most cases, Ethiopian coffee is sold as heirloom coffee because there are no genetic tests that would allow buyers to differentiate the varieties. Cross-pollination occurs in the wild, which is why the term "Ethiopian Heirloom" exists as a collective term. This coffee was processed naturally and has a particularly fruity taste profile.
Our Shantawene Natural comes from the Shantawene Washing Station and is made from carefully selected, ripe cherries. When the cherry is accepted, water is poured over it in order to remove inferior cherries. The cherry is then dried on African beds for 14 to 18 days.
Choose your grindsize

If you don't have a grinder at home, we'll happily grind your coffee to your specifications. Just select your brewing method above or order whole beans.
Cultivation

Cultivated with love by great farmers. 100% Arabica coffee, harvested when ripe and carefully processed. Sustainable and fairly traded.
Shipping

Freshly roasted, packed and shipped safely to you by DHL.
Packaging

Our standard bags contain 250g and are 100% recyclable. No mixed materials.
Brewing

Take your tried-and-tested recipe as a starting point for this roast, or get help from our brew guides.
Scoring Card

The coffee cherry can develop up to 1,200 different natural flavours. Depending on location and variety.

Learn to understand the flavours in coffee with the Scoring Card. Grade your coffee by filling out your Scoring Card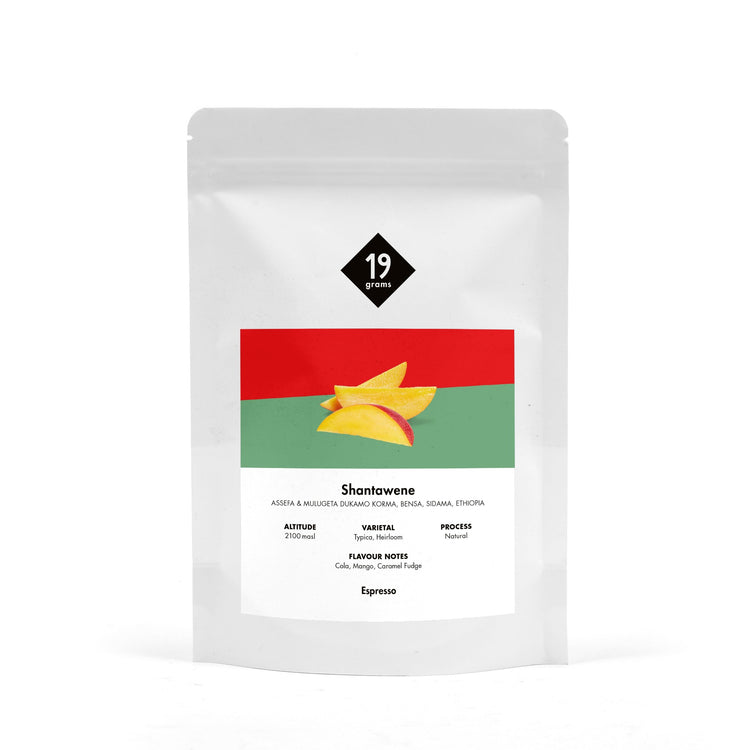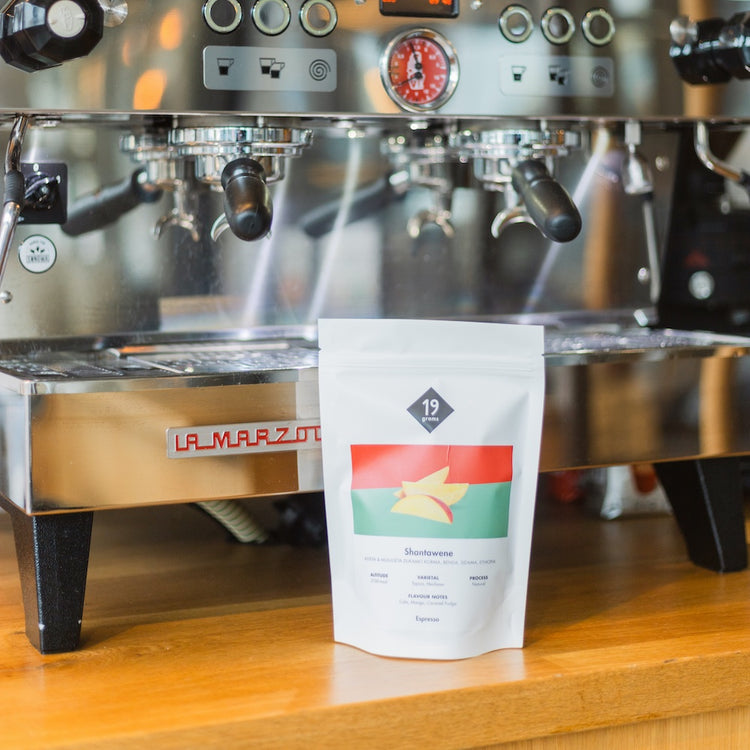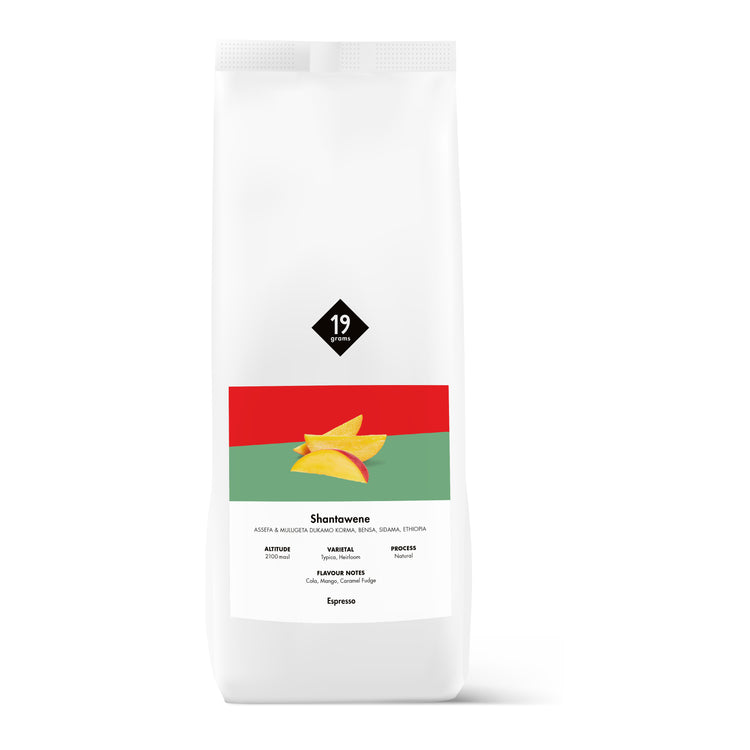 Suitable for espresso preparation: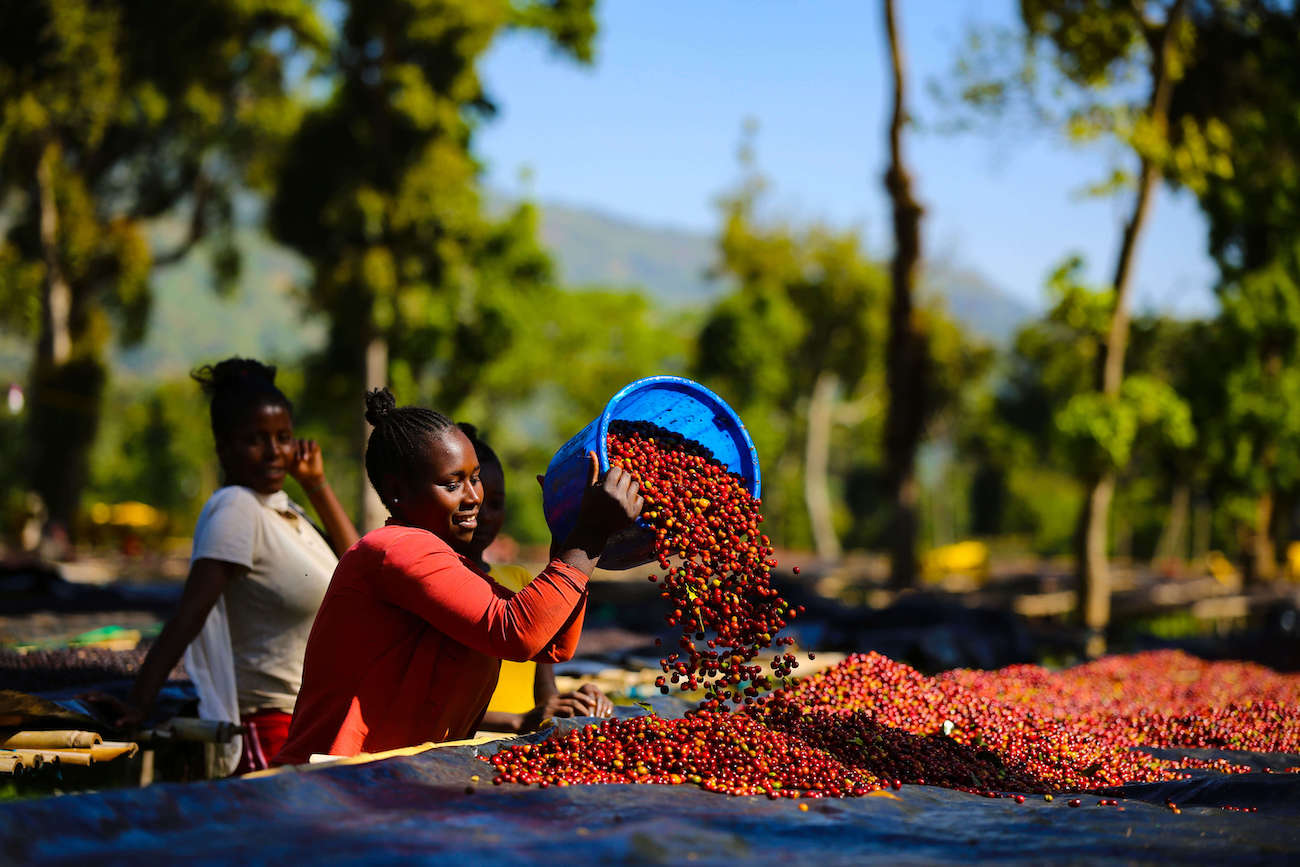 About the coffee
Cola, Mango, Caramel Fudge
Score: 89
Sweetness: 3/5 tropical
Acidity: 3/5 Nectarine
Mouthfeel: 4/5 silky
Body: 4/5 Sweet and Lingering

Variety: Heirloom, Typica
Processing: Natural
Harvesting Year: 2022/23
Drying Time:

Suggested brew recipe:
1:2, 19gr coffee for 40gr espresso, brewing time: 30-35 seconds.
About the coffee
Notes of cola, mango and caramel fudge combined in one coffee? We make it possible!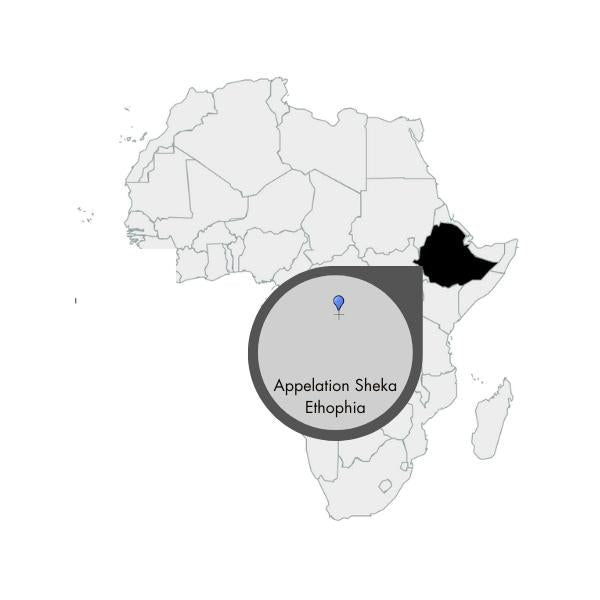 The farm | Bensa Gatta Farm
The farm is certified organic, UTZ and Rain Forest All.

Relationship: Long time partners.
Producer: Assefa & Mulugeta Dukamo Korma
Type of Farm: Family-run farm
Region, Country: Shantawene Washing Station, ET
Altitude: 2100 masl
Soil type: Fertile, Volcanic soils
Fertilisation method: organic
Shadow Type: Grown in the Shade
Processing location: Shantawene Washing Station
Number of varieties: various
Harvest season:

Cup of Excellence

About the farm
Bensa Gatta Farm is located in the heart of the village of Shantawene, which is 10 km from the town of Daye. The farm is surrounded by natural forest and indigenous trees, some of which are said to be over 200 years old. It is close to the growing operations of Bombe, Shantawene and Keramo villages. The area around the farm is criss-crossed by rivers, which has resulted in very fertile soil. One such river flows down from the hills above Karamo, separating Shantawene village from Bombe. To preserve the natural shade and fertility of the soil, various shade trees are planted on the farm, in consultation with the Ministry of Agriculture. The farm is also certified organic, C.A.F.E PRACTICE, UTZ and Rain Forest Alliances.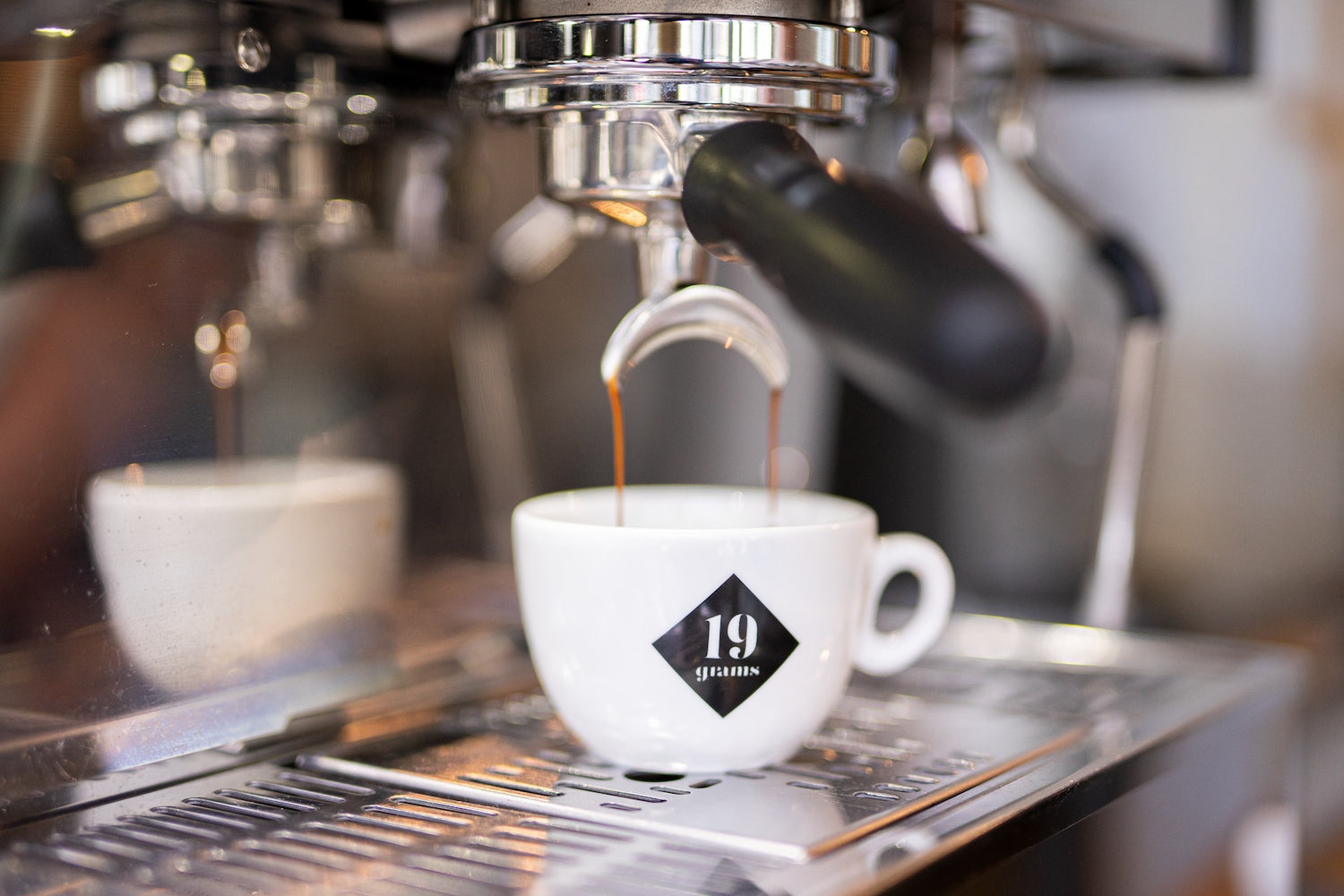 Bloody Good Espresso
Coffee is a fruit which is naturally acidic and contains many sugars. We roast our espresso to develop a fine acidity and to bring out its natural sweetness.
Our espresso roasts aim to present the strong flavour profiles of different origins. Discover our single origin espressos – all 100% arabica coffees, carefully selected and gently roasted by our team in Berlin.
Simply order your favourite coffee online.
Sustainably grown
Carefully grown and processed by our partners.
Worldwide shipping
Safe and reliable with DHL. Direct to your door.
Recyclable packaging
There are no mixed materials in our coffee bags, making them easy to recycle.
Pay securely
Choose from several secure payment methods.
Free shipping from €30

Easy, safe and fast delivery with DHL. Free of charge from €30 order value.

Directly & Fairly Traded

We attach great importance to our long-term relationships, keeping farmers on equal terms.