Café des Mamas - Women's Day Special
Rhubarb, Ceylon Tea, Lime
Regular price

Sale price

15,88 €
First roast on: 1st March, 2023.
This year's special edition of "Café des Mamas" comes with four unique designs, honoring four women who have made unique contributions to women's rights and the women's movement. Each design features the Café des Mamas logo, either individually or as a set with all four designs.
This roast comes from the Nova "Café des Mamas" project, a coffee farm in northern Rwanda led by women who are dedicated to women's education. This Bourbon lot is washed, and at Café des Mamas, you can taste the distinct power of Rwandan women.
Choose your grind

If you don't have a grinder at home, we'll happily grind your coffee to your specifications. Just select your brewing method above or order whole beans.

Find the right grind. You can get the most out of your coffee by grinding your beans just before brewing. Take a look at the equipment selection if you are interested in a grinder.

You can also select a grind level in each product if you want us to grind the beans for you. We use a Mahlkönig EK43 for this.

Frenchpress and Aeropress are ground on the same setting.
Cultivation

Cultivated with love by great farmers. 100% Arabica coffee, harvested when ripe and carefully processed. Sustainable and fairly traded.
Shipping

Freshly roasted, packed and shipped safely to you by DHL.
Packaging

Our standard bags contain 250g and are 100% recyclable. No mixed materials.
Brewing

Take your tried-and-tested recipe as a starting point for this roast, or get help from our brew guides.
Scoring Card

The coffee cherry can develop up to 1,200 different natural flavours. Depending on location and variety. Learn to understand the flavours in coffee with the Scoring Card. Grade your coffee by filling out your Scoring Card.
Suitable for filter preparation:
About the coffee
Rhubarb, Ceylon Tea, Lime
Score: 88.5
Sweetness: 3/5 Dark Berries
Acidity: 2/5 citric
Mouthfeel: 3/5 bright and fruity
Body: 4/5 lingering and sweet

Variety: Red Bourbon
Processing: Washed
Harvesting Year: 2022
Drying Time: around 14 days

Suggested brew recipe:
1:16,5 (e.g. 15gr coffee to 250gr water) in 2,5 to 3,5 minutes
About the coffee
Fruity filter roast from Rwanda, produced only by women.

Agnes Mukamushinja is one of the many women supported by the Café des Mamas women's project in Rwanda. She works at the Nova Washing Station, one of several coffee washing stations operated by the Café des Mamas women's project.

As a member of the cooperative, Agnes Mukamushinja is part of a network of women who grow, harvest, process, and market coffee beans. The women also learn basic business skills to sell their products and increase their income. Through her work at the Nova Washing Station, Agnes Mukamushinja can improve her income while contributing to the cultivation and processing of high-quality coffee.

The Café des Mamas women's project works closely with the women at the coffee washing stations to ensure that they are paid fairly and have access to training and resources to improve their skills and knowledge of coffee cultivation and processing. By supporting women at the coffee washing stations, the project also helps to strengthen the communities where the women live and work.

Overall, the Café des Mamas women's project has a positive impact on women in Rwanda and makes an important contribution to the women's movement in the country.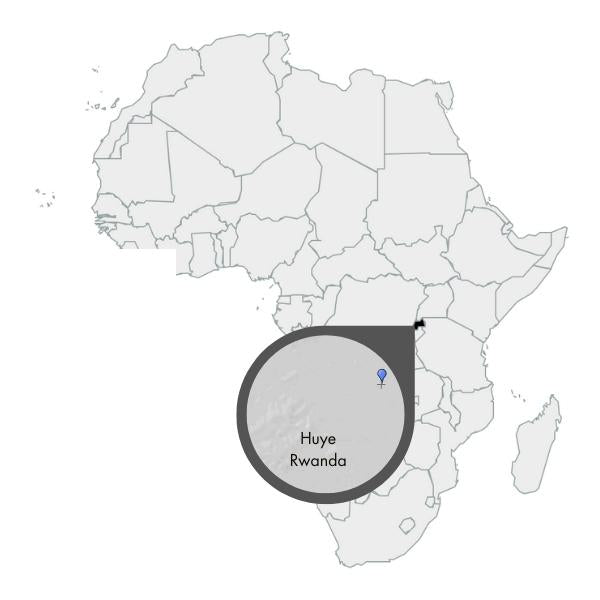 The Farm | Nova Washing Station
The Nova Washing Station is a Womens Project - only women work here.

Relationship: for a few years
Producer: Agnes Mukamushinja
Type of Farm: Women Project - owner lead Washing Station
Region, Country: Gicumbi, RW
Altitude: 1.450 masl
Soil type: vulcanic soils
Fertilisation method: biological
Shadow Type: grown in the shadow
Processing location: on the farm
Number of varieties: several
Harvest season: Mar - Jun
About the farm
Café des Mamas is grown and processed in Rwanda by Agnes Mukamushinja and her team at the Nova Washing Station. The coffee industry is a women's business, many people don't know that, as women usually work more behind the scenes, as pickers, sorters, farmers. Women usually do the really hard jobs and are paid the least.

The Rwandan woman has been the owner of Nova since 2013. She puts special focus on the quality of the coffees and the working conditions of her employees. With each year, Agnes becomes successful with this model and works out more independence for herself and her team at the Nova Washing Station.

It is different at Nova Station, where even the people at the top are female. Agnes is convinced that women are at least as capable of running excellent farms. "Once the ladies are well off, the whole nation is well off!"

She supports her female employees outside of the coffee business, teaching them tailoring so that everyone is taken care of in the off-season. She pays for treatment costs and provides electricity and water for neighbouring houses. You can find out more about the project on the Nova Coffee website.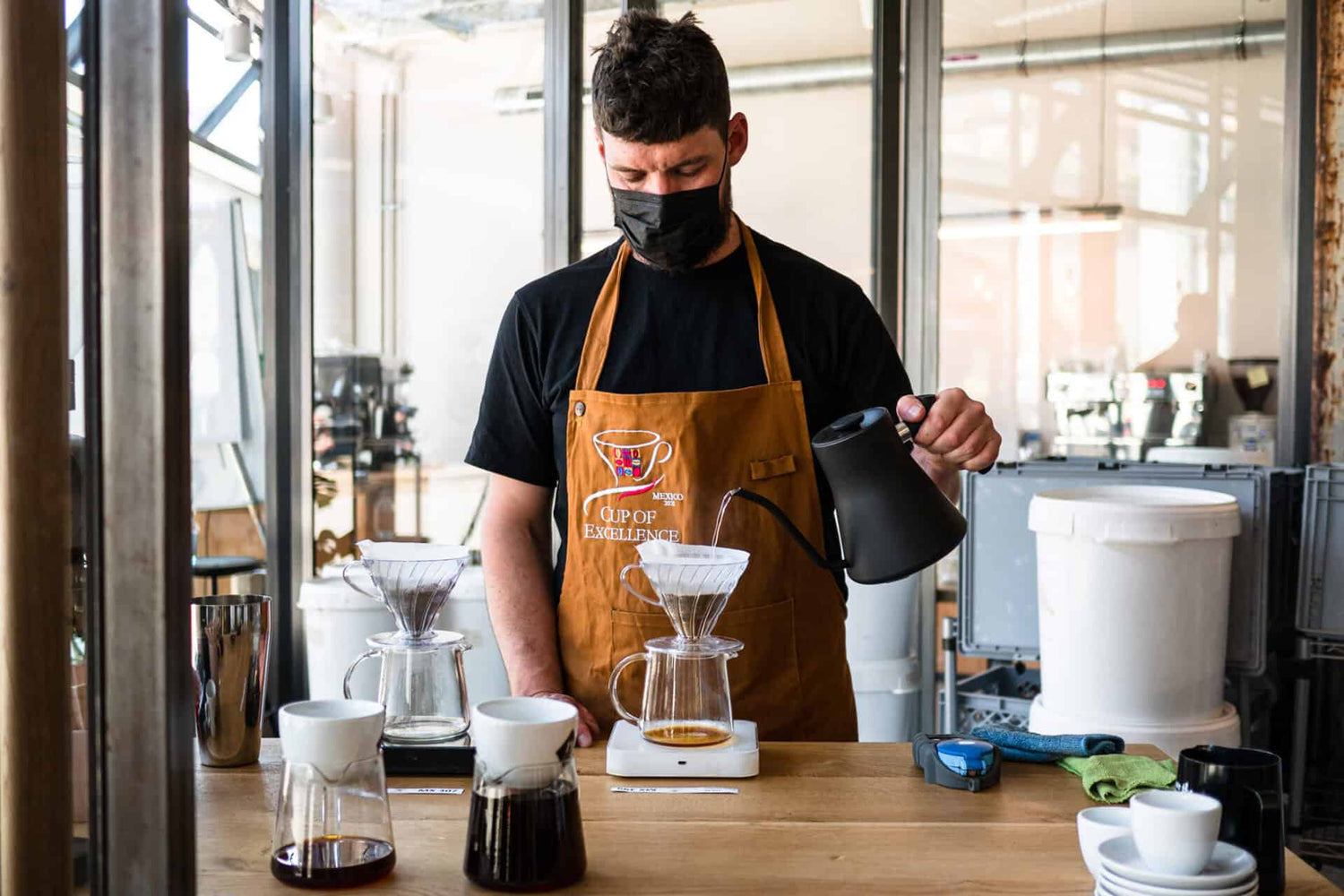 Bloody Good Filter
Coffee is a fruit which is naturally acidic and contains many sugars. We roast our filter coffees to bring out this acidity and develop the natural sweetness.
In developing a profile for a filter roast, our roasting team takes a light-handed approach, roasting much more gently than in an espresso roast. Here, the aim is to respect and highlight the natural flavours of the coffee itself, and to let its terroir shine through.
Simply order your favourite coffee online.
Sustainably grown
Carefully grown and processed by our partners.
Worldwide shipping
Safe and reliable with DHL. Direct to your door.
Recyclable packaging
There are no mixed materials in our coffee bags, making them easy to recycle.
Pay securely
Choose from several secure payment methods.
Free shipping from €30

Easy, safe and fast delivery with DHL. Free of charge from a €30 order value.

Directly & Fairly Traded

We attach great importance to our long-term relationships, keeping farmers on equal terms.