La Granada Colombia Filter
Pinke Pampelmuse, Honeysuckle, Zuckerrohr
Regular price

Sale price

15,88 €
Gabriel Castaño was the first farmer to grow the Pink Bourbon coffee variety on his La Granada finca in Colombia.
The colorful variety is relatively rare because the gene that controls color in the ripe cherry is double recessive. This means that if there are red, orange or yellow bourbon plants nearby and they pollinate each other, the pink color is lost, as are the bourbon characteristics.
In the harvesting process, the coffee cherries are carefully hand-selected for ripeness. In an extended fermentation, the cherries are weighed and then fermented in tanks for 90 hours. The beans are then washed and dried for 15 days. The result is an exquisite array of aromas with impressive flavors of chocolate cake, baking spices and passion fruit.

About the Farm
His plantation and the quality of his coffee brought him and his family a secure economic income.


Choose your grind

If you don't have a grinder at home, we'll happily grind your coffee to your specifications. Just select your brewing method above or order whole beans.

Find the right grind. You can get the most out of your coffee by grinding your beans just before brewing. Take a look at the equipment selection if you are interested in a grinder.

You can also select a grind level in each product if you want us to grind the beans for you. We use a Mahlkönig EK43 for this.

Frenchpress and Aeropress are ground on the same setting.
Cultivation

Cultivated with love by great farmers. 100% Arabica coffee, harvested when ripe and carefully processed. Sustainable and fairly traded.
Shipping

Freshly roasted, packed and shipped safely to you by DHL.
Packaging

Our standard bags contain 250g and are 100% recyclable. No mixed materials.
Brewing

Take your tried-and-tested recipe as a starting point for this roast, or get help from our brew guides.
Scoring Card

The coffee cherry can develop up to 1,200 different natural flavours. Depending on location and variety. Learn to understand the flavours in coffee with the Scoring Card. Grade your coffee by filling out your Scoring Card.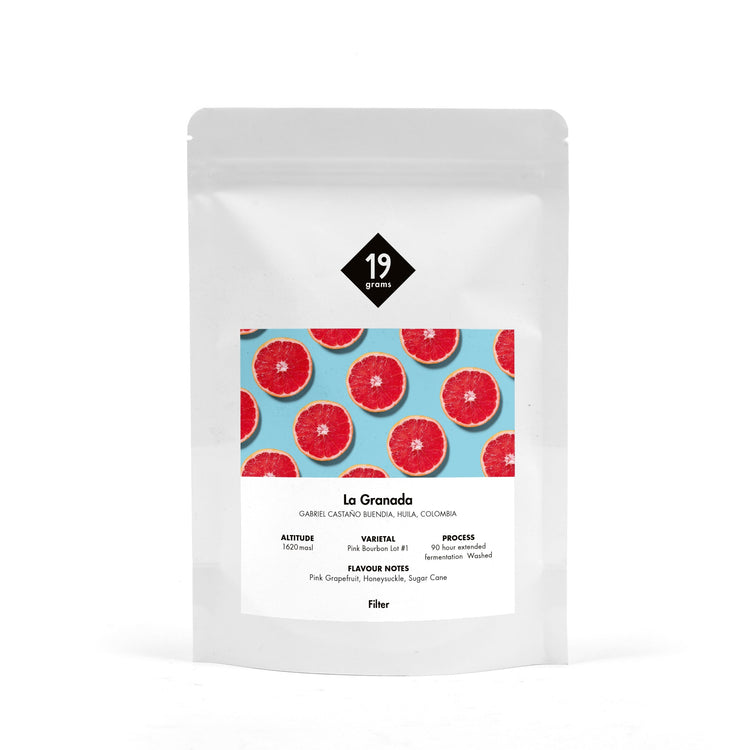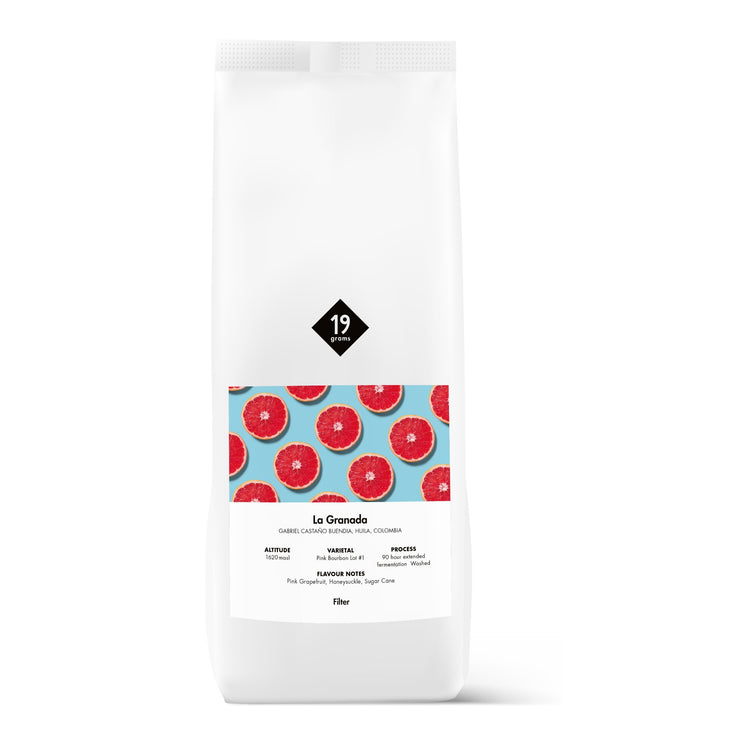 Suitable for filter preparation:
About the coffee
Pinke Pampelmuse, Honeysuckle, Sugar cane
Score: 88
Sweetness:
Acidity:
Mouthfeel:
Body:

Variety: Pink Bourbon Lot #1
Processing: Fermentation: 90h fermentiert, gewaschen
Harvesting Year: 2020
Drying Time: 15 - 20 Tage

Suggested brew recipe:
1:16,5 (z.B. 15gr Kaffee auf 250gr Wasser) in 2,5 bis 3,5 Minuten
About the coffee
Ein wunderbarer Kaffee der seltenen Pink Bourbon Varietät von der Finca La Granada.

Gabriel Castaño war der erste Farmer, der die Kaffee-Varietät Pink Bourbon auf seiner Finca La Granada in Kolumbien angebaute.
Die farbenprächtige Varietät ist relativ selten, da das Gen, welches die Farbe in der reifen Kirsche kontrolliert, doppelt rezessiv ist. Das bedeutet, dass wenn es rote, orange oder gelbe Bourbon-Pflanzen in der Nähe gibt und sie sich gegenseitig bestäuben, die pinke Farbe verloren geht, ebenso wie die Bourbon-Eigenschaften.
Im Ernteprozess werden die Kaffeekirschen sorgfältig von Hand nach Reifegrad ausgewählt. In einer verlängerten Fermentierung werden die Kirschen gewogen und dann für 90 Stunden in Tanks fermentiert. Anschließend werden die Bohnen gewaschen und 15 Tage lang getrocknet. Das Ergebnis ist eine vorzügliche Aromenvielfalt mit eindrucksvollen Geschmacknoten von Schokoladenkuchen, Backgewürzen und Passionsfrucht.
The Farm | Finca La Granada
Gabriel ist berühmt dafür, die Pinke Bourbon entdeckt und in der Region verbreitet zu haben.

Relationship: langjähriger Partner
Producer: Gabriel Castaño Buendía
Type of Farm: Family owned farm
Region, Country: Huila, CO
Altitude: 1.620 m üNN
Soil type: fruchtbare Böden
Fertilisation method: organic
Shadow Type: im Schatten gewachsen
Processing location: at the farm
Number of varieties: verschiedene
Harvest season: Okt - Dez // Apr - Mai
About the farm
Seine Plantage und die Qualität seines Kaffees brachten ihm und seiner Familie ein sicheres wirtschaftliches Einkommen.

Im Jahr 1990 öffnete Kolumbien seine Türen für die internationale Wirtschaft. Dies war für die einheimischen Produzenten im ganzen Land ein harter Schlag, denn ausländische Importe waren meistens billiger. Auch für Don Gabriel Castaño war diese Situation sehr schwierig - bis er die damals noch nicht sehr bekannte Kaffee-Varietät Pink Bourbon entdeckte. Fasziniert von der Farbe der Samen, pflanzte er diese Varietät auf seiner Finca La Granda, im Departamento Huila, an und stellte fest, dass die Pflanze sehr resistent gegen Rost war. Aus dieser Entdeckung heraus entschied er, komplett umzupflanzen: mit Erfolg! Seine Plantage und die Qualität seines Kaffees brachten ihm und seiner Familie ein sicheres wirtschaftliches Einkommen.

Gabriel und seine Frau Carmen haben sechs Kinder - vier Töchter und zwei Söhne - von denen fünf in die Fußstapfen ihrer Eltern getreten sind und selbst Kaffeeproduzenten geworden sind. Obwohl Gabriel in die Jahre gekommen ist und aus gesundheitlichen Gründen keinen Kaffee mehr trinken kann, sagt er, dass er sein Leben mit niemandem tauschen würde. Er hat in seinem Leben 8.000 Bäume gepflanzt und ist in seiner Gemeinde dafür bekannt geworden, dass er Varietät Pink Bourbon bei seinen Kollegen eingeführt hat.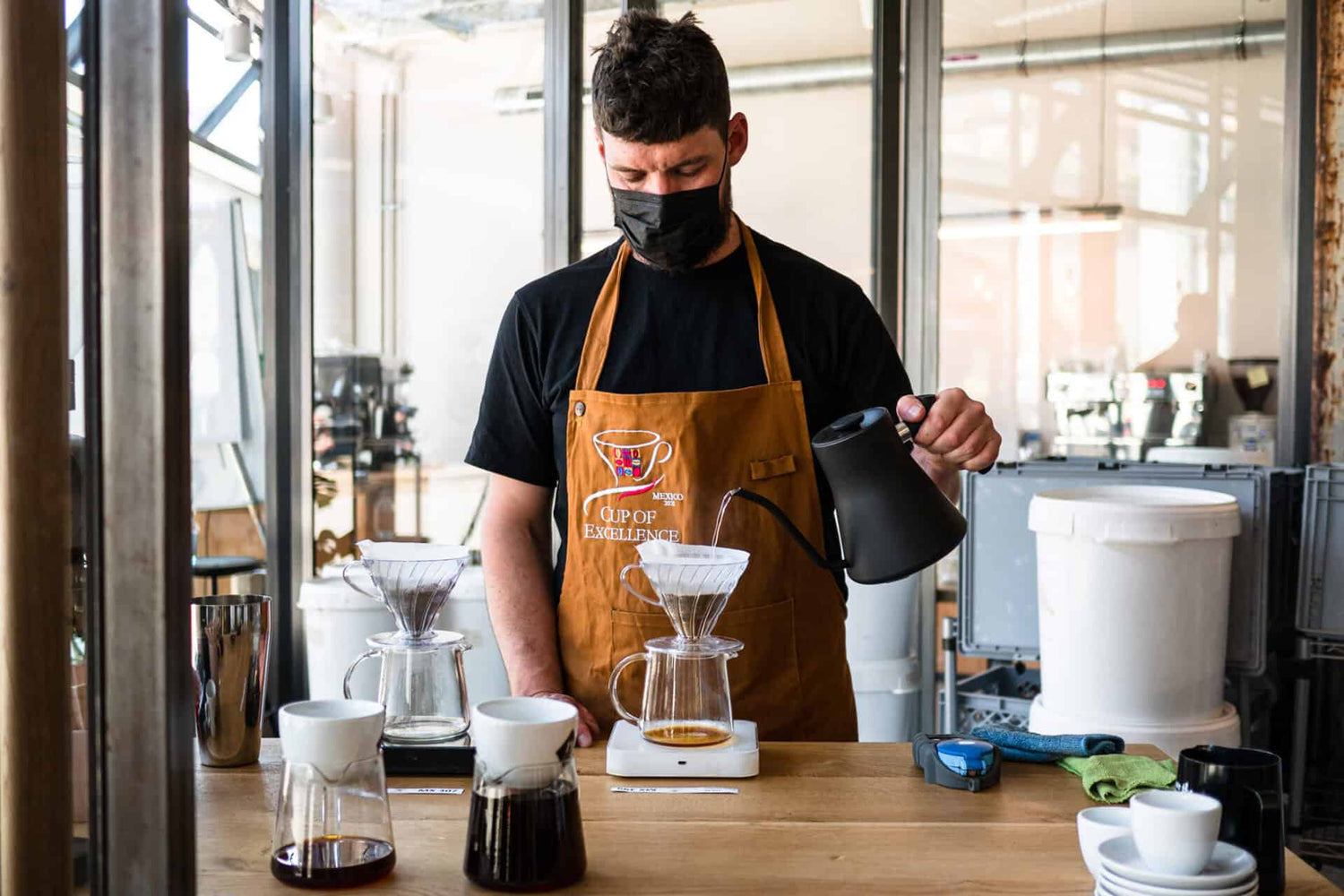 Bloody Good Filter
Coffee is a fruit which is naturally acidic and contains many sugars. We roast our filter coffees to bring out this acidity and develop the natural sweetness.
In developing a profile for a filter roast, our roasting team takes a light-handed approach, roasting much more gently than in an espresso roast. Here, the aim is to respect and highlight the natural flavours of the coffee itself, and to let its terroir shine through.
Simply order your favourite coffee online.
Sustainably grown
Carefully grown and processed by our partners.
Worldwide shipping
Safe and reliable with DHL. Direct to your door.
Recyclable packaging
There are no mixed materials in our coffee bags, making them easy to recycle.
Pay securely
Choose from several secure payment methods.
Free shipping from €30

Easy, safe and fast delivery with DHL. Free of charge from a €30 order value.

Directly & Fairly Traded

We attach great importance to our long-term relationships, keeping farmers on equal terms.