90 Hz Filter
Regular price

Sale price

$14.00

Unit price

$56.00

per

kg
The search for my filter coffee brought Agnes to my attention.
She runs a farm that employs, supports and trains exclusively women. It increases their quality of life and security enormously and we can all also enjoy the fine 90 Hz coffee.
The attributes of juicy blueberry, fresh mango and crunchy coconut taste equally good in a Chemex or as a cold brew.
These are whole beans for maximum freshness.
Choose your grind

If you don't have a grinder at home, we'll be happy to grind the coffee to your specifications. Just click on your preparation option above to make this coffee.

Find the right grind. You can get the most out of your coffee by grinding your beans just before brewing. Take a look at the equipment selection if you are interested in a grinder.

You can also select a grind level in each product if you want us to grind the beans for you. We use a Mahlkönig EK43 for this.

Frenchpress and Aeropress are ground on the same setting.
Cultivation

Cultivated with love by great farmers. 100% Arabica coffee, harvested when ripe and carefully processed. Sustainable and fairly traded.
Shipping

Freshly roasted, packed and shipped safely to you by DHL.
Packaging

Our standard bags contain 250g and are 100% recyclable. No mixed materials.
Preparation

Take your tried-and-tested recipe as a starting point for this roast, or get help from our Brew Guides.
To the coffee
, ,
Score:
Sweetness:
Acidity:
Mundgefühl:
Body:

Varietal:
Process:
Harvest Year:
Drying Time:

Brewing Example:

About the Farm


Collaboration:
Farmer/ Producer:
Operator form:
Country, Region: ,
Altitude:
Soil Type:
Fertilization Method:
Shadow Type:
Place of Processing:
Number of Varietals:
Harvest Time:
Impressions from the farm
About iknow Review
Kilian is a tech fan and the founder of the YouTube channel iKnowReview. He is originally from Lake Constance and moved to Berlin to attend tech events and enjoy the good food. In Berlin, he discovered his love for coffee and became interested in Specialty Coffee. He appreciates good coffee and is always on the lookout for new taste experiences. Kilian has several setups at home, including a Niche Zero Grinder and a La Marzocco Linea Mini, with which he prepares high-quality coffee. His favourite coffee is 120HZ. Kilian has worked with 19grams to create the different coffee roasts from 1Hz to 90Hz and 120Hz, to 144Hz. Happy Brewing!
KEEP READING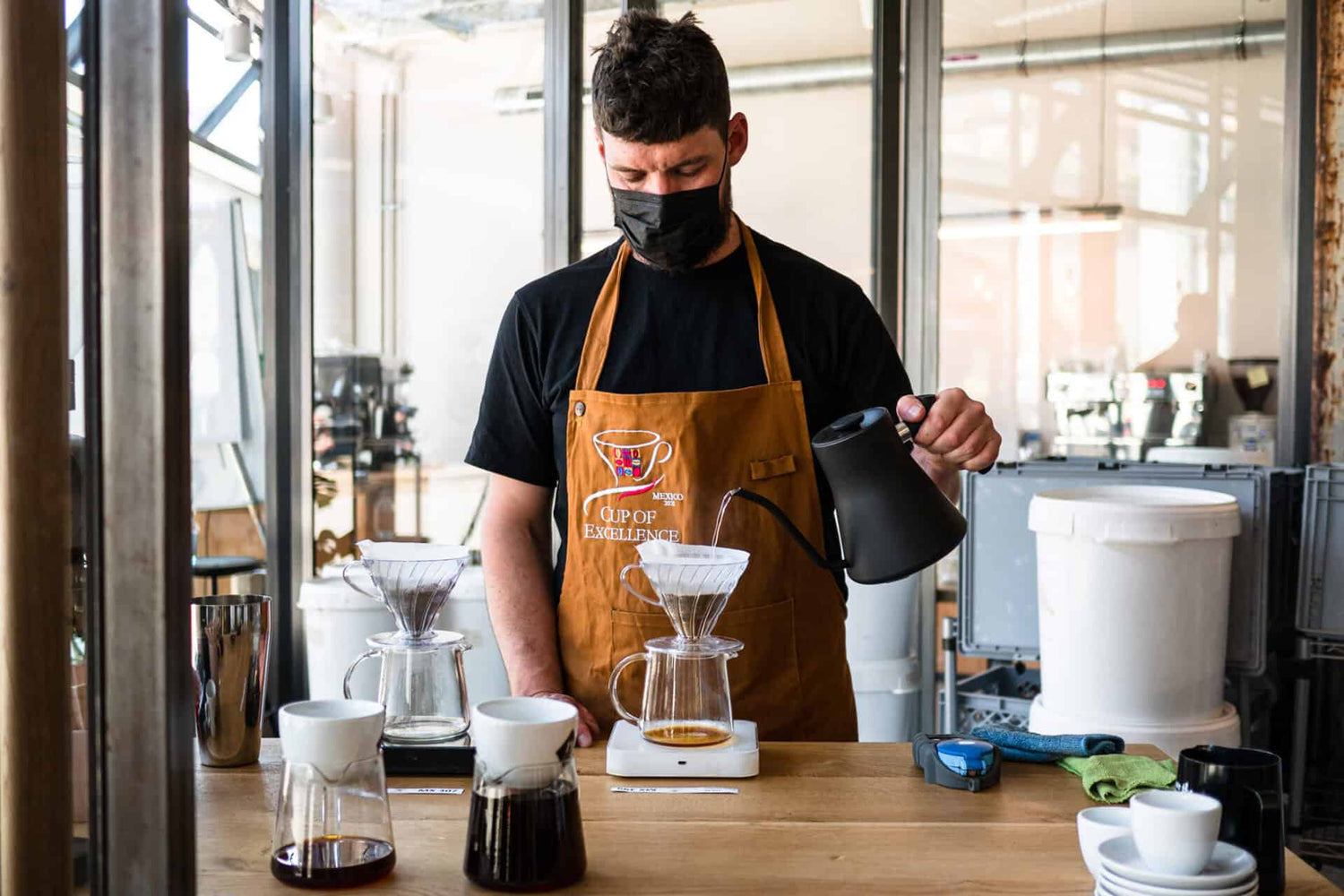 Bloody Good Coffee
Coffee is a fruit with many natural fruit acids. We roast our coffees to bring out these acids, but also to bring out the sweetness. When our roasters develop a flavour profile for a filter coffee, they make sure to use a slightly lower temperature. In our coffees, we bring out the natural flavour profile of each variety, but also of the terroir of Origin.
Simply order your favourite coffee online.
Sustainably grown
Carefully grown and processed by our partners.
Worldwide shipping
Safe and reliable with DHL. To your home.
Recyclable packaging
No mixed materials in our coffee bags, therefore easy to recycle.
Pay securely
Choose from a variety of secure payment methods
.
Free shipping from 30€

Easy, safe and fast delivery with DHL. Free of charge from 30€ order value.

Directly & Fairly Traded

We attach great importance to long-term relationships. With farmers at eye level.