Tour Röstung - Espresso von 8000watt und Rick Zabel
Strawberry, Chocolate, Caramell
Regular price

Sale price

$12.00
The biggest bike race in Europe - Rick is on his way to cycle 3,414.4 km across France. So that he can waddle fullforce voraus, we have selected a sustainable and fair-trade Arabica bean from Palermo in Huila, Colombia, for our coffee. Grown at an altitude of 1,600 - 2,000 m, it is perfect for your café au lait!

As always, 100% Arabica, 100% directly traded and 100% roasted with love. Tastes creamy good of strawberry, caramel and chocolate.
Grindsize

If you don't have a grinder at home, we'll be happy to grind the coffee to your specifications. Just click on your brewing option above or order whole beans.
Cultivation

Cultivated with love by great farmers. 100% Arabica coffee, harvested when ripe and carefully processed. Sustainable and fairly traded.
Shipping

Freshly roasted, packed and shipped safely to you by DHL.
Packaging

Our standard bags contain 250g and are 100% recyclable. No mixed materials.
Brewing

Take your tried-and-tested recipe as a starting point for this roast, or get help from our Brew Guides.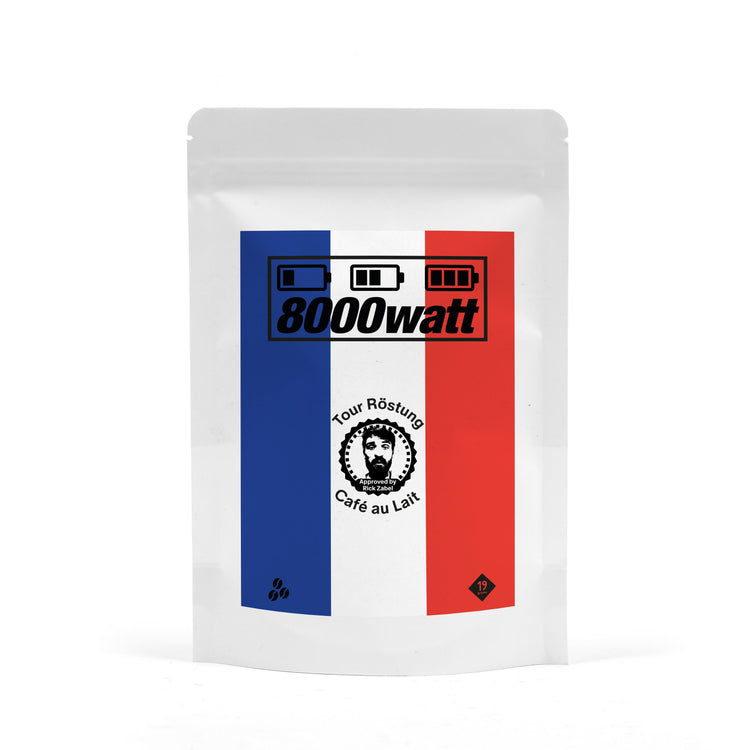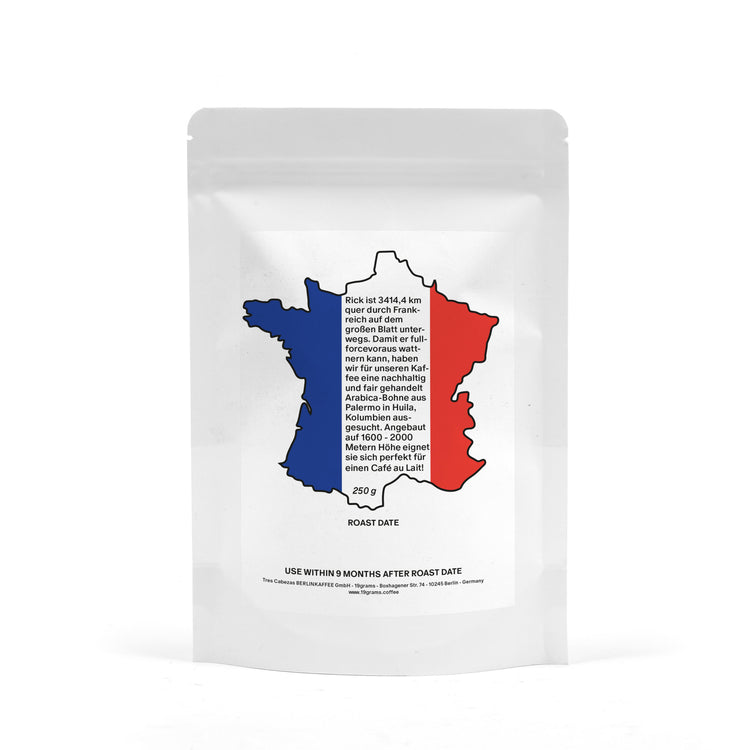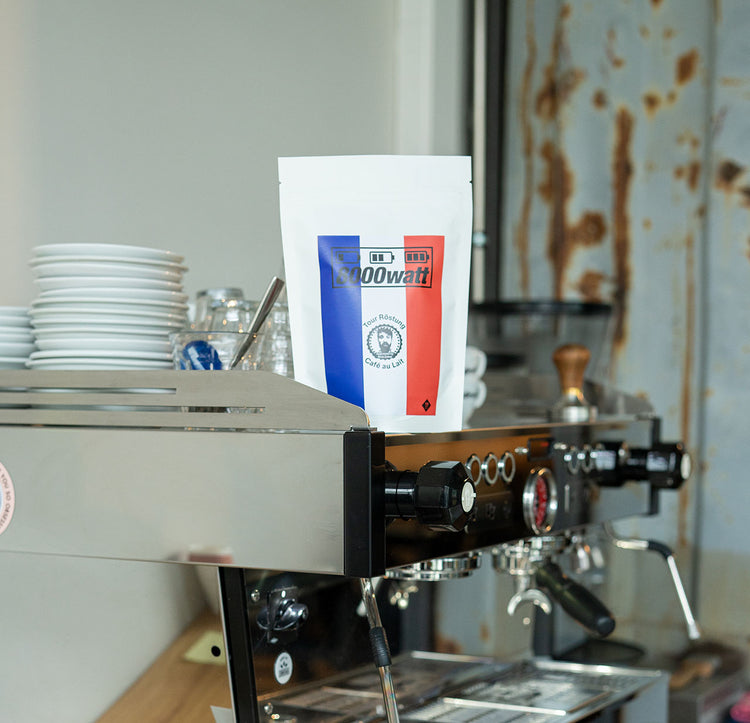 Rick Zabel & 8000watt
Whether Paris-Roubaix or a round of wading with the team. Hectic in the office in the afternoon or sleepy in bed in the morning. What you need is a stable coffee so you don't forget to switch over and get going straight away. Rick Zabel & 8000 watt have made it their mission to create coffee in collaboration with 19grams that is not only sustainably grown, but also tastes good. Whether in the bialetti or in the portafilter machine, you will find 19grams quality in the Fullforcevoraus espresso. We have roasted this delicious bean from Costa Rica especially to Rick's taste. Every Wattner needs it to get started. Available as whole beans or ground for the espresso machine/Bialetti. Now is the time to start wadding! Whether on the bike, before the race, in the office or half awake in the morning. We say: Fullforce ahead! Follow the guys on Instagram: Always Fullforce ahead! Follow the guys on Instagram: Whether insights from the racing bike world elite or exciting racing bike/gravel reports. Always Fullforce ahead!
8000watt
Coffee
Strawberry, , Chocolate, Caramell
Score:
Sweetness:
Acidity:
Mouthfeel:
Body:

Variety: Castillo, Colombia
Processing: washed
Harvesting Year: 2020
Drying Time: 12 days

Suggested brew recipe:

About the farm


Relationship: new Partner
Producer: Small holders
Type of Farm: Small holder cooperative
Region, Country: Palermo, Huila, CO
Altitude: 1.600 - 2000 masl
Soil type:
Fertilisation method: biologic
Shadow Type:
Processing location: Local Washing Station
Number of varieties:
Harvest season: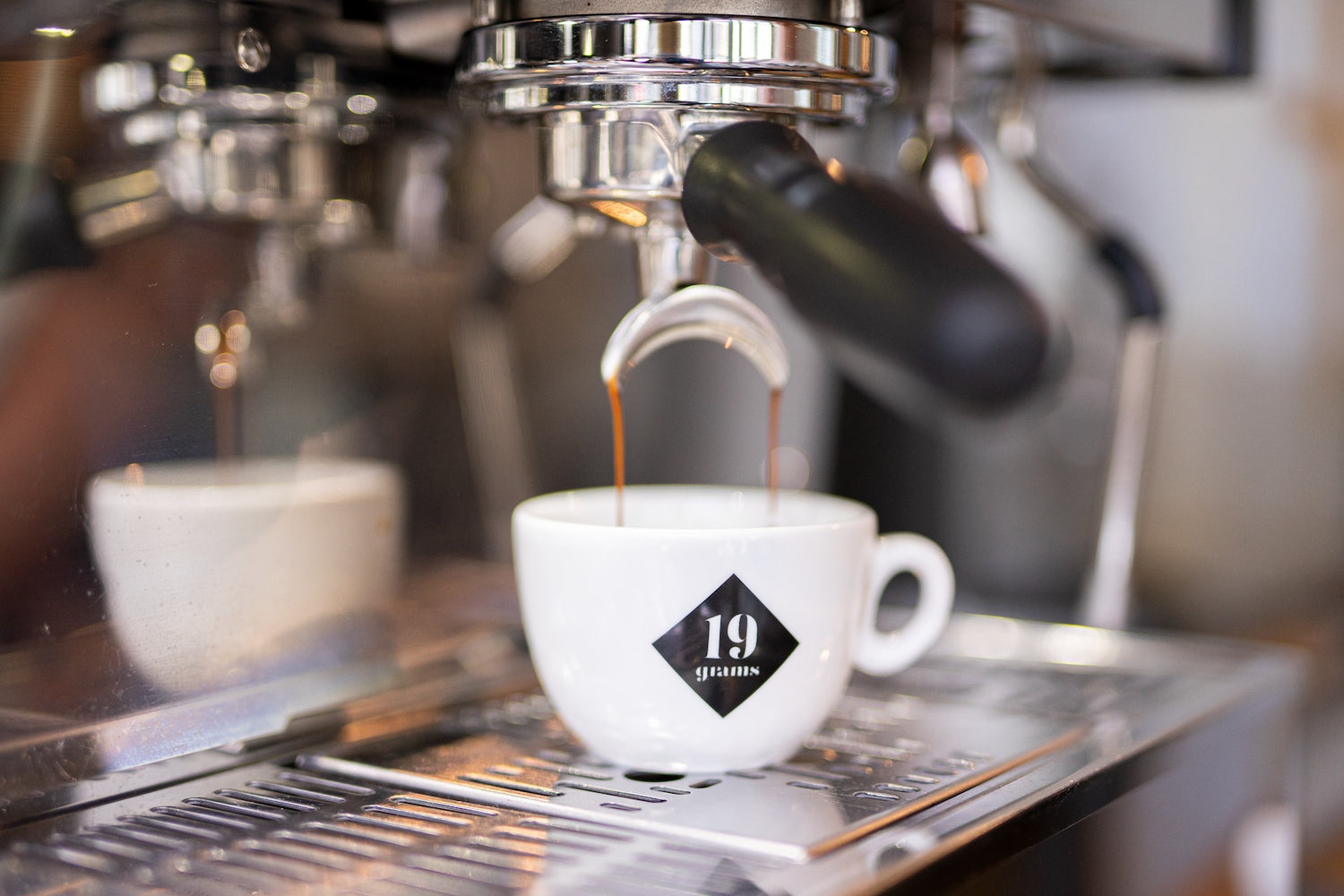 Bloody Good Espresso
Coffee is a fruit with many natural fruit acids. Wir rösten unsere Espressos so, dass sie feine Säurelinien entwickeln, aber auch die Süße hervorheben. With our espresso roasts, we present the intense flavour profiles of different coffee origins. Discover our Single Origin Espressos - all 100% Aracabica coffees, carefully selected and gently roasted by our roasting team.
Simply order your favourite coffee online.
Sustainably grown
Carefully grown and processed by our partners.
Shipping worldwide
Safe and secure with DHL. To your home.
Recyclable packaging
No mixed materials in our coffee bags, therefore easy to recycle.
Safe Payment
Choose from several secure payment methods
.
Free shipping from 30€

Easy, safe and fast delivery with DHL. Free of charge from 30€ order value.

Directly & Fairly Traded

We attach great importance to long-term relationships. With farmers at eye level.