Runge'eto Kii - Kenya Filter
Red Currant, Rhubarb Marmelade, Lemon Curd
Regular price

Sale price

$17.00
This single-origin blend by Rung'eto Kii from Kirinyaga impresses with an intense berry aroma accompanied by a distinct citrus note. Its taste is tangy and sparkling, which gives it a special freshness. The taste experience is rounded off by an elegant note that perfects the profile of this coffee.

Try this lot also as an espresso roast.
Choose your grind size

If you don't have a grinder at home, we'll happily grind your coffee to your specifications. Just select your brewing method above or order whole beans.

Find the right grind. You can get the most out of your coffee by grinding your beans just before brewing. Take a look at the equipment selection if you are interested in a grinder.

You can also select a grind level in each product if you want us to grind the beans for you. We use a Mahlkönig EK43 for this.

Frenchpress and Aeropress are ground on the same setting.
Cultivation

Cultivated with love by great farmers. 100% Arabica coffee, harvested when ripe and carefully processed. Sustainable and fairly traded.
Shipping

Freshly roasted, packed and shipped safely to you by DHL.
Packaging

Our standard bags contain 250g and are 100% recyclable. No mixed materials.
Brewing

Take your tried-and-tested recipe as a starting point for this roast, or get help from our brew guides.
Scoring Card

The coffee cherry can develop up to 1,200 different natural flavours. Depending on location and variety.

Learn to understand the flavours in coffee with the Scoring Card. Grade your coffee by filling out your Scoring Card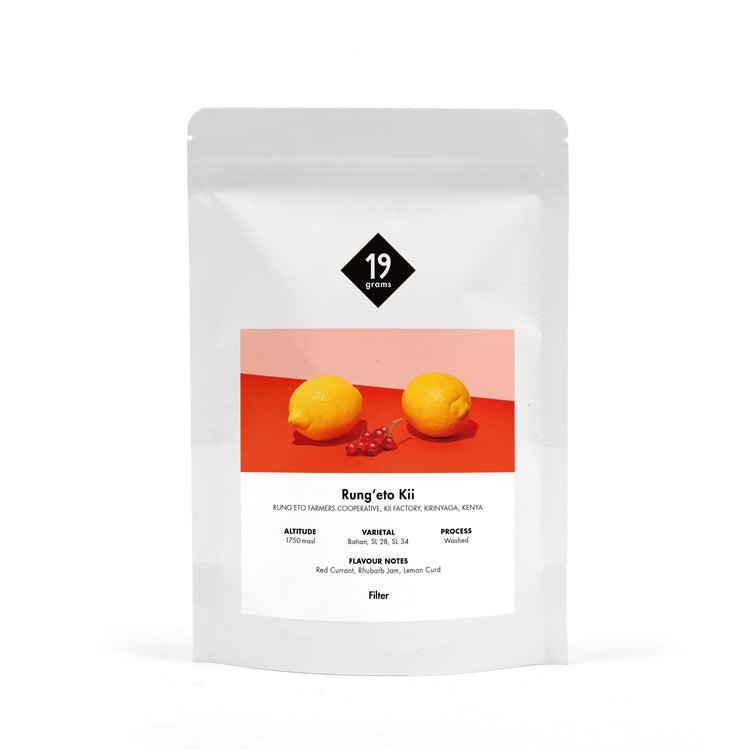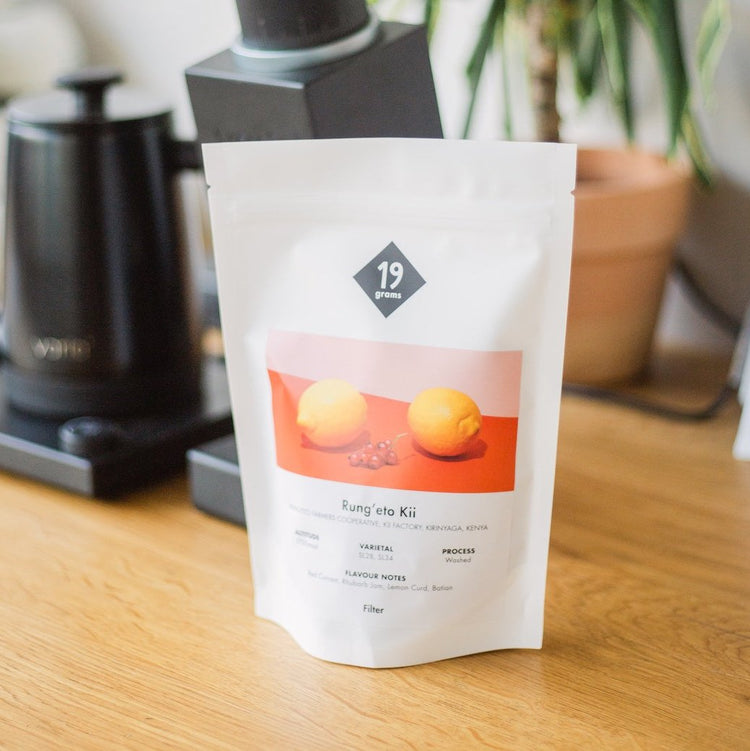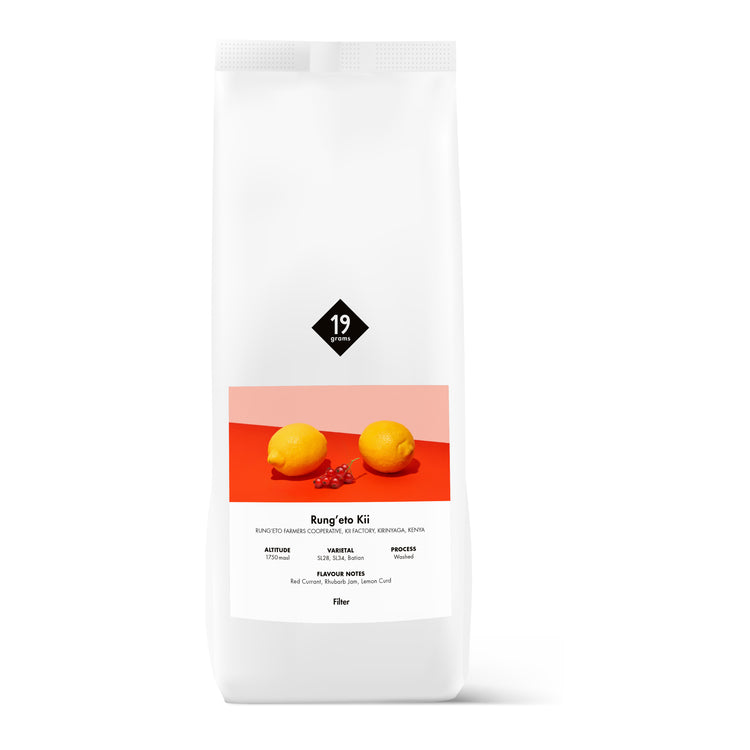 Suitable for filter preparation: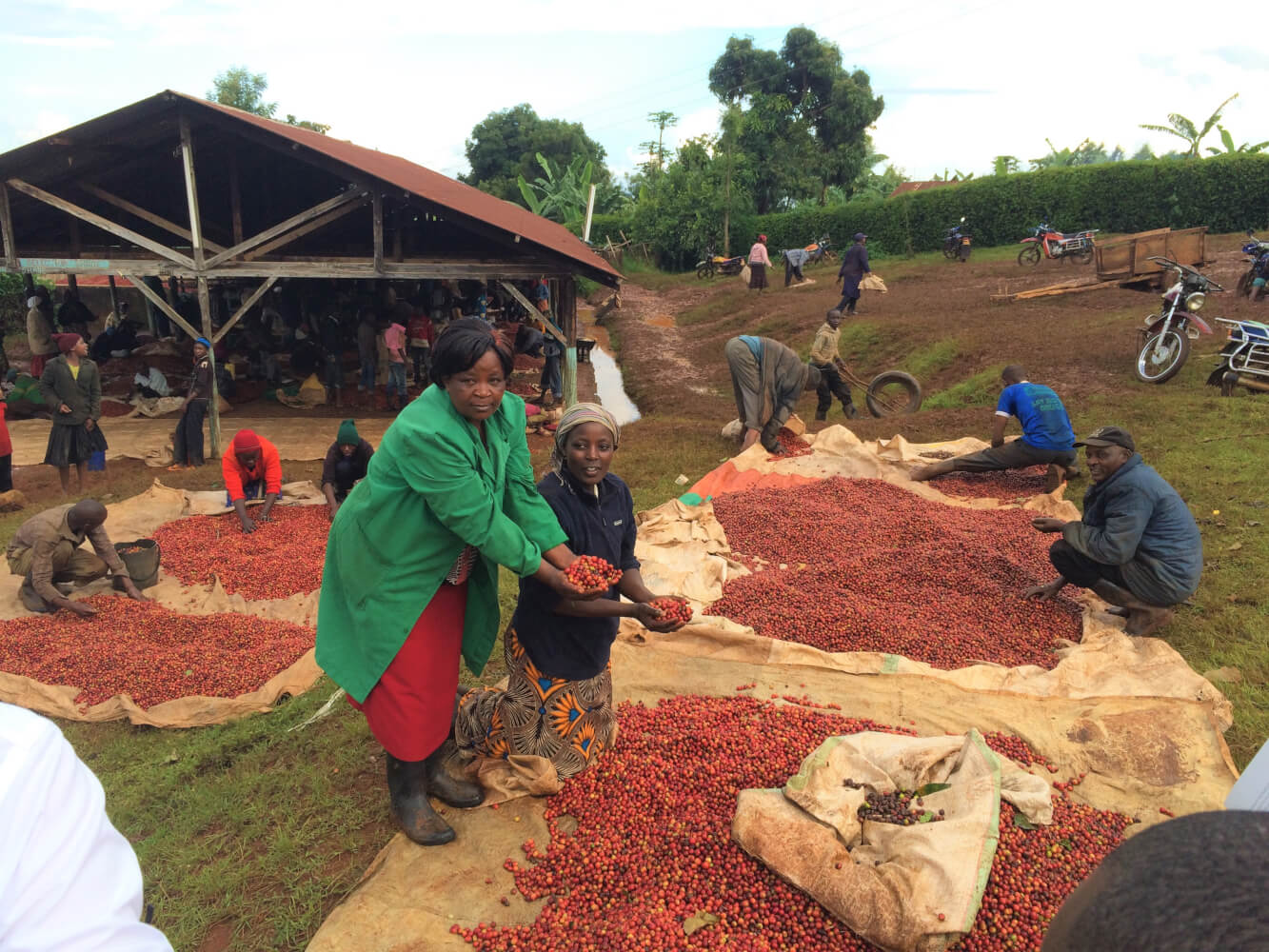 About the coffee
Red Currant, Rhubarb Marmelade, Lemon Curd
Score: 88
Sweetness: 4/5 berries
Acidity: 5/5 citric
Mouthfeel: 4/5 sparkling
Body: 4/5 elegant

Variety: SL28, SL34, Batian
Processing: Washed
Harvesting Year: 2023
Drying Time: about 14 days

Suggested brew recipe:
1:16,5 (e.g. 15gr coffee to 250gr water) in 2,5 to 3,5 minutes
About the coffee
The process starts with the mechanical de-pulping of the cherries as soon as they arrive at the factory.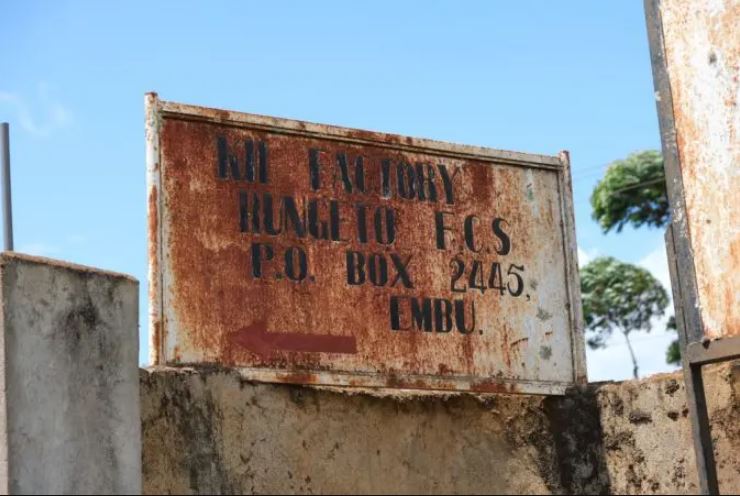 The Farm | Rung'eto Farmers Cooperative, Kii Factory
The farm where our Rung'eto Kii is produced is part of the Rung'eto cooperative in Kirinyaga, north-eastern Kenya. The cooperative is known for its high quality in cherry selection, fermentation, sorting and separation, resulting in excellent coffee.

Relationship: new partner
Producer: The Kii Washing Station is run by the Rung'eto Farmer's Cooperative Society.
Type of Farm: Cooperative
Region, Country: Kirinyaga,
Altitude: 1.750 masl
Soil type: vulcanic soils
Fertilisation method: biologic
Shadow Type: grown in shadow
Processing location: Kii Factory, auf der Farm
Number of varieties: SL28, SL34, Ruiru 11, Batian and SL28
Harvest season: Nov - Jan
About the farm
The small region in Kirinyaga served by the Kii Mill and surrounding the village of Ngariama is mainly a tea growing area, so most of the coffee planting is quite new. The region is known for the very high quality of both tea and coffee. Because it was planted a little later than neighbouring regions, the soils have not been depleted by years of conventional agriculture with its sprays and chemical fertilisers.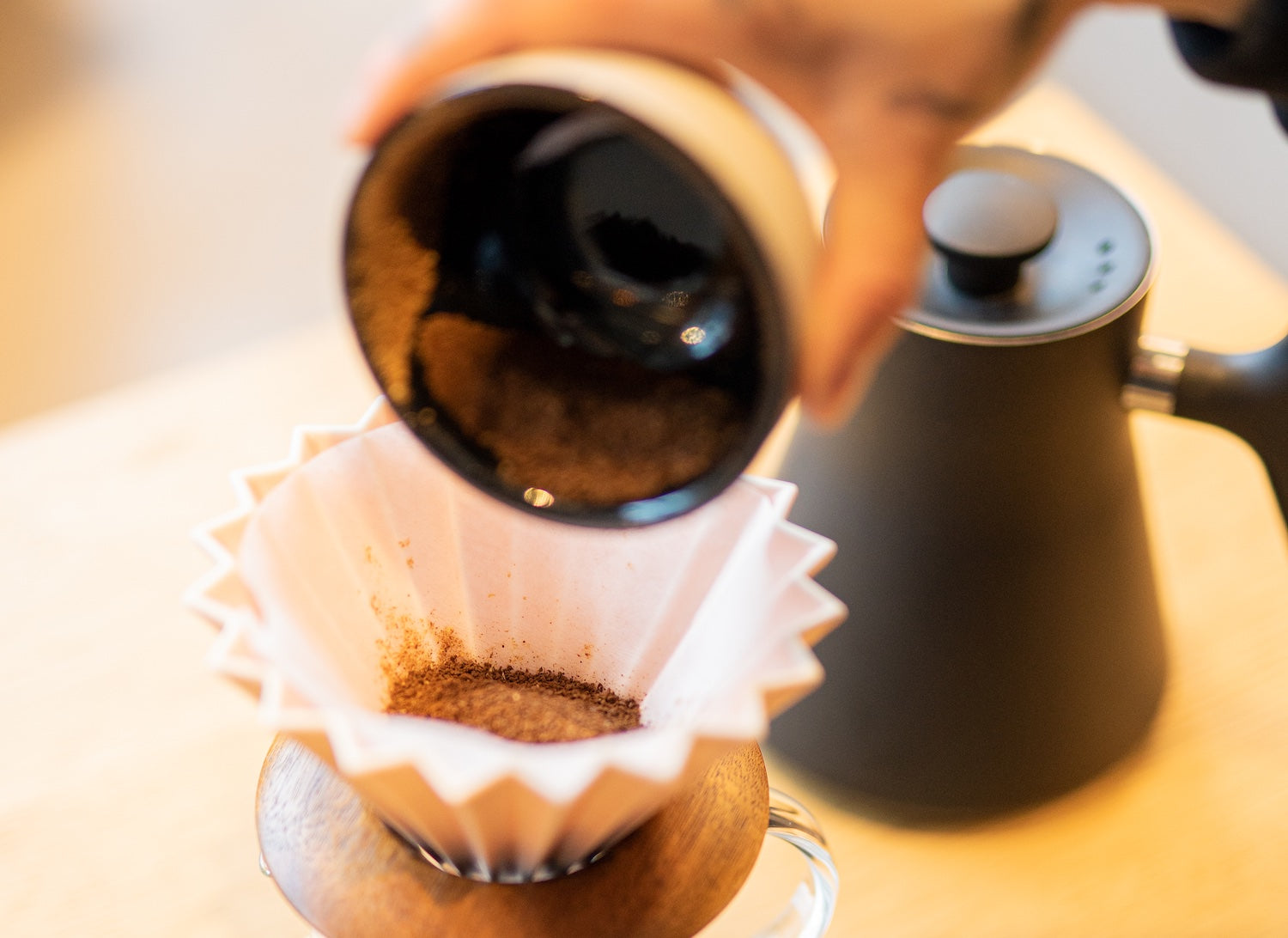 Bloody Good Filter
Coffee is a fruit which is naturally acidic and contains many sugars. We roast our filter coffees to bring out this acidity and develop the natural sweetness.
In developing a profile for a filter roast, our roasting team takes a light-handed approach, roasting much more gently than in an espresso roast. Here, the aim is to respect and highlight the natural flavours of the coffee itself, and to let its terroir shine through.
Simply order your favourite coffee online.
Sustainably grown
Carefully grown and processed by our partners.
Worldwide shipping
Safe and reliable with DHL. Direct to your door.
Recyclable packaging
There are no mixed materials in our coffee bags, making them easy to recycle.
Pay securely
Choose from several secure payment methods.
Free shipping from €30

Easy, safe and fast delivery with DHL. Free of charge from a €30 order value.

Directly & Fairly Traded

We attach great importance to our long-term relationships, keeping farmers on equal terms.