Paraiso II - Brazil Espresso
Blaubeere, Aprikose, Karamell
Regular price

Sale price

$14.00
We have roasted this lot of the yellow bourbon variety into a wonderfully full-bodied espresso. With sweet notes of ripe plums, chocolate fudge and blueberries.

About the Coffee

The beans for our Paraiso II come from Minas Gerais, Brazil's most popular coffee-growing region. Every second coffee cherry grows in this region. This region is especially popular for growing Specialty Coffee because the conditions here are very favorable. High rainfall, volcanic soils and consistent temperatures ensure excellent bean and cup quality.


The coffee bushes for our Paraiso II grow at about 1100m above sea level. Only after about four years they bear the first fruits. These are harvested by hand by experienced pickers. Harvesting machines can rarely be used in steep areas. And if they are, they damage the bushes and the coffee quality by tearing off leaves and branches. In addition, it is difficult for a machine to distinguish between ripe and unripe fruit. Specialty coffee producers therefore rely on manual labor.


After the coffee cherries are harvested, they are sorted and spread on cement patios for the Natural Method. On these, the beans dry in the pulp for 20 days. During this process, they are turned over several times to guarantee uniform quality. After that, the beans are released from the pulp and sent to us in Germany. Here, we gently roasted them in our drum roaster until the flavor profile really convinced us. When fully roasted, Paraiso II tastes of honeydew melon, milk chocolate and almonds.

About the Farm

Pedro Humberto Veloso is a coffee producer in Minas Gerais and has been in the business for over 45 years. Today, he runs several farms in the region with his daughter Mariana and son Pedro.
Choose your grindsize

If you don't have a grinder at home, we'll happily grind your coffee to your specifications. Just select your brewing method above or order whole beans.
Cultivation

Cultivated with love by great farmers. 100% Arabica coffee, harvested when ripe and carefully processed. Sustainable and fairly traded.
Shipping

Freshly roasted, packed and shipped safely to you by DHL.
Packaging

Our standard bags contain 250g and are 100% recyclable. No mixed materials.
Brewing

Take your tried-and-tested recipe as a starting point for this roast, or get help from our brew guides.
Scoring Card

The coffee cherry can develop up to 1,200 different natural flavours. Depending on location and variety.

Learn to understand the flavours in coffee with the Scoring Card. Grade your coffee by filling out your Scoring Card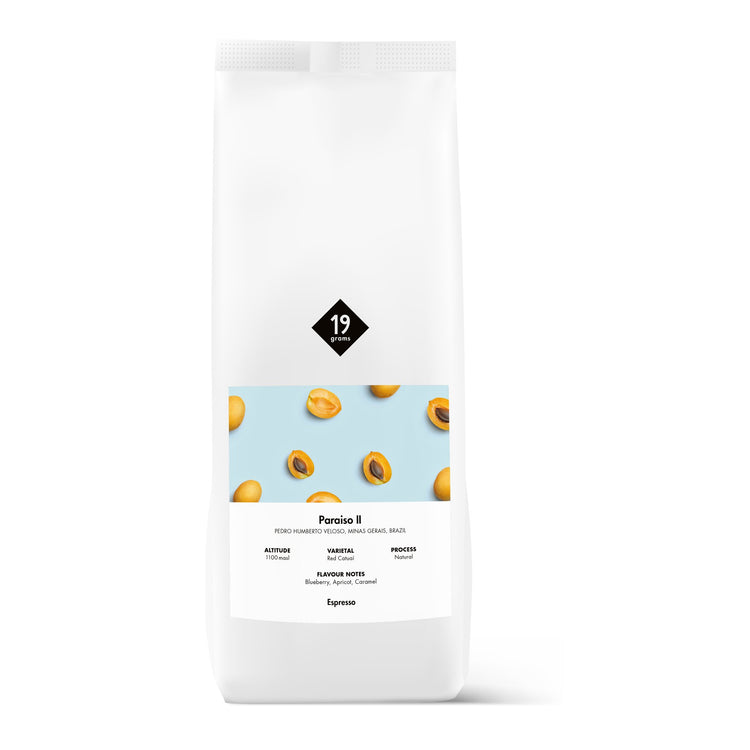 Suitable for espresso preparation:
About the coffee
Blueberry, Aprikose, Caramel
Score: 88
Sweetness:
Acidity:
Mouthfeel:
Body:

Variety: Red Catuaì
Processing: Natural
Harvesting Year: 2020
Drying Time: 20 Tage

Suggested brew recipe:
1:2,5 (z.B. 19gr Kaffee auf 47,5gr Wasser) in 30-35 Sekunden
About the coffee
Ein süßer Espresso aus Brasilien - natürlich verarbeitet. Die Bohnen für unseren Paraiso II stammen aus Minas Gerais, Brasiliens beliebtesten Kaffeeanbaugebiet. Jede zweite Kaffeekirsche wächst in dieser Region. Besonders beliebt ist diese Region für den Anbau von Specialty Coffee, denn die Bedingungen sind hier sehr günstig. Hohe Niederschläge, vulkanische Böden und gleichbleibende Temperaturen sorgen für ausgezeichnete Bohnen- und Tassenqualität.


Die Kaffeesträucher für unseren Paraiso II wachsen auf ca. 1100m über der Meereshöhe. Erst nach ca. vier Jahren tragen sie die ersten Früchte. Diese werden von erfahrenen Pflückern und Pflückerinnen von Hand geerntet. Erntemaschinen können in steilen Gebieten selten eingesetzt werden. Und wenn doch, schaden sie den Sträuchern und der Kaffeequalität, indem sie Blätter und Äste abreißen. Außerdem fällt es einer Maschine schwer, zwischen reifen und unreifen Früchten zu unterscheiden. Specialty Coffee Produzierende setzen daher auf Handarbeit.

Nachdem die Kaffeekirschen geerntet wurden, werden sie sortiert und für die Natural Methode auf Zementpatios aufgebreitet. Auf diesen trocknen die Bohnen im Fruchtfleisch für 20 Tage. Dabei werden sie mehrmals gewendet, um eine gleichmäßige Qualität zu garantieren. Danach werden die Bohnen aus dem Fruchtfleisch gelöst und zu uns nach Deutschland geschickt. Hier haben wir sie in unserem Trommelröster schonend geröstet, bis uns das Geschmacksprofil wirklich überzeugt hat. Fertig geröstet schmeckt der Paraiso II nach Honigmelone, Milchschokolade und Mandeln.
The farm | Paraiso farm
Pedro Humberto betreibt mit seinen Kindern mehrere Farmen in der Region von minas Gerais.

Relationship: new partner
Producer: Pedro Humberto Veloso
Type of Farm: familiengeführte Farm
Region, Country: Minas Gerais, Brasilien
Altitude: 1.100 m üNN
Soil type: fruchtbare Böden
Fertilisation method: organic
Shadow Type: nicht im Schatten gewachsen
Processing location: at the farm
Number of varieties: verschiedene
Harvest season:
About the farm
Pedro Humberto Veloso ist Kaffeeproduzent in Minas Gerais und schon über 45 Jahre im Business tätig. Heute betreibt er zusammen mit seiner Tochter Mariana und seinem Sohn Pedro mehrere Farmen in der Region.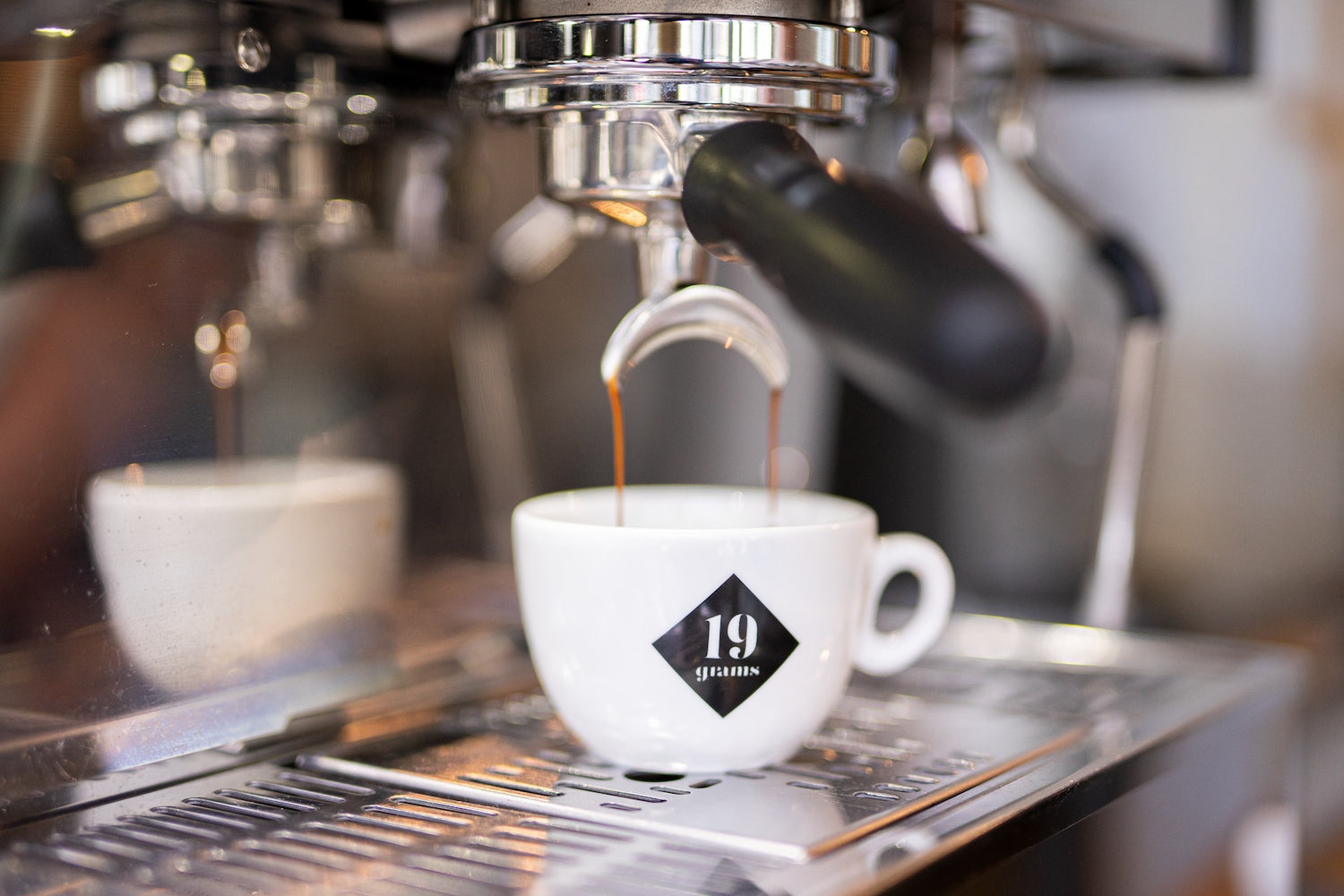 Bloody Good Espresso
Coffee is a fruit which is naturally acidic and contains many sugars. We roast our espresso to develop a fine acidity and to bring out its natural sweetness.
Our espresso roasts aim to present the strong flavour profiles of different origins. Discover our single origin espressos – all 100% arabica coffees, carefully selected and gently roasted by our team in Berlin.
Simply order your favourite coffee online.
Sustainably grown
Carefully grown and processed by our partners.
Worldwide shipping
Safe and reliable with DHL. Direct to your door.
Recyclable packaging
There are no mixed materials in our coffee bags, making them easy to recycle.
Pay securely
Choose from several secure payment methods.
Free shipping from €30

Easy, safe and fast delivery with DHL. Free of charge from €30 order value.

Directly & Fairly Traded

We attach great importance to our long-term relationships, keeping farmers on equal terms.