La Requia Geisha Washed - Peru Filter
Jasmine, Macadamia, Parma Violet
Regular price

21,76 €

Sale price

8,32 €
About the coffee
The La Requia coffee plantation is located in the middle of the UNESCO Biosphere Reserve Asháninka Yánesha, Villa Rica. In this coffee growing area, biodiversity, nature conservation and economic development of the resident coffee farms are the priority. We are pleased to present in particular with this coffee in the form of a women's project!
This filter coffee from Peru is a washed Geisha coffee with a - typical for Geisha coffees - distinct flavor profile. Of note is the spring-like floral aroma of jasmine and violet, which is accompanied by warm notes of macadamia nut. The mouthfeel is rich and creamy.
About the farm
The Finca La Requia is managed by Tania Andrade Gabancho. It is a small farm where much emphasis is placed on quality, sustainability and holistic integration with the local community. At an altitude of 1600 m, the organically grown Arabica coffee varieties Typica, Caturra, Bourbon and Geisha are cultivated. Some of the lots have already won awards, thanks especially to the Geisha coffees with their remarkably complex flavor profiles. Interesting fact: The finca has a certificate for its deliberately "child-friendly" approach, because child labor is an absolute no-go at Tania Gabancho.
Select your grind size

If you don't have a grinder at home, we'll happily grind your coffee to your specifications. Just select your brewing method above or order whole beans.

Find the right grind. You can get the most out of your coffee by grinding your beans just before brewing. Take a look at the equipment selection if you are interested in a grinder.

You can also select a grind level in each product if you want us to grind the beans for you. We use a Mahlkönig EK43 for this.

Frenchpress and Aeropress are ground on the same setting.
Cultivation

Cultivated with love by great farmers. 100% Arabica coffee, harvested when ripe and carefully processed. Sustainable and fairly traded.
Shipping

Freshly roasted, packed and shipped safely to you by DHL.
Packaging

Our standard bags contain 250g and are 100% recyclable. No mixed materials.
Brewing

Take your tried-and-tested recipe as a starting point for this roast, or get help from our brew guides.
Scoring Card

The coffee cherry can develop up to 1,200 different natural flavours. Depending on location and variety. Learn to understand the flavours in coffee with the Scoring Card. Grade your coffee by filling out your Scoring Card.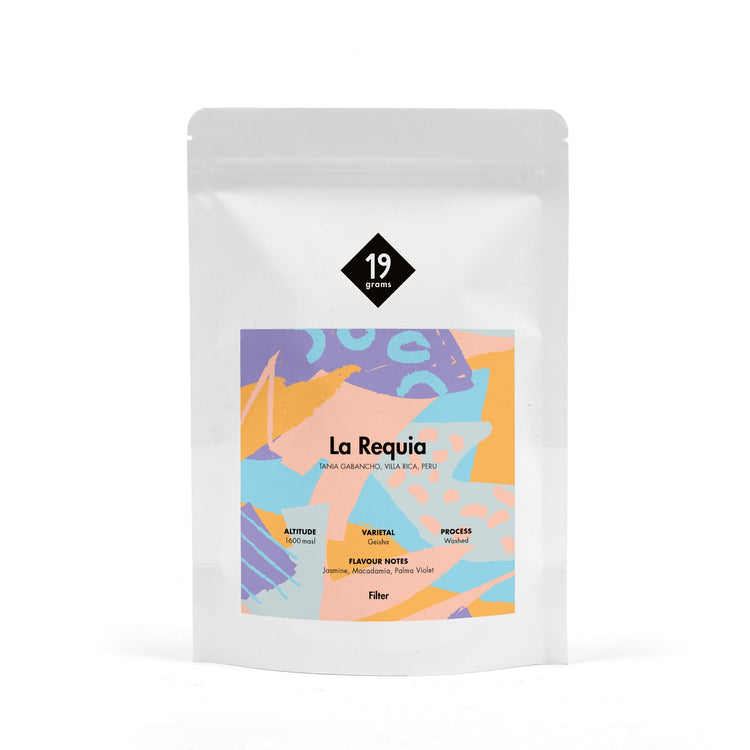 Suitable for filter preparation:
About the coffee
Jasmine, Macadamia, Parma Violet
Score: 88
Sweetness:
Acidity:
Mouthfeel:
Body:

Variety: Geisha
Processing: Washed
Harvesting Year: 2021
Drying Time: 15 days

Suggested brew recipe:
16g coffee, 250g water, medium grind, in about 2.5 minues.
About the coffee
A delicate Geisha with floral notes and flavours of macadamia and parma violet
The farm | Finca La Requia
A women's project led by farm owner Tania Gabancho

Relationship: new partner
Producer: Tania Andrade Gabancho
Type of Farm: Family-run farm
Region, Country: Villa Rica, PE
Altitude: 1600 masl
Soil type: volcanic soils
Fertilisation method: Organic
Shadow Type: shade-grown
Processing location: on the farm
Number of varieties:
Harvest season: March - Sept

ExpoCafe Peru 2015, BIOFACH 2016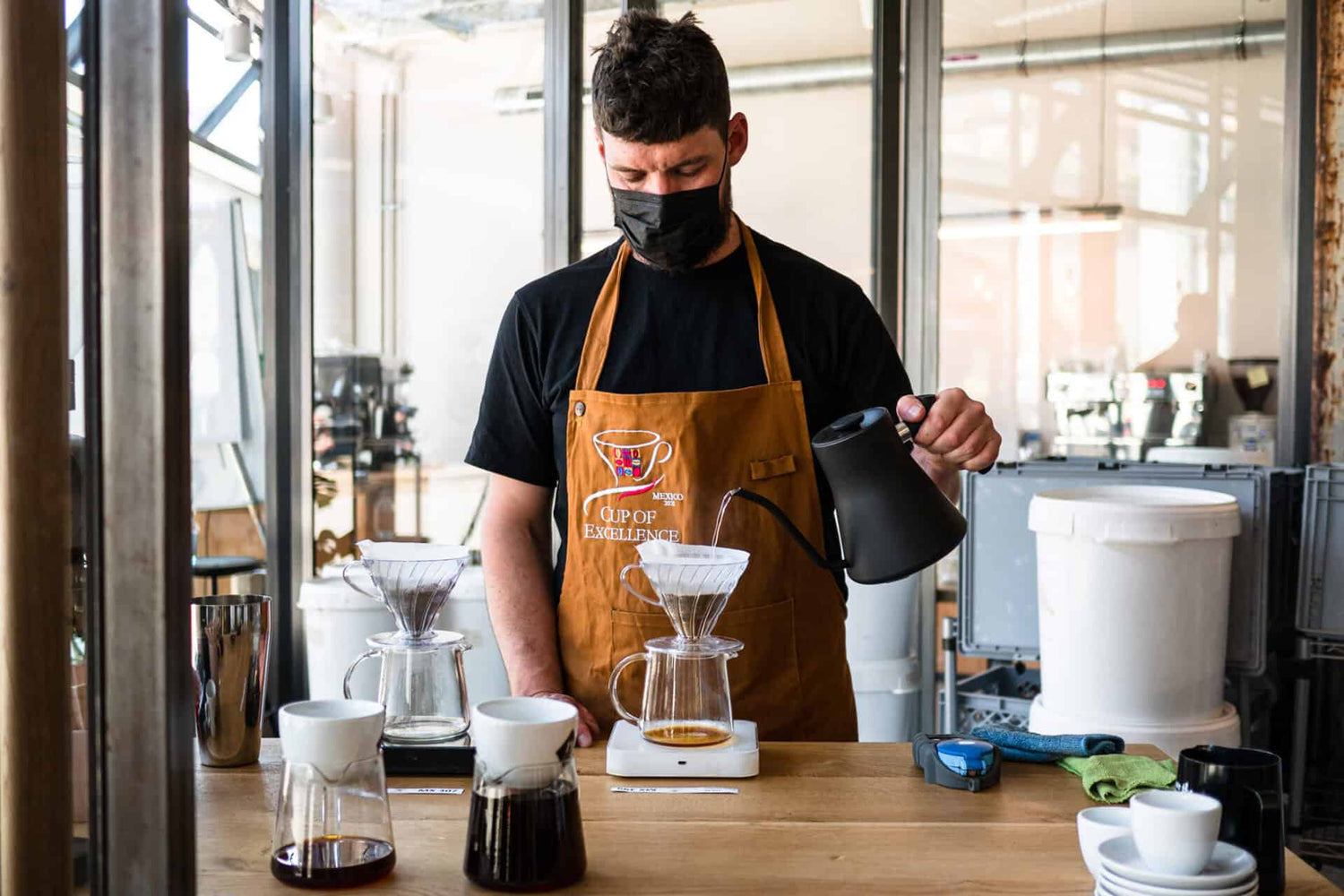 Bloody Good Rockstar
Coffee is a fruit. This means it is naturally acidic, and contains many sugars. We roast our coffees to bring out this acidity and develop their natural sweetness.
For us, all rare and special coffees are rockstars. We're super proud of our diverse and extensive range of rare coffees. Geishas and other special varieties taste their best when we're roasting them regularly and gaining experience. We are the only roasters in Germany that roast rockstars every single week, with Geisha and other rare varieties in our regular lineup.
Simply order your favourite coffee online.
Sustainably grown
Carefully grown and processed by our partners.
Worldwide shipping
Safe and reliable with DHL. Direct to your door.
Recyclable packaging
There are no mixed materials in our coffee bags, making them easy to recycle.
Pay securely
Choose from several secure payment methods.
Free shipping from €30

Easy, safe and fast delivery with DHL. Free of charge from a €30 order value.

Directly & Fairly Traded

We attach great importance to our long-term relationships, keeping farmers on equal terms.