Iyego AB - Kenya Espresso
Mango, Vanilla, Blackberry
Regular price

Sale price

15,04 €
A light and fruity espresso from Kenya. In the cup, we taste a blackberry acidity accompanied by a tropical mango sweetness with a hint of vanilla in the finish.
Choose your grind

If you don't have a grinder at home, we'll happily grind your coffee to your specifications. Just select your brewing method above or order whole beans.
Cultivation

Cultivated with love by great farmers. 100% Arabica coffee, harvested when ripe and carefully processed. Sustainable and fairly traded.
Shipping

Freshly roasted, packed and shipped safely to you by DHL.
Packaging

Our standard bags contain 250g and are 100% recyclable. No mixed materials.
Brewing

Take your tried-and-tested recipe as a starting point for this roast, or get help from our brew guides.
Scoring Card

The coffee cherry can develop up to 1,200 different natural flavours. Depending on location and variety. Learn to understand the flavours in coffee with the Scoring Card. Grade your coffee by filling out your Scoring Card.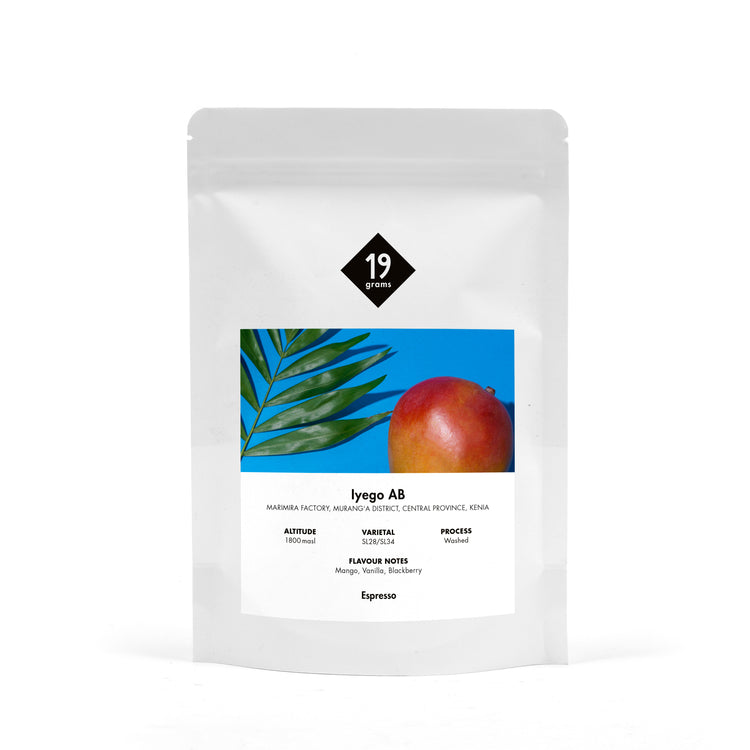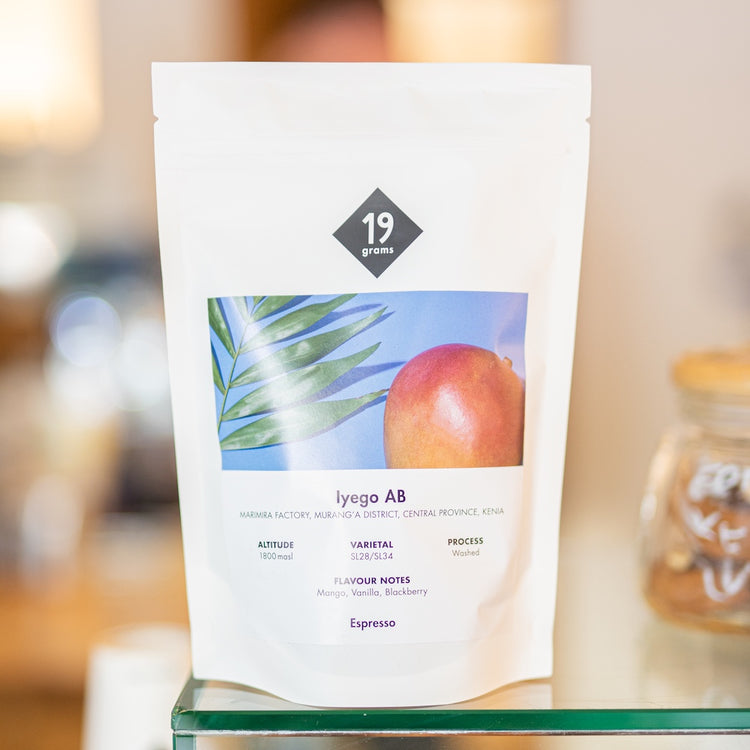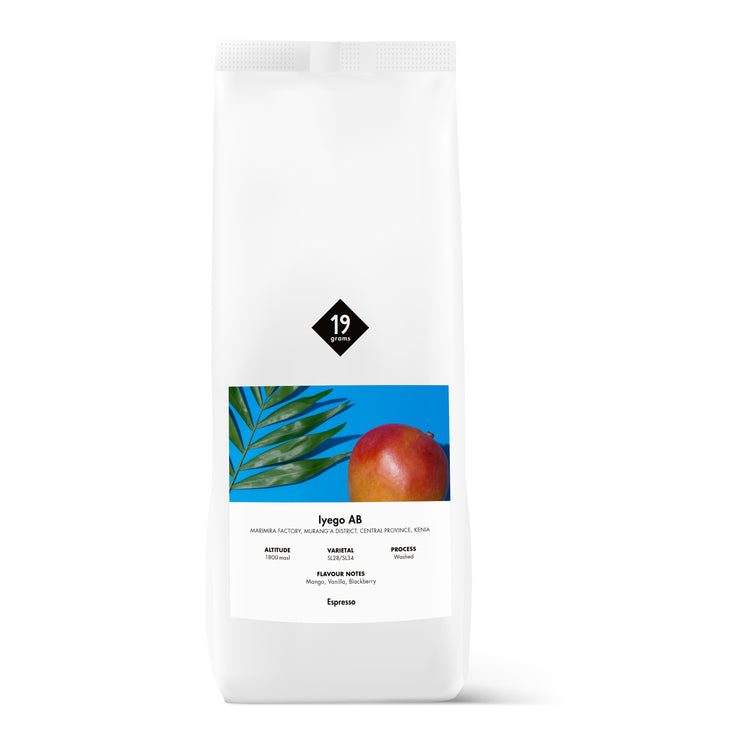 Suitable for espresso preparation: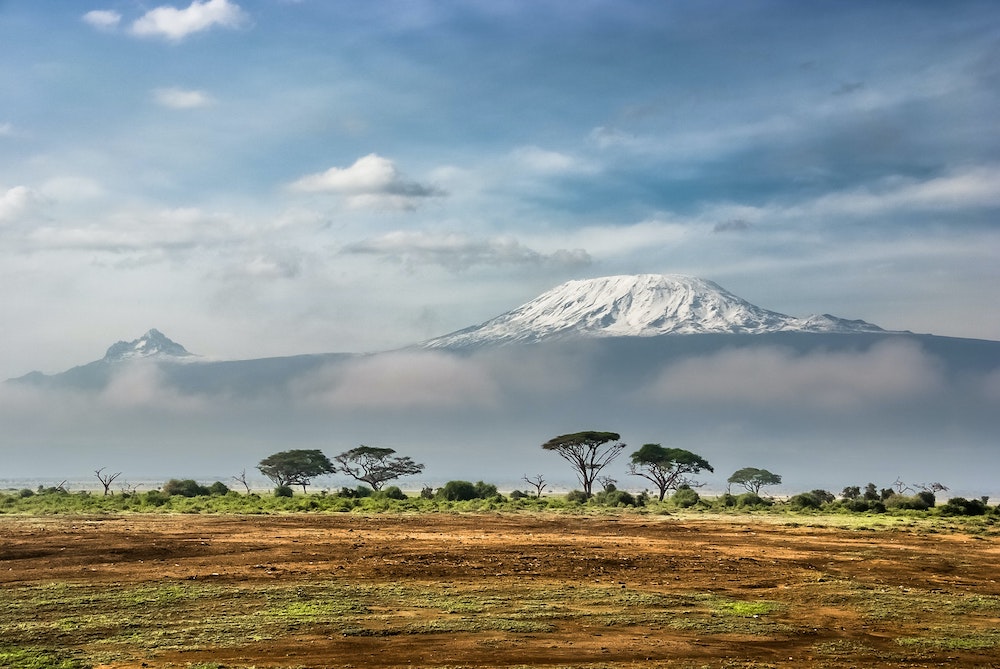 About the coffee
Mango, Vanilla, Blackberry
Score: 90
Sweetness: 5/5 Berry
Acidity: 4/5 Tropical and Citric
Mouthfeel: 5/5 Intensely Jammy
Body: 3/5 Fruity and Floral

Variety: SL28, SL34
Processing: Washed
Harvesting Year: 2022
Drying Time: 5-10 days sundried

Suggested brew recipe:
1:2, 19g coffee grounds to 40g espresso yield, brew time: 30-35 secs.
About the coffee
The coffee is hand picked by the smallholder members, before being delivered to the Iyego factory where it is pulped and then processed using the washed method.This initially separates the dense beans from the immature mbunis (floaters) using water floatation, which means the denser beans will sink and be sent through channels to the fermentation tank. This first stage of fermentation lasts for around 24 hours, after which the beans are washed and sent to the secondary fermentation tank for another 12-24 hours.

Once the fermentation process is completed, the beans enter the washing channels where floaters are separated further and the dense beans are cleaned of their mucilage. The washed beans will then enter soaking tanks where they can sit under clean water for as long as another 24 hours. This soaking process allows amino acids and proteins in the cellular structure of each bean to develop which results in higher levels of acidity and complex fruit flavours in the cup. This soaking process gives Kenyan coffees their vibrant flavour profiles that they're so famous for.

The beans are then transferred to the initial drying beds where they are laid in a thin layer to allow around 50% of the moisture to be quickly removed. This first stage of drying can last around 6 hours before the beans are gathered and laid in thicker layers for the remaining 5-10 days of the drying period. The dry parchment coffee is then delivered to a private mill and put into 'bodegas' to rest – these are raised cells made of chicken wire which allows the coffee to breathe fully.

This dedication and commitment to quality is rewarded with exceptional tasting coffee. We taste nectarine, mango and lime.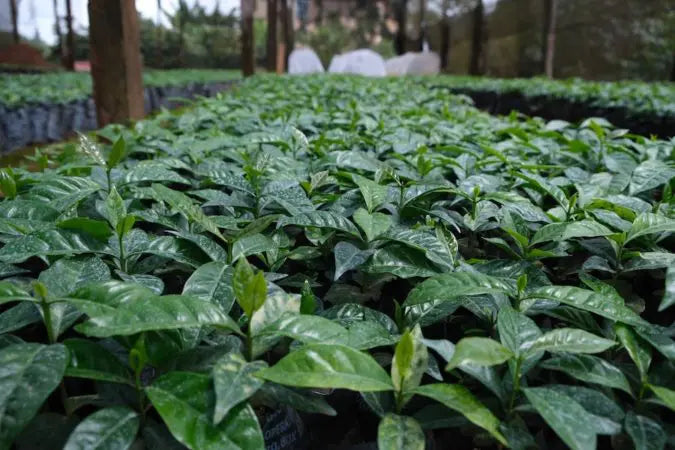 The farm | Marimira Factory
A total of about 8,000 members deliver their coffee cherries to the Iyego Washing Station.

Relationship: Long-standing partnership
Producer: Iyego Cooperative
Type of Farm: Mununga Washing Station
Region, Country: Murang'a District, Central Province, Kenya
Altitude: 1800 masl
Soil type: fertile soils
Fertilisation method: organic
Shadow Type: Not shade grown
Processing location: Mununga Washing Station
Number of varieties: various
Harvest season: Nov - Jan
About the farm
This Kenyan espresso comes from the county of Murang'a, a coffee growing region close to Kirinyaga, which lies in the foothills of the Aberdares. The area has deep, well drained and fertile red volcanic soil at altitudes of around 2000 metres above sea level with 1305mm of rainfall annually.

There are now around 8000 active members involved with the Iyego co-op and each member has on average around half a hectare of land for coffee growing alongside macadamia, beans, banana and maize. Growing fruit and vegetables in a mixed crop is important for the locals as they want to use the land efficiently without damaging the nutritious soil.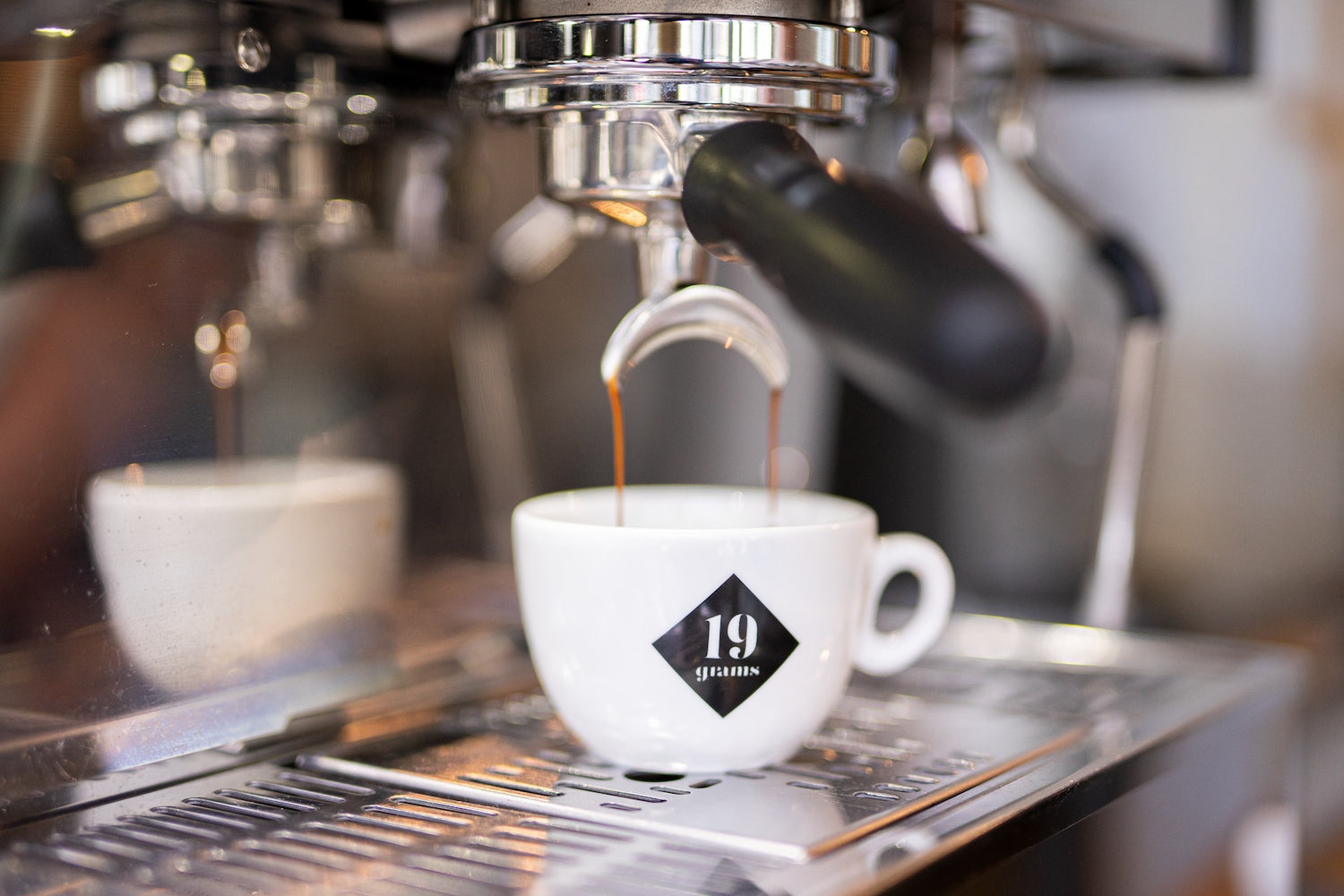 Bloody Good Espresso
Coffee is a fruit which is naturally acidic and contains many sugars. We roast our espresso to develop a fine acidity and to bring out its natural sweetness.
Our espresso roasts aim to present the strong flavour profiles of different origins. Discover our single origin espressos – all 100% arabica coffees, carefully selected and gently roasted by our team in Berlin.
Simply order your favourite coffee online.
Sustainably grown
Carefully grown and processed by our partners.
Worldwide shipping
Safe and reliable with DHL. Direct to your door.
Recyclable packaging
There are no mixed materials in our coffee bags, making them easy to recycle.
Pay securely
Choose from several secure payment methods.
Free shipping from €30

Easy, safe and fast delivery with DHL. Free of charge from €30 order value.

Directly & Fairly Traded

We attach great importance to our long-term relationships, keeping farmers on equal terms.