Finca Morelia White Honey - Colombia Espresso
White Chocolate, Red Grape, Almond
Regular price

Sale price

14,20 €
This espresso from the Finca Morelia in Colombia's Huila region delicately balances a rich and syrupy body with a pear-like sweetness and nutty finish.
Choose your grind size

If you don't have a grinder at home, we'll happily grind your coffee to your specifications. Just select your brewing method above or order whole beans.

Find the right grind. You can get the most out of your coffee by grinding your beans just before brewing. Take a look at the equipment selection if you are interested in a grinder.

You can also select a grind level in each product if you want us to grind the beans for you. We use a Mahlkönig EK43 for this.

Frenchpress and Aeropress are ground on the same setting.
Cultivation

Cultivated with love by great farmers. 100% Arabica coffee, harvested when ripe and carefully processed. Sustainable and fairly traded.
Shipping

Freshly roasted, packed and shipped safely to you by DHL.
Packaging

Our standard bags contain 250g and are 100% recyclable. No mixed materials.
Brewing

Take your tried-and-tested recipe as a starting point for this roast, or get help from our brew guides.
Scoring Card

The coffee cherry can develop up to 1,200 different natural flavours. Depending on location and variety. Learn to understand the flavours in coffee with the Scoring Card. Grade your coffee by filling out your Scoring Card.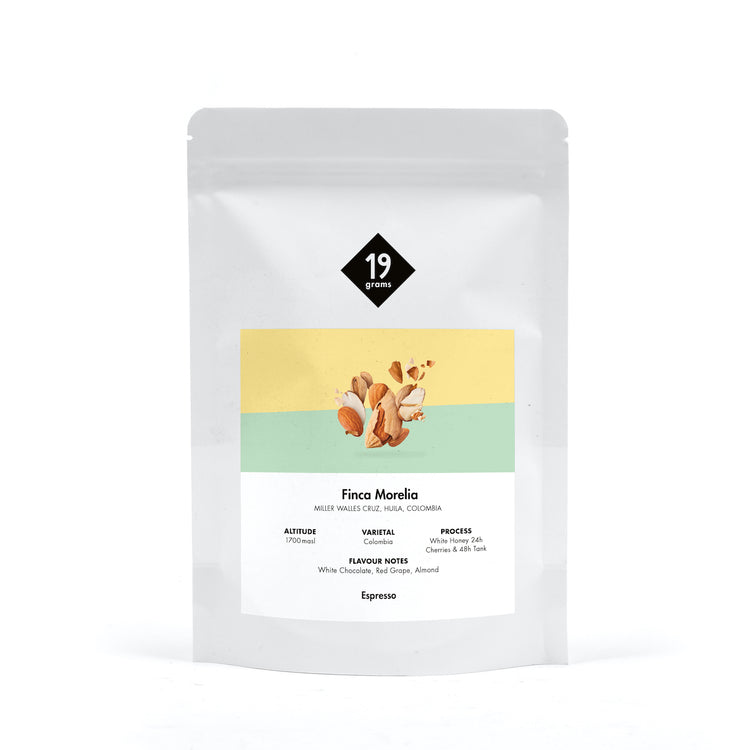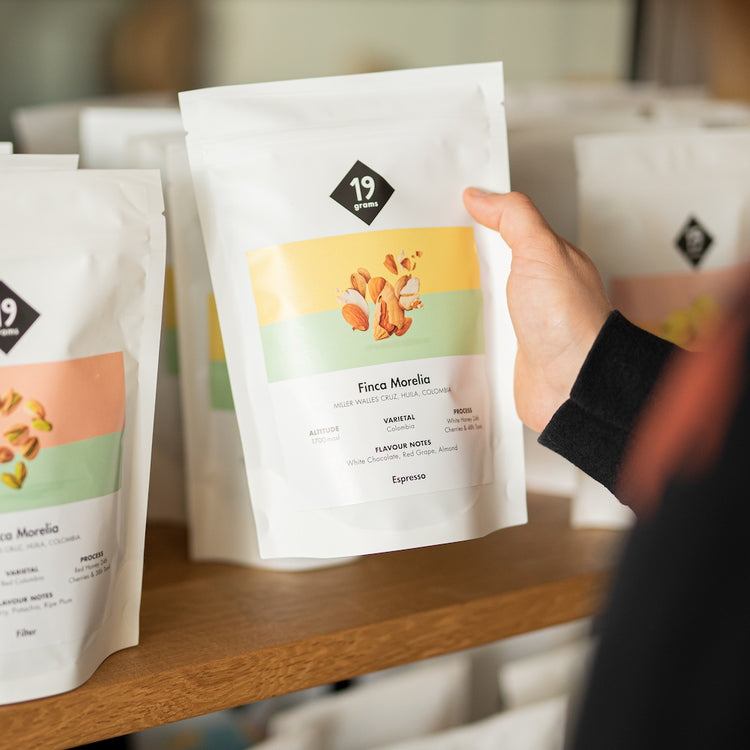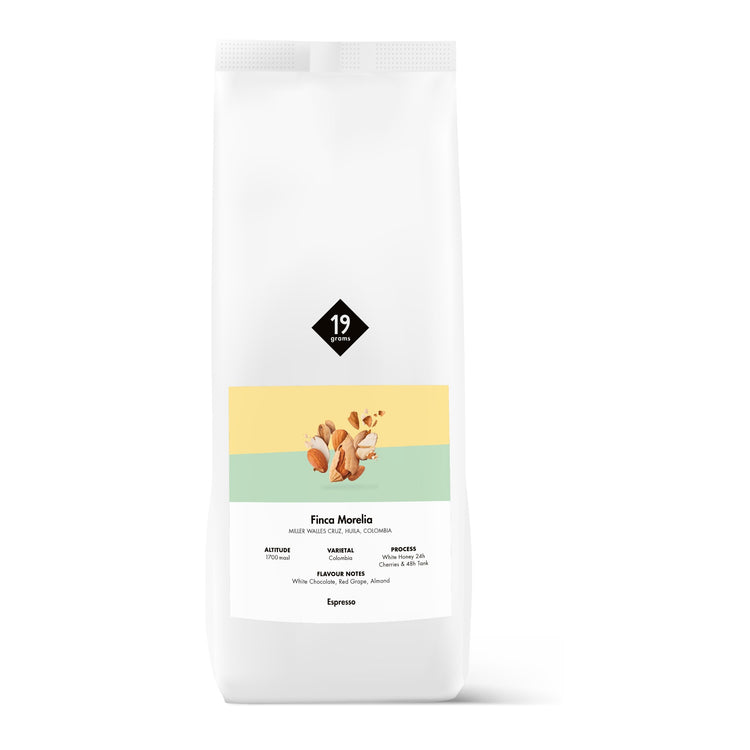 Suitable for filter preparation: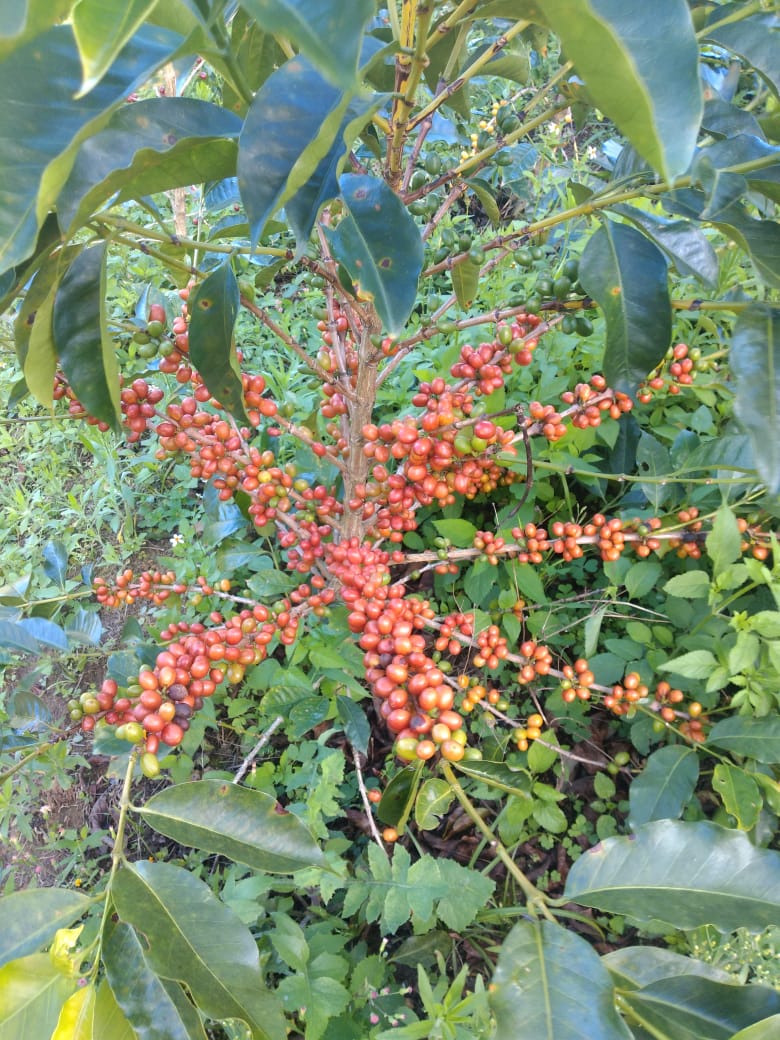 About the coffee
White Chocolate, Red Grape, Almond
Score: 87
Sweetness: 2/5 baked pear
Acidity: 4/5 Syrupy
Mouthfeel: 3/5 Creamy and Nutty
Body: 3/5 Caramel Fudge

Variety: Colombia
Processing: White Honey fermentation: 24h washed and 48h resting in a tank
Harvesting Year: 2021/22
Drying Time: 25 days

Suggested brew recipe:
1:2, 19g coffee to a yield of 40g, in about 30-35 seconds
About the coffee
An exciting example of a delicately fermented coffee with a wonderful flavour profile, this espresso from Miller Walles Cruz has been processed with a white honey method. Here, the smallest amount of mucilage is left on the beans after being depulped, leaving a honey-like coating that is left to dry, becoming sticky and imbuing the coffee with a pale colour and more complex flavours. This results in a clean, delicate coffee that performed really well in our espresso roast, with a nutty body and gentle pear-like sweetness.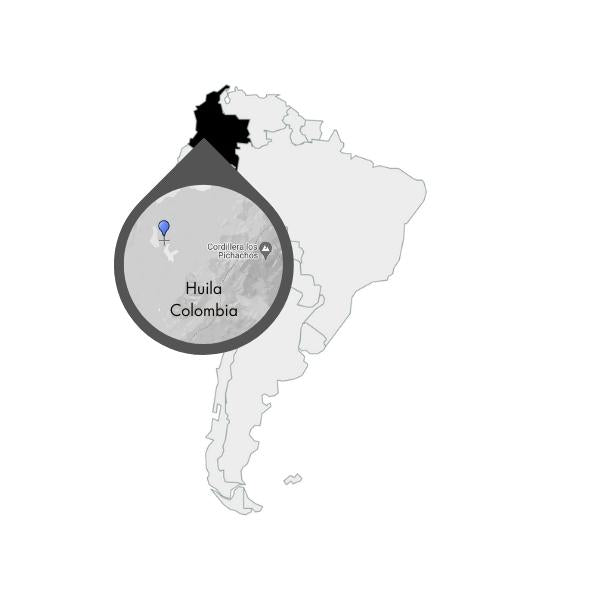 The Farm | Finca Morelia
Miller Walles Cruz, one of eight coffee-farming brothers, operates the Finca Morelia in Colombia's Huila region.

Relationship: New partner
Producer: Miller Walles Cruz
Type of Farm: Family-run farm
Region, Country: Huila, Colombia
Altitude: 1700 masl
Soil type: Fertile Soils
Fertilisation method: organic
Shadow Type: Shade grown
Processing location: On the farm
Number of varieties: Various
Harvest season: Sept-Dec / April-May

Cup of Excellence

About the farm
Miller Walles Cruz is something of a pioneer in his family. He and his eight brothers were lucky enough to inherit a large estate in Colombia's Huila region, which they decided to divide up between them. Having previously grown sugar cane, when Miller moved into his plot he made the switch to coffee, seeing a better paying and more reliable market, especially in specialty coffee.

The move turned out to be the right one, with coffee supporting him and his family much better than sugar cane ever had, and it inspired seven of his brothers to also grow coffee. His younger brothers Simon and Alexander have also taken to specialty coffee, and we're lucky enough to count the three of them amongst our partners, with Simon's El Triunfo and Alexander's Bella Vista joining Miller's Finca La Morelia on our shelves.

Located in Paicol, part of Colombia's famed Huila region in the east, Miller grows coffee on about 10 hectares of his Finca, reserving some of the old-growth forest in its natural state to preserve the biodiversity of the region. Most of the trees are Variedad Colombia, which is joined by smaller plots of Caturra, Pink Bourbon, Tabi, and, since 2020, some Geisha too. He processes most of his coffees with a honey process that combines fermentation both on beds and in tanks.

Life at Finca Morelia is cyclical, following the seasons and the coffee harvest. The winters involve quiet upkeep of the farm, where Miller and his wife Dadny Salinas and eldest son Rivaldo prepare for the coming harvest season. In the summer, it's all hands on deck as Miller calls in his extended family and hires some temporary pickers to help with the harvest.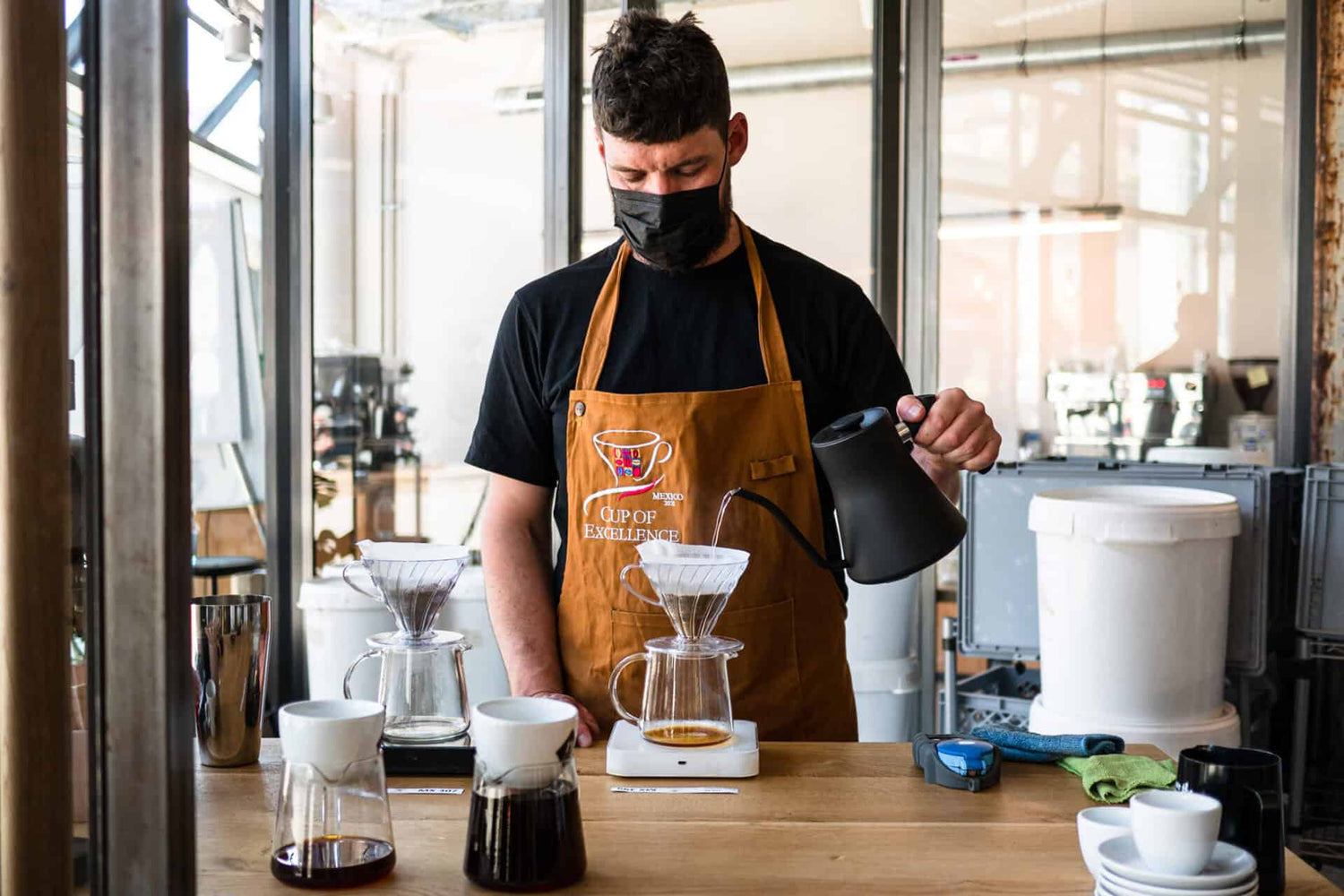 Bloody Good Filter
Coffee is a fruit which is naturally acidic and contains many sugars. We roast our filter coffees to bring out this acidity and develop the natural sweetness.
In developing a profile for a filter roast, our roasting team takes a light-handed approach, roasting much more gently than in an espresso roast. Here, the aim is to respect and highlight the natural flavours of the coffee itself, and to let its terroir shine through.
Simply order your favourite coffee online.
Sustainably grown
Carefully grown and processed by our partners.
Worldwide shipping
Safe and reliable with DHL. Direct to your door.
Recyclable packaging
There are no mixed materials in our coffee bags, making them easy to recycle.
Pay securely
Choose from several secure payment methods.
Free shipping from €30

Easy, safe and fast delivery with DHL. Free of charge from a €30 order value.

Directly & Fairly Traded

We attach great importance to our long-term relationships, keeping farmers on equal terms.