Finca La Estancia Mexiko Filter
Passionsfrucht, Heidelbeere, getrocknete Aprikose
Regular price

Sale price

13,36 €
Marc Antonio Cadena runs the farm La Estancia in the fourth generation. Sustainable cultivation is important to him, because it guarantees the best coffees. He only harvests ripe cherries - the flavor profiles of his coffees are complex. The brewed beans of this Caturra lot smell of sweet apricot. In the cup you taste passion fruit and blueberries.
About the Coffee
Finca La Estancia Specialty Coffee is a fruity Caturra variety grown in Guerrero, Mexico. This variety is a mutation of the Bourbon family and originated in Brazil in 1937. The yield is relatively high compared to other varieties. However, if the plant produces too many coffee cherries, it can cause the plant to die. Therefore, it is important that the plants are all well cared for and looked after. Good farm management is, as Marco Antonio Cadena operates on his finca, essential.
Thanks to anaerobic fermentation, a processing method in which the coffee is processed in a completely sealed fermentation tank with little oxygen, a very expressive flavor profile develops. Through the flavor, notes passion fruit, blueberry, as well as dried apricot, a balanced and gentle harmony of fruity and sweet flavors is developed.

About the farm
The family farm La Estancia was founded in the 1950s. Marco Antonio Cadena runs the farm in the fourth generation. Since the beginning, he was committed to improving social conditions - sustainable cultivation and environmental protection are, especially, very important to him.
During the harvest season on the farm "La Estancia", from January to March, Marco Antonio receives 50 workers who are dedicated to producing the best coffee in the region. During these months, the workers live on the farm and receive food and a place to sleep. Marco Antonio plans to continue to develop programs for the social protection of his employees, to carry out an improvement of the facilities, to continue training to perfect its processes and to integrate an organic coffee production.

As one of the ecological measures, the cherry peels on the farm are reused as compost for the coffee plants or given as cattle feed to the surrounding farms. The production of Specialty Coffee at Finca La Estancia is constantly monitored in all processes. Marco pays special attention to the cutting and harvesting of the ripe cherries. For him, the quality, and not the quantity, is clearly the focus.
Choose your grind size

If you don't have a grinder at home, we'll happily grind your coffee to your specifications. Just select your brewing method above or order whole beans.

Find the right grind. You can get the most out of your coffee by grinding your beans just before brewing. Take a look at the equipment selection if you are interested in a grinder.

You can also select a grind level in each product if you want us to grind the beans for you. We use a Mahlkönig EK43 for this.

Frenchpress and Aeropress are ground on the same setting.
Cultivation

Cultivated with love by great farmers. 100% Arabica coffee, harvested when ripe and carefully processed. Sustainable and fairly traded.
Shipping

Freshly roasted, packed and shipped safely to you by DHL.
Packaging

Our standard bags contain 250g and are 100% recyclable. No mixed materials.
Brewing

Take your tried-and-tested recipe as a starting point for this roast, or get help from our brew guides.
Scoring Card

The coffee cherry can develop up to 1,200 different natural flavours. Depending on location and variety. Learn to understand the flavours in coffee with the Scoring Card. Grade your coffee by filling out your Scoring Card.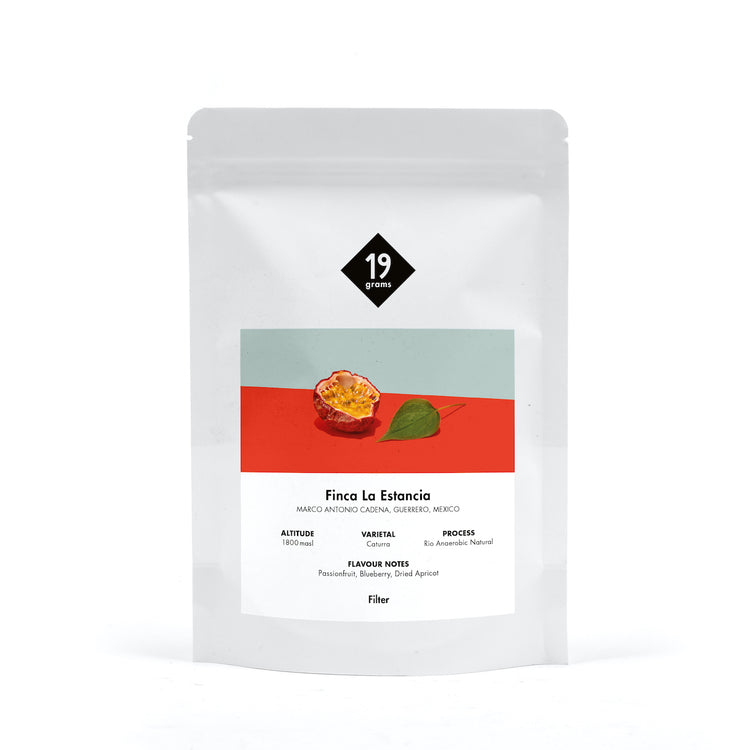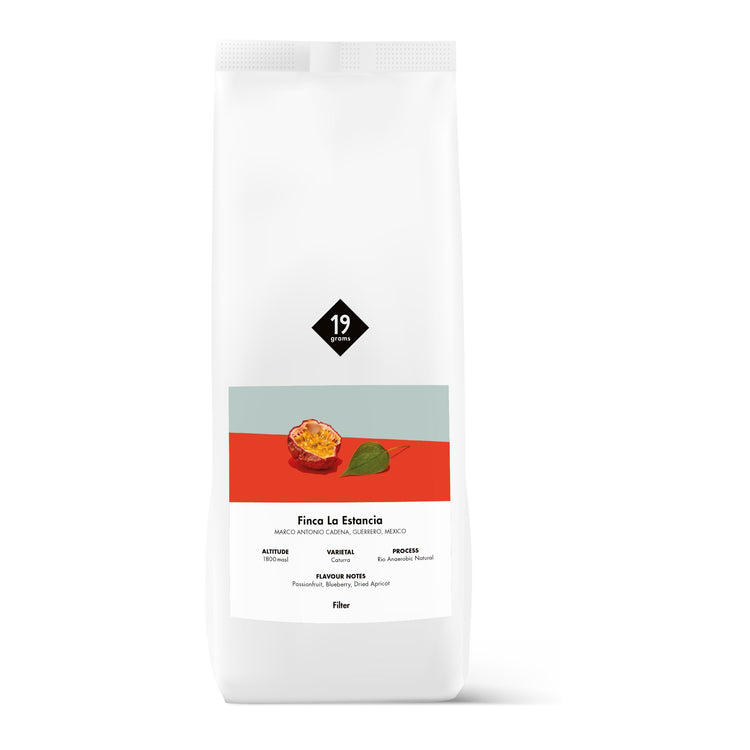 Suitable for filter preparation:
About the coffee
Passion fruit, Heidelbeere, getrocknete Aprikose
Score: 89
Sweetness:
Acidity:
Mouthfeel:
Body:

Variety: Caturra
Processing: Rio Anaerobic Natural
Harvesting Year: 2020
Drying Time:

Suggested brew recipe:
1:16,5 (z.B. 15gr Kaffee auf 250gr Wasser) in 2,5 bis 3,5 Minuten
About the coffee
Ein wunderbar komplexer Filter aus Mexiko mit Noten von Blaubeere und Passionsfrucht.
The Farm | Finca La Estanica
Marco hat sich der Qualität der Kaffees verschrieben und experimentiert mit Fermentationen.

Relationship: new partner
Producer: Marco Antonio Cadena
Type of Farm: Family owned farm
Region, Country: Guerrero, MX
Altitude: 1800 m üNN
Soil type:
Fertilisation method: organic
Shadow Type:
Processing location: at the farm
Number of varieties:
Harvest season: Dez - Mär

Cup of Excellence 2012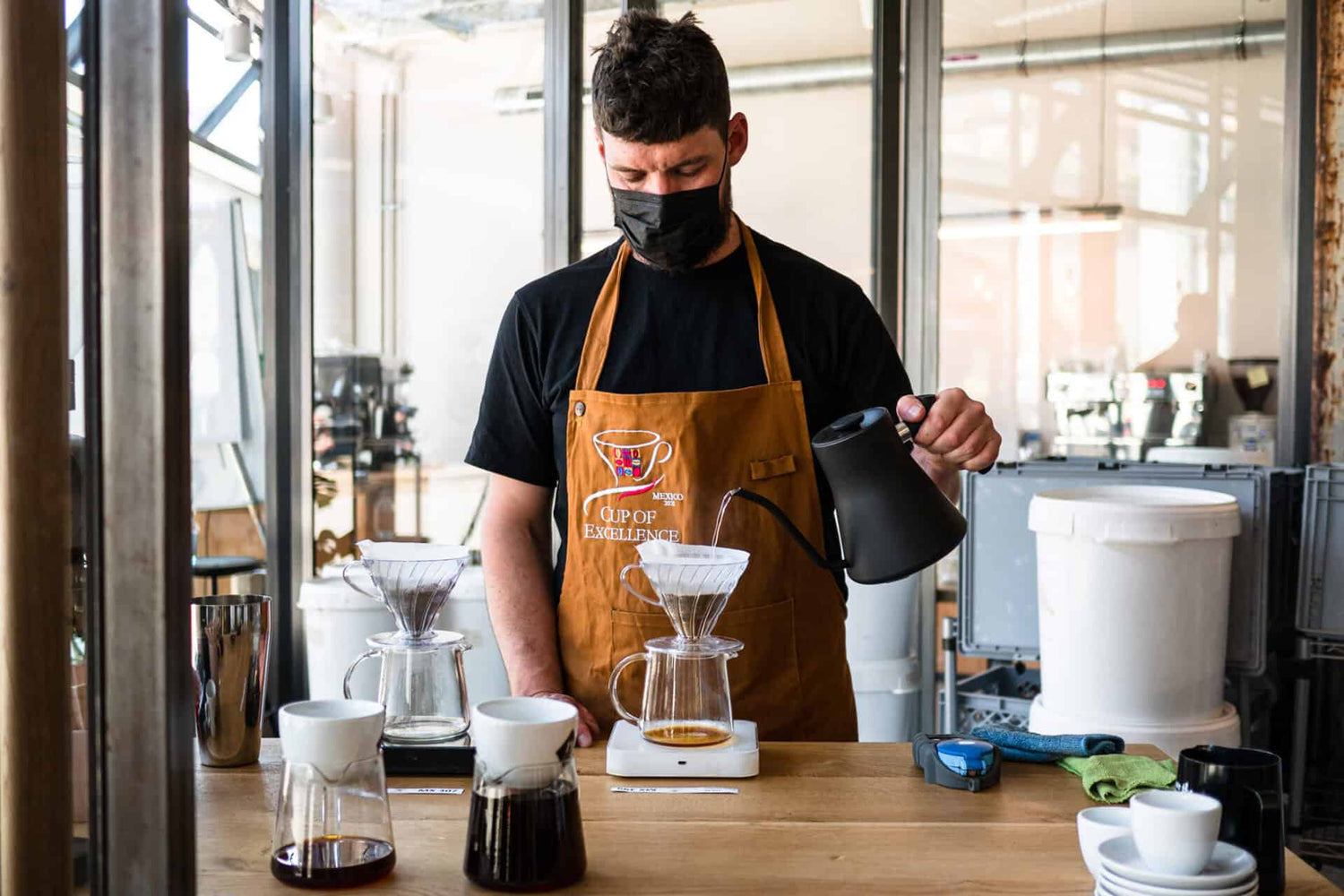 Bloody Good Filter
Coffee is a fruit which is naturally acidic and contains many sugars. We roast our filter coffees to bring out this acidity and develop the natural sweetness.
In developing a profile for a filter roast, our roasting team takes a light-handed approach, roasting much more gently than in an espresso roast. Here, the aim is to respect and highlight the natural flavours of the coffee itself, and to let its terroir shine through.
Simply order your favourite coffee online.
Sustainably grown
Carefully grown and processed by our partners.
Worldwide shipping
Safe and reliable with DHL. Direct to your door.
Recyclable packaging
There are no mixed materials in our coffee bags, making them easy to recycle.
Pay securely
Choose from several secure payment methods.
Free shipping from €30

Easy, safe and fast delivery with DHL. Free of charge from a €30 order value.

Directly & Fairly Traded

We attach great importance to our long-term relationships, keeping farmers on equal terms.