El Diviso Sidra - Colombia Filter
Apricot, Candied Ginger, Nougat
Regular price

Sale price

$24.00
This filter coffee by Nestor Lasso from Colombia convinces with a sweetness of apricot and candied ginger with a slight nougat note.
About the coffee
The Sidra variety is a hybrid of Red Bourbon and Typica, combining sweetness and full body with a pleasant acidity. The processing method chosen by Nestor Lasso perfectly suits the characteristics of this variety. In the anaerobic honey processed method, the beans are fermented in a tank for 60 hours before de-pulping and drying. This enhances the sweetness and complexity of the coffee.
Learn more about the Sidra variety in our coffee encyclopedia.

*This product is excluded from discount promotions.

Select your grind size

If you don't have a grinder at home, we'll happily grind your coffee to your specifications. Just select your brewing method above or order whole beans.

Find the right grind. You can get the most out of your coffee by grinding your beans just before brewing. Take a look at the equipment selection if you are interested in a grinder.

You can also select a grind level in each product if you want us to grind the beans for you. We use a Mahlkönig EK43 for this.

Frenchpress and Aeropress are ground on the same setting.
Cultivation

Cultivated with love by great farmers. 100% Arabica coffee, harvested when ripe and carefully processed. Sustainable and fairly traded.
Shipping

Freshly roasted, packed and shipped safely to you by DHL.
Packaging

Our standard bags contain 250g and are 100% recyclable. No mixed materials.
Brewing

Take your tried-and-tested recipe as a starting point for this roast, or get help from our brew guides.
Scoring Card

The coffee cherry can develop up to 1,200 different natural flavours. Depending on location and variety.

Learn to understand the flavours in coffee with the Scoring Card. Grade your coffee by filling out your Scoring Card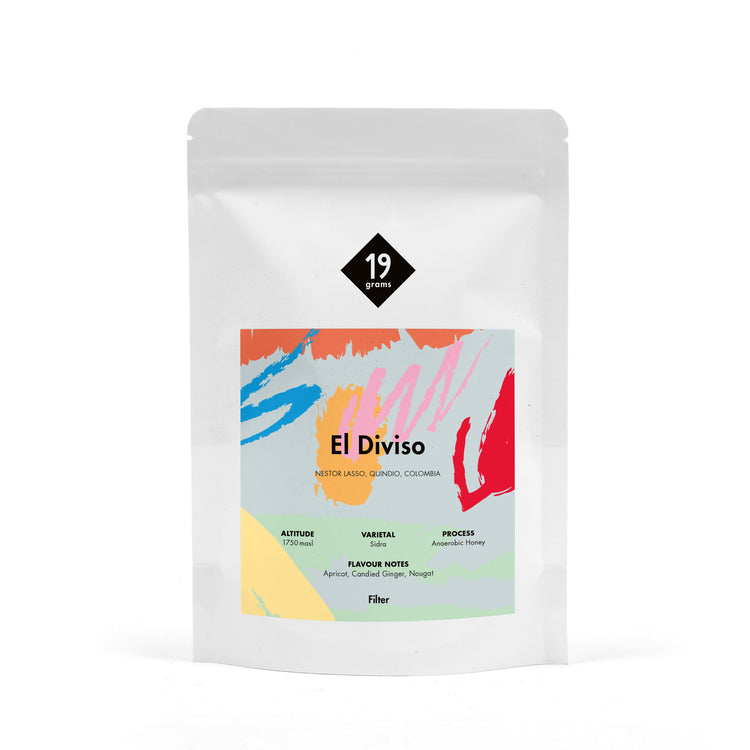 Suitable for filter preparation: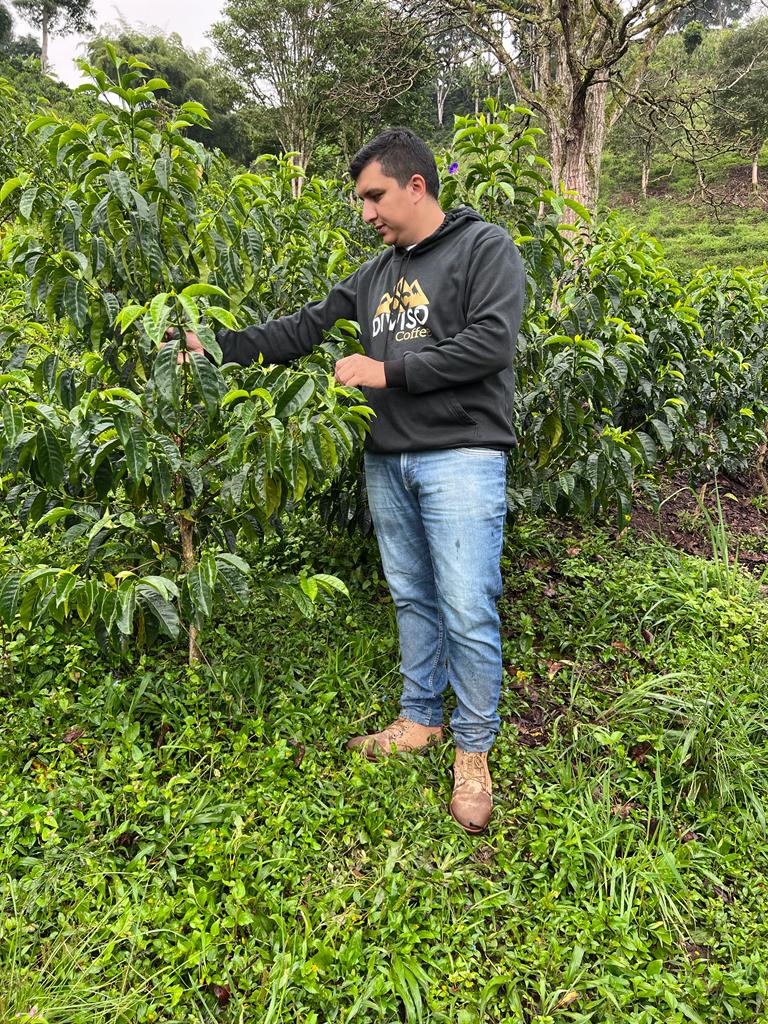 About the coffee
Apricot, Candied Ginger, Nougat
Score: 89
Sweetness:
Acidity: Lactic
Mouthfeel: Creamy
Body:

Variety: Sidra
Processing: Anaerobic Honey
Harvesting Year: 2021
Drying Time:

Suggested brew recipe:
16g coffee, 250g water, medium grind, brew time: 2.5 mins
About the coffee
This coffee displays a complex apricot sweetness, with notes of candied ginger and nougat.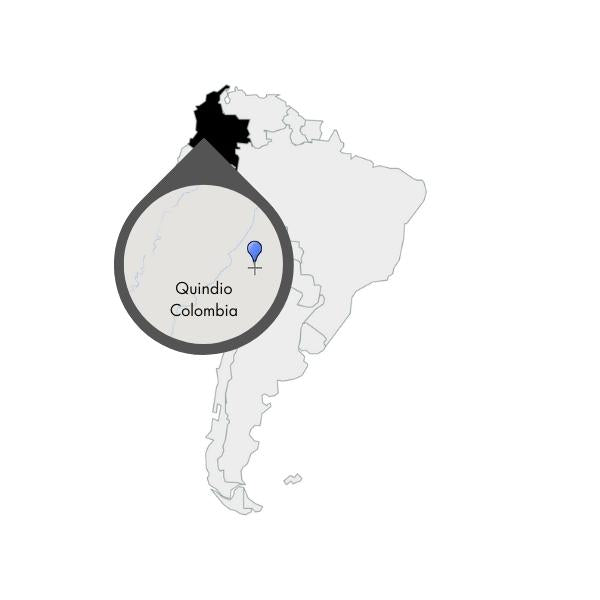 The farm | El Diviso


Relationship: new partner
Producer: Nestor Lasso
Type of Farm: family owned business
Region, Country: Quindo, CO
Altitude: 1750 masl
Soil type: vulcanic soils
Fertilisation method: Organic
Shadow Type: Shade-grown
Processing location: on the farm
Number of varieties: verschiedene
Harvest season: Nov - Mar
About the farm
Nestor Lasso and his brother Adrian took over the family business 5 years ago and turned to speciality and experimentation.
Instead of just growing coffee like their parents. Today, at the ages of 22 and 24, the two have joined forces with Jhoan Vergara, also a coffee farmer's child, and other coffee farmers to create El Diviso. El Diviso unites the two family farms El Diviso (Nestor and Adrian Lasso) and Las Flores (Jhoan Vergara), near the town of Pitalito in the Huila region of Colombia.
This partnership was great because these 3 young people used their knowledge to improve quality.
Three years ago, Cat and Pierre, the founders of CATA Export and the three
producers began to improve fermentation processes and protocols on the farm with the aim of selling these coffees directly to the UK market. This learning process was time-consuming and costly, but with an exciting result, as today these coffees will be used in many barista competitions across Europe.
Recently they won first place in the Brewers Cup in Ireland and third place in Austria.
Today, Cata Export and Finca El Diviso work as one team. Nestor and Cat's friendship is a good example of Cata Export's work.
Working directly on the farms is a very important process for them, as not only the complexity of issues like growing conditions, but also
existing relationships ultimately result in economic benefits for the Cata community. In this way, many more young growers like Nestor have stayed in the coffee industry and had the chance to build a career for themselves.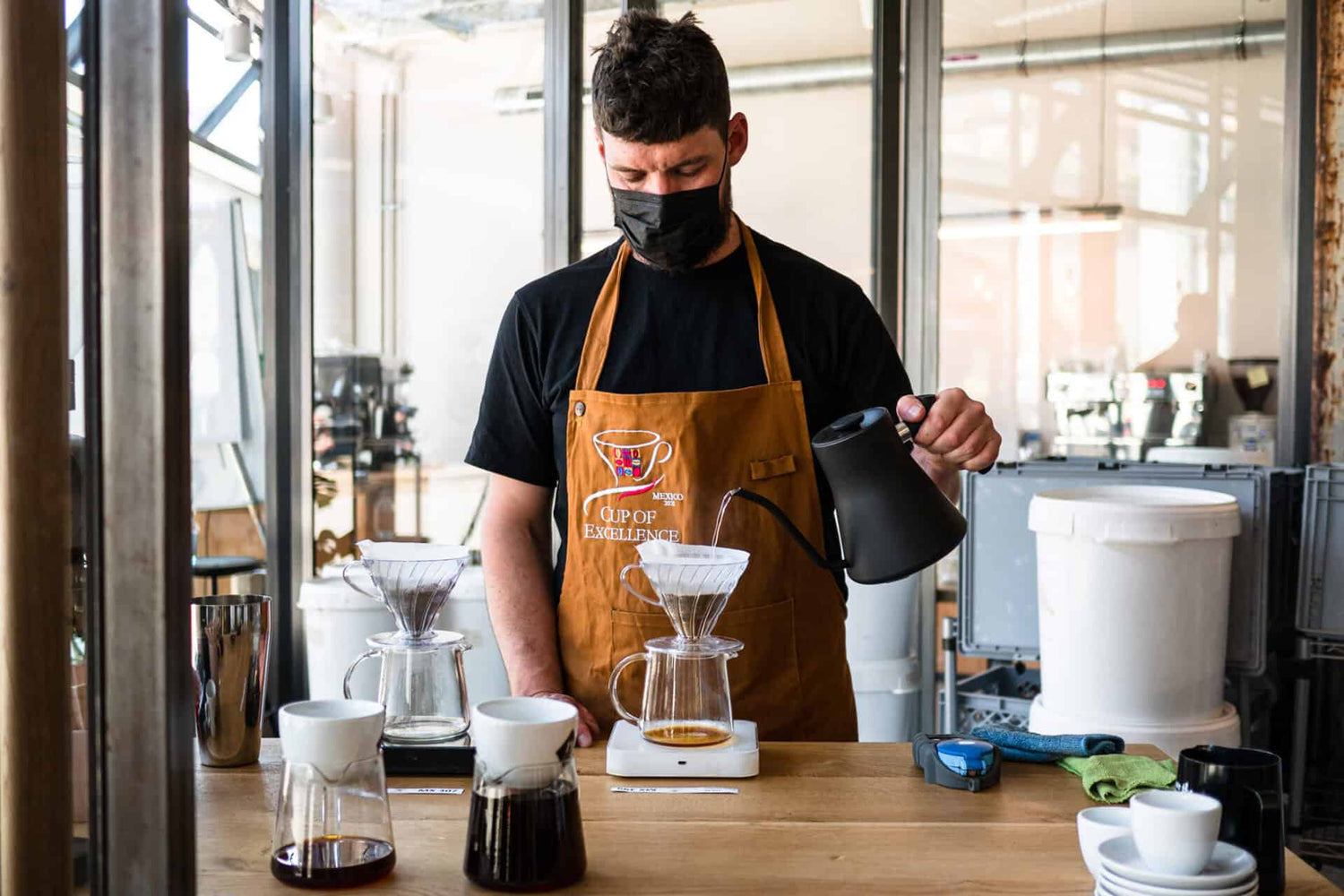 Bloody Good Rockstar
Coffee is a fruit. This means it is naturally acidic, and contains many sugars. We roast our coffees to bring out this acidity and develop their natural sweetness.
For us, all rare and special coffees are rockstars. We're super proud of our diverse and extensive range of rare coffees. Geishas and other special varieties taste their best when we're roasting them regularly and gaining experience. We are the only roasters in Germany that roast rockstars every single week, with Geisha and other rare varieties in our regular lineup.
Simply order your favourite coffee online.
Sustainably grown
Carefully grown and processed by our partners.
Worldwide shipping
Safe and reliable with DHL. Direct to your door.
Recyclable packaging
There are no mixed materials in our coffee bags, making them easy to recycle.
Pay securely
Choose from several secure payment methods.
Free shipping from €30

Easy, safe and fast delivery with DHL. Free of charge from a €30 order value.

Directly & Fairly Traded

We attach great importance to our long-term relationships, keeping farmers on equal terms.