Daterra Alfredo Aramosa - Brazil Rare Filter
Peppermint, Water Melon, Red Berries
Regular price

Sale price

$39.00
Daterra is known for the exceptionally high qualities they produce. This Aramosa lot has a particularly low caffeine content. we taste peppermint in the top note, with a slight hint of watermelon. In the finish we taste fruity, red berries.
Select your grind size

If you don't have a grinder at home, we'll happily grind your coffee to your specifications. Just select your brewing method above or order whole beans.

Find the right grind. You can get the most out of your coffee by grinding your beans just before brewing. Take a look at the equipment selection if you are interested in a grinder.

You can also select a grind level in each product if you want us to grind the beans for you. We use a Mahlkönig EK43 for this.

Frenchpress and Aeropress are ground on the same setting.
Cultivation

Cultivated with love by great farmers. 100% Arabica coffee, harvested when ripe and carefully processed. Sustainable and fairly traded.
Shipping

Freshly roasted, packed and shipped safely to you by DHL.
Packaging

Our standard bags contain 250g and are 100% recyclable. No mixed materials.
Brewing

Take your tried-and-tested recipe as a starting point for this roast, or get help from our brew guides.
Scoring Card

The coffee cherry can develop up to 1,200 different natural flavours. Depending on location and variety.

Learn to understand the flavours in coffee with the Scoring Card. Grade your coffee by filling out your Scoring Card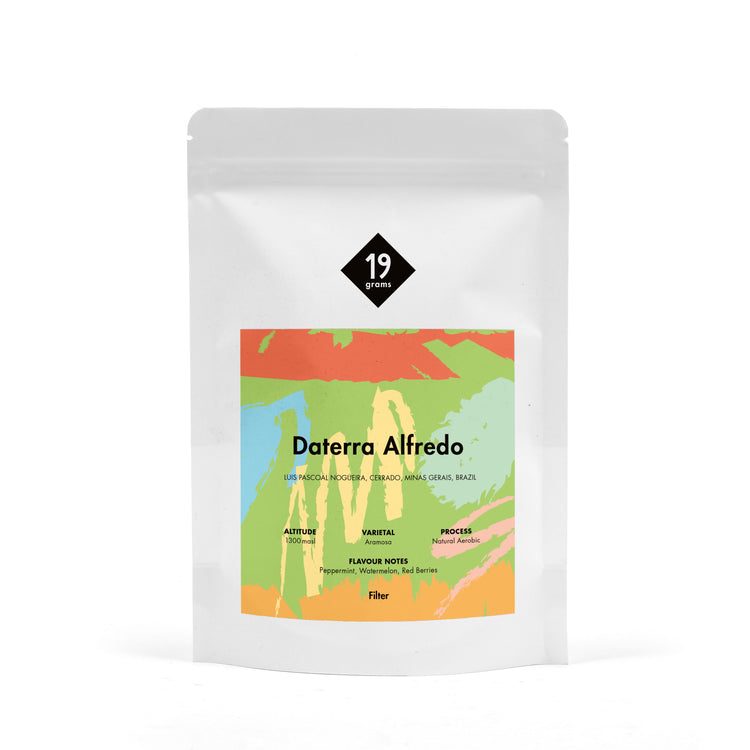 Suitable for filter preparation:
About the coffee
Peppermint, Water Melon, Red Berries
Score: 88
Sweetness:
Acidity:
Mouthfeel:
Body:

Variety: Aramosa
Processing: Natural Aerobic
Harvesting Year: 2022
Drying Time: around 7 days

Suggested brew recipe:
16g coffee, 250g water, medium grind, in about 2,5 min brewing time
About the coffee
Aramosa is a cross between Coffea Arabica and Coffea Racemosa. The crossing of this variety resulted in a plant with higher resistance to draught and the leaf miner. Aramosa has inherited some resistance from Racemosa while retaining the excellent drinking quality of Arabica. The seed came to Daterra through our partnership with the Agronomic Institute of Campinas, a reference in coffee research. Aramosa also has less caffeine than regular Arabica beans, about half (comparable to a cup of green tea) and is therefore good to drink in the afternoon.

In natural anaerobic fermentation, the coffee cherries are left to ferment in a tank without oxygen. First, the ripe cherries are placed in a tank equipped with an air lock valve. As fermentation progresses, CO2 is released and displaces the oxygen, making the tank anaerobic. This environment allows specific microorganisms to carry out enzymatic reactions that increase the acidity and flavour of the coffee.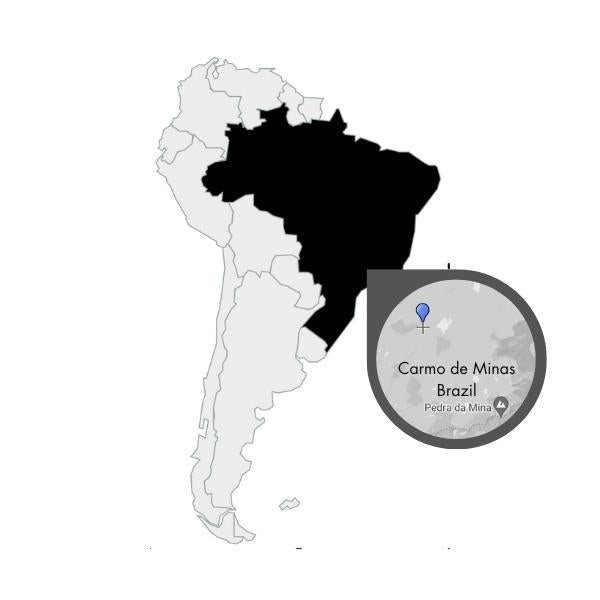 The farm | Daterra
This is a lot from the Daterra Masterpiece Collection. Daterra is known for the exceptionally high qualities they produce.

Relationship: New Partner
Producer: Luis Pascoal Nogueira, Daterra Estate
Type of Farm: family-run business
Region, Country: Cerrado, Minas Garais, Brazil
Altitude: 1.350 masl
Soil type: fertile soil
Fertilisation method: organic
Shadow Type: grown in shadow
Processing location: on the farm
Number of varieties: different
Harvest season: Oct-Mar

Cup of Excellence

About the farm
Daterra is located in the state of Minas Gerais at 1,300 m above sea level, the largest coffee producing state in Brazil. The region is the Cerrado: the weather is characterised by dry periods and very well-defined rainy seasons, which is great for coffee because it allows more it weather stability and predictability. Warm, humid rainy seasons in spring and summer (September to February) are the perfect for flowering and cherry development. The dry season in autumn and winter (March to August) is very stable, which is beneficial for the ripening of the cherries, harvesting and processing.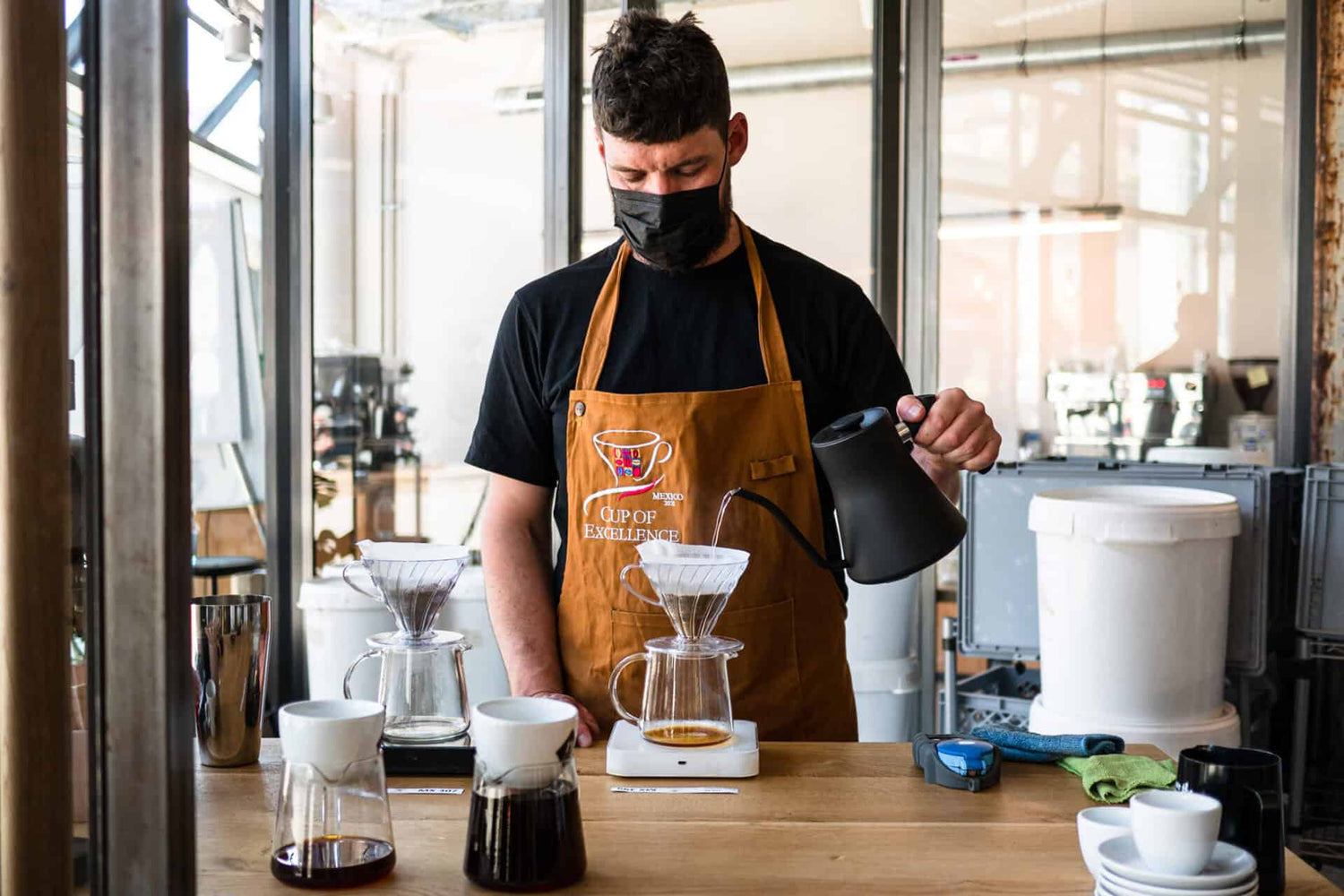 Bloody Good Rockstar
Coffee is a fruit. This means it is naturally acidic, and contains many sugars. We roast our coffees to bring out this acidity and develop their natural sweetness.
For us, all rare and special coffees are rockstars. We're super proud of our diverse and extensive range of rare coffees. Geishas and other special varieties taste their best when we're roasting them regularly and gaining experience. We are the only roasters in Germany that roast rockstars every single week, with Geisha and other rare varieties in our regular lineup.
Simply order your favourite coffee online.
Sustainably grown
Carefully grown and processed by our partners.
Worldwide shipping
Safe and reliable with DHL. Direct to your door.
Recyclable packaging
There are no mixed materials in our coffee bags, making them easy to recycle.
Pay securely
Choose from several secure payment methods.
Free shipping from €30

Easy, safe and fast delivery with DHL. Free of charge from a €30 order value.

Directly & Fairly Traded

We attach great importance to our long-term relationships, keeping farmers on equal terms.