Don Pachi Geisha - Panama Filter
Passionfruit, Apricot, Bergamotte
Regular price

Sale price

22,61 €
In this naturally prepared Geisha coffee we taste sweet tropical notes, with stone fruit aromas and a long jasmine finish. R
efined and colored with an elegant and rich flavor, reminiscent of wine.
Über den Kaffee
Our Geisha coffee from Panama grows on 0.5 hectares on a cutting on the slopes of Boquetes. The trees benefit enormously from the microclimate that exists there due to the strong winds. When the cherries are ripe in December, harvest time begins. The beans are hand-picked by the Seracín family. Because the trees grow so tall, a ladder is needed for harvesting.
The coffee cherries are dried with their pulp on 'African drying beds.'
In this naturally prepared Geisha coffee we taste sweet tropical notes, with stone fruit aromas and a long jasmine finish. We chose the "classic" lot from Don Pachi's farm, who shaped the landscape of Specialty Coffee as we know it. With all the different processing and fermentation methods currently being developed, it's nice to take a step back and taste where it all began: Balanced, floral and so sweet.

About the farm
The Don Pachi farm is located in the well-known coffee growing area of Boquete in Panama. It is named after its founder, the Italian Antonio Serracín Sr. who founded the farm in 1873.
Today Don Pachi Estate is managed in 4th generation by Francisco Seracín Jr. Don Pachi coffee farm is ideally located for growing coffee in the Callehonseco District, at an altitude of 1400 to 1550 meters. In Boquete, very strong winds blow down from the mountains to the Caribbean side. On the one hand, this means difficult growing conditions for the coffee trees: weak varieties can hardly withstand them. On the other hand, they allow for a cooler microclimate in which the coffee cherries ripen slowly. This is essential for the incredibly great flavors of the Panama Geishas.
Francisco's father - aka. Don Pachi - brought the first Geisha coffee seeds from a lab in Costa Rica around 1963 and planted them himself on the farm. This is the Geisha from which the other Geisha coffees in Panama developed.
Panama, however, was not yet known for its specialty coffee at that time. Political instability and difficult access to international purchase markets made it almost impossible to establish the Panamanian coffee sector for the world market. Because of the difficult growing conditions, and due to low yields of the Geisha variety, it was a long road for Don Pachi to establish the variety. However, through his passion for coffee, along with a fair amount of bite and tenacity, he was able to establish the Geisha variety throughout Panama. From here, it also made its way to the Hacienda La Esmeralda farm, known for its exceptional Geisha lots. Don Pachi is now considered the "Godfather of Geisha" in Panama. He passed away in 2016 at the age of 78.

*This product is excluded from discount promotions.
Select your grind size

If you don't have a grinder at home, we'll happily grind your coffee to your specifications. Just select your brewing method above or order whole beans.

Find the right grind. You can get the most out of your coffee by grinding your beans just before brewing. Take a look at the equipment selection if you are interested in a grinder.

You can also select a grind level in each product if you want us to grind the beans for you. We use a Mahlkönig EK43 for this.

Frenchpress and Aeropress are ground on the same setting.
Cultivation

Cultivated with love by great farmers. 100% Arabica coffee, harvested when ripe and carefully processed. Sustainable and fairly traded.
Shipping

Freshly roasted, packed and shipped safely to you by DHL.
Packaging

Our standard bags contain 250g and are 100% recyclable. No mixed materials.
Brewing

Take your tried-and-tested recipe as a starting point for this roast, or get help from our brew guides.
Scoring Card

The coffee cherry can develop up to 1,200 different natural flavours. Depending on location and variety. Learn to understand the flavours in coffee with the Scoring Card. Grade your coffee by filling out your Scoring Card.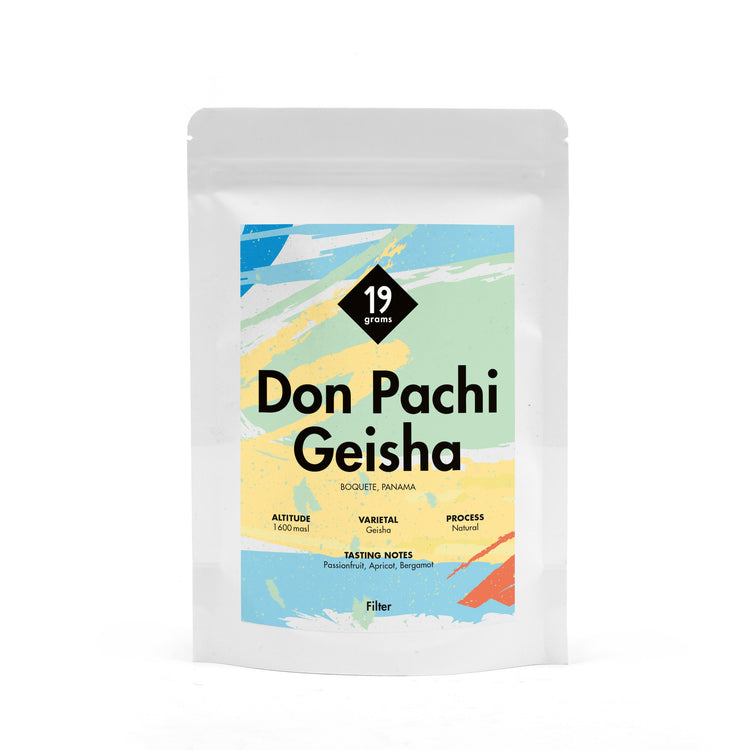 Suitable for filter preparation:
About the coffee
Passionfruit, Apricot, Bergamot
Score:
Sweetness:
Acidity:
Mouthfeel:
Body:

Variety: Geisha
Processing: Natural
Harvesting Year: 2019/2020
Drying Time:

Suggested brew recipe:
16g coffee, 250g water, medium grind, approx. 2.5 min brewing time
About the coffee
A classic Geisha coffee, naturally processed.
The farm | Don Pachi Estate


Relationship:
Producer: Don Pachi - Francisco Seracín
Type of Farm: family owned business
Region, Country: Boquete, PA
Altitude: 1.400 - 1.550 masl
Soil type: vulcanic soil
Fertilisation method: biologic
Shadow Type: grown in the shadow
Processing location: on the farm
Number of varieties:
Harvest season: Dec - Mar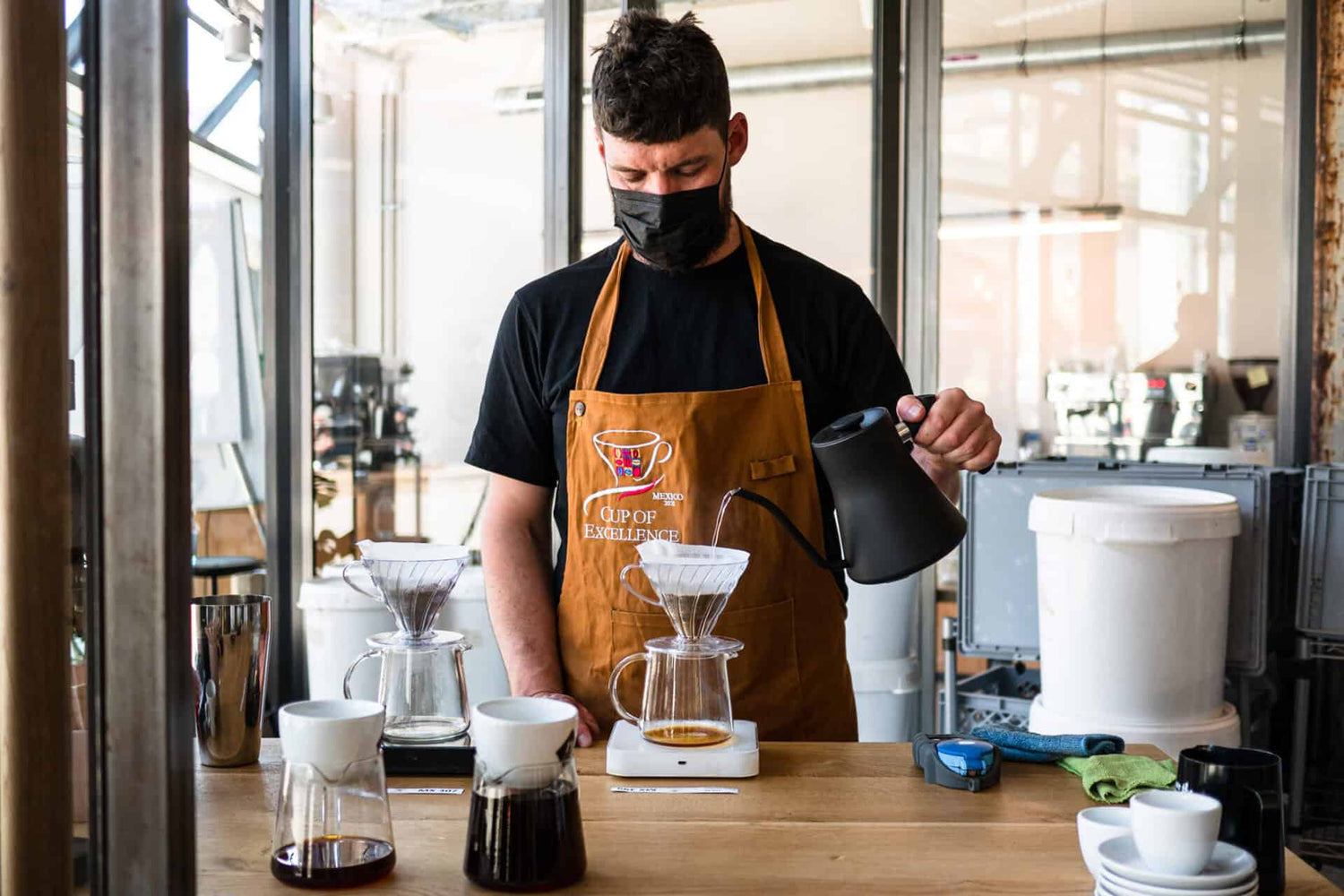 Bloody Good Rockstar
Coffee is a fruit. This means it is naturally acidic, and contains many sugars. We roast our coffees to bring out this acidity and develop their natural sweetness.
For us, all rare and special coffees are rockstars. We're super proud of our diverse and extensive range of rare coffees. Geishas and other special varieties taste their best when we're roasting them regularly and gaining experience. We are the only roasters in Germany that roast rockstars every single week, with Geisha and other rare varieties in our regular lineup.
Simply order your favourite coffee online.
Sustainably grown
Carefully grown and processed by our partners.
Worldwide shipping
Safe and reliable with DHL. Direct to your door.
Recyclable packaging
There are no mixed materials in our coffee bags, making them easy to recycle.
Pay securely
Choose from several secure payment methods.
Free shipping from €30

Easy, safe and fast delivery with DHL. Free of charge from a €30 order value.

Directly & Fairly Traded

We attach great importance to our long-term relationships, keeping farmers on equal terms.