Zurück zum Anfang
Wenn man im Jahr 2002 in Friedrichshain eine Specialty Coffee Rösterei unter dem Namen Tres Cabezas eröffnet, braucht man jede Menge Idealismus, Überzeugung und Leidenschaft. Denn zu dieser Zeit war Specialty Coffee vielleicht ein Thema in den USA, Australien oder in UK; in Berlin und Deutschland war es das sicher nicht.

Aber wir haben es trotzdem versucht und der Hintergrund war dieser: Kaffee, wie er zu diesem Zeitpunkt in Restaurants, Bars, Cafés oder auch zu Hause getrunken wurde, hat uns schlicht nicht überzeugt. Qualitativ nicht, aber auch nicht in Bezug auf Handel, Herstellung und Verarbeitung. Wir wollten das ändern.
Was wir ändern wollten
In erster Linie ging es darum, zurückzufinden zu diesem faszinierenden Ausgangsprodukt - der Kaffeekirsche - die unter sehr speziellen Bedingungen an einem Strauch zu einer Frucht heranreift, mit der so viele tolle Dinge möglich sind. back to the roots - wir mussten erst einmal Lernen. Wissen ansammeln über Anbau, Ernte, Verarbeitung, über Varietäten und Bodenbeschaffenheit, und über die Möglichkeiten spezielle Kaffees zu kaufen und zu uns nach Berlin zu holen.
Wir haben keine Grenzen gescheut:
Wir sind gereist, haben mit Menschen gesprochen, sind im Dreck herumgekrochen, haben auf unserer eigenen Kaffeefarm gepflanzt, geerntet und versucht zu verkaufen. Dabei sind wir immer ein bisschen besser geworden, haben ein bisschen mehr verstanden, was guten von schlechtem Kaffee unterscheidet. Wir haben Freunde gefunden: Farmer, die unsere Idee von gutem Kaffee teilen. Wir werden beliefert aus der ganzen Welt - Costa Rica, Kolumbien, Panama, Brasilien, Äthiopien, Ruanda, aus Kenia, Burundi, Indonesien und China. Denn auch Kaffee ist ein saisonales Produkt und für die beste Qualität ist es notwendig, sich an die Erntezyklen zu halten.
Wir sind gewachsen
Wir haben unser Wissen geteilt und haben Zuwachs bekommen: Von großartigen Kollegen aus Australien, den USA und anderen Ländern. Wir haben Einflüsse und Expertise genommen und sie einfließen lassen in die Auswahl der Rohkaffees, vor allem aber in die Röstungen und die Entwicklung herausragender Filterkaffees und Espressoröstungen, die du heute bei uns probieren kannst. Und wir haben den Namen verändert. Wir sind nun 19grams, dank unserer Kollegen aus Australien, bei denen 19 Gramm die Menge an Kaffee sind, die man für einen doppelten Espresso braucht.
Die Begeisterung
Ihr könnt bei uns ohne Zweifel kaufen. We know our shit, wie unsere australischen Kollegen sagen. Wir haben Kaffeepartner auf der ganzen Welt, die uns mit dem Produkt versorgen, das wir - und ihr - so sehr lieben.

Um uns herum nimmt die Begeisterung für Specialty Coffee zu sowie das Suchvolumen auf Google und vor allem das Bewusstsein, dass Kaffee so viel mehr sein kann, als eine Tüte aus dem Supermarkt für wenig Geld. Wir achten auf die Produzenten, wir reisen zu den Farmern, sprechen, verstehen und diskutieren, wir bemühen uns um wirkliche Nachhaltigkeit in der Produktion und wir machen unglaublich guten Kaffee. Wir sind nicht ideologisch. Wir freuen uns über Fragen, Anregungen und Kritik! Denn uns ist wichtig, weiterhin jeden Tag ein bisschen besser zu werden.
19grams, das sind viele Menschen von überall auf der Welt. Wer genau, das kannst du auf unserer Teampage herausfinden. Hinter 19grams stehen inzwischen nicht mehr "Tres Cabezas" (also auch), sondern ganze VIER: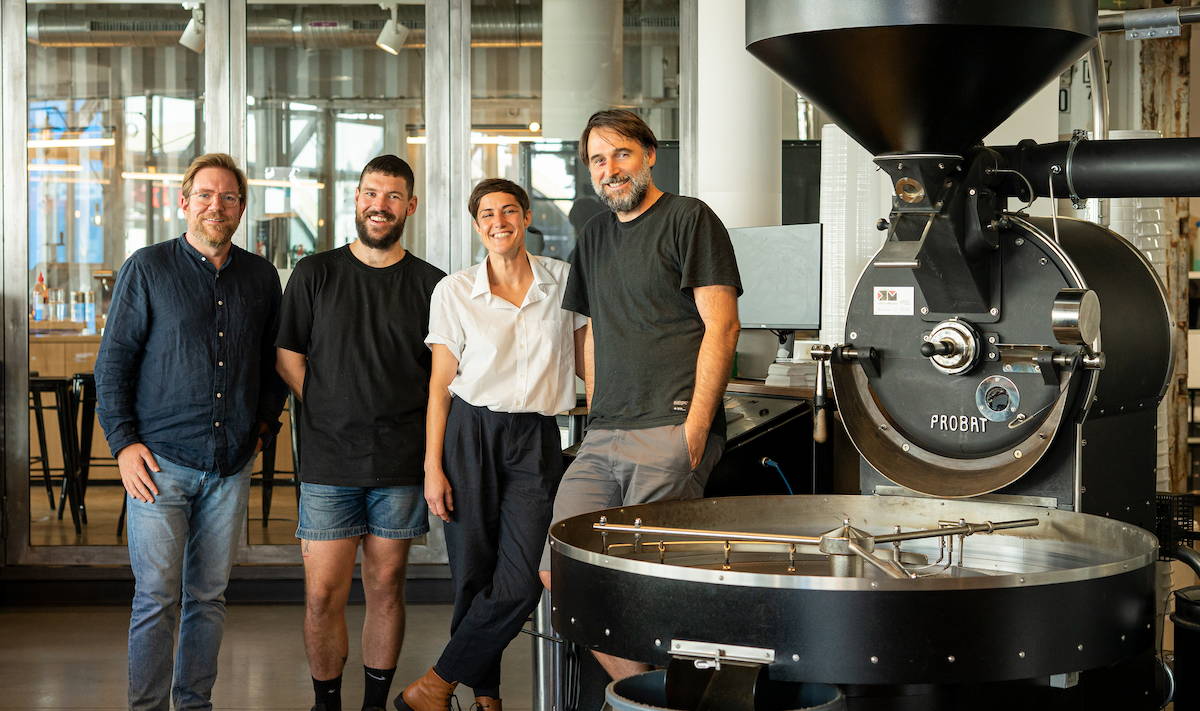 Von links nach rechts: Gerrit, Anthony, Marianne und Sascha.