Comandante Coffee Grinder
Regular price

Sale price

235,21 €
The Comandante C40 Nitro Blade Grinder is German precision engineering at its best. Bernd Braune refined the geometry and structure of the Nitro Blade Grinder to achieve a particle distribution perfect for brewing freshly ground Specialty Arabica beans. This grinder is state of the art. We promise that you will never want to use another hand grinder once you start using the Comandante.

Advanced stainless steel grinding cones
Double-sharpened for precision and endurance
Double ball bearing for easy and fast grinding
Includes an additional glass container for storing ground coffee
Great customer service and quick problem resolution, should they ever occur
Capacity for about 40g of coffee beans
Making a nitro blade is a serious engineering task that requires special tools and machines, excellent workmanship and a lot of experience. Martensitic steel with high nitrogen content is extremely difficult to work with, but it is worth it: once finished, it is wear-resistant and has a high level of resistance. Comandante are absolute leaders in their field.
Shipping

Securely packaged, we ship GoGreen with DHL to you. Shipping times may vary depending on your location.
Carefully selected

We choose our partners carefully and recommend only what we use ourselves. If you need a recommendation - email us!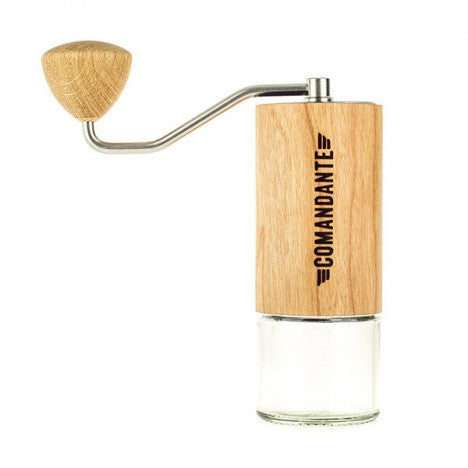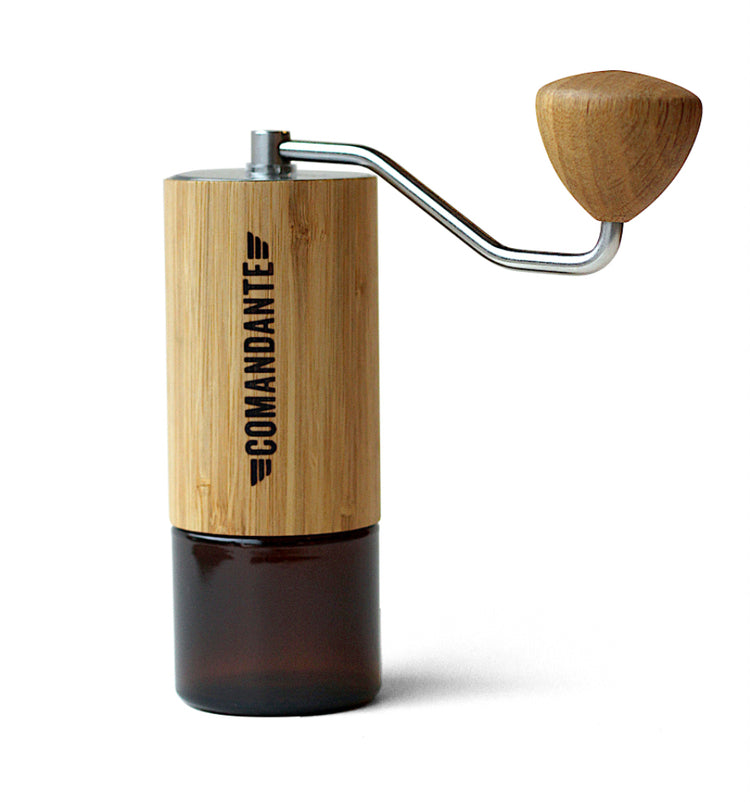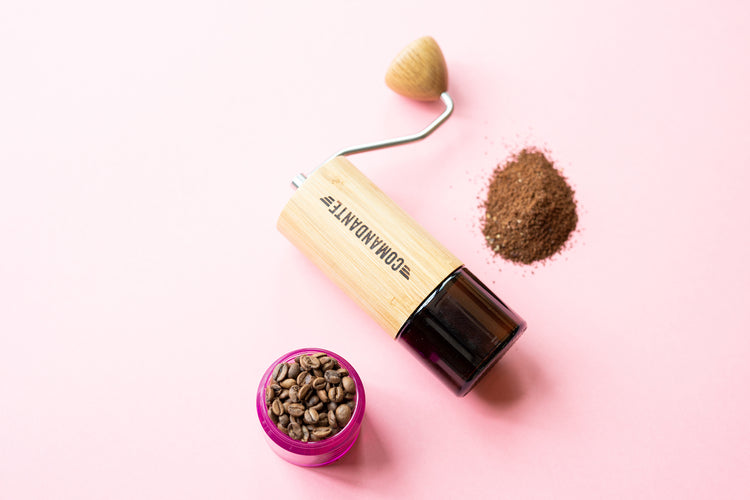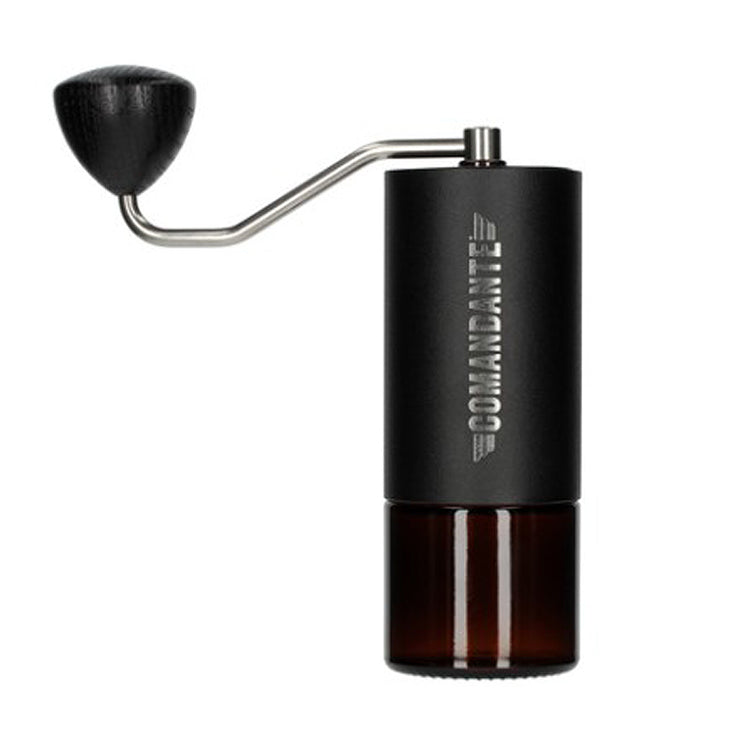 Technical Support

Die Achse austauschen:

Montage: Vorsicht! Wenn Sie die Achse wechseln wollen, kommen Sie mit dem Mahlwerk in Berührung. Das ist sehr scharf und es besteht Verletzungsgefahr. Wenn es also nicht unbedingt sein muss, lassen Sie als Laie lieber die Finger davon.

So ist die Comandante aufgebaut und so wechseln Sie die Achse. Bitte unbedingt lesen, bevor Sie zur Tat schreiten, sonst verlieren Sie beim Auseinanderbauen etwas:
* Schrauben Sie den Mahlgutbehälter ab
* Halten Sie die Kurbel (7) fest und drehen Sie den Mahlgradversteller (1) an der Unterseite des Mühlen-Korpus so lange im Uhrzeigersinn, bis Sie das innere Mahlwerk (2) abziehen können (Vorsicht scharf!)
* Ziehen Sie nun vorsichtig das innere Mahlwerk (2) von der Achse (5) und achten Sie darauf, dass Sie die Scheibe (4) nicht verlieren, denn sie ist lose auf die Achse aufgesteckt. Die Feder (3) steckt fest im inneren Mahlwerk und lässt sich nur mit ein wenig Kraftaufwand herausziehen
* Schieben Sie nun die Achse (5) vorsichtig von unten nach oben, nehmen Sie die Kurbel (7) ab und ziehen Sie die Achse ganz heraus. Auch hier Vorsicht, dass Sie die Scheibe (6) nicht verlieren. Es kann sein, dass die Achse nicht sofort herausschiebbar ist. Wenden Sie ein wenig Kraft auf, dann müsste es klappen.
* Jetzt geht es an den Einbau der neuen Achse: Legen Sie eine Scheibe (6) mit der Nut nach innen (also in Richtung Mahlwerk) oben in die runde Öffnung, in die Sie gleich anschliessend die neue Achse stecken werden und in die die Scheibe perfekt passt.
* Stecken Sie die Kurbel (7) auf die Achse und schieben Sie nun die zweite Scheibe (4) mit der Nut nach innen (also in Richtung Mahlwerk) auf die Achse. Halten Sie die Kurbel fest, schieben Sie das innere Mahlwerk samt Feder auf die Achse und drehen nun vorsichtig und mit viel Gefühl den Mahlgradversteller an der Achse fest. Geschafft. Nun heisst es nur mehr, Ihren gewünschten Mahlgrad wiederzufinden. Viel Glück!
Tech Specs

Technische Details:

Hersteller: »Comandante German Grinder Technology«, Unterhaching (Deutschland)
Name der Kaffeemühle: »Comandante C40 Nitro Blade«
Material Achse: Edelstahl
Hergestellt in: Deutschland
Lieferumfang: 1 Achse passend zum Mahlwerk (2 Varianten)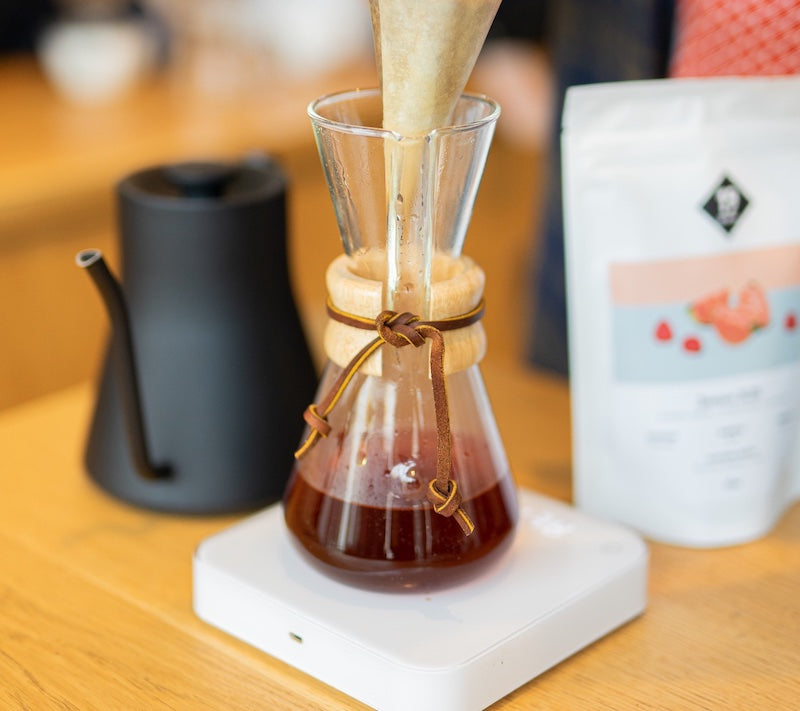 Bloody Good Equipment
To make coffee, you need not only the best coffee and good water, but also the equipment that allows you to make consistently good coffee. We recommend that you invest in good equipment and take good care of it so that it will last you a long time. You will make the best coffee if you know how to use your equipment properly. Also schau doch mal bei unseren
Brewguides
vorbei. So wird dein täglicher Brew zum schönsten Ritual. Happy Brewing!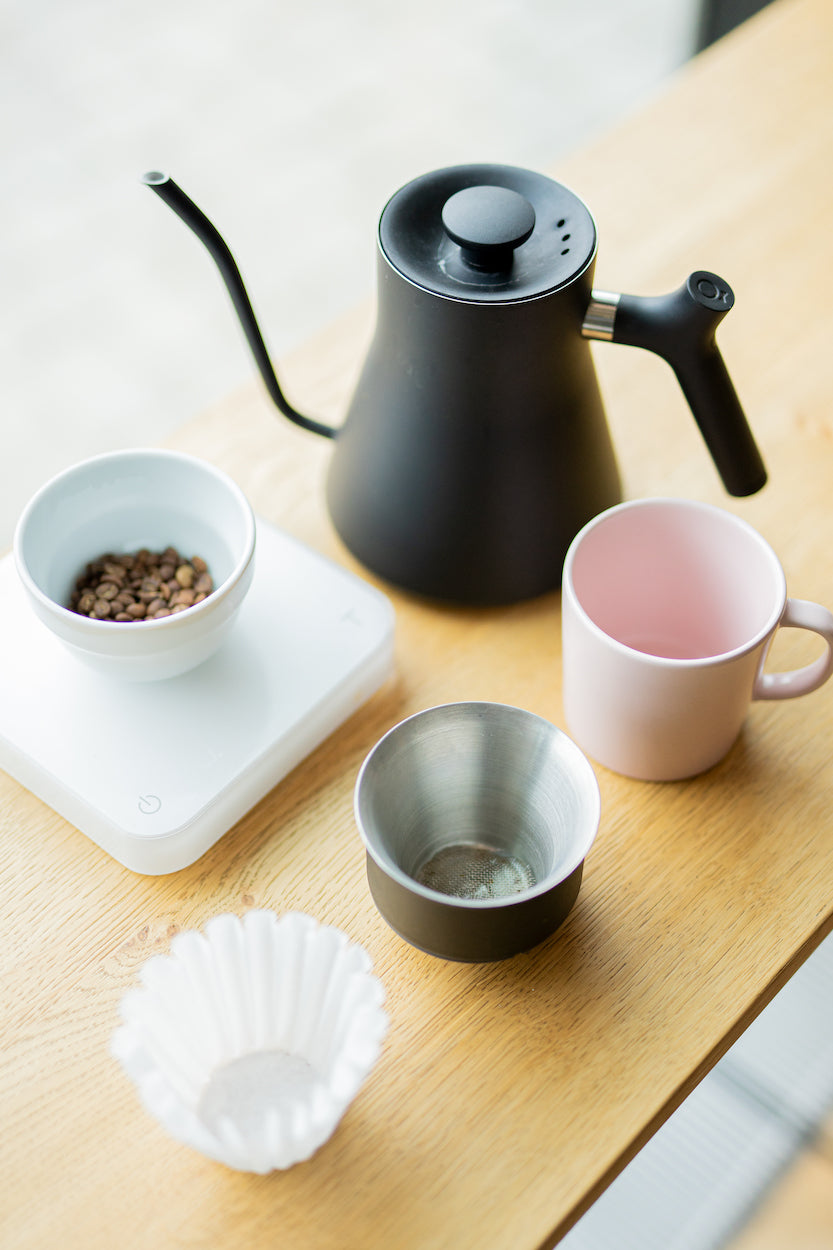 Cleanliness
is the key, because not only will your equipment last longer, your coffee will taste better too. With no oily residue in your grinder/cup/filter/portafilter, there's no residue to get into your coffee.
Simply order your favourite coffee online.
Sustainably grown
Carefully grown and processed by our partners.
Worldwide shipping
Safe and reliable with DHL. To your home.
Recyclable packaging.
No mixed materials in our coffee bags, therefore easy to recycle.
Pay securely.
Choose from several secure payment methods.
Free shipping from 30€

Easy, safe and fast delivery with DHL. Free of charge from 30€ order value.

Coffee by subscription

Get your favourite coffee on subscription.

Directly & Fairly Traded

We attach great importance to long-term relationships. With the farmers at eye level.