8. December | Kachipapa SL28 - Zambia Capsule
Biscuit, Rum, Maple Syrup
About the coffee
At Kachipapa Farm, 100% of the harvest is done by hand. Selective harvesting allows any under/over ripeness or defects to be removed. Within 5 hours of harvest, the cherries are fermented to break down any remaining fruit mucilage. The fruit is then washed before being dried in the sun until the optimal moisture content is reached (about 12%). We taste notes of brown sugar cookies, spiced rum and maple syrup.
About the farm
Kachipapa Farm is a 350-acre, family-owned coffee farm located just outside of Serenje, Zambia. The farm is located at an elevation of 1,450 meters above sea level. The coffee is grown on deep red sandy soils that offer high nutrient content and have good drainage. There are 40 hectares of "producing" coffee trees and 20 hectares of young coffee trees that are expected to produce their first harvests in two years.
All of the coffee is irrigated. Especially in the dry season, the family makes sure that the plants always get enough water. The climate in Serenje, Zambia, usually has a rainy season (November - April) and a dry season (May - October), with the hottest months being September to November. The average rainfall is about 1,200 mm per year. On the farm grows not only coffee but also macadamia trees.
One of the main goals of the Kachipapa farm is to improve the quality of life for the staff and the local community. So far, 25 new houses have been built for the farm's permanent staff and new clean water piping systems have recently been installed to provide clean water to the community. They are also able to fund the local school to hire teachers and provide medical assistance and malaria prevention to the local communities.
Cultivation

Cultivated with love by great farmers. 100% Arabica coffee, harvested when ripe and carefully processed. Sustainable and fairly traded.
Packaging

The 19grams capsule advent calendar is 100% recyclable and made from 100% recyclable materials. Even the capsules are compostable.

It doesn't get any greener than this!
Brewing

Our capsules contain 7g of coffee - that's a little more than commercial capsules from other suppliers like Nespresso. Therefore, use a little more water when brewing - like a lungo.
Bloody Good Advent
Since 8 years we roast the unique Coffee Advent Calendar. Now finally capsule compatible.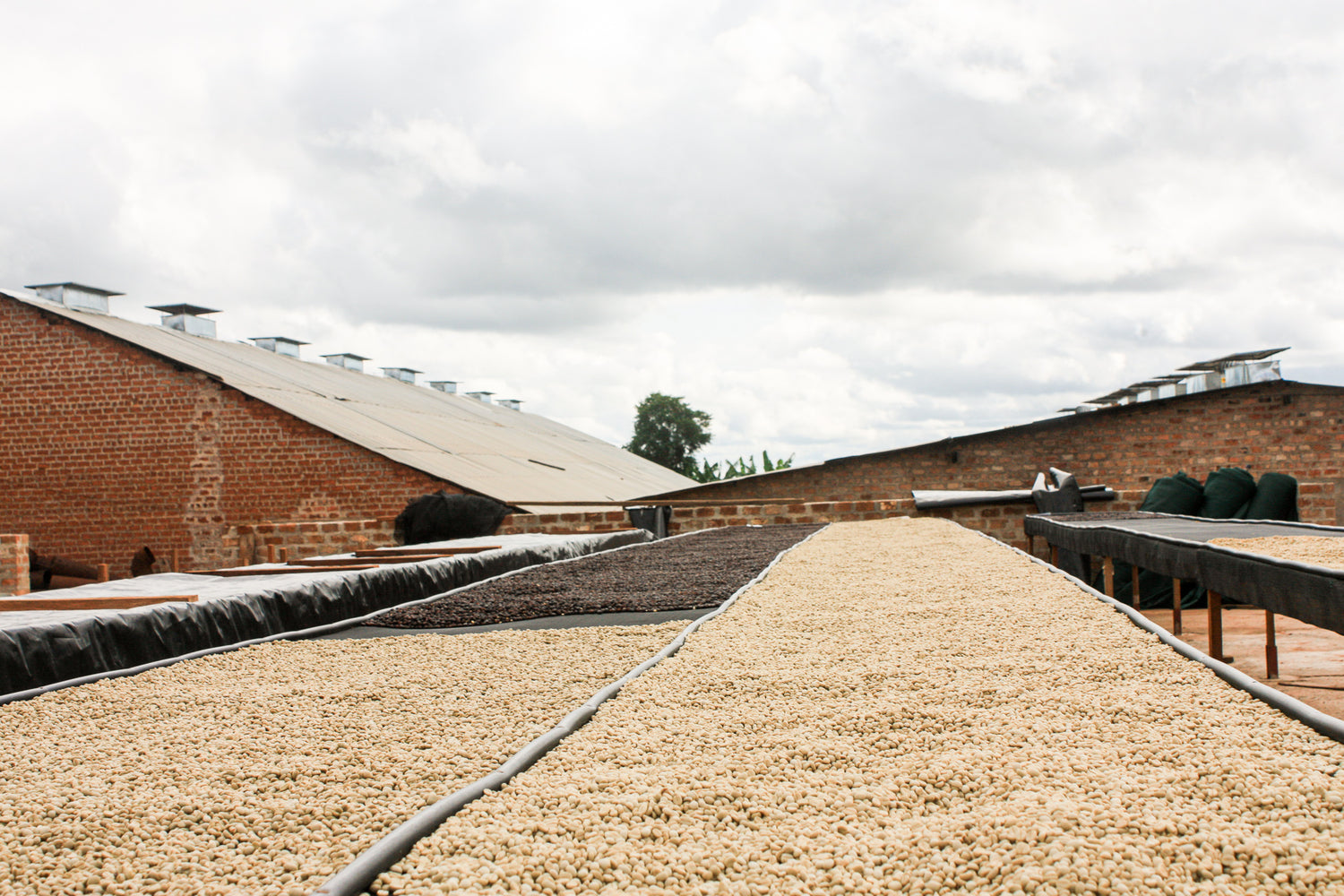 To the Coffee
Biscuit, Rum, Maple Syrup
Score: 86
Sweetness:
Acidity:
Mouthfeel:
Body:

Variety: SL28
Processing: Black Honey
Harvesting Year: 2021
Drying Time: je nach Wetter, Feuchtegrad wird stetig kontrolliert

Suggested brew recipe:
We recommend brewing this coffee as a lungo.
About the coffee
Auf der Kachipapa-Farm erfolgt die Ernte zu 100% von Hand. Durch die selektive Ernte können etwaige Unter-/Überreifen oder Mängel entfernt werden. Innerhalb von 5 Stunden nach der Ernte werden die Kirschen fermentiert, um den verbleibenden Fruchtschleim abzubauen. Danach werden die Früchte gewaschen, bevor sie in der Sonne getrocknet werden, bis der optimale Feuchtigkeitsgehalt erreicht ist (etwa 12%). Wir schmecken Noten von braunen Zuckerplätzchen, Gewürzrum und Ahornsirup.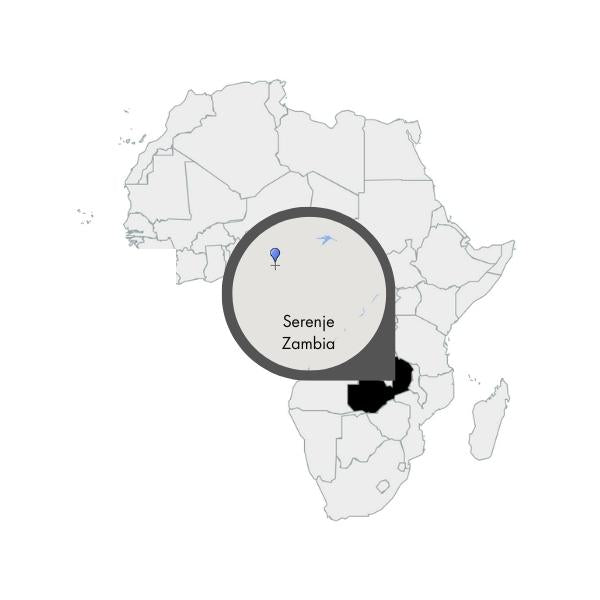 About the farm


Relationship: Mehrere Jahre
Producer: Kachipapa Farm
Type of Farm: family owned business
Region, Country: Serenje, ZM
Altitude: 1.500 masl
Soil type: sandige Böden
Fertilisation method: organic
Shadow Type: im Schatten gewachsen
Processing location: on the farm
Number of varieties: several
Harvest season: Jun-Okt
More about the farm
Die Kachipapa Farm ist eine 350 Hektar große, familiengeführte Kaffeefarm, die sich etwas außerhalb von Serenje in Sambia befindet. Die Farm liegt auf einer Höhe von 1.450 Metern über dem Meeresspiegel. Der Kaffee wird auf tiefroten Sandböden angebaut, die einen hohen Nährstoffgehalt bieten und eine gute Drainage haben. Es gibt 40 Hektar "produzierender" Kaffeebäume und 20 Hektar junger Kaffeebäume, die voraussichtlich in zwei Jahren erste Ernten abwerfen werden.
Der gesamte Kaffee wird bewässert. Gerade in der Trockenzeit passt die Familie auf, dass die Pflanzen immer ausreichend Wasser bekommen. Das Klima in Serenje, Sambia, hat normalerweise eine Regenzeit (November - April) und eine Trockenzeit (Mai - Oktober), wobei die heißesten Monate September bis November sind. Die durchschnittliche Niederschlagsmenge beträgt etwa 1.200 mm pro Jahr. Auf der Farm wächst nicht nur Kaffee sondern auch Macadamia-Bäume.
Eines der Hauptziele der der Kachipapa-Farm besteht darin, die Lebensqualität für das Personal und die lokale Gemeinschaft zu verbessern. Es wurden bisher 25 neue Häuser für die fest angestellten Mitarbeiter der Farm gebaut und kürzlich neue Rohrleitungssysteme für sauberes Wasser installiert, die die Gemeinde mit sauberem Wasser versorgen. Sie sind auch in der Lage, die örtliche Schule für die Anstellung von Lehrern zu finanzieren und den örtlichen Gemeinden medizinische Hilfe und Malaria-Prävention zu bieten.
FAQs Advent Calendar
HOW DO I KNOW WHAT COFFEE IS IN THE CAPSULE?

Scan the QR code on the back of the calendar for detailed information.
CAN I ORDER THE ADVENT CALENDAR ONLINE AND PICK IT UP IN ONE OF YOUR CAFES?

Yes, you can also choose the roastery pickup and come by our shop. This costs nothing. Please note the information we will send you by email when you pick up.
Order your favourite coffee simply online.
Sustainably grown
Carefully grown and processed by our partners.
Worldwide Shipping
Safe and secure with DHL. To your home.
Recyclable packaging
No mixed materials in our coffee bags, therefore easy to recycle.
Pay securely
Choose from several secure payment methods
.
Free Shipping from 30€

Easy, safe and fast delivery with DHL. Free of charge from 30€ order value.

Direct & Fairtrade

We attach great importance to long-term relationsships.