7. December | Lunji AB - Tansania Capsule
Black Currant, Pear, Lime
In this coffee we taste black currant, pear and lime.
About the coffee
Currently, all coffee on the Lunji Estate farm is processed using the 'washed' method. In earlier times, when there was no demand for natural coffee (and water was abundant), this was simply the most efficient way of processing. Stella and Clemens' son Paul, who will take over quality control on the farm as soon as he finishes his studies in agricultural sciences in Berlin, is currently engaged in experiments with naturals and honeys.
After the selective hand harvest, the coffee is sorted to remove all residues and damaged cherries. Immediately after harvesting, the cherries go into a pulper. The coffee is then transferred with fresh water to fermentation tanks, where it ferments for about 24 hours. In the final step, the coffee is dried on raised beds for between 9 and 13 days, and is regularly turned and sorted to remove damaged beans and impurities. The coffee is finally stored in a dry mill about 25 km from the farm. After grinding, it is sorted by sieve size and density. The grading is done according to PB, AA, A, B, C, E, F, AF, TT, UG. In 2017/18, 52% of the farm's crop was defined as AA, which is a very good percentage and speaks for the farming methods.
About the farm
Lunji Estate farm is located right at the foot of the Mbeya mountain range, offering a breathtaking ambience characterized by spectacular views and climate. The name "Lunji", which the current owners believe is derived from "Ilunji", comes from an old name in Safwa (the local tribal language) for a tree common in the region. Although the word is no longer used today, older people still remember the name of the tree. The current owners, Clemens Maier and Thomas Plattner, purchased the farm in 1994 from the previous owner, who had abandoned the farm for many years due to illness. Clemens and his wife Stella agreed to manage the farm and bring it back to life, but they had their hands full.
The farm is currently focusing on quality, as Stella and Clemens know that specialty coffee production is on the rise in Europe. Currently, about 60% of the farm's total production is sold as specialty coffee, but their dream is to increase that percentage even more.
Cultivation

Cultivated with love by great farmers. 100% Arabica coffee, harvested when ripe and carefully processed. Sustainable and fairly traded.
Packaging

The 19grams capsule advent calendar is 100% recyclable and made from 100% recyclable materials. Even the capsules are compostable.

It doesn't get any greener than this!
Brewing

Our capsules contain 7g of coffee - that's a little more than commercial capsules from other suppliers like Nespresso. Therefore, use a little more water when brewing - like a lungo.
Bloody Good Advent
For 8 years, we've roasted the unique Coffee Advent Calendar. Now finally capsule compatible.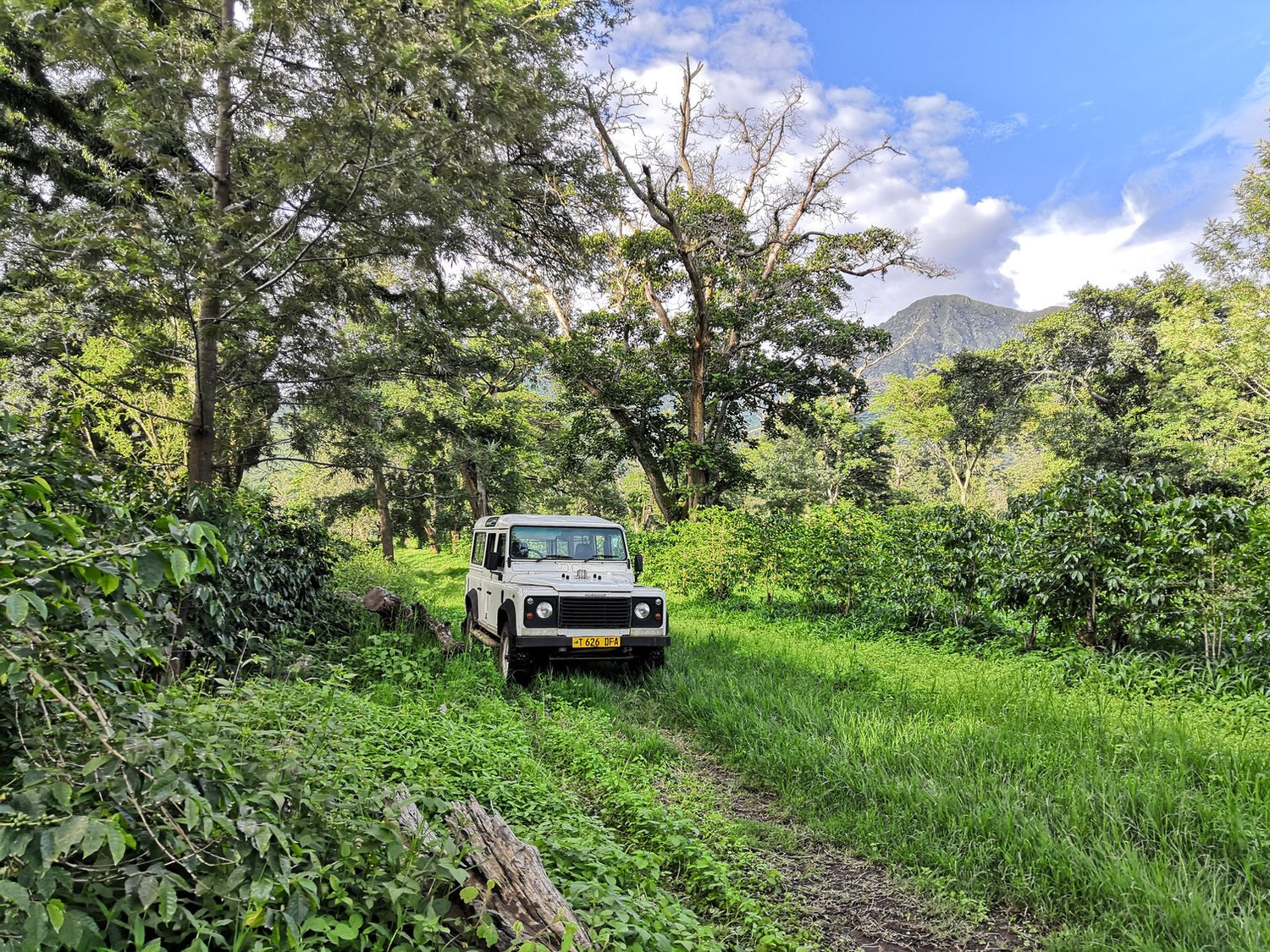 To the Coffee
Black Currant, Pear, Lime
Score: 87
Sweetness:
Acidity: mild
Mouthfeel: seidig
Body: leicht und flüchtig

Variety: Kent, Bourbon
Processing: Washed
Harvesting Year: 2021
Drying Time: 9 - 13 days

Suggested brew recipe:
We recommend brewing this coffee as a lungo.
About the coffee
In this coffee we taste blackcurrant, pear and lime.
About the farm
The farm currently grows about 60% Specialty Coffee.

Relationship: new partner
Producer: Clemens & Stella Moier & Thomas Platter
Type of Farm: family owned business
Region, Country: Mbeya, TZ
Altitude: 1650 masl
Soil type: fertile soils
Fertilisation method: biological
Shadow Type: im Schatten gewachsen
Processing location: on the farm
Number of varieties: verschiedene
Harvest season: Mai-Nov
More about the farm
Lunji Estate wurde während der Kolonialzeit Tansanias im Jahr 1893 gegründet und hat im Laufe der Zeit mehrere Besitzer und Verwalter gehabt. Die Farm liegt direkt am Fuße der Mbeya-Bergkette und bietet ein atemberaubendes Ambiente, das durch die spektakuläre Aussicht und das Klima geprägt ist.
Im Jahr 1898 wurden die ersten Kaffeebäume auf der Farm gepflanzt und der erste Besitzer, ein deutscher Siedler, nannte das Grundstück einfach "Mbeya-Block". Der Siedler kehrte am Ende des Ersten Weltkriegs nach Europa zurück und überließ die Verwaltung der Farm dem deutschen Kolonialverwalter, der sie bis Ende 1971 leitete. Danach ging die Farm bis 1994 in die Hände einer indischen Familie über. Irgendwann in diesen Jahren erhielt die Farm den Namen "Lunji", der sich nach Ansicht der heutigen Besitzer von "Ilunji" ableitet, einer alten Bezeichnung in Safwa (der lokalen Stammessprache) für einen in der Region verbreiteten Baum. Obwohl das Wort heute nicht mehr verwendet wird, erinnern sich ältere Menschen noch an den Namen des Baumes.
1994 erwarben Clemens Maier und Thomas Plattner den Hof von seinem Vorbesitzer, der den Hof aus Krankheitsgründen viele Jahre lang nicht gepflegt hat. Der Hof befand sich in einem katastrophalen Zustand, da seit mehreren Jahren keine Bewirtschaftung mehr stattgefunden hatte. Die Arbeit auf dem Hof war zum Stillstand gekommen, die Gebäude waren verfallen. Clemens und seine Frau Stella erklärten sich bereit, den Hof zu bewirtschaften und wieder zum Leben zu erwecken. Sie mussten die Farm fast von Grund auf neu aufbauen.
Als Tansanierin, die mehr als fünf Stammessprachen spricht, konnte Stella eine sehr enge Beziehung zur örtlichen Gemeinschaft aufbauen, was sich in vielen Situationen als entscheidend für das Wohlergehen der Farm erwies. Clemens stammt aus einer bäuerlichen Gemeinde in Bayern, Deutschland, und war zuvor für das deutsche Entwicklungshilfeprogramm tätig. Seine Entscheidung, nicht auf den Milchviehbetrieb seiner Familie zurückzukehren, sondern seine technischen Fähigkeiten in Lunji einzusetzen, hat die Maschinen jeden Tag am Laufen gehalten. Gemeinsam haben sie den Betrieb wieder zum Leben erweckt. Im ersten Jahr wurden nur 7 Tonnen Rohkaffee geerntet. Diese Menge stieg bis 2002 auf durchschnittlich 80 Tonnen und 2004 auf eine Rekordernte von 250 Tonnen.
Der Betrieb konzentriert sich derzeit auf Qualität, denn Stella und Clemens wissen, dass die Produktion von Spezialitätenkaffee in Europa im Aufwind ist. Derzeit werden etwa 60 % der Gesamtproduktion der Farm als Spezialitätenkaffee verkauft, aber ihr Traum ist es, diesen Anteil noch weiter zu steigern.
Nach der selektiven Handlese wird der Kaffee sortiert, um alle Rückstände und beschädigten Kirschen zu entfernen, bevor er noch am selben Tag mit dem elektrisch betriebenen 4-Scheiben-Mckinnon-Pulper der Farm gepulvert wird. Sollte der Strom während der Mahlzeiten ausfallen, treibt ein 60 Jahre alter Lister-Motor denselben Pulper an, so dass der Kaffee unmittelbar nach der Ernte gepulpt wird.


FAQs Advent Calendar
HOW DO I KNOW WHAT COFFEE IS IN THE CAPSULE?

Scan the QR code on the back of the calendar for detailed information.
CAN I ORDER THE ADVENT CALENDAR ONLINE AND PICK IT UP IN ONE OF YOUR CAFES?

Yes, you can also choose the roastery pickup and come by our shop. This costs nothing. Please note the information we will send you by email when you pick up.
Order your favourite coffee simply online.
Sustainably grown
Carefully grown and processed by our partners.
Worldwide Shipping
Safe and secure with DHL. To your home.
Recyclable packaging
No mixed materials in our coffee bags, therefore easy to recycle.
Pay securely
Choose from several secure payment methods
.
Free Shipping from 30€

Easy, safe and fast delivery with DHL. Free of charge from 30€ order value.

Direct & Fairtrade

We attach great importance to long-term relationsships.