Gakuyuini AA - Kenya Capsule
This single origin coffee from Kenya is a blend of SL28 and SL34 varieties grown by the Thirikwa Farmers Cooperative Society in Gichugu. In the cup, we taste warm notes of sweet plum, vanilla and honey, with the sweetness lingering a moment longer.
Try this lot as a filter roast as well.
About the Coffee
This coffee was produced by smallholder farmers, the Thirikwa Farmers Cooperative Society, and brought to the Gakuyuini wet mill (known locally as the "factory") near the towns of Kerugoya and Kianyaga in central Kenya.
Gakuyuini (var. Gakuyu-ini) is the cooperative's only wet mill and is located at an altitude of 1,600 meters above sea level. The smallholder farmers who supply the mill come from the surrounding villages of Githiru, Gituba, and Mukure. Their small farms (most of which are mixed farming, with a mix of coffee trees - about 200-250 trees on average - and food crops) are located on the southern slopes of Mount Kenya at 1,500 to 1,900 meters above sea level.
About the Farm
The cooperative has a total of 1835 members, of which 1,553 are active farmers. It is managed by 5 members. During harvest, farmers selectively hand-pick the ripest, reddest cherries, which are then delivered to the cooperative's wet mill the same day. The cherries are sorted by hand before pulping, this is where damaged and unripe cherries are separated and processed separately according to quality. After pulping, the green beans are fermented between 12 - 16 hours and then washed in clean, fresh river water to remove any remaining traces of mucilage before being passed through sorting channels for drying on raised beds. When it reaches optimum moisture, it is transported for sieve sorting before being taken to the warehouse for storage and distribution.
Sieve Sorting in Kenya
The AA, AB, and other grades used to classify lots in Kenya are only indicative of sieve size. They are not indicative of cup quality. The AA grade in Kenya is equivalent to the 17 or 18 (17/64 or 18/64 inch) sieve size used in other source countries. AA grades often fetch higher prices at auction, although this grade is not an indication of cup quality and an AB lot from a better farm may have a better cup.
Cultivation

Cultivated with love by great farmers. 100% Arabica coffee, harvested when ripe and carefully processed. Sustainable and fairly traded.
Packaging

The 19grams capsule advent calendar is 100% recyclable and made from 100% recyclable materials. Even the capsules are compostable.

It doesn't get any greener than this!
Brewing

Our capsules contain 7g of coffee - that's a little more than commercial capsules from other suppliers like Nespresso. Therefore, use a little more water when brewing - like a lungo.
Bloody Good Advent
For 8 years, we've roasted the unique Coffee Advent Calendar. Now finally capsule compatible.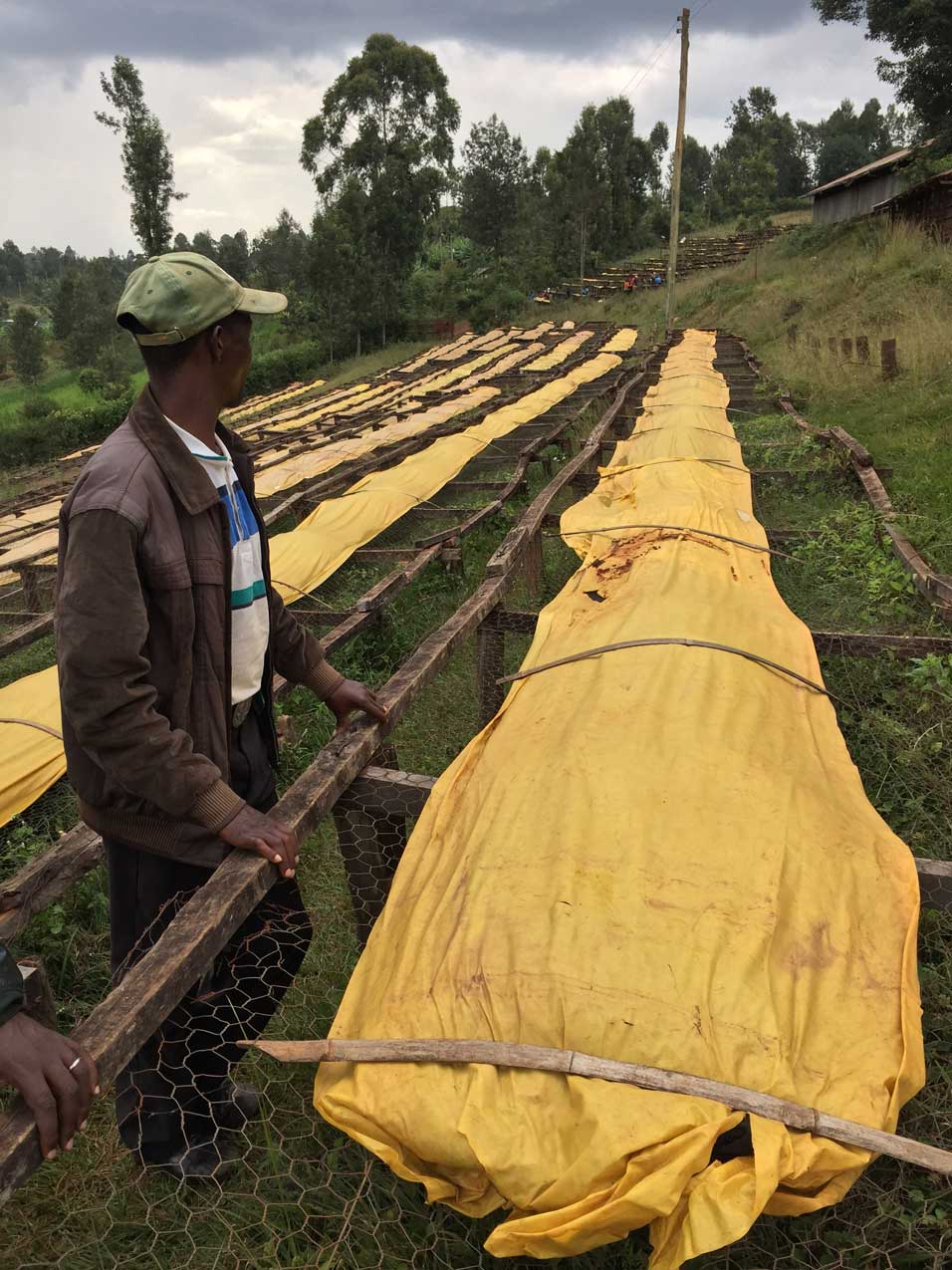 To the Coffee
Plum, Vanilla, Honey
Score: 89
Sweetness:
Acidity:
Mouthfeel:
Body:

Variety: SL28 and SL34 Blend
Processing: Natural
Harvesting Year: 2020
Drying Time: etwa 3 Wochen

Suggested brew recipe:
We recommend the lungo option - as each pods contains 7g of coffee.
About the coffee
A sweet coffee with warm notes of plum, vanilla and honey.
About the farm
Die Kooperative hat insgesamt 1835 Mitglieder, von denen 1.553 aktive Bauern sind. Die Leitung obliegt 5 Mitgliedern. Während der Ernte pflücken die Bauern selektiv die reifsten, rötesten Kirschen von Hand, die dann noch am selben Tag an die Nassmühle der Kooperative geliefert werden. Die Kirschen werden vor dem Aufschluss von Hand sortiert, wobei beschädigte und nicht-reife Kirschen separiert werden und je nach Qualität getrennt weiterverarbeitet werden. Nach dem Aufschluss werden die grünen Bohnen zwischen 12 - 16 Stunden fermentiert und danach in sauberem, frischem Flusswasser gewaschen, um die verbliebenen Schleimspuren zu entfernen, bevor die Bohnen durch Sortierkanäle zum Trocknen auf Hochbeeten geleitet wird. Wenn er die optimale Feuchtigkeit erreicht hat, wird er zur Siebsortierung transportiert, bevor er zur Lagerung und zum Vertrieb ins Lager gebracht wird.

Relationship: Mehrere Jahre
Producer: The cooperative has in total 1.835 member of which 1.553 are active farmers.
Type of Farm: Kooperative
Region, Country: Gichugu, KE
Altitude: 1600 - 1700 masl
Soil type: vulkanische Böden
Fertilisation method: organic
Shadow Type: im Schatten gewachsen
Processing location: Gakuyuini, on the Farm
Number of varieties: verschiedene
Harvest season: Nov - Jan
More about the farm
Die AA-, AB- und anderen Klassen, die zur Klassifizierung von Partien in Kenia verwendet werden, sind nur ein Hinweis auf die Siebgröße. Sie sind kein Hinweis auf die Becherqualität. Die AA-Klasse in Kenia entspricht der Siebgröße 17 oder 18 (17/64 oder 18/64 Zoll), die in anderen Herkunftsländern verwendet wird. AA-Grade erzielen bei Auktionen oft höhere Preise, obwohl dieser Grad kein Hinweis auf die Tassenqualität ist und eine AB-Partie von einer besseren Farm eine bessere Tasse haben kann.
FAQs Advent Calendar
HOW DO I KNOW WHAT COFFEE IS IN THE CAPSULE?

Scan the QR code on the back of the calendar for detailed information.
CAN I ORDER THE ADVENT CALENDAR ONLINE AND PICK IT UP IN ONE OF YOUR CAFES?

Yes, you can also choose the roastery pickup and come by our shop. This costs nothing. Please note the information we will send you by email when you pick up.
Order your favourite coffee simply online.
Sustainably grown
Carefully grown and processed by our partners.
Worldwide Shipping
Safe and secure with DHL. To your home.
Recyclable packaging
No mixed materials in our coffee bags, therefore easy to recycle.
Pay securely
Choose from several secure payment methods
.
Free Shipping from 30€

Easy, safe and fast delivery with DHL. Free of charge from 30€ order value.

Direct & Fairtrade

We attach great importance to long-term relationsships.