Rockstar Coffee Club
Regular price

Sale price

$38.00

Unit price

$76.00

per

kg
Ships on the 15th of each month

Do you love funky, unusual, against the grain coffee? Do you like to be surprised by your cup of coffee? Only rare and unusual beans with exciting processing methods make it into our rockstar subscription.
Each month, our roasting team selects micro-lots that are roasted exclusively for our rockstar subscription and often don't even make it onto the shelf. Rockstar coffees are roasted exclusively for filter preparation.

If you want to try ultra-rare varieties, processing methods and particularly complex flavour profiles, the rockstar subscription is for you.

May | Cata Exports

May brought us two coffees from Colombia, courtesy of Cata Exports, who supplied us with a Geisha and a Sidra.
June | SURPRISE Ethiopian Varieties from Brazil
June is going to be great: we are looking forward to two varieties from Santuario Sul, Brazil, and get a lot of Yirgacheffe (Ethiopian Heirlooom) and Sudan Rume in our cups this month. Definitely not to be missed!

July | Single Variety from Ethiopia
Africa has not only the oldest, but also the richest coffee culture in the world, with millions of naturally occurring varieties presumed to grow in this beautiful country. Centuries of farming, generally on tiny farms with just a few coffee trees, means that lots from Ethiopia are often simply described as "heirloom". This month's coffees buck that trend: Tero farm is supplying us with two single variety coffees whose heritage we can trace precisely.

August | The Best Washed of the Americas
This edition is dedicated to washed coffees. We were able to secure two exciting washed coffees from Bolivia and Peru: A Geisha from Bolivia and a Yellow Bourbon from Peru. It will be truly super delicious!

September | Direct Trade Relationships
Los Tres Potros in El Salvador is one of our longest-standing partners. For this rockstar edition, they're supplying us with two exciting lots that have both been anaerobically fermented: an SL28 and a Pacamara.

October | Terroir: Ethiopian Varieties from Central America and Ethiopia
In October you'll learn all about terroir, which is the impact of a growing region on the flavour in the cup. These Ethiopian coffees have been grown in unusual regions to highlight this effect.

November | Sonora Geisha
The Hacienda Sonora is not only our longest-standing partner, but also our most exciting. Anthony, our head roaster, visited the farm in June and discussed two new coffees with Diego Guardia, which he brought a few sacks-full of back to Berlin. You'll be enjoying to amazing Geisha with your rockstar subscription in November.

December | SURPRISE
We are currently in talks with our partners to find two extraordinary lots for you. Stay tuned! It will be extraordinary!

Please note:

- This subscription is shipped around the middle of the month. The cut-off date is the 15th of each month at 11:59pm. Orders placed after the cut-off will be shipped the following month.

- The cut-off date may vary if there are public holidays in the middle of the month, as we try to send the coffee out earlier to beat the holidays.

- The minimum duration of this subscription is 3 months.

- For this subscription, we work with various farms that may not be long-term partners. This means we sometimes have to change plans at the last minute, should there be difficulties with the shipment. Thank you for your understanding – we promise we'll still get you an extraordinary coffee into your cup.

Grind Size

If you don't have a grinder at home, we'll be happy to grind the coffee to your specifications. Just click on your preparation option above or order whole beans.

Find the right grind. You can get the most out of your coffee by grinding your beans just before brewing. Take a look at the equipment selection if you are interested in a grinder.

You can also select a grind level in each product if you want us to grind the beans for you. We use a Mahlkönig EK43 for this.

Frenchpress and Aeropress are ground on the same setting.
Cultivation

Cultivated with love by great farmers. 100% Arabica coffee, harvested when ripe and carefully processed. Sustainable and fairly traded.
Shipping

Freshly roasted, packed and shipped with DHL to your home. Free!
Packaging

Our standard bags contain 250g and are 100% recyclable. No mixed materials.
Brewing

Take your tried-and-tested recipe as a starting point for this roast, or get help from our Brew Guides.
Scoring Card

The coffee cherry can develop up to 1,200 different natural flavours. Depending on location and variety.

Learn to understand the flavours in coffee with the Scoring Card. Grade your coffee by filling out your Scoring Card
FAQ about the Rockstar Coffee Club
How does the Rockstar subscription work?

The Rockstar subscription is sent every month with 2 x 250g bags. The shipment takes place on the 15th of the month.
What are Rockstar coffees?

Rockstar coffees are coffees that are rare in one way or another: It can be a geisha coffee, for example, or another variety that is difficult to grow and has an excellent flavour profile. Rockstar coffees are coffees that are rare in one way or another.
Where can I find the coffee information for Rockstar coffees?

You can access the coffee info by scanning the code on the coffee label or using this link.

There you will also find info from coffees from past editions.

.
What coffees are coming to Rockstar Subscription in the next few months?

July #1 Mzuzu Geisha, Malawi #2 Santa Juana COE, El Salvador August #1 Sonora Geisha, Costa Rica #2 Don Martin Geisha Enano, Costa Rica September #1 Yaye Geisha Anaerobic, Ehtiopia #2 Los Azacuanes Geisha, El Salvador
When will the subscription be sent?

This subscription is shipped monthly from the 15th onwards: cut-off is the 15th at 11.59pm. If you order after that, your coffee will be shipped the next month.
How much coffee do I get with each delivery?

Every month, you'll receive 2 x 250g of the best coffees in the world.
Is there a minimum term for the Rockstar subscription?

The minimum duration of this subscription is3 months.

This way, we can plan better with our partners in Origin and bring you the best coffees in the world.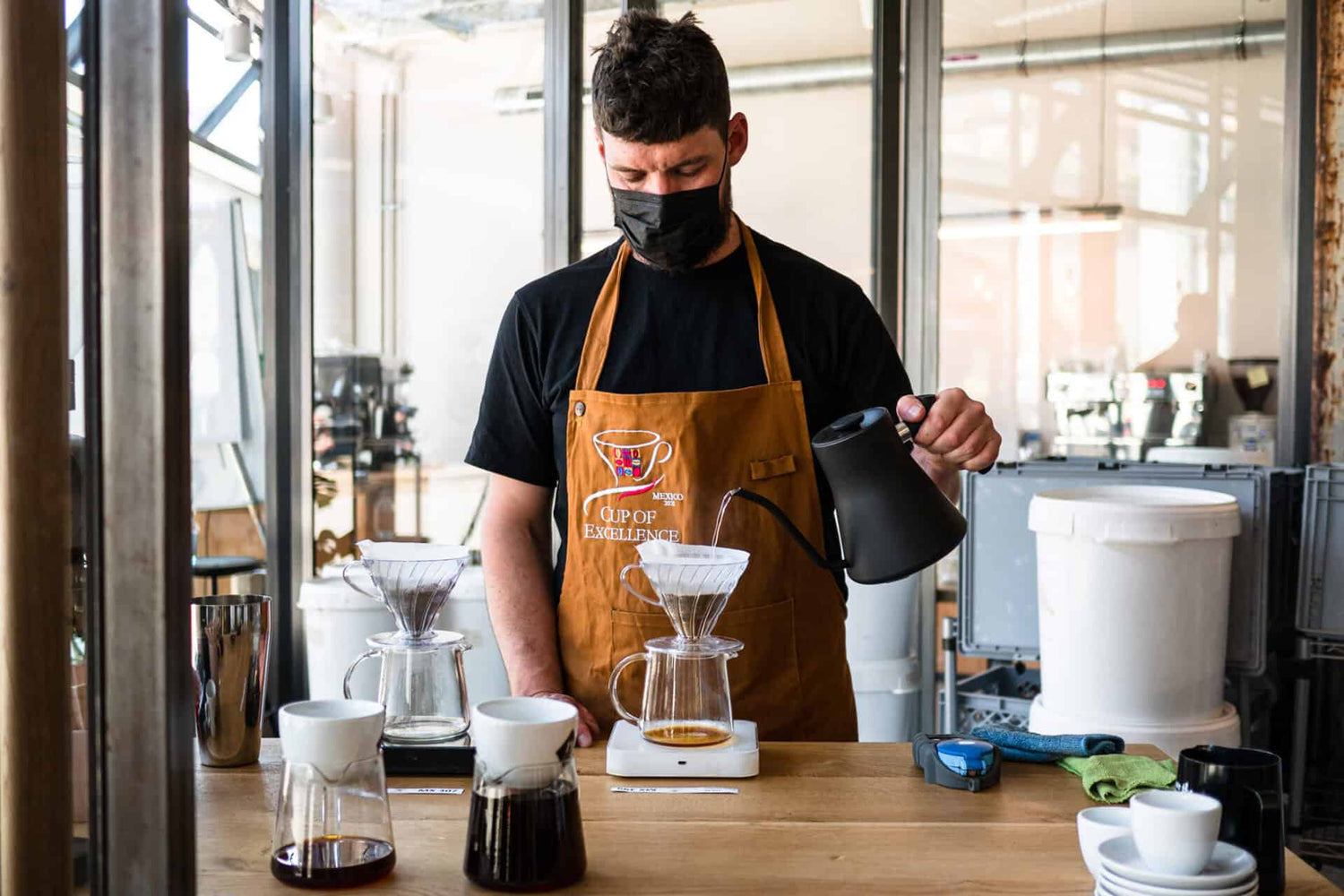 Bloody Good Rockstar
Coffee is a fruit with many natural fruit acids. We roast our coffees to bring out these acids, but also to bring out the sweetness. When our roasters develop a flavour profile for a filter coffee, they make sure to use a slightly lower temperature. In our coffees, we bring out the natural flavour profile of each variety, but also of the terroir of Origin.
Simply order your favourite coffee online.
Sustainably grown
Carefully grown and processed by our partners.
Worldwide shipping
Safe and secure with DHL. To your home.
Recyclable packaging
No mixed materials in our coffee bags, therefore easy to recycle.
Safe Payment
Choose from various secure payment methods.
Quick view

Rockstar Coffee Club

Regular price

Sale price

$38.00

Unit price

$76.00

per

kg
Quick view

Third Wave Water

Regular price

Sale price

$19.00
Quick view

Scoring Card

Regular price

Sale price

$1.00
Quick view

Hario V60 Plastic Filter

Regular price

Sale price

$8.00
Quick view

Hario V60 Paper Filter

Regular price

Sale price

$8.00
Get the most out of the Rockstars
Enjoy the Maximum!



Free shipping from 30€

Easy, safe and fast delivery with DHL. Free of charge from 30€ order value.

Direct & Fair Trade

We attach great importance to long-term relationships. With the farmers at eye level.