Santa Juana COE #11 - El Salvador Filter
Orangenblüten, Jasmin, Wilder Honig
Regular price

Sale price

$33.00

Unit price

$165.00

per

kg
The Bernardina variety was discovered in 2013 as a mutation on the farm Los Bellotos in El Salvador. The farm belongs to Pacas Café, and is run by Maria Pacas.
According to DNA analysis, the variety is 70% similar to geisha varieties, the remaining 30% was not available in any coffee database until now. The most similar variety is one from Agaro, Ethiopia.
The variety comes with an even more intense flavour profile than Geisha coffee: floral aroma of jasmine and orange blossom, with tropical notes of mango and the sweetness of wild honey.
Maria Pacas named the variety after farm mamager Roberto Bernadine Merche, who found the first 5 trees on Bellotos, and has always stressed that these trees are special.
The coffee was first processed separately in 2013 as a lot of 18kg and roasted by Proud Marias in Melbourne, Australia. At the time, the coffee was priced at $52/pound. Since then, the variety has had a tremendous success story.
Select your grind size

If you don't have a grinder at home, we'll happily grind your coffee to your specifications. Just select your brewing method above or order whole beans.

Find the right grind. You can get the most out of your coffee by grinding your beans just before brewing. Take a look at the equipment selection if you are interested in a grinder.

You can also select a grind level in each product if you want us to grind the beans for you. We use a Mahlkönig EK43 for this.

Frenchpress and Aeropress are ground on the same setting.
Cultivation

Cultivated with love by great farmers. 100% Arabica coffee, harvested when ripe and carefully processed. Sustainable and fairly traded.
Shipping

Freshly roasted, packed and shipped safely to you by DHL.
Packaging

Our standard bags contain 250g and are 100% recyclable. No mixed materials.
Brewing

Take your tried-and-tested recipe as a starting point for this roast, or get help from our brew guides.
Scoring Card

The coffee cherry can develop up to 1,200 different natural flavours. Depending on location and variety.

Learn to understand the flavours in coffee with the Scoring Card. Grade your coffee by filling out your Scoring Card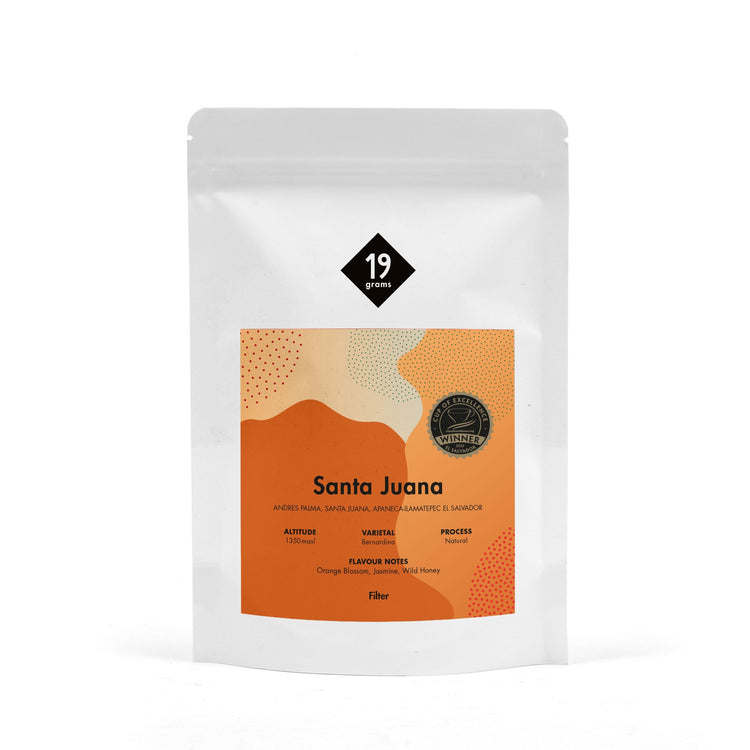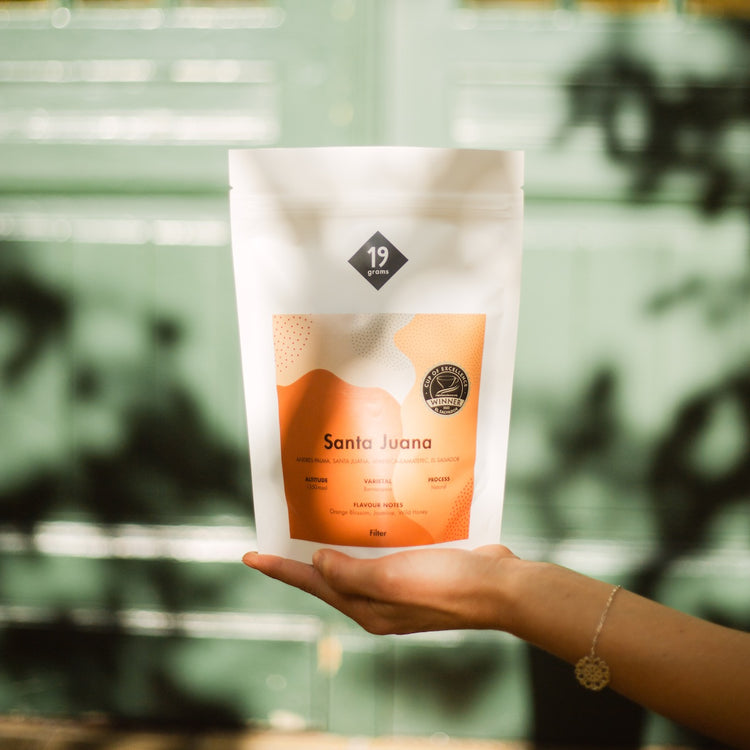 Suitable for filter preparation:
About the coffee
Orangenblüten, Jasmine, Wilder Honig
Score: 89.50
Sweetness: 4/5 Melone
Acidity: 4/5 tropisch
Mouthfeel: 4/5 intensiv, dicht
Body: 4/5 fruchtig

Variety: Bernardina
Processing: Natural
Harvesting Year: 2022
Drying Time: 25-30 days

Suggested brew recipe:
1:16,5 (z.B. 15gr Kaffee auf 250gr Wasser) in 2,5 bis 3,5 Minuten
About the coffee
This COE comes from El Salvador, from the Finca Santa Juana farm in Santa Ana.

The beans of this lot of the Bernardina variety were processed naturally: The coffee cherries are carefully picked by hand on the farm. After harvesting, all unripe, dry or green cherries are sorted out. The coffee cherries are then transported to the Vivagua mill. There they are not de-pulped, but immediately spread out on raised shade beds to dry. These layers of coffee are moved 5-8 times a day. At night, the coffee is piled into small batches and covered with jute bags to protect it from dew or unexpected rains. The humidity of the coffee is measured daily. Once it reaches 12%, the coffee is packed in jute bags and kept in a pre-assigned location in the warehouse to ensure traceability. The jute remains in the warehouse until it is ready to be dry ground and exported. The total drying time is 25-30 days.
The farm | Finca Santa Juana
Die Farm St. Juana gehört er Pacas Familie, die inzwischen über 19 Farmen in El Salvador besitzt. Die Bernardina ist einzigartig und wurde 2013 von Marias Pacas als Mutation auf ihrer Farm Los Bellotos entdeckt.

Relationship: New Partner
Producer: Andres Palma
Type of Farm: Family-run micro farm
Region, Country: Santa Ana, El Salvador
Altitude: 1.730 masl
Soil type: Loamy
Fertilisation method: Organic
Shadow Type: grown in the shade
Processing location: On the farm
Number of varieties: various
Harvest season:

Cup Of Excellence

About the farm
Finca Santa Juana is a coffee farm owned by the Pacas family since 1927. The farm is located in the Apaneca-Ilamatepec mountains and grows the Bourbon and Bernardina varieties. Ingas and mountain trees are used to create an ideal temperature and microclimate for coffee growth. The result is a unique and exceptional coffee product. The farm employs 24 families and Café Pacas, as part of its social responsibility, offers a wellness programme with workshops on self-esteem, conflict resolution, addiction management and clinical psychology. Café Pacas also runs an annual campaign to support people with vision problems.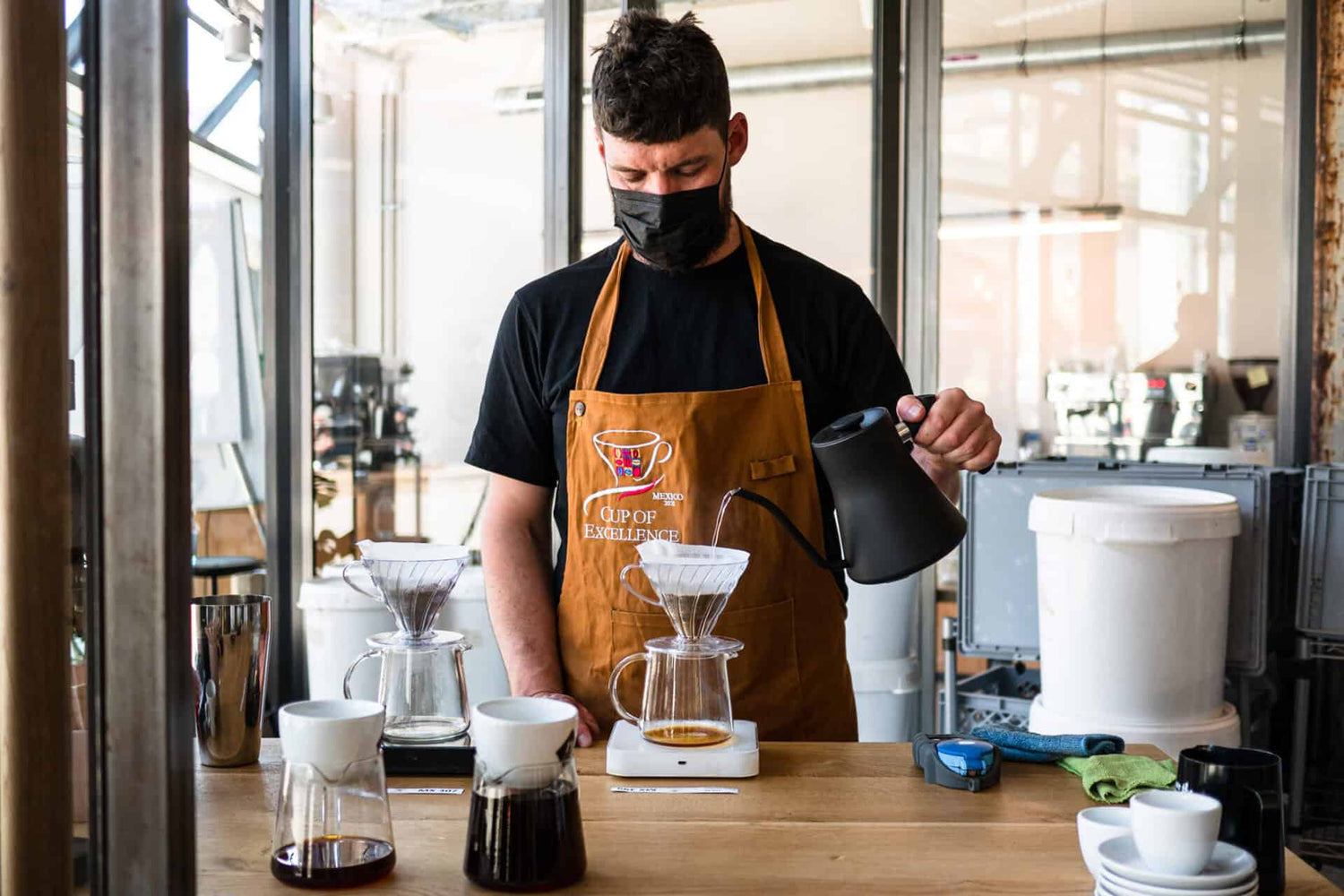 Bloody Good Rockstar
Coffee is a fruit. This means it is naturally acidic, and contains many sugars. We roast our coffees to bring out this acidity and develop their natural sweetness.
For us, all rare and special coffees are rockstars. We're super proud of our diverse and extensive range of rare coffees. Geishas and other special varieties taste their best when we're roasting them regularly and gaining experience. We are the only roasters in Germany that roast rockstars every single week, with Geisha and other rare varieties in our regular lineup.
Simply order your favourite coffee online.
Sustainably grown
Carefully grown and processed by our partners.
Worldwide shipping
Safe and reliable with DHL. Direct to your door.
Recyclable packaging
There are no mixed materials in our coffee bags, making them easy to recycle.
Pay securely
Choose from several secure payment methods.
Free shipping from €30

Easy, safe and fast delivery with DHL. Free of charge from a €30 order value.

Directly & Fairly Traded

We attach great importance to our long-term relationships, keeping farmers on equal terms.