Fazenda Santuàrio Sul Geisha - Brazil Filter
Blaubeere, Vanille, Lavendel
Regular price

Sale price

$24.00
This coffee roasted for filters is a naturally prepared Geisha coffee with a distinct flavour profile that is a typical characteristic of Geisha coffees. The delicate floral aroma of lavender, accompanied by soft notes of berries and vanilla, makes for a cup for the ultimate in enjoyment.
About the coffee
This Brazilian Geisha coffee is grown in Carmo de Minas on the Fazenda Santuàrio Sul, a 120-hectare farm of which 80 hectares are planted with coffee. Among the 30 varieties and cultivars grown there (including the flowering Ethiopian variety Rume Sudan) is the Geisha variety chosen for this special batch.

About the farm
The Fazenda Santuário Sul is located in Carmo de Minas, here more than 30 exotic coffee varieties are grown and processed. In recent years, the farm has had a brilliant track record at the Cup of Excellence with various coffees. Read more
*This product is excluded from discount promotions.
Select your grind size

If you don't have a grinder at home, we'll happily grind your coffee to your specifications. Just select your brewing method above or order whole beans.

Find the right grind. You can get the most out of your coffee by grinding your beans just before brewing. Take a look at the equipment selection if you are interested in a grinder.

You can also select a grind level in each product if you want us to grind the beans for you. We use a Mahlkönig EK43 for this.

Frenchpress and Aeropress are ground on the same setting.
Cultivation

Cultivated with love by great farmers. 100% Arabica coffee, harvested when ripe and carefully processed. Sustainable and fairly traded.
Shipping

Freshly roasted, packed and shipped safely to you by DHL.
Packaging

Our standard bags contain 250g and are 100% recyclable. No mixed materials.
Brewing

Take your tried-and-tested recipe as a starting point for this roast, or get help from our brew guides.
Scoring Card

The coffee cherry can develop up to 1,200 different natural flavours. Depending on location and variety.

Learn to understand the flavours in coffee with the Scoring Card. Grade your coffee by filling out your Scoring Card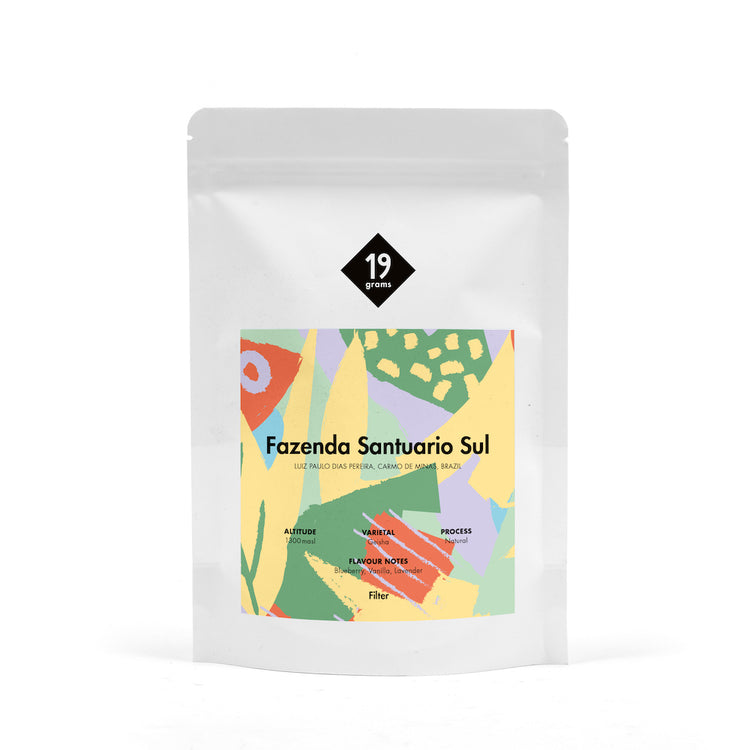 Suitable for filter preparation:
About the coffee
Blueberry, Vanille, Lavendel
Score:
Sweetness:
Acidity:
Mouthfeel:
Body:

Variety: Geisha
Processing: Natural
Harvesting Year: 2020
Drying Time:

Suggested brew recipe:
1:16,5 (z.B. 15gr Kaffee auf 250gr Wasser) in 2,5 bis 3,5 Minuten
About the coffee
Die äthiopische Geisha-Varietät zeigt Besonderheiten durch das brasilianische Terroir. Dieser brasilianische Geisha-Kaffee wächst in Carmo de Minas auf der Fazenda Santuàrio Sul, einer 120 Hektar großen Farm, von der 80 Hektar mit Kaffee bepflanzt sind. Unter den 30 Sorten und Kultivaren, die dort angebaut werden (darunter auch die erblühende äthiopische Sorte Sudan Rume), befindet sich auch die Geisha-Varietät, die für dieses  spezielle Lot ausgewählt wurde.
The farm | Fazenda Santuàrio Sul
Experimentelle Farm in Brasilien, Luiz will zur Avangarde gehören!

Relationship: new partner
Producer: Luiz Paulo Dias Pereira
Type of Farm: Family owned farm
Region, Country: Carmo de Minas, BR
Altitude: 1300 m üNN
Soil type:
Fertilisation method: organic
Shadow Type:
Processing location: at the farm
Number of varieties: über 30 Kaffeesorten
Harvest season: Mai - Sept
About the farm
Die Fazenda Santuário Sul befindet sich in Carmo de Minas, hier werden mehr als 30 exotische Kaffeesorten angebaut und verarbeitet. In den letzten Jahren hat die Farm beim Cup of Excellence mit verschiedenen Kaffees eine brillante Erfolgsbilanz erzielt.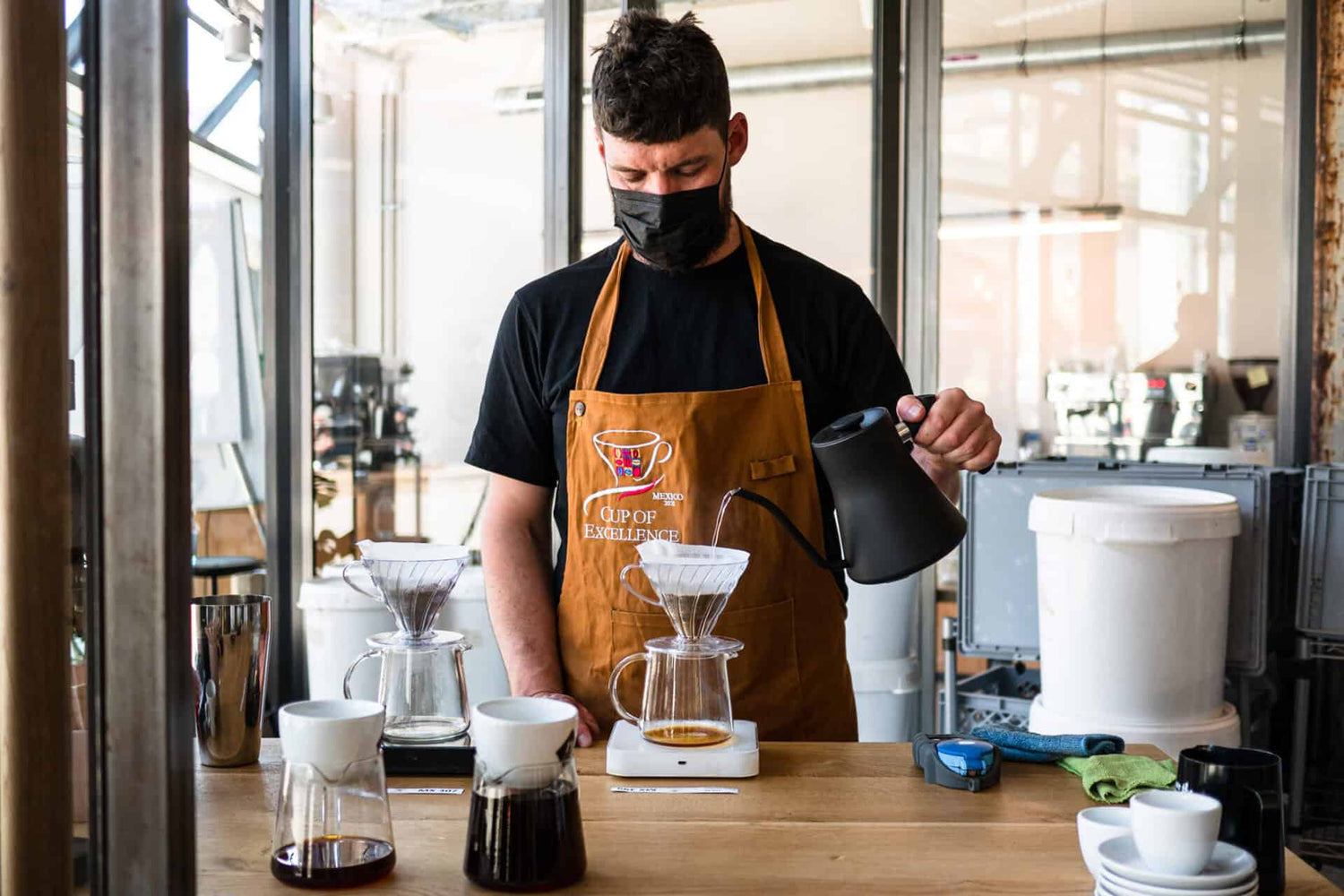 Bloody Good Rockstar
Coffee is a fruit. This means it is naturally acidic, and contains many sugars. We roast our coffees to bring out this acidity and develop their natural sweetness.
For us, all rare and special coffees are rockstars. We're super proud of our diverse and extensive range of rare coffees. Geishas and other special varieties taste their best when we're roasting them regularly and gaining experience. We are the only roasters in Germany that roast rockstars every single week, with Geisha and other rare varieties in our regular lineup.
Simply order your favourite coffee online.
Sustainably grown
Carefully grown and processed by our partners.
Worldwide shipping
Safe and reliable with DHL. Direct to your door.
Recyclable packaging
There are no mixed materials in our coffee bags, making them easy to recycle.
Pay securely
Choose from several secure payment methods.
Free shipping from €30

Easy, safe and fast delivery with DHL. Free of charge from a €30 order value.

Directly & Fairly Traded

We attach great importance to our long-term relationships, keeping farmers on equal terms.